Name

Jean Ross




Spouse

Claud Cockburn




Movies

Why Sailors Leave Home







Died

1973, Richmond, United Kingdom




Similar People

Claud Cockburn, Sarah Caudwell, Alexander Cockburn, Andrew Cockburn, Patrick Cockburn
Keeping rank pastor jean ross
Jean Iris Ross Cockburn (7 May 1911 – 27 April 1973) was a British cabaret singer, fashion model, political activist, and writer. Ross partly served as the model for the fictional character Sally Bowles in Christopher Isherwood's The Berlin Stories (1935-39), later adapted into the long-running stage musical Cabaret and chosen by Time magazine as among the best English-language novels of the 20th century. For the remainder of her life, Ross believed her popular association with the character of Sally Bowles overshadowed her life's work in political activism.
Contents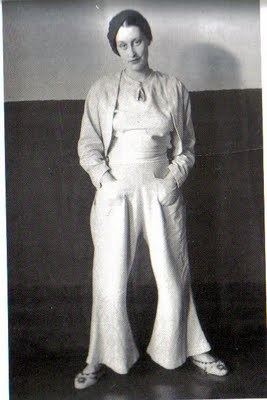 Early life
Ross was born at Maison Ballassiano in Alexandria, British protectorate of Egypt, the eldest of four children born to Charles Ross (1880–1938) and Clara Caudwell Ross (1886–1970). Her father was a Scottish cotton expert for the Bank of Egypt, and her mother was the daughter of the wealthy landowner and industrialist Charles Caudwell. Ross was raised "in luxury" in Alexandria, until the strong-willed girl was sent back to England to be educated at Leatherhead Court, Surrey, which she "loathed." According to the Oxford Dictionary of National Biography,
Academically bright, she had done all the course work for the sixth form by the time she was sixteen, but was told she would have to remain at school for another year and repeat the work. In order to get expelled, she pretended that she was pregnant, whereupon she was banished to the sanatorium to prevent her from "contaminating" the other pupils, while an aunt was summoned to take her away. She subsequently attended the Pensionnat Mistral, a finishing school at Neuchâtel in Switzerland.
Ross had funds from a trust left to her by her maternal grandfather, and she used this to attend the Royal Academy of Dramatic Art. When she wanted to play Phèdre, a teacher scolded her and told her she would only ever be good for comedic roles. She left RADA after a year, feeling misunderstood. She managed to get a small part as Arabic girl in Why Sailors Leave Home (1930) thanks to her ability to speak some Arabic and her dark complexion.
Berlin
Ross next moved to Weimar Germany after hearing there were roles available for actresses. Upon arriving, she discovered that was only a rumour, but elected to stay anyway, finding work as a model and cabaret singer in Berlin circa 1931. She also performed in the chorus in Max Reinhardt's production of Offenbach's opéra fantastique The Tales of Hoffmann.
In Berlin she shared lodgings with English-American novelist Christopher Isherwood and became immortalised as the "divinely decadent" Sally Bowles in Isherwood's 1939 memoir Goodbye to Berlin. Isherwood later wrote that Ross had "a long, thin handsome face, aristocratic nose, glossy dark hair, large brown eyes," and was "more essentially British than Sally; she grumbled like a true Englishwoman, with her grin-and-bear-it grin. And she was tougher." Like Bowles, she had a habit of boasting about her various lovers.
Politics
A life-long Communist, Ross became secretary of the Workers' Film and Photo League, for whom she wrote their political manifesto. According to Ross's daughter Sarah Caudwell, Jean disliked her popular identification with the character of Sally Bowles, thinking the character to be vacuous and more reflective of Isherwood's flamboyant male friends.
When Cabaret was first staged in 1966, Ross was tracked down by reporters, but refused to speak about the subject. She also turned down invitations to view the show. In addition to acting and modeling, Ross wrote under the pseudonym "Peter Porcupine." In the mid-1930s she married Claud Cockburn, a left-wing Anglo-Scots journalist and the grandfather of actress Olivia Wilde. The couple were divorced by 1940, and Sarah Caudwell was the only child of their marriage. She kept the last name Cockburn, however, retaining the name by deed poll in 1939.
Later life and death
Ross and writer Isherwood met a final time shortly before her death. In a diary entry for April 24th, 1970, Isherwood recounted their meeting in London: "I had lunch with Jean Ross and her daughter Sarah, and three of their friends at a little restaurant in Chancery Lane. Jean looks old but still rather beautiful and she is very lively and active and mentally on the spot – and as political as ever. Seeing Jean [again] made me happy; I think if I lived here I'd see a lot of her that is – if I could do so without being involved in her communism."
Three years later, on April 27, 1973, Ross died in Richmond on Thames, Surrey, aged 62, purportedly from cervical cancer.
Portrayals in fiction
For more details on this topic, see Sally Bowles
.
Imogen Poots played Jean Ross in the 2011 television film Christopher and His Kind. Additionally, the character of Sally Bowles has been played by: Julie Harris in I Am a Camera, the 1951 adaptation of Goodbye to Berlin and the 1955 film adaptation of the same name; Jill Haworth in the original 1966 Broadway production of Cabaret; Judi Dench in the original 1968 West End stage version of Cabaret; Liza Minnelli in Bob Fosse's 1972 film adaptation of the musical, and Natasha Richardson in the 1998 Broadway Revival of Cabaret.
References
Jean Ross Wikipedia
(Text) CC BY-SA