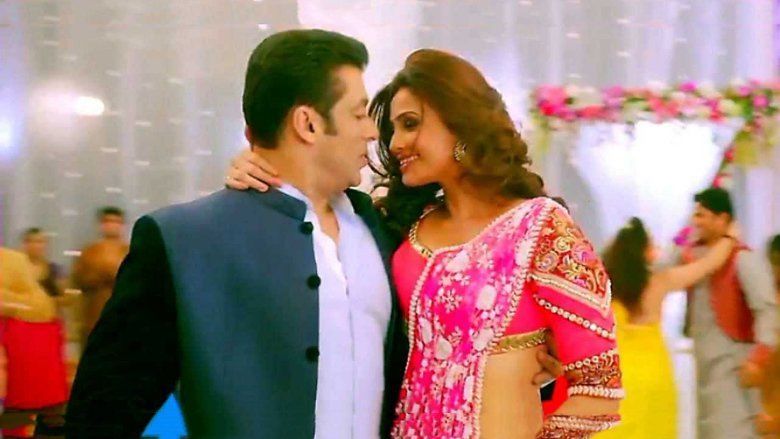 Jai Agnihotri (Salman Khan) is an ex-army officer whose passions include helping citizens and fighting criminals. He was a major in the Indian Army, but was suspended because he ignored orders from his superiors so that he could rescue a group of children from terrorists. After this incident, Jai moved in with his mother and sister Geeta (Tabu).
One day, Jai is unable to help a physically disabled girl, Suman (Genelia D'Souza), take an examination while her brother is stuck in a traffic block. Suman became depressed because no one came to help her, and she commits suicide. Jai is greatly disturbed by this incident. With Suman's death fresh in his mind, Jai created a system that would encourage citizens to help each other. Each day, citizens were to help three people. These three people would in turn help three more people, and so on. Jai believed that this network would foster kindness and a sense of community among the citizens. His system, however, faced challenges.
On one occasion, for one of his daily good deeds, Jai beat a rich man who had injured a child beggar. In an act of revenge, the rich man employed some men to take Jai's sister Geeta and friend Rinky into their custody. Jai was able to save his sister and friend, but in the process he injured one of the captors. This captor happened to be the henchman of a member of the Legislative Assembly, named Patil. Patil was the son-in-law of the Home Minister Dashrat Singh.
The Home Minister was not pleased that Jai had injured one of his son-in-law's henchmen. He attempted to avenge this injury by kidnapping Jai's nephew. The Home Minister lost his son-in-law in the process. The Chief Minister, Ashok Pradhan, meanwhile found out about Jai's system after his own life was saved by a schoolgirl performing her good deeds for the day. The Chief Minister decided to intervene in the dispute between the Home Minister and Jai in an attempt to put an end to their fight. The Home Minister did not appreciate this intervention. He planned to kill the Chief Minister and frame Jai. Jai, however, was able to save the Chief Minister.
The Home Minister's son, Arjun Singh, and his hired men attack Jai. Jai killed Arjun, but not before he was severely injured after getting stabbed by the Home Minister's daughter, Kavita Singh Patil. A rickshaw driver and a former colleague, Arjun Kaul, together helped Jai get to the hospital. While Jai was at the hospital, the Home Minister spread rumors that Jai was responsible for trying to kill the Chief Minister. Once the Chief Minister recovered, he revealed that it was the Home Minister, not Jai, behind the attempted murder. A crowd beat the Home Minister after hearing the truth.
Doctors were able to save Jai. Jai had survived thanks to his own help-three-people concept. When Jai emerged from the hospital, he found thousands of people waiting for him. Jai thanked them all for making his concept a success.
In late 2012, Sohail Khan announced he planned to remake the Telugu film Stalin starring Chiranjeevi and Trisha. Khan originally titled the remake Mental, but by the time the film was released, it had been re-titled Jai Ho.
Shooting for the film was set to begin February 27, 2013 but was postponed until late March[M1]. There were rumors that the film would be released in 3D, but Sohail Khan was cited stating, "First, let me complete my film in the normal format. Then I'll take a call". Salman Khan unveiled the first Jai Ho poster on 6 December 2013. The poster consisted of images of thousands of fans digitally merged to create one portrait of Khan. Khan's fans created this poster.
India Today gave Jai Ho a 2 out of 5[M1] and commented that it was a rip off of Ek Tha Tiger with mindless action. Anupama Chopra gave the movie a 2.5 out of 5 and lamented Jai Ho was more of a cartoon than a film. Taran Adarsh gave it 4.5 stars out of 5 and called it a "noble, well-intentioned message narrated in an entertaining format".
Jai Ho was released on around 3900 screens in India. The domestic and overseas theatrical rights were sold for ₹1.1 billion ($16 million). Jai Ho spent around ₹40 crore ($5.9 million) on the production of the film. The film cost around ₹65 crore ($9.6 million) total with the cost of marketing and prints added, but this number still does not include Khan's remuneration.
Jai Ho suffered losses from piracy. A Dubai-based user uploaded a pirated version of the film to YouTube on 28 January 2014. The video had 108,151 views by the time it was removed on 1 February 2014. Another version of the film was uploaded on 2 February 2014. DNA Films reported that Khan had requested that ticket prices be kept at the minimum so that people could afford to see the movie because of its message.
The website Boxofficeindia.com said that Jai Ho opened well at single screens like Jodhpur, Lucknow, Indore, Uttar Pradesh, Rajasthan and CI, with an occupancy of 80—100%, 25—30% better than Dhoom 3 and Chennai Express, and moderately well (50%) at multiplexes of Delhi, Punjab, Bangalore and Kolkata. It had an opening-day collection of around ₹188.0 million (US$2.9 million) nett. The second day collections were about ₹165 million (US$2.6 million), taking the total to ₹335 million (US$5.2 million). On Sunday, the film collected ₹262.5 million (US$4.1 million) to take its weekend total to ₹606.8 million (US$9.5 million). Jai Ho had a noticeable drop on Tuesday as it grossed around 7.75 crore nett taking the five-day total to a little over Rs 74 crore nett. Jai Ho emerged as the fifth highest weekend of all time in terms of worldwide gross by managing to gross Rs 200 crore worldwide in three days. Jai Ho dropped further on first Wednesday with collections around Rs 5.25-5.50 crore nett to take 6-day total to ₹79.50 crore (US$12 million). Jai Ho had the ninth highest first week of all time as it grossed ₹81.72 crore (US$13 million) nett in its first week. The film nett. grossed Rs 3 crore nett on its second Friday. The film has collected Rs 90 crores nett in 9 days. Jai Ho collected Rs 13.50 crore nett in its second weekend taking its domestic total 95 crore nett in 10 days. Jai Hai has been made tax-free in Gujarat and Uttar Pradesh. Jai Ho two week business was around Rs 101.50 crore nett as it crossed around Rs 21.29 crore nett in its second week. Jai ho on its third Friday had collections set to be around Rs 50 lakhs nett, with tax exemption in Gujarat also. Jai Ho grossed around Rs 2.25-2.50 crore nett in its third weekend taking the business to Rs 105.50 crore nett after seventeen days. The two-week distributor share of film is Rs 56 crore. Jai Ho took its total to Rs 107 crore nett in after three weeks as it added around Rs 4 crore nett in third week. Bollywoodhungama declared the total net gross of Jai Ho Rs. 116 crore, and ranked it the seventh highest-grossing movie of 2014 and Salman Khan's seventh 100 crore movie in a row, an all-time record in the history of Indian cinema.
The website, Bollywoodhungama.com estimated Jai Ho grossed $3.55 million overseas in its first weekend. Box Office India estimated it grossed slightly less at $3.45 million and called it "decent business". The final overseas gross for Jai Ho was $6 million making it one of the highest overseas grossing Bollywood films of 2014.
The soundtrack of Jai Ho consists of nine tracks. Sajid–Wajid composed five tracks, Devi Sri Prasad one track, and Amaal Mallik three tracks. The soundtrack was released on December 24, 2013.
Sajid, Irfan Kamal, Danish Sabri, Sameer, Anjaan, Kausar Munir, Shabbir Ahmed, Armaan Malik, and Devi Sri Prasad wrote the lyrics for all the songs in Jai Ho.