Despite his wealth, Getty was notably frugal. He famously negotiated his grandson's ransom.
Getty was an avid collector of art and antiquities; his collection formed the basis of the J. Paul Getty Museum in Los Angeles, California, and over $661 million (approximately $2.8 billion in 2016) of his estate was left to the museum after his death. He established the J. Paul Getty Trust in 1953. The trust is the world's wealthiest art institution, and operates the J. Paul Getty Museum, the Getty Foundation, the Getty Research Institute, and the Getty Conservation Institute.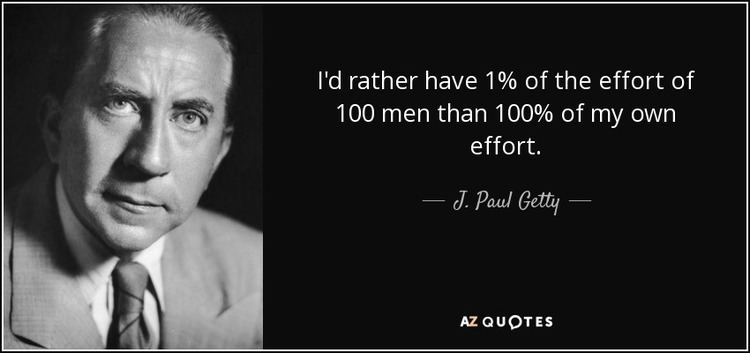 Getty was born to Sarah Catherine McPherson Risher and George Getty, who was in the petroleum business, in Minneapolis, Minnesota.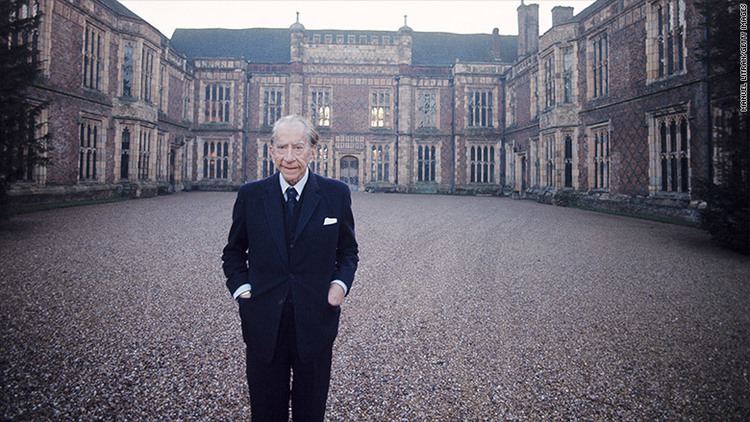 He enrolled at the University of Southern California, then at University of California, Berkeley. In 1913, he obtained a diploma in Economics and Political Science from the University of Oxford, having matriculated as a non-collegiate student on November 28, 1912. He spent his summers between studies working on his father's oil fields in Oklahoma. Running his own oil company in Tulsa, he made his first million by June 1916. The Nancy Taylor No. 1 Oil Well Site near Haskell, Oklahoma, was crucial to his early financial success. This oil well was the first to be drilled by J. P. Getty.
In 1919, Getty returned to business in Oklahoma. During the 1920s, he added about $3 million to his already sizable estate. His succession of marriages and divorces (three during the 1920s, five throughout his life) so distressed his father, however, that J. Paul inherited a mere $500,000 of the $10 million fortune his father George had left at the time of his death. Just before he died in 1930, George Franklin Getty said that Jean Paul would ultimately destroy the family company.
Shrewdly investing his resources during the Great Depression, Getty acquired Pacific Western Oil Corporation, and he began the acquisition (completed in 1953) of the Mission Corporation, which included Tidewater Oil and Skelly Oil. In 1967 the billionaire merged these holdings into Getty Oil.
Beginning in 1949, Getty paid Ibn Saud $9.5 million in cash and $1 million a year for a 60-year concession to a tract of barren land near the border of Saudi Arabia and Kuwait. No oil had ever been discovered there, and none appeared until four years had passed, and $30 million had been spent. From 1953 onward, Getty's gamble produced 16,000,000 barrels (2,500,000 m3) a year, which contributed greatly to the fortune responsible for making him one of the richest people in the world.
Getty increased the family wealth, learning to speak Arabic, which enabled his unparalleled expansion into the Middle East. Getty owned the controlling interest in nearly 200 businesses, including Getty Oil. Associates identified his overall wealth at between $2 billion and $4 billion. It didn't come easily, perhaps inspiring Getty's widely quoted remark—"The meek shall inherit the earth, but not the mineral rights." J. Paul Getty was an owner of Getty Oil, Getty Inc., George F. Getty Inc., Pacific Western Oil Corporation, Mission Corporation, Mission Development Company, Tidewater Oil, Skelly Oil, Mexican Seaboard Oil, Petroleum Corporation of America, Spartan Aircraft Company, Spartan Cafeteria Company, Minnehoma Insurance Company, Minnehoma Financial Company, Pierre Hotel at Fifth Avenue and 60th Street, Pierre Marques Hotel at Revolcadero Beach near Acapulco, Mexico, Sutton Place, 72-room mansion near Guildford, Surrey, 35 miles from London, a 15th-century palace and nearby castle at Ladispoli, on the coast northwest of Rome, a Malibu ranch home.
He moved to Britain in the 1950s and became a prominent Anglophile. He lived and worked at his 16th-century Tudor estate, Sutton Place near Guildford, Surrey; the traditional country house became the centre of Getty Oil and his associated companies and he used the estate to entertain his British and Arabian friends (including the British Rothschild family and numerous rulers of Middle Eastern countries). Getty lived the rest of his life in the British Isles, dying of heart failure at the age of 83 on June 6, 1976.
Getty was married and divorced five times. He had five sons with four of his wives:
Jeanette Demont (married 1923 – divorced 1926); one son George Franklin Getty II (1924–1973)
Allene Ashby (1926–divorced 1928) no children
Adolphine Helmle (1928–1932); one son Jean Ronald Getty (born 1929), who married Pia Miller, sister of Marie-Chantal, Crown Princess of Greece.
Ann Rork (1932–1936); two sons Eugene Paul Getty, later John Paul Getty Jr (1932–2003) and Gordon Peter Getty (born 1934)
Louise Dudley "Teddy" Lynch (1939–1958); one son Timothy Ware Getty (1946–1958)
At age 99, in 2013, Getty's fifth wife, Louise—now known as Teddy Getty Gaston—published a memoir reporting how Getty had scolded her for spending money too freely in the 1950s on the treatment of their six-year-old son, Timmy, who'd become blind from a brain tumor. Timmy died at age 12, and Getty, living in England apart from his wife and son back in the U.S., did not attend the funeral. Teddy divorced him that year. Getty Gaston died in April 2017 at the age of 103.
Getty was quoted as saying "A lasting relationship with a woman is only possible if you are a business failure", and "I hate to be a failure. I hate and regret the failure of my marriages. I would gladly give all my millions for just one lasting marital success."
Getty famously had a pay phone installed at Sutton Place, helping to seal his reputation as a miser. Getty placed dial-locks on all the regular telephones, limiting their use to authorized staff, and the coin-box telephone was installed for others. In his autobiography, he described his reasons:
Now, for months after Sutton Place was purchased, great numbers of people came in and out of the house. Some were visiting businessmen. Others were artisans or workmen engaged in renovation and refurbishing. Still others were tradesmen making deliveries of merchandise. Suddenly, the Sutton Place telephone bills began to soar. The reason was obvious. Each of the regular telephones in the house has direct access to outside lines and thus to long-distance and even overseas operators. All sorts of people were making the best of a rare opportunity. They were picking up Sutton Place phones and placing calls to girlfriends in Geneva or Georgia and to aunts, uncles and third cousins twice-removed in Caracas and Cape Town. The costs of their friendly chats were, of course, charged to the Sutton Place bill.
When speaking in a televised interview with Alan Whicker in February 1963, Getty said that he thought guests would want to use a payphone. After 18 months, Getty explained, "The in-and-out traffic flow at Sutton subsided. Management and operation of the house settled into a reasonable routine. With that, the pay-telephone [was] removed, and the dial-locks were taken off the telephones in the house."
On July 10, 1973, in Rome, 'Ndrangheta kidnappers abducted Getty's 16-year-old grandson, John Paul Getty III, and demanded by telephone $17 million for the teenaged grandson's safe return. However, "the family suspected a ploy by the rebellious teenager to extract money from his miserly grandfather." John Paul Getty Jr. asked his father for the money, but was refused.
In November 1973, an envelope containing a lock of hair and a human ear arrived at a daily newspaper. The second demand had been delayed three weeks by an Italian postal strike. The demand threatened that Paul would be further mutilated unless the victims paid $3.2 million: "This is Paul's ear. If we don't get some money within 10 days, then the other ear will arrive. In other words, he will arrive in little bits."
When the kidnappers finally reduced their demands to $3 million, Getty senior agreed to pay no more than $2.2 million—the maximum that would be tax deductible. He lent his son the remaining $800,000 at 4% interest. Paul III was found alive in a filling station of Lauria, in the province of Potenza, shortly after the ransom was paid. After his release Paul III called his grandfather to thank him for paying the ransom but Getty refused to come to the phone. Nine people associated with 'Ndrangheta were later arrested for the kidnapping, but only two were convicted. Paul III was permanently affected by the trauma and became a drug addict. After a stroke brought on by a cocktail of drugs and alcohol in 1981, Paul III was rendered speechless, nearly blind and partially paralyzed for the rest of his life. He died 30 years later on February 5, 2011 at the age of 54.
Getty defended his initial refusal to pay the ransom on two points. First, he argued that to submit to the kidnappers' demands would immediately place his other fourteen grandchildren at the risk of copy-cat kidnappers. He added:
The second reason for my refusal was much broader-based. I contend that acceding to the demands of criminals and terrorists merely guarantees the continuing increase and spread of lawlessness, violence and such outrages as terror-bombings, "skyjackings" and the slaughter of hostages that plague our present-day world. (Getty, 1976, pg.139).
The abduction of Getty's grandson is the basis of an upcoming crime drama film, All the Money in the World, directed by Ridley Scott. It stars Kevin Spacey as Getty. It is due to be released December 8, 2017.
Getty died June 6, 1976, Sutton Place near Guildford, Surrey, England. He was buried in Pacific Palisades, Los Angeles County, California at the Getty Villa. The gravesite is not open to the public.
Getty, J. Paul. The history of the bigger oil business of George F.S. F. and J. Paul Getty from 1903 to 1939. Los Angeles?, 1941.
Getty, J. Paul. Europe in the Eighteenth Century. [Santa Monica, Calif.]: privately printed, 1949.
Le Vane, Ethel, and J. Paul Getty. Collector's Choice: The Chronicle of an Artistic Odyssey through Europe. London: W.H. Allen, 1955.
Getty, J. Paul. My Life and Fortunes. New York: Duell, Sloan & Pearce, 1963.
Getty, J. Paul. The Joys of Collecting. New York: Hawthorn Books, 1965.
Getty, J. Paul. How to be Rich. Chicago: Playboy Press, 1965.
Getty, J. Paul. The Golden Age. New York: Trident Press, 1968.
Getty, J. Paul. How to be a Successful Executive. Chicago: Playboy Press, 1971.
Getty, J. Paul. As I See It: The Autobiography of J. Paul Getty. Englewood Cliffs, N.J. : Prentice-Hall, 1976. ISBN 0-13-049593-X