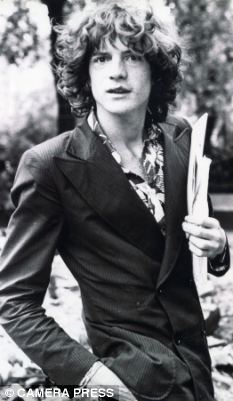 Getty spent most of his childhood in Rome, Italy, while his father headed the Italian division for the Getty family's oil business. His parents divorced in 1964 and his father married again in 1966 to model and actress Talitha Pol. They adopted a hippie lifestyle and spent much time in England and Morocco during the 1960s. Getty stayed in boarding school at St. George's English School (later St. George's British International School), in Rome. In early 1971, he was expelled from St. Georges after having painted the hallways of the school one night, taking inspiration from Charles Manson's Helter Skelter. Later that year, his stepmother died of a heroin overdose in Rome. While his father moved back to England, he remained in Italy, where he lived a bohemian life, frequented nightclubs, and took part in left-wing demonstrations. Endowed with a considerable artistic inclination, he reportedly earned a living making jewelry, selling paintings and appearing as an extra in movies.
At 3 a.m. on 10 July 1973, Getty, then age 16, was kidnapped by the 'Ndrangheta in the Piazza Farnese in Rome. A ransom note was received, demanding $17 million in exchange for his safe return. When that ransom message arrived, some family members suspected the kidnapping was merely a ploy by the rebellious youngster as he had frequently joked about staging his own kidnapping to extract money from his frugal grandfather. He was blindfolded and imprisoned in a mountain hideout. A second demand was received, but had been delayed by an Italian postal strike. John Paul Getty, Jr. asked his father for the money, but was refused. Getty Sr. argued that were he to pay the ransom, then his 14 other grandchildren could also be kidnapped. In November 1973, an envelope containing a lock of hair and a human ear was delivered to a daily newspaper with a threat of further mutilation of Paul, unless $3.2 million was paid: "This is Paul's ear. If we don't get some money within 10 days, then the other ear will arrive. In other words, he will arrive in little bits."
At this point the reluctant Getty Sr. negotiated a deal to get his grandson back for about $2.9 million. Getty Sr. paid $2.2 million, the maximum amount that was tax deductible, and he loaned the remainder to his son who was responsible for repaying the sum at 4% interest. Getty III was found alive in a filling station of Lauria, in the province of Potenza, on 15 December 1973, shortly after the ransom was paid.
Nine of the kidnappers were apprehended, including a carpenter, a hospital orderly, an ex-con, and an olive-oil dealer from Calabria, as well as high-ranking members of the 'Ndrangheta — a Mafia-type organization in Calabria — such as Girolamo Piromalli and Saverio Mammoliti. Two were convicted and sent to prison; the others, including the 'Ndrangheta bosses, were acquitted for lack of evidence. Most of the ransom money was never recovered. In 1977, Getty had an operation to rebuild the ear that had been cut off by his kidnappers.
A. J. Quinnell used Getty's kidnapping as one piece of inspiration for his book Man on Fire.
All the Money in the World (December, 2017) is a film directed by Ridley Scott. Written by David Scarpa, it stars Michelle Williams, Kevin Spacey and Mark Wahlberg. It is based on the book by John Pearson.
In 1974, Getty married German Gisela Martine Zacher (née Schmidt), who was five months pregnant. He had known her and her twin sister Jutta since before his kidnapping. Getty was 18 years old when his son, Balthazar, was born in 1975. The couple divorced in 1993. Getty tried his hand at acting in European films: he played supporting parts in Raúl Ruiz' The Territory and in Wim Wenders's The State of Things, which was shot at the same time as Ruiz's film, using part of its cast and crew.
Getty was an alcoholic and drug addict. In 1981, he imbibed a valium, methadone, and alcohol cocktail which caused liver failure and a stroke, leaving him a quadriplegic and nearly blind. He never fully recovered and remained severely handicapped for the rest of his life. By 1987, however, a daily regimen of exercise, physiotherapy and speech therapy during which he reportedly showed "extraordinary willpower," had helped him regain some degree of autonomy. He could again visit concerts and cinema, and was even able to ski, when strapped to a metal frame.
In 1999, Getty, along with several other members of his family, became citizens of the Republic of Ireland in return for investments in that country of approximately £1 million each, under a law which has since been repealed.
On 5 February 2011, aged 54, Getty died at Wormsley, Buckinghamshire, following a long illness. He had been in poor health since his 1981 drug overdose. He was survived by his son and his mother.