Creative director(s)

Leena Gangopadhyay

Created by

Magic Moments Motion Pictures

Written by

StoryLeena GangopadhyayScreenplayLeena GangopadhyayDialoguesLeena Gangopadhyay

Directed by

Saibal BanerjeeSujit Paain

Presented by

Bright Advertising Pvt. Ltd.

Similar

Chokher Tara Tui, Kusum Dola, Mon Niye Kachakachi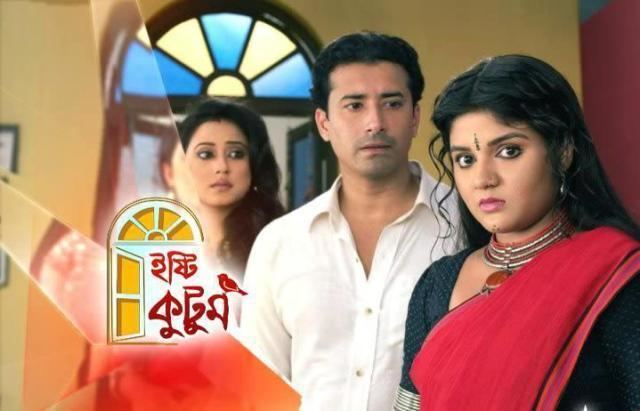 Ishti Kutum was a Bengali TV serial aired on Star Jalsha every week from Monday to Saturday from 6:30PM to 7:00PM (IST). The show started with little popularity from October 2011 but and it is one of the most controversial serial of recent times because of its storyline where leading characters like Archi & Baha play negative roles.
Contents
The show was remade into Hindi in the title Mohi, which launched on STAR Plus channel.
Plot
The story consists of an unusual plot. It revolves around the life of a tribal love-child Bahamoni Soren from a secluded region called Palashboni West Bengal. She plays one of the lead female role in the Drama who turns out to be a prostitute & her own sister's home breaker from a simple girl. Bahamoni was brought up by her mother Konka and stepfather Satyakaam who is also a tribal activist and leader.
It so happens that a city journalist of a famous Kolkata newspaper, Archisman Mukherjee, visits Polashboni to interview Satyakam. He saves Satyakam from the police. He also meets Bahamoni.Archi already has a fiance with whom his is about to get married. Archisman tells Baha about his soon-to-be-wife Kamalika,who will help her if Baha decides to go to city,as she is a professor.One stormy night Baha has to spend the night in the Tourist Lodge, in Archisman's room.Though Baha knew spending the night with an engaged man would be fatal still she agrees in spite of knowing about his village people's barbaric attitude.Though both are innocent, the tribals are angry with the city man because previously city men have exploited tribal women, in fact, Baha's mother Konkamoni was left pregnant by one such painter from the city,though it was revealed later that Kanka was well aware of the fact that the man was already married and has a small daughter, still she agrees to mate with him. Tribal terrorists force Archisman to marry Bahamoni.Archi discards such fake forced marriage & asks Baha to decide what she wants to do. Baha then comes to Kolkata with Archisman as a maid servant & requests him not to take any step as she will never reveal about this fake ceremony. She begins to study in the city. Initially she finds it difficult to adjust to the city lifestyle but gradually becomes comfortable and happy, living with Mukherjee family, who also begin to love her cheerful fun-loving ways. The Mukherjees are a loving joint family. Their elder son Dhritiman went abroad twelve years back. The second son of the family is the struggling journalist Archisman Mukherjee. Initially Archisman does not like Bahamoni, and thinks her as a nuisance in his life, and hence tortures and threatens Bahamoni now and then. Archi moves on to marry his long seen girlfriend Kamalika Majumdar, a college Professor, whose family consists of her Mother, Grandmother, an widowed aunt and her father Dibyojoti Majumder, who happens to be the biological father of Baha Archisman slowly gets attracted towards Baha, and felt sympathy for her. Later Archi & Baha started sharing bed in absence of Archi's wife Kamalika. Finally Archi wanted to establish her as his wife, so both Archi & Baha started torturing Kamalika mentally in various way.Baha deliberately tries to disrupt Archi-Kamalika's life by continuously following them around & crying infront of Archi to disturb his mind, and always started talking about her bad luck,poverty etc. etc. to gain sympathy.On the other hand, Baha started using sindur for Archi suddenly to torture Kamalika mentally & started making Kamalika's life hell. Kamalika attempts suicide for getting cheated & devastated by Archisman, her husband & his behavior. Kamalika leaves mukherjee house, giving a reason that she loves some one else called Dhrubo just to save Archisman from social humiliation and legal trouble.Devastated Kamalika finally divorces Archi,so that Archi and Baha can marry happily,and also arranges everything for Archi-Baha's marriage. Archi marries Baha according to city customs. She continues her studies and performs brilliantly. Kamalika & Baha became bitter as Baha's true face started coming out.Kamalika's mother is very possessive about her daughter and after the divorce creates trouble in her own family as well as in mukherjee family with her harsh words and insults. She even attempts to murder Baha out of rage, as Baha's mother is the reason for her distress, whereas Baha was the reason for her daughter's plight & attempt to suicide. She is also aware of the fact that her husband is Baha's father which makes her more angry and vicious. However Kamalika forces her father Dibyojoyti to accept Baha as his child as it was his fault as well as Kanka's. Dibyojoti regrets his past behavior and to attain salvation tries to keep a good relation with Baha to which Baha agrees. Meanwhile, the elder son of the Mukherjees Dhritiman returns home, it becomes known that he is suffering from leukemia and that is why didn't marry his fiance Sanjbati who is a singer, but had never sung after Dhriti left her. With Baha's help, Dhriti and Sanjbati resolve their differences and marry.But Archi Baha started having problem since Baha started flirting around her childhood friend Prakash as well as her Bengali sir from college.Archi reacts due to this A new character Dhruba Sen, a lawyer, is introduced. He falls in love with Kamalika.Kamalika takes Dhrubo's help in getting bail for Satyakam who is Baha's step father & a fighter of tribes.Kamalika gets a good friend in Dhrubo, and in search of happiness and new life agrees to marry him. But Dhruba too has another wife Rusha, who had run away from their marriage and was missing for many years, but suddenly returns. Complications develop as Rusha has become involved in a smuggling racket. She threatens Dhruba and family for marrying Kamalika without divorce from her. Helpless Kamalika stressed with her life attempts suicide again. Eventually is saved by Archisman, but loses mental balance temporarily. Baha agrees to nurse her but in this process both Archi & Baha started torturing Kamalika physically & beating her up.After Kamalika goes back to Dhrubo sen after recovery, Baha & Archi tries to fight for Rusha's (the criminal drug dealer) justice with help from Dhrubo, though they knew it will disrupt Kamalika's life again.But when Rusha became good friend with Archi, Baha started showing jealousy.Rusha then leaves Archi's house & goes back to Dhrubo.Kamalika leaves Dhrubo's house after this,so that Dhrubo can marry Rusha & live happily.After this, Dibyojyoti discards Baha as his daughter for Baha's vindictive & cheap behavior towards Kamalika. Later on, Bahamoni travels abroad for higher studies with the financial help from Tamojit. Kamalika conceives from Dhrubo. But Dhrubo marries Rusha again, so Kamalika decides not to reveal Dhrubo about the baby and stay a single mother to the baby. Eventually, Kamalika happens to meet Bikram, her colleague's brother from USA, who falls in love with Kamalika, and takes the responsibility of the child. Kamalika feels Bikram might be the right person, and decides to be with him. Meanwhile, Archi discovers the truth, that Bikram is his cousin brother and shares the same with Kamalika.Kamalika finally decides to marry Bikram as Bikram was the only person who understands Kamalika well. Kamalika gives birth to her child asmaan, but Dhurbo who was unable to become a father due to Rusha, steals the child out of frustration.But later on Kamalika gets her baby back due to Dhrubo's father, Bikram & Archi. On the other hand, Baha's relationship with Archi becomes bitter when Archi realizes Baha's true face.Baha started fighting with everyone in Archi's house,and every person in Mukherjee family slowly starts hating Baha.One day Baha unintentionally kills the unborn child of Nilu (Archi's sister). Due to Baha's cheap behavior Archi threatens to divorce Baha but Baha disagrees and still insists on staying with Archi forcefully.But problem did not solve as Baha starts flirting with her male colleague due to which problem between Archi & Baha arises.One day Kamalika sees Baha & her colleague on street & informs Archi suspecting something fishy.Baha goes to Kamalika's house & threatens her to lodge case against her if she talks to Archi again.Archi feels humiliated with Baha's behavior & her new affair with Dibakar,& reminds her of the contribution of Kamalika in Baha's life that if Kamalika didn't sacrifice then Baha would have been on streets fighting with her poverty & loneliness.Kamalika paid the price for Baha's terrorists village people's barbaric attitude.Archi Baha both decides to separate & Baha takes Dibakar's help to find a new place. On the other hand, Kamalika was ill with deadly disease.Knowing this Archi-Baha wanted to bring her in Mukherjee house,but Kamalika wanted to stay alone as she remembers how they tortured her last time.But Archi forces her later again & again and finally Kamalika wishes to go to palashbani to donate her money to those people to build hospital for them,though they are the same people who made her life hell bu forcing baha to marry & later with plenty of barbaric abuse which was expected from those savages.Kamalika dies on lap on Archi on her Birthday itself,leaving the child. Baha, still jealous as ever, thinks Archi will never forget Kamalika & tries to confront. Archi doesn't pay heed to her anymore & leaves without reaction. They decides to leave each other as Baha finally knew she cannot make Archi forget Kamalika.After a gap of 6 years they meet in a function & Archi talks about Kamalika's son who wants to see Baha.Baha decides to stay with him again & serial ends. The show explores relationships & prostitution racket of tribal terrorists & special tricks of cheating women.
Cast
Ronita Das/Sudipta Chakraborty as Bahamoni Soren
Rishi Kaushik as Archishman Mukherjee
Ankita Chakraborty as Kamalika Majumdar/Mun
Koushik Roy as Bickram
Madhabi Mukherjee as Kamalika's grandmother
Rita Koiral as Bickram's mother
Santu Mukherjee as Archi's uncle
Saswati Guha Thakurta as Archi's Aunt
Badshah Maitra as Dhritiman Mukherjee
Bidipta Chakraborty as Sanjhbaati
Bhaswar Chatterjee as Dhruba Sen
Shankar Chakraborty as Dibyojoti Majumdar
Suchismita Chowdhury as Anushree Majumdar
Chaitali Dasgupta as Dhruba Sen's Mother
Basudeb Mukherjee as Dhruba Sen's father
Shahana Sen as Rupanjana / Rupu
Suman Mukherjee as Arjyo
Manjusree Ganguly as Doyel
Goutam De as Archi's Father
Tanuka Bhattacharya as Archi's Mother
Anushree Das as Kanka
Chandan Sen as Satyakam
Sudip Chakraborty as Prakash
Sandip Chakraborty
Rajashree Bhowmick
Awards and honors
Telly Samman 2012- Best Actress Ranita Das as Baha
Telly Samman 2013- Best Actress Ankita Chakraborty as Kamalika/Mun
Star Parivaar Award 2013- Best daughter Ranita Das as Baha
Star Parivaar Award 2013- Best Sister Ankita Chakraborty as Kamalika/Mun
Controversy
This show has been highly controversial, because of its poor and misleading content. This has also enraged Tribal community of West Bengal for hurting their sentiments and portraying tribal characters very poorly. A lawsuit has been filed by the Tribal community on July 2014 in Kolkata High Court against the channel for portraying tribal woman's character and in poor light as well as ridiculing their language and culture. Though the channel authority denied all but a huge uproar from audience was there due to the negative contents of serial like cheating women, and domestic violence,provocation of suicide etc. by the leading character Archi and Baha.
References
Ishti Kutum Wikipedia
(Text) CC BY-SA