The film's main villain, "Mr. Big", was played by John Vernon. In the film, Vernon states about his role as "Mr. Big" that while he might seem to be "above playing an exploitation villain", many others (including Angie Dickinson, Jamie Lee Curtis, and Shelley Winters) have taken on similar roles.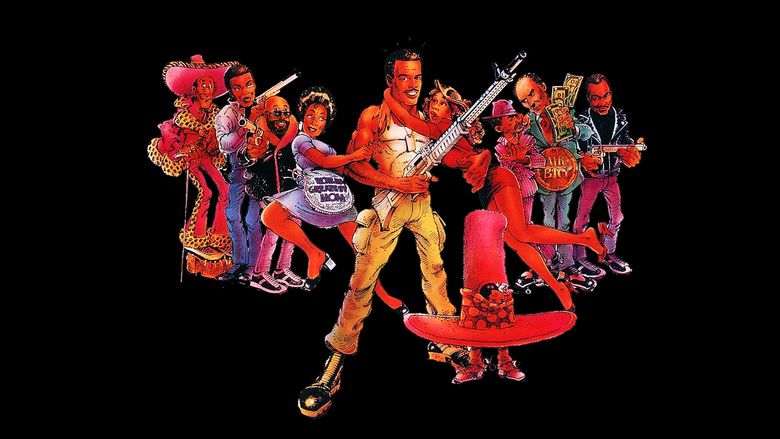 Soldier Jack Spade (Keenan Ivory Wayans) returns home to Any Ghetto, U.S.A. after receiving news that his brother, Junebug, died of an "OG" – an overdosing on gold chains. Surveying the old neighborhood, Jack observes the effect of gold chains on his community and desires revenge not only for his brother's death, but for the community at large. He vows to destroy Mr. Big (John Vernon), the neighborhood chain lord responsible for the epidemic that claimed Junebug's life. Jack asks for the aid of his childhood idol and local hero John Slade (Bernie Casey) in planning the demise of Mr. Big's empire. Together, they form a team including Kung Fu Joe (Steve James), Flyguy (Antonio Fargas), Slammer (Jim Brown), and Hammer (Isaac Hayes). With the help of his crew, before Jack sets out to take down Mr. Big and the gold trade in his streets.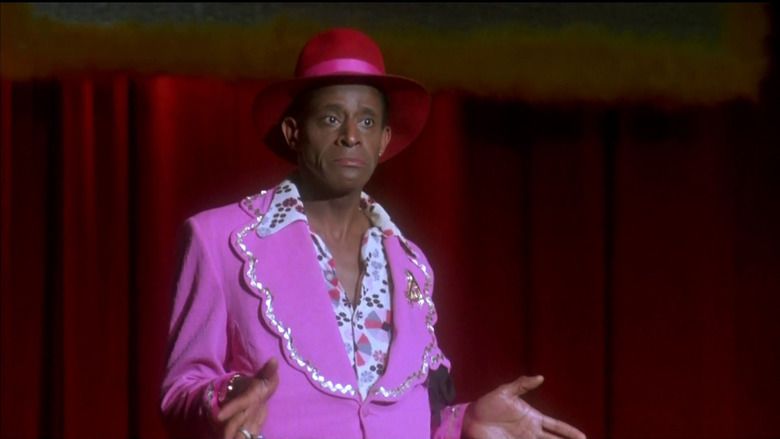 Keenen Ivory Wayans – Jack Spade
John Witherspoon – Reverend at Junebug's Funeral
Bernie Casey – John Slade
Ja'net Dubois – Belle Brown-Spade
Isaac Hayes – Hammer
Jim Brown – Slammer
Antonio Fargas – Flyguy
Steve James – Kung Fu Joe
John Vernon – "Mr. Big"
Dawnn Lewis – Cheryl Spade
Kadeem Hardison – Willie
Damon Wayans – Leonard
Kim Wayans – Nightclub Singer
Nadia Wayans – Bar Patron
Chris Rock – Rib Joint Customer
Anne-Marie Johnson – Cherry
Eve Plumb – Kalinga's Wife
Tony Cox – Wayne Evans
Hawthorne James – One-Eyed Sam
Clarence Williams III – Kalinga
David Alan Grier – Newsman
Robin Harris – Bartender
Marlon Wayans – Pedestrian
Shawn Wayans – Pedestrian
Gary Owens – Pimp of the Year pageant announcer
Lawrence Parker – Himself
Derrick Jones – Himself
Robert Townsend (uncredited)
Peggy Lipton (uncredited)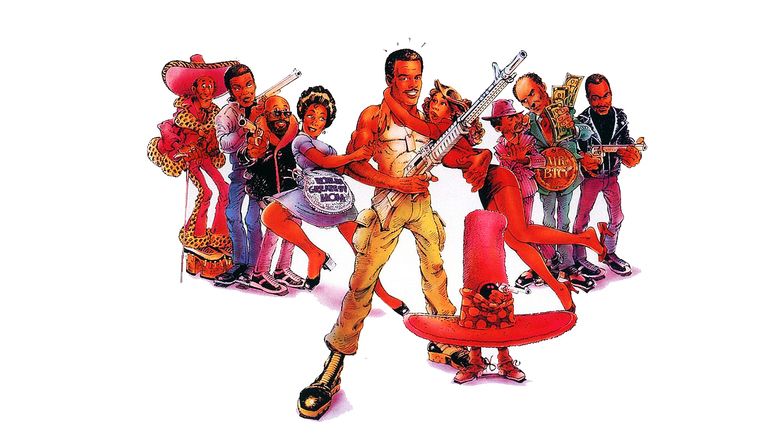 The film was written and directed by then first time director Keenan Ivory Wayans. The inspiration behind the film came from Wayans, who is a fan of Blaxploitation films, and his childhood spent growing up watching these films as they made up the majority of black films on the movie screen during the 1960s and 1970s. The film was sitting with friends and making fun of the genre of films that struck an idea in Wayans. Before making I'm Gonna Git You Sucka, Wayans spent five years earning credentials for films such as Hollywood Shuffle and Eddie Murphy Raw. Once he earned enough credibility to have his film picked up by a studio and a budget of $3 million, Wayans film his debut feature film in 32 days and received a gross of $3 million in the box office a month following the film's release.
I'm Gonna Git You Sucka contains elements of black power in its plot, action comedy and its soundtrack. The film opens with a "gold chain" epidemic plaguing Any Ghetto, U.S.A. and Jack Spade promising to do something to stop its spread. Due to its emulating Blaxploitation films, the movie's storyline of a young black adult returning home to repair and protect the community from the outside influences of white power figures is a tenet of Black Power; it is one's duty to themselves and community to work for the political, economic, and social improvement of all black people.
Black Nationalism is also an important teaching of Black power that the film makes evident in the People's Revolutionary Army, and its contradictory pro-black leader Kalinga. Slade and his crime fighting friends are examples of the typical Black anti-hero of Blaxploitation films that represents Black Power: self-determined men who call their own shots and control the people and environment around them. Jack Spade himself does not embody self-determination at the film's start, but by the end Jack Spade has matured into a real macho hero – independent of his mother and Slade's help. In her analyzation of the film, Harriet Margolis writes that this is not because "[Jack] consciously chooses to reject his mother's values as that he wants to establish his own based on the macho heroic values he learned during the heyday of Blaxploitation films." These men also use violence when met with violence, mainly from the white man as seen when Kung Fu Joe fights off the white cops that pull him over – coincidentally, as he is driving an expensive car through a black neighborhood on the side of town. The character of Kung Fu Joe is representative of the prevalence of martial arts in the Black Power Movement during the 1970s.
As Robert Sklar writes, "The [Blaxploitation film] movement quickly developed into a phenomenon not of an African-American audience but of a specific subgroup, a segment of a segment: young urban males," so often the perspective and narratives of young black women were left out or included as the background in many of these films during the 1970s. Despite being a film of satire, I'm Gonna Git You Sucka includes characters that portray the stereotypical images of women seen in Blaxploitation films. The stern and overprotective, yet loving mother who is not afraid to fight for her child is evident in Dubois' character, Belle Brown-Spade. She refused to even let Jack get his hands dirty in a fight with Mr. Bigg's henchmen and took the men on herself. The gorgeous and sexually liberated single woman is represented by the presence of Cherry and her night on the prowl in a local bar in the film. The movie also shows male commentary that assesses the value of the woman body. Willie and Leonard come to the Spade home to warn Cheryl and Jack's mother of Junebug's outstanding debt to Mr. Bigg, and while ogling her body, Leonard suggests the possibility of taking Cheryl for repayment as he imagines her body and its services to be just as valuable.
The men in this film also illustrate stereotypical masculinity. All of the men in the film use violence to assert their power and to warn off enemies like Mr. Bigg's henchmen and the police. Their clichéd view of women casts them as damsels who need protection, as Spade tells Cheryl that it is his job to protect her during their private conversation in his bedroom. Also, before the film's climatic showdown, a hyperviolent masculinity "test" of sorts ensues between Hammer and Jack, where Hammer questions how far Jack will go to end another man's life. However, there are instances in the movie where male characters step out of these conventional roles. Leonard refuses to admit to Willie that he screams when frightened by Spade's team catching him and Willie alone and defenseless, at the film's end. Jack Spade even allows himself to be vulnerable when alone with Cherry, and he admits to her that he can't physically fulfill her sexual expectations of him. We see another glimpse from Jack in which the macho persona of brute black male heroes is parodied towards the film's end. Jack receives an injury and cries out in pain. When the camera focuses on Jack, he is shown with a needle scraping out a microscopic splinter from his index finger – suggesting that these male heroes dripping in machismo are not as tough or hardcore as they perceive themselves to be in real life. In reality it was a pun of a Rambo movie where he burns his wound after pulling an arrow out of it. Perhaps showing men are not some brutish oafs who don't feel pain or emotion, yet are constantly dehumanized.
The title of the film itself is a clear indicator of race. The phonetic spellings of "git" and "sucka" are used in Black English or "ebonics". Like the titles of Blaxploitation films in the 1970s, I'm Gonna Git Ya Sucka is a reflection of the language that heard in cultural groups within the black community.
The film represents race in the fact that it encapsulates a genre of film designed by black directors and writers for a black audience in the 1970s, during a time when very few Black actors could find work in white Hollywood films that did not portray blacks as stereotypical slaves or housekeepers. Also, Flyguy and his pimp comrades are characters that also embody black personas from the Blaxploitation era. Flyguy's walking cane, wide brimmed hats and platform boots are all qualities that simultaneously mock and pay homage to the likes of film favorites such as Superfly and Fargas' Starsky and Hutch character, Huggy Bear. When showing scenes of the neighborhood youth competition, the film depicts the young people of the neighborhood competing in events that involve the breaking down of old cars for their parts, racing down streets with stolen goods while being chased by dogs, and other "hood" games – illustrating black beliefs concerning the white perception of the inner city black youth. The movie also depicts stereotypical beliefs of black fatherhood when John Slade questions the presence of Jack Spade at the Youth Competition in the neighborhood. He assumes because Jack asks him about his past relationship with his mother that Jack has come to tell John that he is his father.
The use of gold chains in the film was reflective of hip hop culture and attire since rappers have constantly sported medallions and gold links around their necks since the 1980s. The spread of chains in the film was similar to that of the spread of crack and cocaine within the black community in New York during the 1980s as well. Too many gold chains at once and a person could succumb to all of their jewelry, known in the film as an "overgold" or "OG".
I'm Gonna Git You Sucka also includes scenes where characters break expected racial norms. As the newsman, David Allen Grier displays a persona similar to that of a prep school student who was raised in a predominantly white area. His character even admits to growing up in the suburbs where none of his friends were black. Also, the identity of Mr. Bigg surprises other film characters and movie goers alike as he is not only a white man, but it played by none other than John Vernon. He breaks character at the end of the film to justify his being in the film, stating that other top white actors have played in Blaxploitation films as well.
The film opened with rave responses from the black community. African-American audience members were thrilled to attend the screening of movie filled with Black actors about a Black film genre. I'm Gonna Git You Sucka received critical receptions that were wide-ranging and numerous in viewpoint. To the urban public, the parody film perfectly captured the era of Blaxploitation films in the 1960s and 1970s. Critics also noted Wayans' ability to satirically capture the era of the "Buck" in Blaxploitation film: the white man's notion of the all-powerful brutal black man. Soldier Jack Spade as a character represents the use of Black athletes in Black movies during the 1970s to promote the idea that heroic measures are valued by the amount of physical action used.
Critics of the film argued that the film not only failed at producing humor in its use of black stereotypes, but was also generally not funny. Says Chicago Sun-Times film critic Roger Ebert, I'm Gonna Git You Sucka is "a comedy that feeds off the Blaxploitation movie, and although, like all good satires, it is cheerfully willing to be offensive, it is almost completely incapable of being funny." There was also a concern about the perception of the film by the white movie going audience. The film's villain, Mr. Bigg, is not only a white man, but a white man responsible for the deterioration of an inner city black community. Critics worried that the white male villain of the film would spur racial dialogue creating a divide among white and black film-goers.
On December 15, 1990, the hour-long television pilot program called Hammer, Slammer, & Slade was shown on ABC-TV. It was directed by Michael Schultz.
Isaac Hayes (Hammer), Jim Brown (Slammer), and Bernie Casey (Slade) continued in their parts from the movie I'm Gonna Git You Sucka. Also returning were Ja'net Dubois and Steve James. Although Keenen Ivory Wayans wrote the pilot, and he served as the executive producer, he did not appear in this pilot. Instead, the character of Jack Spade was portrayed by Eriq La Salle, who later acted in the TV series ER. Also acting in the pilot was the little-known (at the time) Martin Lawrence in Kadeem Hardison's former role as Willie "Ya-te-dee" (Mr. Big's nephew and one of his henchmen). Bentley Kyle Evans played the role of Lenny (Willie's sidekick).
Hammer, Slammer, & Slade was not sold to any TV network, but it was shown several times in syndication.
In 2001, I'm Gonna Git You Sucka was published on DVD.
In 2010, I'm Gonna Git You Sucka was digitized in High Definition (1080i) and also broadcast on MGM HD.