Dr kofi abrefa busia s legacy ignatius kutu acheampong j j rawlings footage included
General Ignatius Kutu Acheampong ( ) (23 September 1931 – 16 June 1979) was a military head of state of Ghana who ruled from 13 January 1972 to 5 July 1978, when he was deposed in a palace coup. He was later executed by firing squad.
Contents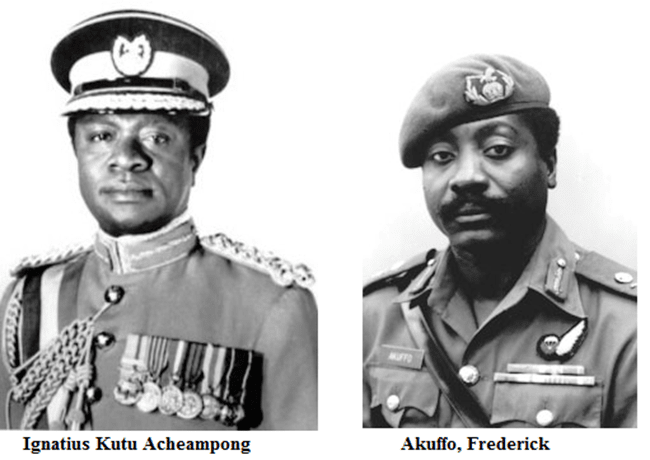 General ignatius kutu acheampong at a military parade
Early life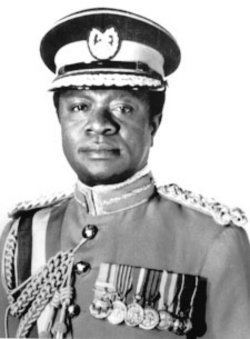 Acheampong was born to Catholic parents of Ashanti origin. He attended the Roman Catholic schools at Trabuom and the St Peter's school (also Catholic) at Kumasi, both in the Ashanti Region of Ghana. He attended the then Central College of Commerce at Agona swedru in the central region of Ghana. He was commissioned in the Ghana Army in 1959, and served as part a member of the UN peacekeepers during the Congo Crisis.
Politics
Acheampong lead a coup d'état to overthrow the democratically elected government of the Progress Party and its leader Dr. Kofi Busia on 13 January 1972. He became Head of State and Chairman of the National Redemption Council (NRC), which was later transformed into the Supreme Military Council on 9 October 1975, with Colonel Acheampong (promoted to General) as its chairman.
Notable historical changes and events introduced or implemented in Ghana during the period under Acheampong include: the change from the imperial to the metric system of measurement, change from driving on the left to right-hand drive in "Operation Keep Right", "Operation Feed Yourself" (a programme aimed at developing self-reliance in agriculture), "National Reconstruction" (aimed at promoting employment and skill for workers), face-lift projects in cities, and the reconstruction/upgrading of stadia to meet international standards.
There were, however, widespread accusations of both the encouragement and endorsement of corruption in the country under his rule.
Union Government and overthrow
Acheampong sought to perpetuate the military in government by introducing a model called "Union Government" or "Unigov" for short. This became a very contentious national issue which was vehemently opposed by many. A referendum held on 30 March 1978 to accept or reject this concept was widely believed to be rigged, though the official results were 60.11% for and 39.89% against. The electoral commissioner at the time, Justice Isaac Kobina Abban (who later became Chief Justice), went into hiding from the government for fear of his life after coming under pressure to manipulate results.
Acheampong was deposed in a palace coup on 5 July 1978 and succeeded by the Chief of Defence Staff, Lt. General Fred Akuffo. He remained under virtual house arrest at Trabuom in the Ashanti Region until the advent of the Armed Forces Revolutionary Council (AFRC).
Execution
Acheampong, who was in the garden when he was arrested, was executed by firing squad in June 1979 together with two other former Heads of State (Gen. Afrifa and Gen. Akuffo) and five other senior military officers (Amedume, Boakye, Felli, Kotei and Utuka), following the 4th of June revolution that brought Flight Lieutenant Jerry Rawlings and the AFRC to power.
Family
Acheampong was married to Mrs. Faustina Acheampong. His grandson is American football player Charlie Peprah. A native of Plano, Texas, Peprah played four seasons at the University of Alabama and was selected in the fifth round of the 2006 NFL Draft by the New York Giants. Peprah is currently a free agent.
References
Ignatius Kutu Acheampong Wikipedia
(Text) CC BY-SA