Other names

Holly Grainger




Role

Actress




Occupation

Actress




Height

1.55 m





Years active

1994–present




Parents

Gian Grainger




Name

Holliday Grainger




Upcoming movie

The Finest Hours





Full Name

Holliday Clark Grainger




Born

27 March 1988 (age 35) (

1988-03-27

) Didsbury, Manchester, England


Education

University of Leeds, Parrs Wood High School


Movies and TV shows

The Borgias, Cinderella, Great Expectations, The Riot Club, The Finest Hours


Similar People

Sophie McShera, Lily James, Francois Arnaud, Lucrezia Borgia, Richard Madden
Holliday grainger max irons sam claflin douglas booth talk the riot club
Holliday Clark Grainger (born 27 March 1988), also credited as Holly Grainger, is an English screen and stage actress. Some of her prominent roles are Lucrezia Borgia in the Showtime series The Borgias, Robin Ellacott in Strike and Estella in Mike Newell's adaptation of Great Expectations.
Contents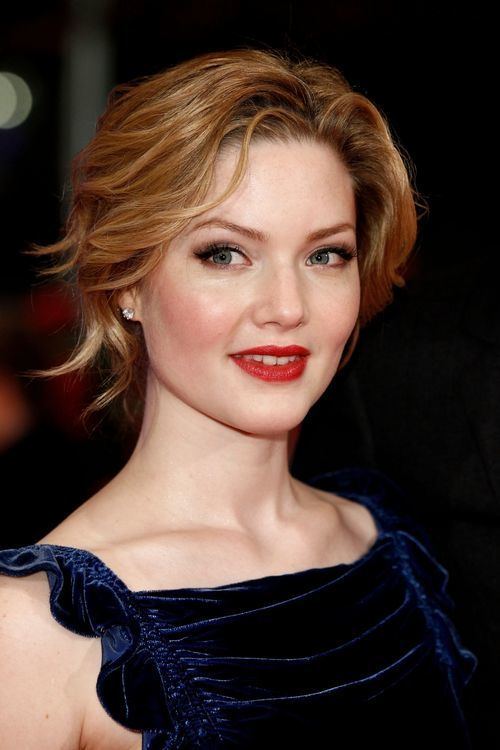 Early life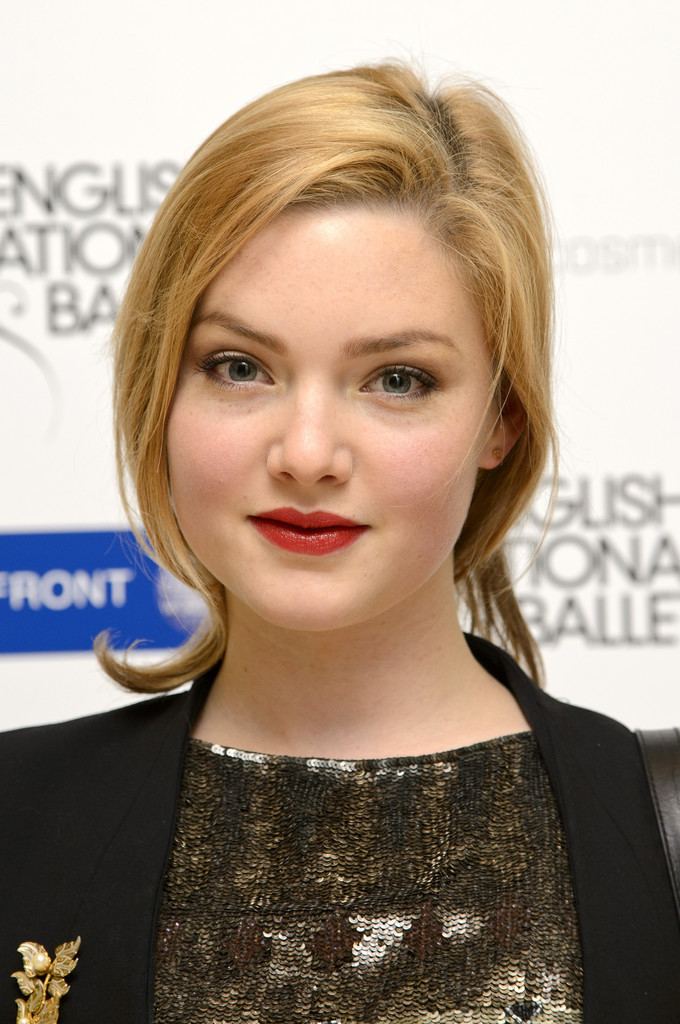 Grainger was born in Didsbury, Manchester. One of her grandfathers is Italian. Her first experience of acting was at age six when she was scouted for a BBC TV series. She appeared in many TV shows and independent films as a child actor.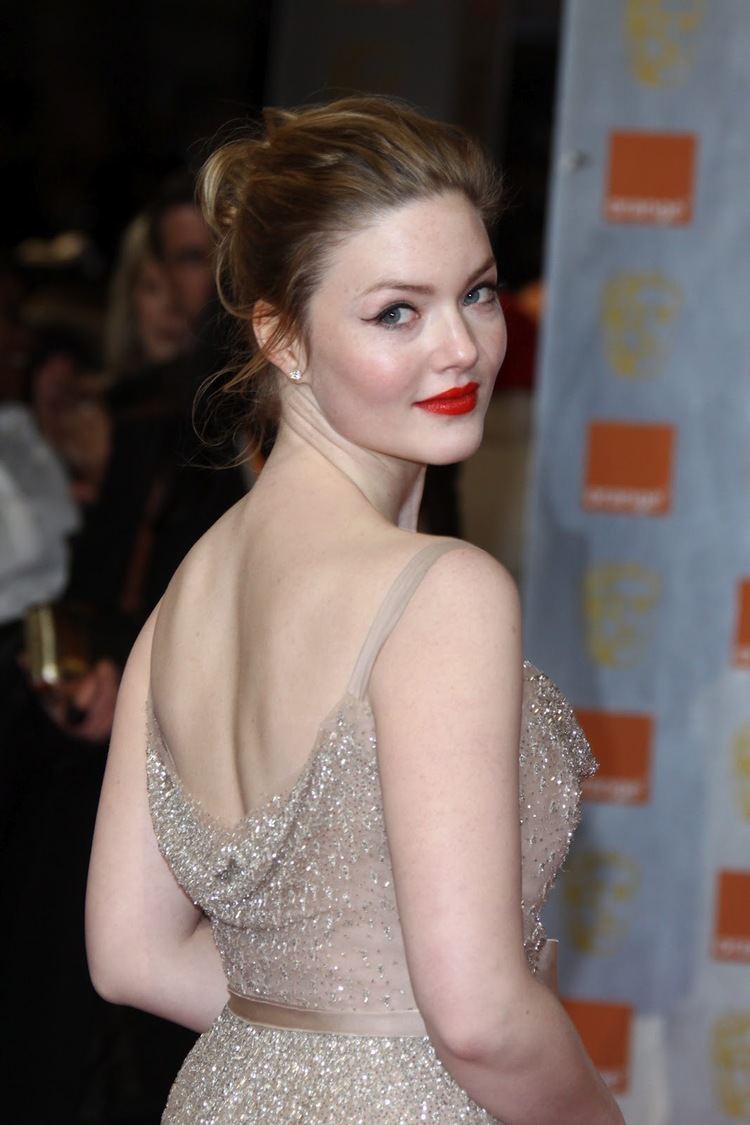 Grainger attended Parrs Wood High School from 1999 to 2006, and in 2007 began study for a degree in English literature at the University of Leeds. However, she eventually opted for the Open University where she gained a first-class honours degree.
Career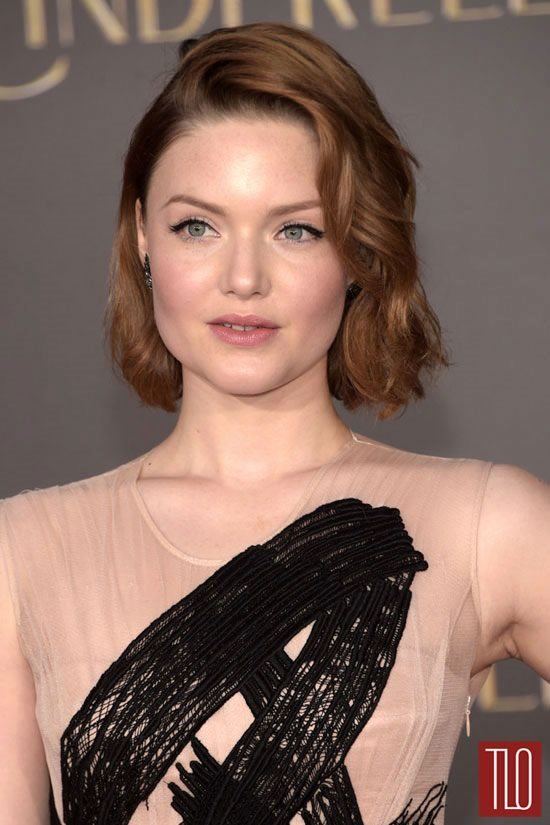 Grainger's first acting role was at six years old in the BBC comedy drama series All Quiet on the Preston Front. Roles followed in Casualty, Doctors, Dalziel and Pascoe. Grainger played Megan Boothe in Where the Heart Is, Stacey Appleyard in Waterloo Road and Sophia in Merlin.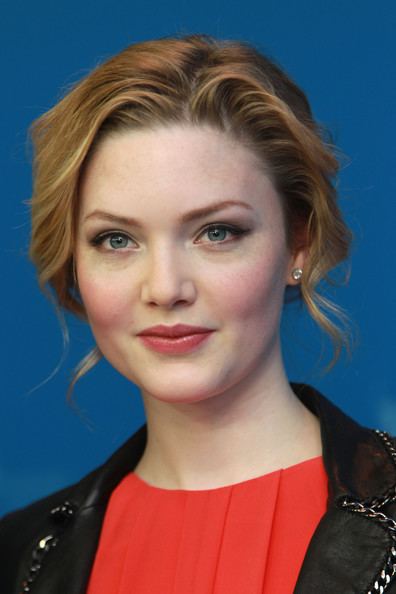 In 2011 she appeared in the television series The Borgias, playing Lucrezia Borgia with Jeremy Irons in the role of Pope Alexander VI. The series, created by Oscar-winning Neil Jordan and shot in Hungary, ran for three seasons.
Grainger also performed on stage and in film. After her role as Emily in The Scouting Book for Boys she played one of the Rivers sisters opposite Mia Wasikowska and Michael Fassbender in Cary Fukunaga's 2011 retelling of Jane Eyre, and had minor roles in Bel Ami alongside Robert Pattinson and Uma Thurman, and in the 2012 film Anna Karenina as Baroness Shilton.
In June 2011, she gained the leading role of Estella in Mike Newell's film adaptation of Great Expectations, opposite Jeremy Irvine and Helena Bonham Carter. The movie, screened at Toronto International Film Festival 2012, had its European premiere as the closing night film of the BFI London Film Festival. She starred in Disassociation, a play by Luke Bailey, at The Lowry, and played Bonnie Parker in the 2013 mini-series Bonnie & Clyde. She was one of the female leads in The Riot Club, the film version of the play Posh, alongside Max Irons.
Grainger played Cinderella's stepsister Anastasia Tremaine in Kenneth Branagh's 2015 film version of Cinderella. She is to appear in a film adaptation of the novel Tulip Fever alongside Alicia Vikander.
In 2014, she appeared on stage in a version of Chekov's Three Sisters.
In 2016, Grainger starred in Disney's The Finest Hours.
Personal life
Grainger lives in Manchester with her mother, Gianetta Grainger, a graphic designer. She went to piano, gymnastics lessons, Taekwondo and was a pupil at the Madeley School of Dancing in Manchester.
Philanthropy
On 20 June 2016, World Refugee Day Grainger, as well as Jack O'Connell, featured in a film from the United Nations' refugee agency UNHCR to help raise awareness of the global refugee crisis. The film, titled Home, has a family take a reverse migration into the middle of a war zone. Inspired by primary accounts of refugees, and is part of UNHCR's #WithRefugees campaign, which also includes a petition to governments to expand asylum to provide further shelter, integrating job opportunities, and education. Home went on to win a BAFTA Award and a Gold Lion at Cannes Lions International Festival of Creativity among many other awards.
Filmography
Actress
-
Halo of Stars (post-production)
as
Emm
2017
C.B. Strike (TV Series)
as
Robin Ellacott
- Troubled Blood: Part 4 (2022) - Robin Ellacott
- Troubled Blood: Part 3 (2022) - Robin Ellacott
- Troubled Blood: Part 2 (2022) - Robin Ellacott
- Troubled Blood: Part 1 (2022) - Robin Ellacott
- Lethal White: Part 4 (2020) - Robin Ellacott
- Lethal White: Part 3 (2020) - Robin Ellacott
- Lethal White: Part 2 (2020) - Robin Ellacott
- Lethal White: Part 1 (2020) - Robin Ellacott
- Career of Evil: Part 2 (2018) - Robin Ellacott
- Career of Evil: Part 1 (2018) - Robin Ellacott
- The Silkworm: Part 2 (2017) - Robin Ellacott
- The Silkworm: Part 1 (2017) - Robin Ellacott
- The Cuckoo's Calling: Part 3 (2017) - Robin Ellacott
- The Cuckoo's Calling: Part 2 (2017) - Robin Ellacott
- The Cuckoo's Calling: Part 1 (2017) - Robin Ellacott
2019
The Capture (TV Series)
as
DCI Rachel Carey / DI Rachel Carey
- The Flip (2022) - DCI Rachel Carey
- Imposter Syndrome (2022) - DCI Rachel Carey
- #therealzacturner (2022) - DCI Rachel Carey
- Charlie Foxtrot (2022) - DCI Rachel Carey
- Made in China (2022) - DCI Rachel Carey
- Invisible Men (2022) - DCI Rachel Carey
- Correction (2019) - DI Rachel Carey
- A Pilgrim of Justice (2019) - DI Rachel Carey
- Blind Spots (2019) - DI Rachel Carey
- Truffle Hog (2019) - DI Rachel Carey
- Toy Soldier (2019) - DI Rachel Carey
- What Happens in Helmand (2019) - DI Rachel Carey
2022
Impact Winter (Podcast Series)
as
Darcy Dunraven
- Thicker Than Water (2022) - Darcy Dunraven
- Ancient History (2022) - Darcy Dunraven
- The Duchess of Soho (2022) - Darcy Dunraven
- The Blood of Who We Used to Be (2022) - Darcy Dunraven
- That Which Nothing Hunts (2022) - Darcy Dunraven
- Val Sans Retour (2022) - Darcy Dunraven
- Some Strange Shadow (2022) - Darcy Dunraven
- The Truth Unsaid (2022) - Darcy Dunraven
- Cold Snap (2022) - Darcy Dunraven
2018
Tell It to the Bees
as
Lydia Weekes
2018
Patrick Melrose (TV Mini Series)
as
Lady Gravesend / Bridget Watson-Scott
- Some Hope (2018) - Lady Gravesend
- Never Mind (2018) - Bridget Watson-Scott
2017
Electric Dreams (TV Series)
as
Honor
- The Hood Maker (2017) - Honor
2017
My Cousin Rachel
as
Louise
2017
Robot & Scarecrow (Short)
as
Robot
2016
The Finest Hours
as
Miriam Webber
2015
Lady Chatterley's Lover (TV Movie)
as
Lady Constance Chatterley
2013
Bonnie & Clyde (TV Mini Series)
as
Bonnie Parker
- Part 2 (2013) - Bonnie Parker
- Part 1 (2013) - Bonnie Parker
2011
The Borgias (TV Series)
as
Lucrezia Borgia
- The Prince (2013) - Lucrezia Borgia
- The Gunpowder Plot (2013) - Lucrezia Borgia
- Tears of Blood (2013) - Lucrezia Borgia
- Lucrezia's Gambit (2013) - Lucrezia Borgia
- Relics (2013) - Lucrezia Borgia
- The Wolf and the Lamb (2013) - Lucrezia Borgia
- The Banquet of Chestnuts (2013) - Lucrezia Borgia
- Siblings (2013) - Lucrezia Borgia
- The Purge (2013) - Lucrezia Borgia
- The Face of Death (2013) - Lucrezia Borgia
- The Confession (2012) - Lucrezia Borgia
- World of Wonders (2012) - Lucrezia Borgia
- Truth and Lies (2012) - Lucrezia Borgia
- The Siege at Forli (2012) - Lucrezia Borgia
- Day of Ashes (2012) - Lucrezia Borgia
- The Choice (2012) - Lucrezia Borgia
- Stray Dogs (2012) - Lucrezia Borgia
- The Beautiful Deception (2012) - Lucrezia Borgia
- Paolo (2012) - Lucrezia Borgia
- The Borgia Bull (2012) - Lucrezia Borgia
- Nessuno (Nobody) (2011) - Lucrezia Borgia
- The Art of War (2011) - Lucrezia Borgia
- Death, on a Pale Horse (2011) - Lucrezia Borgia
- The French King (2011) - Lucrezia Borgia
- The Borgias in Love (2011) - Lucrezia Borgia
- Lucrezia's Wedding (2011) - Lucrezia Borgia
- The Moor (2011) - Lucrezia Borgia
- The Poisoned Chalice (2011) - Lucrezia Borgia
- The Assassin (2011) - Lucrezia Borgia
2012
Great Expectations
as
Estella
2012
Anna Karenina
as
Baroness
2012
Bel Ami
as
Suzanne Rousset
2012
Rachael (Short)
as
Samantha
2011
Jane Eyre
as
Diana Rivers
2010
Any Human Heart (TV Mini Series)
as
Tess Scabius
- Episode #1.2 (2010) - Tess Scabius
- Episode #1.1 (2010) - Tess Scabius
2010
Colette (Short)
as
Colette
2010
Stanley Park (TV Movie)
as
Dirty Debbie
2010
Five Daughters (TV Mini Series)
as
Alice
- Episode #1.3 (2010) - Alice
- Episode #1.2 (2010) - Alice
2010
Above Suspicion (TV Series)
as
Sharon Bilkin
- The Red Dahlia: Part 3 (2010) - Sharon Bilkin
- The Red Dahlia: Part 2 (2010) - Sharon Bilkin
- The Red Dahlia: Part 1 (2010) - Sharon Bilkin
2009
The Scouting Book for Boys
as
Emily
2009
Blue Murder (TV Series)
as
Jess Burgess
- Having It All (2009) - Jess Burgess
2009
Robin Hood (TV Series)
as
Meg
- A Dangerous Deal (2009) - Meg
2009
Mark's Brilliant Blog (TV Movie)
as
Mary
2009
Demons (TV Mini Series)
as
Ruby
- Nothing Like Nebraska (2009) - Ruby
- Smitten (2009) - Ruby
- Suckers (2009) - Ruby
- Saving Grace (2009) - Ruby
- The Whole Enchilada (2009) - Ruby
- They Bite (2009) - Ruby
2009
Awaydays
as
Molly (as Holliday Granger)
2008
Merlin (TV Series)
as
Sophia
- The Gates of Avalon (2008) - Sophia
2008
Waking the Dead (TV Series)
as
Nicola Bennet
- Duty and Honour: Part 2 (2008) - Nicola Bennet
- Duty and Honour: Part 1 (2008) - Nicola Bennet
2008
Dis/Connected (TV Movie)
as
Jenny
2008
Fairy Tales (TV Mini Series)
as
Leeza Gruff
- Billy Goat (2008) - Leeza Gruff
2008
The Royal Today (TV Series)
as
Abigail
- Episode #1.3 (2008) - Abigail (as Holly Grainger)
2008
M.I.High (TV Series)
as
Leah Retsam
- It's a Kind of Magic (2008) - Leah Retsam
2007
Waterloo Road (TV Series)
as
Stacey Appleyard
- Episode #2.10 (2007) - Stacey Appleyard (as Holly Grainger)
- Episode #2.8 (2007) - Stacey Appleyard (as Holly Grainger)
- Episode #2.6 (2007) - Stacey Appleyard (as Holly Grainger)
- Episode #2.5 (2007) - Stacey Appleyard (as Holly Grainger)
2007
The Bad Mother's Handbook (TV Movie)
as
Charlie Cooper (as Holly Grainger)
2006
New Street Law (TV Series)
as
Katie Lewis
- Episode #1.1 (2006) - Katie Lewis (as Holly Grainger)
2006
Johnny and the Bomb (TV Mini Series)
as
Rose Bushell
- Déjà Voodoo (2006) - Rose Bushell (as Holly Grainger)
- The Butterfly Effect (2006) - Rose Bushell (as Holly Grainger)
- Mrs Tachyon and the Bags of Time (2006) - Rose Bushell (as Holly Grainger)
2005
Magnificent 7 (TV Movie)
as
Louise Jackson (as Holly Grainger)
2001
Doctors (TV Series)
as
Holly Leavis / Nita Harmer
- Indestructible (2005) - Holly Leavis (as Holly Grainger)
- Writing to Charlie (2001) - Nita Harmer (as Holly Grainger)
2003
Where the Heart Is (TV Series)
as
Megan Boothe
- In a Perfect World (2005) - Megan Boothe (as Holly Grainger)
- So Long (2005) - Megan Boothe (as Holly Grainger)
- Peaches and Cream (2005) - Megan Boothe (as Holly Grainger)
- Brief Encounters (2005) - Megan Boothe (as Holly Grainger)
- Legacy (2005) - Megan Boothe (as Holly Grainger)
- Together (2005) - Megan Boothe (as Holly Grainger)
- Sisters Under the Skin (2005) - Megan Boothe (as Holly Grainger)
- Stamp of Approval (2005) - Megan Boothe (as Holly Grainger)
- When All This Is Over (2005) - Megan Boothe (as Holly Grainger)
- Care (2005) - Megan Boothe (as Holly Grainger)
- Never Can Say Goodbye (2004) - Megan Boothe (as Holly Grainger)
- Body & Soul (2004) - Megan Boothe (as Holly Grainger)
- Skin Deep (2004) - Megan Boothe (as Holly Grainger)
- Little Boy Blue (2004) - Megan Boothe (as Holly Grainger)
- The Games We Play (2004) - Megan Boothe (as Holly Grainger)
- Moon River (2004) - Megan Boothe (as Holly Grainger)
- Stormy Weather (2004) - Megan Boothe (as Holly Grainger)
- Bowl of Cherries (2004) - Megan Boothe (as Holly Grainger)
- Archangel (2003) - Megan Boothe (as Holly Grainger)
- Mister & Missus (2003) - Megan Boothe (as Holly Grainger)
- Coming Home (2003) - Megan Boothe (as Holly Grainger)
- A Time to Dance (2003) - Megan Boothe (as Holly Grainger)
- Not Waving But Drowning (2003) - Megan Boothe (as Holly Grainger)
- Love Hurts (2003) - Megan Boothe (as Holly Grainger)
- The Need of You (2003) - Megan Boothe (as Holly Grainger)
- The Games We Play (2003) - Megan Boothe (as Holly Grainger)
- My Way (2003) - Megan Boothe (as Holly Grainger)
2005
No Angels (TV Series)
as
Simone
- Episode #2.5 (2005) - Simone (as Holly Grainger)
2003
The Illustrated Mum (TV Movie)
as
Star Westward (as Holly Grainger)
2003
The Royal (TV Series)
as
Carole Green
- Coffin Fit (2003) - Carole Green (as Holly Grainger)
2002
Sparkhouse (TV Mini Series)
as
Older Lisa Bolton
- Episode #1.3 (2002) - Older Lisa Bolton (as Holly Grainger)
- Episode #1.2 (2002) - Older Lisa Bolton (as Holly Grainger)
2001
Dalziel and Pascoe (TV Series)
as
Nichola Crowley
- Walls of Silence (2001) - Nichola Crowley (as Holly Grainger)
2000
Daddyfox (TV Movie)
as
Young Maggie (as Holly Grainger)
2000
Casualty (TV Series)
as
Katie Stoppard
- Seize the Night (2000) - Katie Stoppard (as Holly Grainger)
1998
Roger and the Rottentrolls (TV Series)
as
Kate Beckett / Princess Kate
- Commander Harris in Love (2000) - Princess Kate (as Holly Grainger)
- Yockenthwaite, the Amazing Puppet (2000) - Princess Kate (as Holly Grainger)
- Sigsworthy's Final Rocket (2000) - Princess Kate (as Holly Grainger)
- Full Metal Jimjam (2000) - Princess Kate (as Holly Grainger)
- The Extremely Tempting Caravan (2000) - Princess Kate (as Holly Grainger)
- The Cattle Grid World Tour (2000) - Princess Kate (as Holly Grainger)
- The Four Missing Eyes (2000) - Princess Kate (as Holly Grainger)
- Trucklecrag's Aftershave (1998) - Kate Beckett (as Holly Grainger)
- The Stake Out (1998) - Kate Beckett (as Holly Grainger)
- The Trendy Trainers (1998) - Kate Beckett (as Holly Grainger)
- The Time Capsule (1998) - Kate Beckett (as Holly Grainger)
- The Mid-Air Disaster (1998) - Kate Beckett (as Holly Grainger)
- The Appalling Voice Swap (1998) - Kate Beckett (as Holly Grainger)
- The Rottentroll Olympics (1998) - Kate Beckett (as Holly Grainger)
- The Incredibly Frightening Sheet (1998) - Kate Beckett (as Holly Grainger)
- Twelve Angry Trolls (1998) - Kate Beckett (as Holly Grainger)
- The Almighty Underwater Chicken (1998) - Kate Beckett (as Holly Grainger)
- Commander Harris Loses It (1998) - Kate Beckett (as Holly Grainger)
- The Monsters of Rock Festival (1998) - Kate Beckett (as Holly Granger)
- The New Princess (1998) - Kate Beckett (as Holly Grainger)
2000
Comin' Atcha! (TV Series)
as
Pauline
- The Day Off (2000) - Pauline (as Holly Grainger)
1994
All Quiet on the Preston Front (TV Series)
as
Kirsty
- Jeanetta's Marijuna (1997) - Kirsty
- Diesel's Ostrich (1997) - Kirsty
- Polson's Mess (1997) - Kirsty
- Lloydy's Housewarming (1997) - Kirsty
- Eric's Won Ton (1997) - Kirsty
- Hodge's Driving Test (1997) - Kirsty
- Lloydy's Ark (1995) - Kirsty
- Diesel's Out of Body Experience (1995) - Kirsty
- Polson's Lilo (1995) - Kirsty
- Laura's Mousse (1995) - Kirsty
- Dawn's Ball (1995) - Kirsty
- Kirsty's Biscuit (1994) - Kirsty
- Diesel's Garage (1994) - Kirsty
- Lloydy's Fish (1994) - Kirsty
- Eric's Job (1994) - Kirsty
1997
The Missing Postman (TV Movie)
as
Harriet (as Holly Grainger)
Self
2019
The One Show (TV Series)
as
Self
- Episode dated 28 August 2019 (2019) - Self
2016
Made in Hollywood (TV Series)
as
Self
- It Comes at Night/Megan Leavey/My Cousin Rachel/Beatriz at Dinner (2017) - Self
- Kung Fu Panda 3/The Finest Hours (2016) - Self
2016
Film '72 (TV Series)
as
Self - Interviewee
- Episode #45.5 (2016) - Self - Interviewee
2013
The View (TV Series)
as
Self
- Guest Co-Hostess Kirstie Alley/Emile Hirsch & Holliday Grainger/Cyber Monday Deals (2013) - Self
2013
Project Runway All Stars (TV Series)
as
Self - Challenge Presenter
- Partners in Crime (2013) - Self - Challenge Presenter
2013
World of Borgias (Video documentary short)
as
Self
2012
Daybreak (TV Series)
as
Self
- Episode dated 17 January 2012 (2012) - Self
2012
Sky News: Sunrise (TV Series)
as
Self
- Episode dated 17 January 2012 (2012) - Self
2010
Breakfast (TV Series)
as
Self
- Episode dated 18 March 2010 (2010) - Self
Archive Footage
2019
Animals: Behind the Scenes (Video documentary short)
as
Self
References
Holliday Grainger Wikipedia
(Text) CC BY-SA