Nationality

Bengali


Children

Mohsin-ud-din




Died

1840, Dhaka, Bangladesh


Name

Haji Shariatullah




Known for

Faraizi movement





Full Name

M.Taimour Sultan




Born

1781Madaripur, Dacca, British India(now in Dhaka, Bangladesh)


Similar People

Shah Waliullah Dehlawi, Ahmad Sirhindi, Rashid Ahmad Gangohi, Israr Ahmed, Ubaidullah Sindhi
Haji shariatullah hd1080p ilias kanchan kholiur rahman gulshanara hit bangla cinema
Haji Shariatullah (1781–1840) was an eminent Islamic reformer of the Indian subcontinent in British India. He is known for founding the Faraizi movement. Shariatpur District is named after him.
Contents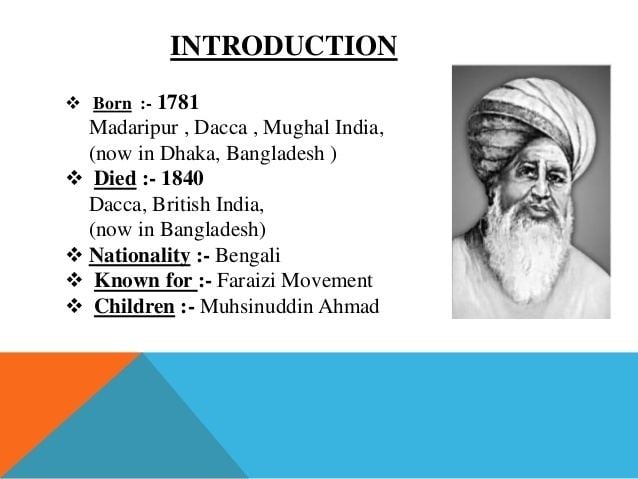 Early life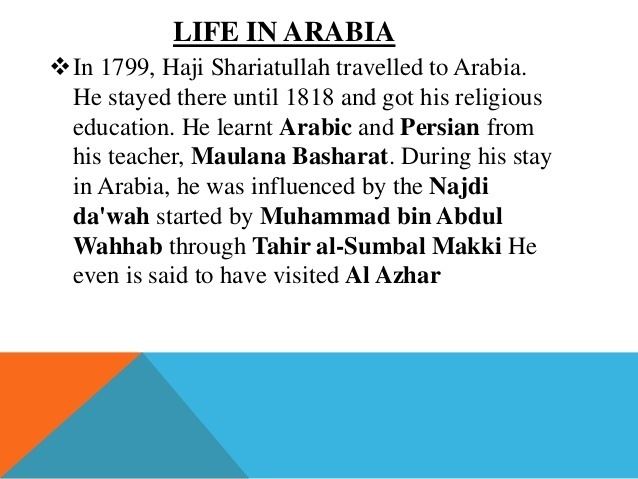 Shariatullah was born in 1781 into a petty Talukdar family at the village Shamail under the then Madaripur sub-district of greater Faridpur District in Bengal. His father, Abdul Jalil Talukdar, was a farmer who was not very well off. He died when Shariatullah was 8 years old. After his primary education he went to Calcutta and was admitted to Barasat Alia Madrasa. He then received education from famous madrassa of Furfura Sharif, Murshidabad.
Life in Arabia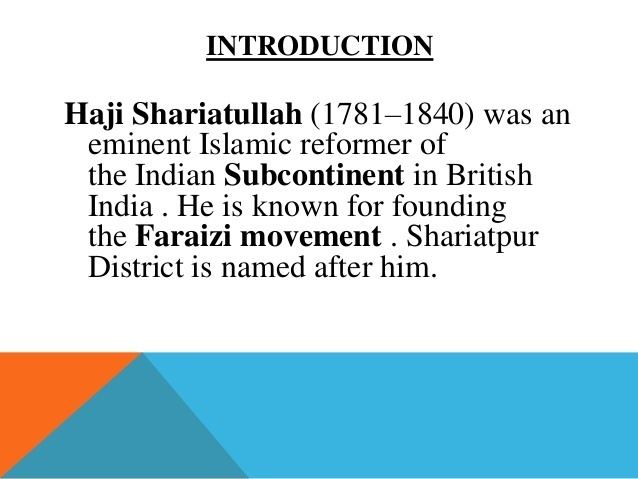 In 1799, Haji Shariatullah travelled to Arabia. He stayed there until 1818 and got his religious education. He learnt Arabic and Persian from his teacher, Maulana Basharat. During his stay in Arabia, he was influenced by the Najdi da'wah started by Muhammad bin Abdul Wahhab, through Tahir al-Sumbal Makki. He even is said to have visited Al Azhar.
The Faraizi Movement
See also Faraizi Movement
The Faraizi Movement essentially a religious reform movement had emerged forth during the 19th century, founded by Haji Shariatullah by the Bengali Muslims. The term Faraizi has been deduced from fard, standing for compulsory and mandatory duties ordained by Allah. The Faraizis are, thus, those bunch of men whose only objective is to implement and impose these mandatory religious duties. The promoter and initiator of the Faraizi Movement, Haji Shariatullah, however had represented the term in a different light and sense, implying to assimilate every religious duty ordained by the Quran as well as by the Sunnah of the Prophet, while remaining firmly in the Hanafi school of Islamic jurisprudence.
After his return to Bengal under British Indian rule, Haji Shariatullah had remained a continuous witness to the appalling and degenerating conditions of his brotherhood, calling them forth to give up un-Islamic practices (Bidah) and execute their honest duties as Muslims (Faraiz). Due to various accumulating historical reasons, the Muslims of Bengal had been merrily complying with umpteen local customs, rituals and observances, which were almost unimaginable and displaced from the principles of Islam. Most Bengali Muslims did not even abide by the basic principles of Islam and adhered to these Hindu customs.
Haji Shariatullah then and there had sworn to bring the Bengali Muslims back in the true path of Islam, which later had churned into the gargantuan Faraizi Movement. He had assayed to lay paramount accentuation on the five fundamentals of Islam, insisted on the complete acceptance and strict observation of virginal monotheism and reprobated all digressions from the original doctrines as shirk (polytheism) and bid`at (sinful conception). Umpteen rituals and ceremonies affiliated with birth, marriage and death like Chuttee- Puttee, Chilla, Shabgasht procession, Fatihah, Milad and Urs were heavily prohibited by Shariatullah saint-worship, demonstrating unnecessary admiration to the pir, lifting of the taziah during Muharram were also adjudged shirk. Haji Shariatullah indeed had laid gross emphasis upon justice, social equality and universal fraternity of Muslims. Haji Shariatullah deemed British domination in Bengal as exceedingly detrimental to the religious life of Muslims. Travelling in earnest quest of the Hanafi law, he spoke up that the complete non-existence of a lawfully-appointed Muslim caliph or representative administrator in Bengal had stripped the Muslims of the privilege of observing congregational prayers. To the Faraizis, Friday congregation was inexcusable in a predominantly non-Muslim state like Bengal.
Reception
The Faraizi movement thus began to circulate with astonishing promptness in the districts of Dhaka, Faridpur, Madaripur, Barisal, Mymensingh and Comilla.
Some Muslims, on the other hand, particularly the landlords of Dhaka, hence, reacted sharply against him and this caused a riot in Noyabari, Dhaka District. Due to the reaction of these landlords and Hindu landlords and European indigo planters, this movement swelled into a socio-economic issue.
The landlords levied numerous Abwabs (plural form of the Arabic term bab, signifying a door, a section, a chapter, a title). During Mughal India, all temporary and conditional taxes and impositions levied by the government over and above regular taxes were referred to as abwabs. More explicitly, abwab stood for all irregular impositions on Raiyats above the established assessment of land in the Pargana) over and above normal rent and such abwabs were horribly dishonest in the eye of law. Several abwabs were of religious nature. Haji Shariatullah then intervened to object to such a practice and commanded his disciples not to pay these dishonest cesses to the landlords. The landlords had even inflicted a ban on the slaughter of cow, especially on the occasion of Eid-ul-Azha. The Faraizis ordained their peasant followers not to cling and stick by to such a ban. All these heated instances added up to tensed and stressed relationships amongst the Faraizies and the landlords, who were nearly all Hindus. This was another major communal cause, which in the long run, had induced these two religious factions to stand against each other, leading to the Faraizi Movement.
Gradually gathering up incidents under the Islamic-led Faraizi movement could be witnessed in various parts of Bengal, with overwhelming English-Bengali agreement for perhaps the very first time. The outraged landlords built up a propaganda campaign with the British officials, incriminating the Faraizis with mutinous mood. In 1837, these Hindu landlords indicted Haji Shariatullah of attempting to build up a monarchy of his own, similar in lines to Titu Mir. They also brought several lawsuits against the Faraizis, in which they benefitted dynamic cooperation of the European indigo planters. Shariatullah was placed under the detention of the police in more than one instance, for purportedly inciting agrarian turbulences in Faridpur.
Legacy
After the death of Haji Shariatullah in 1840, leadership of the Faraizi movement passed to his only son, Muhsinuddin Ahmad Dudu Miyan.
Palong thana of Madaripur, a district in the Dhaka Division of Bangladesh was named Shariatpur District in honor of Haji Shariatullah. Bangladesh issued a postage stamp commemorating him on 10 March 1993. The 450 metres (1,480 ft) Hazi Shariatullah Bridge over the Arial Khan River on the Mawa-Bhanga highway is named after him.
References
Haji Shariatullah Wikipedia
(Text) CC BY-SA