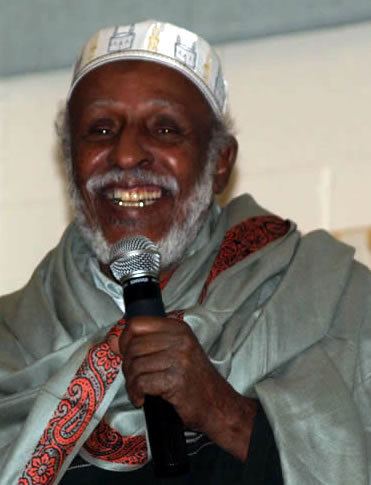 Hadrawi was born in Burco, situated in the former British Somaliland protectorate. He hails from the Habar Jeclo clan of the Isaaq. His family was poor and consisted of one girl and eight boys. In 1953, at the age of nine, he went to live with an uncle in the Yemeni port city of Aden. There, Warsame began attending a local school where he received the nickname "Hadrawi" (Abu Hadra), a pseudonym by which he is now popularly known. In 1963, he became a primary school teacher.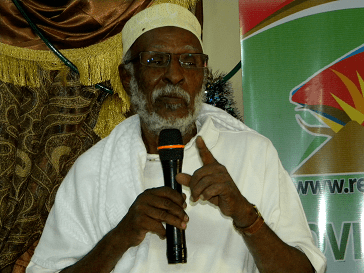 After Somaliland gained independence, Hadrawi relocated from Aden to Mogadishu, Somalia's capital, and began working for Radio Mogadiscio. In Mogadishu, he both attended and later taught at Lafoole (Afgooye) University. He also worked for the government's Department of Information.
In addition to love lyrics, he was a powerful commentator on the political situation and critic of the then military regime in Somalia. Imprisoned between 1973 and 1978.
In 1973, Hadrawi wrote the poem Siinley and the play Tawaawac ("Lament"), both of which were critical of the military government that was then in power. For this dissent, he was subsequently arrested and imprisoned in Qansax Dheere until April 1978.
Following his release from prison in 1978, Hadrawi became the director of the arts division of the Academy of Science, Arts, and Literature in Somalia. when he joined the opposition Somali National Movement based in Ethiopia. He was a very powerful voice in the ensuing years of civil war and the repressive military regime, and continues to be a very important poet commenting on the predicament the Somalis face.
Hadrawi relocated to Great Britain in 1991. During this period, he traveled frequently throughout Europe and North America to participate in folklore and poetry festivals.
In 1999, Hadrawi returned once more to his native Somalia, this time settling in Hargeisa. The following year, the mayor of Chicago invited him to participate in the latter city's Millennium Festival.
Hadrawi now lives in Burco, and has reportedly made the pilgrimage to Mecca (hajj).
Besides volumes of poems and dozens of plays, Hadrawi has participated in numerous collaborations with popular vocal artists. His lyrical corpus includes:
Baladweyn - song performed by Hasan Adan Samatar in 1974
Saxarlaay ha Fududaan - sung by Mohamed Mooge Liibaan
Jacayl Dhiig ma Lagu Qoraa? - sung by Magool, and later translated by Hanna Barket as "Is Love Written in Blood?" or "Do You Write Love in Blood?". Another translation of the song by the British linguist and Somali Studies doyen Martin Orwin is "Has Love Been Blood-written?".
In 2012, Hadraawi was awarded the Prince Claus Award for his contributions to peace through his poetry.
Hooya la'anta ("Mom, without you")
Beled Wayn
Hablaha geeska
Gudgude
Siinley
Sirta nolosha
Tawaawac
Aqoon iyo afgarad
Deeley
Translations by Poetry Translation Centre