Awarded for

Excellence in film

Presented by

China Film Association




Winners

BademaNorjmaa, Badema, Best Actress, Best Actress, Zhang HanyuThe Taking of Tiger Mountain, Zhang Hanyu, Best Actor, Best Actor, Wolf Totem, Wolf Totem, Best Picture, Best Picture, Deng JiajiaSilent Witness, Deng Jiajia, Best Supporting Actress, Best Supporting Actress, Yi ZhangDearest, Yi Zhang, Best Supporting Actor, Best Supporting Actor, Chen JianbinA Fool, Chen Jianbin, Best Directorial Début, Best Directorial Début, Monkey King: Hero is Back, Monkey King: Hero is Back, Best Animation, Best Animation, Norjmaa, Norjmaa, Award for Low Budget Feature, Award for Low Budget Feature, Female Governor in the Tang Dynasty, Female Governor in the Tang Dynasty, Best Chinese Opera Film, Best Chinese Opera Film, Tsui HarkThe Taking of Tiger Mountain, Tsui Hark, Best Director, Best Director, Wolf TotemQuan Rongzhe, Wolf Totem, Best Art Direction, Best Art Direction, Phurbu & TenzinHao Weiya, Phurbu & Tenzin, Best Music, Best Music, The Golden EraLi Qiang, The Golden Era, Best Original Screenplay, Best Original Screenplay, Phurbu & TenzinZeng Jian, Phurbu & Tenzin, Best Cinematography, Best Cinematography, 12 CitizensJinglong Han - Ang Xu - Yujiao Li, 12 Citizens, Best Adapted Screenplay, Best Adapted Screenplay, Coming HomeJing Tao, Coming Home, Best Sound, Best Sound, The Taking of Tiger MountainYu Boyang, The Taking of Tiger Mountain, Best Editing, Best Editing, Song JiaFalling Flowers, Song Jia, Best Actress, Best Actress, Zhang GuoliBack to 1942, Zhang Guoli, Best Actor, Best Actor, Huang XiaomingAmerican Dreams in China, Huang Xiaoming, Best Actor, Best Actor, The Story of Zhou Enlai, The Story of Zhou Enlai, Best Picture, Best Picture, American Dreams in China, American Dreams in China, Best Picture, Best Picture, Luodan WangCaught in the Web, Luodan Wang, Best Supporting Actress, Best Supporting Actress, Qingxiang WangThe Grandmaster, Qingxiang Wang, Best Supporting Actor, Best Supporting Actor, Zhao WeiSo Young, Zhao Wei, Best Directorial Début, Best Directorial Début, The Ultimate Task, The Ultimate Task, Best Animation, Best Animation, Liu Xuerao, Liu Xuerao, Lifetime Achievement Award, Lifetime Achievement Award, Yu Min, Yu Min, Lifetime Achievement Award, Lifetime Achievement Award, Feng Shui, Feng Shui, Award for Low Budget Feature, Award for Low Budget Feature, Dream of the Red Chamber, Dream of the Red Chamber, Best Chinese Opera Film, Best Chinese Opera Film, Mother-in-Law VS Daughter-in-Law, Mother-in-Law VS Daughter-in-Law, Best Chinese Opera Film, Best Chinese Opera Film, Peter ChanAmerican Dreams in China, Peter Chan, Best Director, Best Director, The GrandmasterWilliam Chang - Alfred Yau, The Grandmaster, Best Art Direction, Best Art Direction, The Story of Zhou EnlaiShaotong Zhang, The Story of Zhou Enlai, Best Music, Best Music, Fallen CityHuang Hong - Wang Jinming, Fallen City, Best Original Screenplay, Best Original Screenplay, Battle of Chosin Reservoir, Battle of Chosin Reservoir, Best Documentary, Best Documentary, Back to 1942Lü Yue, Back to 1942, Best Cinematography, Best Cinematography, Naren HuaMy Mongolian Mother, Naren Hua, Best Actress, Best Actress, Sun ChunQiuxi, Sun Chun, Best Actor, Best Actor, The Space Dream, The Space Dream, Best Picture, Best Picture, Guo GeThrough Stunning Storms, Guo Ge, Best Supporting Actress, Best Supporting Actress, Cai-gen XuApart Together, Cai-gen Xu, Best Supporting Actor, Best Supporting Actor, Yang LuMy Spectacular Theatre, Yang Lu, Best Directorial Début, Best Directorial Début, The Spectacular TheatreCheng Xiaoling, The Spectacular Theatre, Best Writing, Best Writing, Legend of a Rabbit, Legend of a Rabbit, Best Animation, Best Animation, Fu Zhengyi, Fu Zhengyi, Lifetime Achievement Award, Lifetime Achievement Award, Xiang Junshu, Xiang Junshu, Lifetime Achievement Award, Lifetime Achievement Award, The Old Village, The Old Village, Award for Low Budget Feature, Award for Low Budget Feature, Xiang Jiu Xiao, Xiang Jiu Xiao, Best Chinese Opera Film, Best Chinese Opera Film, Chen LiLove on the Gallery Bridge, Chen Li, Best Director, Best Director, AftershockHuo Tingxiao, Aftershock, Best Art Direction, Best Art Direction, AftershockWang Liguang, Aftershock, Best Music, Best Music, My Garden of Eden, My Garden of Eden, Best Documentary, Best Documentary, The Seal of LoveSun Ming, The Seal of Love, Best Cinematography, Best Cinematography, Piano in a Factory, Piano in a Factory, Special Jury Award (Film), Special Jury Award (Film), Zhu Xu, Zhu Xu, Special Jury Award (Individual), Special Jury Award (Individual), The Founding of a RepublicDanrong Wang, The Founding of a Republic, Best Sound, Best Sound, Zhou XunThe Equation of Love and Death - And the Spring Comes, Zhou Xun, Best Actress, Best Actress, Jiang WenliThe Equation of Love and Death - And the Spring Comes, Jiang Wenli, Best Actress, Best Actress, Gang WuTie ren, Gang Wu, Best Actor, Best Actor, Forever Enthralled, Forever Enthralled, Best Picture, Best Picture, Assembly, Assembly, Best Picture, Best Picture, Hong YueA Tale of Two Donkeys, Hong Yue, Best Supporting Actress, Best Supporting Actress, Wang XueqiForever Enthralled, Wang Xueqi, Best Supporting Actor, Best Supporting Actor, Dawei LiA Tale of Two Donkeys, Dawei Li, Best Directorial Début, Best Directorial Début, Examination 1977Jiang Haiyan - Zong Fuxian - Gu Bai, Examination 1977, Best Writing, Best Writing, The Magic Aster, The Magic Aster, Best Animation, Best Animation, Qin Yi, Qin Yi, Lifetime Achievement Award, Lifetime Achievement Award, Yu Lan, Yu Lan, Lifetime Achievement Award, Lifetime Achievement Award, Inspector And Prince, Inspector And Prince, Best Chinese Opera Film, Best Chinese Opera Film, Feng XiaogangAssembly, Feng Xiaogang, Best Director, Best Director, Tie renYue-lin Lu, Tie ren, Best Art Direction, Best Art Direction, AssemblyWang Liguang, Assembly, Best Music, Best Music, Jue Zhan Tai Yuan, Jue Zhan Tai Yuan, Best Documentary, Best Documentary, AssemblyLü Yue, Assembly, Best Cinematography, Best Cinematography, Axis of War: The First of AugustWang Lewen - Li An-Lei - Shaofeng An, Axis of War: The First of August, Best Sound, Best Sound, Walking to School, Walking to School, Best Children's Film, Best Children's Film
Huang xiaoming performing time story at the golden rooster awards 2013
The Golden Rooster Awards (Chinese: 金鸡奖; pinyin: Jīnjī Jiǎng) are awards in film given in mainland China. The awards were originally given annually, beginning in 1981. The name of the award came from the year of the Rooster in 1981. Award recipients receive a statuette in the shape of a golden rooster, and are selected by a jury of filmmakers, film experts, and film historians. The awards are given out by the China Film Association.
Contents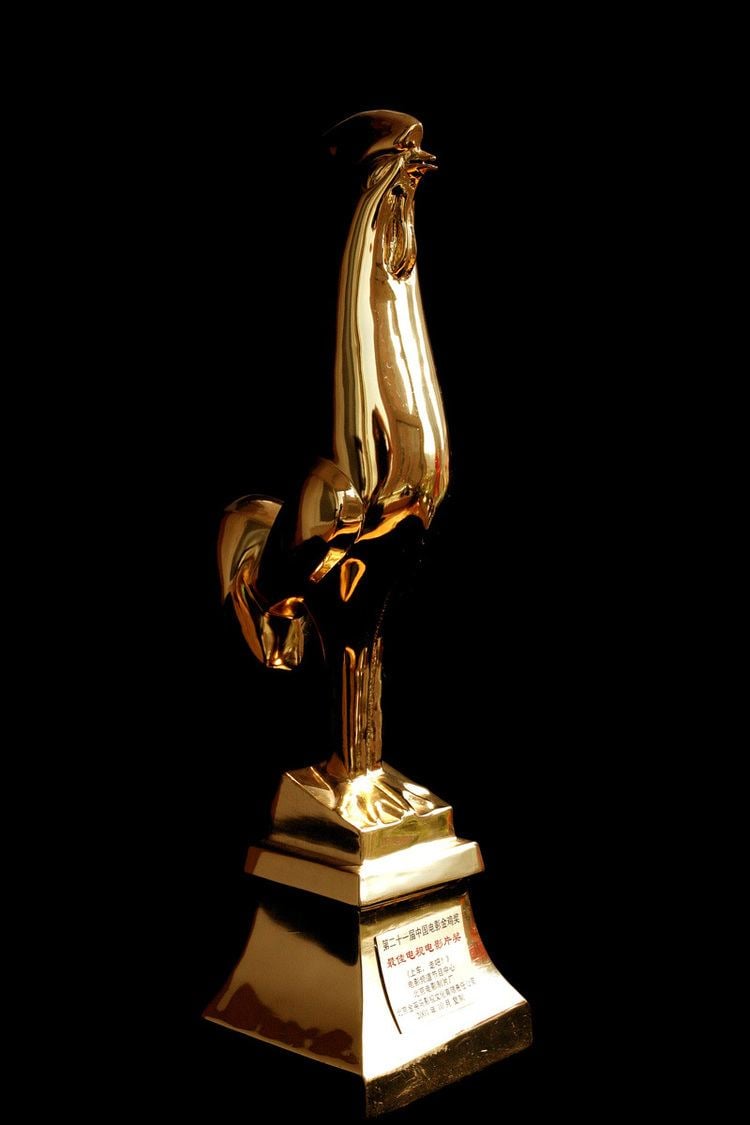 Originally, Golden Roosters were only available to mainland Chinese nominees, but in 2005, the awards opened up the acting categories to actors from Taiwan, Hong Kong, and elsewhere in an effort to compete with Taiwan's Golden Horse Awards.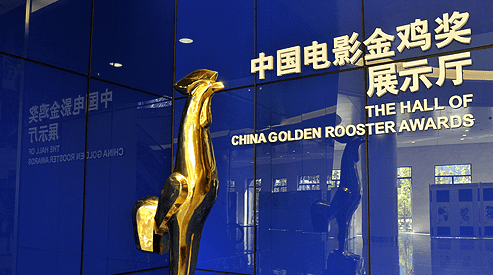 In 1992, the Golden Rooster and the Hundred Flowers Awards were combined into a single national festival.
The Golden Rooster and Hundred Flowers Awards have taken place on alternate years since 2005, with the Golden Rooster taking place on odd years. Films in the past two years are eligible for the Golden Rooster awards since 2007.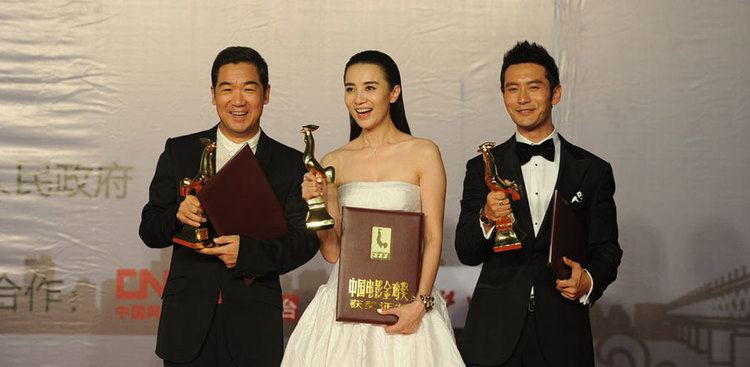 Awards categories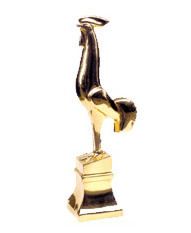 Best Picture
Best Director (最佳导演)
Best Actor (最佳男主角)
Best Actress (最佳女主角)
Best Supporting Actor (最佳男配角)
Best Supporting Actress (最佳女配角)
Best Writing (最佳编剧)
Best Directorial Debut (最佳导演处女作)
Best Cinematographer (最佳摄影)
Best Sound
Best Art Director
Best Score
Best TV Film
Best Documentary
Best Animation (最佳美术片)
Lifetime Achievement Award (终身成就奖)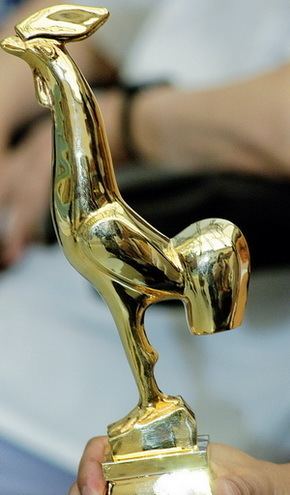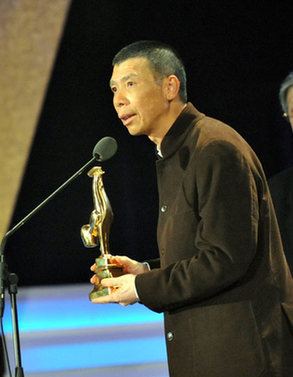 References
Golden Rooster Awards Wikipedia
(Text) CC BY-SA