Alma mater

University of Montana


Name

George Montgomery





Role

Painter




Height

1.9 m







Full Name

George Montgomery Letz




Born

August 29, 1916 (

1916-08-29

) Brady, Pondera CountyMontana, U.S.


Resting place

Forest Lawn Cemetery (Cathedral City) andHighland Cemetery (Great Falls, Montana)


Occupation

Actor, stuntman, painter, sculptor, wood craftsman


Partner(s)

Ann Lindberg (last 20 yrs)




Died

December 12, 2000, Rancho Mirage, California, United States


Spouse

Dinah Shore (m. 1943–1963)


Children

Melissa Montgomery-Hime, John David Montgomery




Movies and TV shows

Cimarron City, Fort Ti, Orchestra Wives, The Iroquois Trail, Robbers' Roost


Similar People

Dinah Shore, Melissa Montgomery‑Hime, Ray Nazarro, Sidney Salkow, Richard Boone
George montgomery uses the rest room
George Montgomery (born George Montgomery Letz, August 29, 1916 – December 12, 2000) was an American actor, painter, sculptor, furniture craftsman, and stuntman who is best known as an actor in Western film and television.
Contents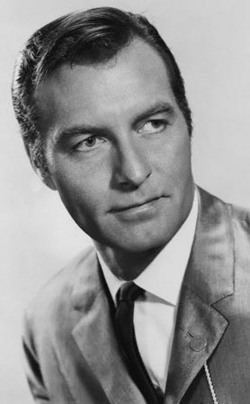 Background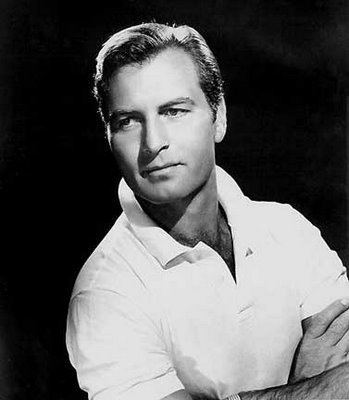 Montgomery was born George Montgomery Letz, the youngest of 15 children of Ukrainian immigrant parents, in Brady, in Pondera County, northern Montana. He was reared on a large ranch, where he learned to ride horses and work cattle as a part of daily life. Letz studied at the University of Montana in Missoula for a year.
Acting career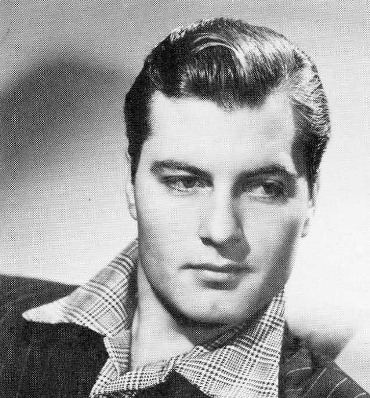 Montgomery was more interested in a career in film than in a college education. Therefore, he left Montana for Hollywood. Two days after his arrival there, he was working as a stunt man on a Greta Garbo film at MGM.
Republic Pictures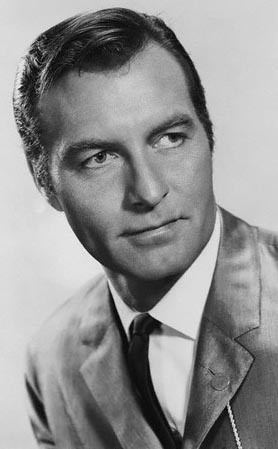 At Republic Pictures, his cowboy skills got him stunt work and a small acting part at the age of 18 in a 1935 Gene Autry film, The Singing Vagabond.
He followed this with bit parts and additional stunt work as "George Letz" in mostly low-budget films. These included Springtime in the Rockies (1937) with Autry; The Purple Vigilantes (1938) with Robert Livingston; the serial The Lone Ranger (1938); Outlaws of Sonora (1938) with Livingston; The Old Barn Dance (1938) and Gold Mine in the Sky (1938) with Autry; Under Western Stars (1938), with Roy Rogers; Pals of the Saddle (1938) with John Wayne; Billy the Kid Returns (1938), Come On, Rangers (1938) and Shine On, Harvest Moon (1938) with Rogers.
Those had all been Westerns. He was in an African adventure tale Hawk of the Wilderness (1938) with Herman Brix and the bigger budgeted Army Girl (1938).
In 1938, he appeared as one of the six men suspected of being the titular hero in The Lone Ranger. That year Life included him in a photo montage of "Hollywood's Movie-struck Kids" and described Montgomery, still using his full name, as "6 ft. 3 in. tall, weighs 210 lb., rides well, is superlatively handsome."
He went back to Westerns in Southward Ho (1939) and The Arizona Kid (1939) with Rogers. Letz/Montgomery were in some non Westerns such as The Mysterious Miss X (1939), S.O.S. Tidal Wave (1939) and I Was a Convict (1939). But mostly it was films like South of the Border (1939) and In Old Monterey (1939) with Autry, Saga of Death Valley (1939); Wall Street Cowboy (1939), Frontier Pony Express (1939), Rough Riders' Round-up (1939) and In Old Caliente (1939) with Rogers; The Night Riders (1939) with John Wayne. He worked on Republic's (relatively) big budget Man of Conquest (1939).
20th Century Fox
In 1939 he signed with 20th Century Fox, which billed him as George Montgomery.
His first film at the studio was The Cisco Kid and the Lady (1939), the first of The Cisco Kid series. Montgomery was billed fourth. He had a small role in Star Dust (1940), and a bigger one in Young People (1940), Shirley Temple's last film for Fox.
Montgomery was fourth billed in a "B" about pilots, Charter Pilot (1940) with Lloyd Nolan and Lyn Bari, and third billed in Jennie (1940).
Leading Man
Montgomery was promoted to leading roles in a melodrama written by Dalton Trumbo, Accent on Love (1941). Fox then starred him in some B Westerns: Last of the Duanes (1941), [[Riders of the Purple Sage (1941 film)]|Riders of the Purple Sage]] (1941), and The Cowboy and the Blonde (1941).
Montgomery was teamed with Carole Landis in Cadet Girl (1941). He was given the lead in an "A" when he top-lined Orchestra Wives (1942) with Ann Rutherford, a film best remembered today for giving a co-star role to Glenn Miller.
He starred in Ten Gentlemen from West Point (1942) with Maureen O'Hara, playing a role originally intended for Tyrone Power. He was Ginger Rogers' love interest in Roxie Hart (1942) and played opposite Gene Tierney in China Girl (1942) for Henry Hathaway. All these films were popular at the box office.
The following year, Montgomery starred with Betty Grable in the Walter Lang-directed film, Coney Island, which was his biggest hit to date. He also starred in Bomber's Moon (1943).
World War Two
Montgomery was announced for several films originally intended for Fox leading men Tyrone Power and Henry Fonda, who had joined the army, including Down the Sea to the Ships and Bird of Paradise with Tierney. However Montgomery wound up joining the air force in 1943.
He returned to Fox in 1946 and played the lead in a musical Three Little Girls in Blue (1946). Fox then cast him as Philip Marlowe in The Brasher Doubloon (1947), a B picture version of the novel The High Window by Raymond Chandler. Montgomery left Fox in September 1947 unhappy with his roles.
Low Budget Action Star
Montgomery made Lulu Belle (1948) and The Girl from Manhattan for Benedict Bogeaus. He returned to Fox to make Belle Starr's Daughter (1948).
In 1950, he starred as the title role in Davy Crockett, Indian Scout for Edward Small. He went back to Fox for Dakota Lil (1950) and made The Iroquois Trail (1950) and The Texas Rangers (1951) for Small.
Montgomery tried a swashbuckler at Fox, The Sword of Monte Cristo (1951) then returned to Small for Indian Uprising (1951) and Cripple Creek (1952), Gun Belt (1953), and The Lone Gun (1954). For Sam Katzman he made The Pathfinder (1952), Fort Ti (1952), Jack McCall, Desperado (1953), The Battle of Rogue River (1954) and Seminole Uprising (1955).
Montgomery worked for other producers: Robbers' Roost (1955); Huk! (1956), a war movie shot in the Philippines; Canyon River (1956); Pawnee (1957); Black Patch (1957); Gun Duel in Durango (1957) for Small; Street of Sinners (1957) a rare non Western; Last of the Badmen (1957); Man from God's Country (1958); The Toughest Gun in Tombstone (1958); and Badman's Country (1958) as Pat Garrett.
Television
In the 1958–59 season, Montgomery starred in his own 26-episode NBC Western series, Cimarron City as Mayor Matt Rockford, with co-stars John Smith and Audrey Totter through his own production company Mont Productions. Montgomery claimed to have turned down the lead roles in the Western television series Gunsmoke and Wagon Train. Cimarron City ran one season.
Montgomery made an Imperial adventure for MGM, Watusi (1959), a sequel to King Solomon's Mines (1950). He followed it with King of the Wild Stallions (1959).
Director
Montgomery turned director with The Steel Claw (1961), a war film shot in the Philippines which he also co-wrote as well as starred in.
He was in Samar (1962), From Hell to Borneo (1963), and Guerillas in Pink Lace (1964).
As an actor he was in Battle of the Bulge (1965) and Django the Condemned (1966). He was in Hallucination Generation (1967) an anti-LSD movie. Montgomery was in Bomb at 10:10 (1967), Hostile Guns (1967), Warkill (1968), and Strangers at Sunrise (1970).
Montgomery produced and directed, as well as starred in, several films shot in the Philippines and South Africa. He planned to make a Vietnam War film The Ho Chi Minh Trail in Bangkok and the Philippines, but the film was aborted.
1970s
Montgomery acted in and directed Satan's Harvest (1970) in South Africa and made Ride the Tiger (1970) and Leo the Harvest. He helped produce The Proud and Damned (1972).
The Daredevil (1972), and made guest appearances on a number of television shows, including NBC's Bonanza and The Gisele MacKenzie Show.
Family life
On December 5, 1943, Montgomery married singer Dinah Shore. They had one child, Melissa Ann "Missy" Montgomery (born 1948), during a marriage that lasted until 1963. George and Dinah also adopted John "Jody" David Montgomery in 1954. In 1963, Montgomery's private life made headlines when his housekeeper was charged in a failed attempt to kill him. Allegedly suffering from a fanatical attraction to her employer, the woman planned to shoot Montgomery, then take her own life.
Other interests
As a boy, George Montgomery had developed excellent craftsmanship with wood, and as an adult pastime, he began building furniture, first for himself and then for a few friends. His skill was such that his hobby became a full-fledged cabinet-making business in which he employed as many as 20 craftsmen.
Montgomery oversaw the furniture business for more than 40 years, and expanded his interest to house design. He became involved with the building of 11 homes for friends and family. His artistic instincts included learning how to sculpt in bronze. Self-taught, he sculpted upwards of 50 bronze sculptures of subjects such as John Wayne, Clint Eastwood, Gene Autry, Randolph Scott, and future President Ronald W. Reagan. His sculpture of his former wife, Dinah Shore, and their children is displayed at the Mission Hills Country Club in Rancho Mirage, California, home to the LPGA Kraft Nabisco Championship, now the named ANA Inspiration.
After a career that included more than 80 feature films, Montgomery retired in 1972, making only two more minor appearances in film until his death at his home in Rancho Mirage, aged 84.
After cremation, Montgomery's ashes were divided and interred at Forest Lawn Cemetery (Cathedral City) near his Palm Springs home and at the Highland Cemetery in Great Falls, Montana, near his birthplace.
For his contribution to the television industry, George Montgomery has a star on the Hollywood Walk of Fame at 6301 Hollywood Blvd. In 1995, a Golden Palm Star on the Palm Springs Walk of Stars was dedicated in his honor. He is also honored with a statue in the square of Plentywood, Montana.
References
George Montgomery (actor) Wikipedia
(Text) CC BY-SA