George Roland Bohanon, Jr. (August 7, 1937) is a jazz trombonist and session musician.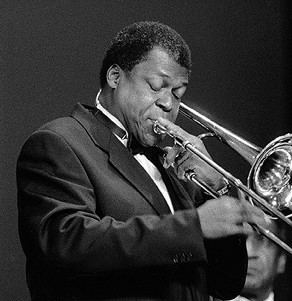 Born in Detroit, in the early 1960s, he participated in Detroit's Workshop Jazz ensemble, with Johnny Griffith, Paula Greer, David Hamilton, Lefty Edwards and Herbie Williams. After appearing on several Motown recordings, together with leading musicians such as Hank Cosby, of the Funk Brothers, he went to live in California.
In 1962, he replaced Garnett Brown in the Chico Hamilton Quintet. In 1963 and 1964, he recorded two albums for Motown's unsuccessful jazz Workshop label.
In 1971, he was a member of the Ernie Wilkins Orchestra, playing alongside fellow trombonist Benny Powell, that backed Sarah Vaughan on her A Time in My Life album, recorded in Los Angeles.
Between 1984 and 1993, he played in orchestras backing Frank Sinatra.
1963: Boss: Bossa Nova (Workshop Jazz)
With Karma
Celebration (Horizon/A&M, 1976)
For Everybody (Horizon/A&M, 1977)
1966: The Dealer, Chico Hamilton (Impulse!)
1971: A Time in My Life, Sarah Vaughan (Mainstream)
1972: Woga, Charles Kynard (Mainstream)
1973: Your Mama Don't Dance, Charles Kynard (Mainstream)
1974: Northern Windows, Hampton Hawes (Prestige)
1975: Stratosonic Nuances, Blue Mitchell (RCA)
1975: Black Miracle, Joe Henderson (Milestone)
1976: Everybody Come On Out, Stanley Turrentine (Fantasy)
1976: School Days, Stanley Clarke
1978: Jazz, Ry Cooder
1978: Herb Alpert / Hugh Masekela (Horizon, 1978)
1979: We're the Best of Friends, Natalie Cole and Peabo Bryson
1997: Theme for Monterey, Gerald Wilson Orchestra
1998: 12 Songs of Christmas, Etta James (Private Music)
2005: Christmas Songs, Diana Krall