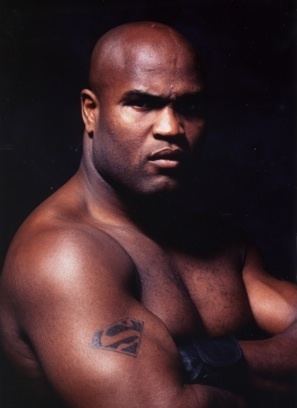 Goodridge was born in Saint James, Trinidad and Tobago before moving to Barrie, Ontario, Canada. Prior to his career in combat sports, he worked as a welder at the Honda factory in Alliston, Ontario.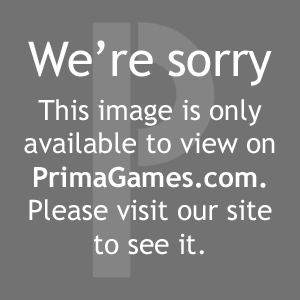 He was a world champion in arm wrestling, and was able to defeat the likes of greats Sharon Remez and John Brzenk in 1991 and again in 1994. He was also the super heavyweight amateur boxing champion of Canada.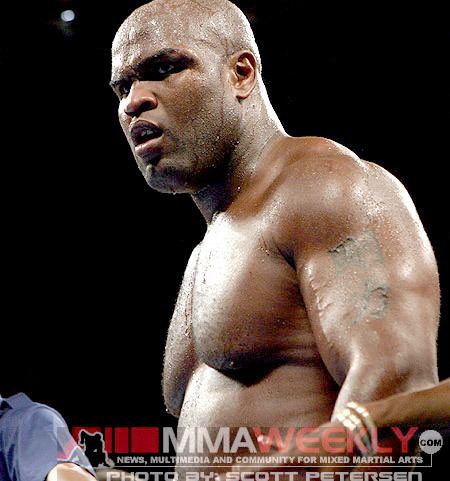 Goodridge originally applied for Ultimate Fighting Championship by his friends's suggestion after they watched the fight between Remco Pardoel and Orlando Wiet in UFC 2. He started training in a kuk sool won school, as he wanted some martial arts credentials aside from his boxing championship, only to find out that the school was already training a fighter to compete in UFC. Gary was forced to fight him, and he won in dominant fashion, so he was quickly offered a 4th degree black belt and a free dobok if he represented the school at the event. He ended up going to UFC 8 with less than a month of experience in the art.
In 1996, Goodridge made his debut in UFC in the eight-man tournament at UFC 8: David vs. Goliath in San Juan, Puerto Rico. He first went against amateur wrestler Paul Herrera, whom Goodridge outweighed by nearly 80 lbs. Gary had been told by his friends that Herrera and his teammate Tank Abbott were white supremacists in order to increase his will to fight. The resultant fight would be a spectacular knockout, as Herrera shot for a fireman's carry only to be caught in a crucifix position by Goodridge, who then proceeded to deliver multiple elbow strikes to the helpless Herrera's head, ending the bout in 13 seconds. The second elbow strike landed on Herrera's temple and knocked him unconscious, but the fight was not stopped until Goodridge landed seven more blows, causing Herrera a concussion and a broken cheekbone. According to Goodridge, the move had been planned by him and his cornermen after they casually witnessed Herrera training intensively his fireman's carry takeovers.
Goodridge advanced to second round, where he faced Lion's Den fighter Jerry Bohlander. Goodridge made usage of his strength advantage to control Bohlander, but he got swept and received punches and headbutts until he could escape from Bohlander's mount. Eventually Goodridge stacked him against the fence and landed two heavy right hooks, knocking Jerry out. Before his match at the finals against future legend Don Frye, Goodridge considered quitting for an alternate due to exhaustion and lack of preparation, but he accepted the fight in order to collect the bout money. Goodridge opened the fight throwing Frye to the mat with a waist lock and trying to get a finishing kick to the head, only for Frye to escape and punish him with uppercuts from the clinch. Gary managed to take him down again and capture his back, but Frye reversed and rained punches, making a tired Goodridge tap out.
Goodridge returned at UFC 9: Motor City Madness in a non-tournament bout against Olympic wrestler Mark Schultz. The wrestler controlled the fight by taking Gary down and grinding him with short punches, and eventually landed a flurry of blows from the mount as the time ran out. Instead of going to the overtime period, the referee stopped the fight due to cuts in Goodridge's face, which Schultz had rubbed in order to deepen them. On July 12, 1996 at UFC 10: The Tournament, Goodridge took part in his second and last UFC tournament. He first fought wrestler John Campetella, knocking him out with left punches from the mount after reversing a takedown, and advanced round against wrestling champion and eventual winner Mark Coleman. Goodridge was taken down repeatedly, struck with elbows and headbutts and finally submitted after giving his back.
His final UFC match came on December 7, 1996 at Ultimate Ultimate 1996, in a rematch against Don Frye. They traded strikes inside the clinch, but Goodridge scored a takedown and started punishing Frye with headbutts. Frye reached for two armbars attempts and got free, performing his own takedown, and then Goodridge tapped out due to exhaustion just like their first time.
Following his UFC career, Goodridge travelled to Brazil to compete in vale tudo. His first match was against Mario "Sukata" Neto, which ended in 6:02 when Goodridge tapped out again due to exhaustion.
On July 6, 1997, Goodridge participated in the first International Vale Tudo Championship tournament. He submitted Augusto Menezes Santos, improvising a neck crank from a standing double underhook position, and then Mark Coleman protegee and fellow UFC veteran Cal Worsham, locking a keylock, both in a combinated time of 0:75. He then advanced to the finals, where he faced luta livre stylist Pedro Otavio. As the IVC ruleset allowed groin shots, the fight featured multiple low blows intertwined with their grappling exchanges. In a particularly brutal instance, Goodridge capitalized on having Otavio in a butterfly guard to get his feet inside the Brazilian's tights and squeeze his testicles with his toes. Finally, after grabbing again Otavio's testicles from a clinch, Goodridge overpowered him and landed strikes for the KO, winning the tournament.
In late 1997, Goodridge was recruited to compete in Japan's PRIDE Fighting Championships. He made his promotional debut against Russian grappler Oleg Taktarov at PRIDE1 on October 11, 1997, scoring a brutal knocout by right hook almost five minutes into the match. He returned at PRIDE 2 on March 15, 1998, where he faced UFC 7 tournament winner and Brazilian luta livre fighter Marco Ruas. Goodridge dominated Ruas for most of the match, cutting him in the face and stunning him with ground and pound, but he was eventually caught in a heel hook and submitted. He then recorded a knockout win over Bas Rutten trainee Amir Rahnavardi in a violent at PRIDE 3, at one point famously shouting Amir to hit him while he was in his guard. Goodridge's last consecutive PRIDE apparition was in Pride 4, where he would fight Igor Vovchanchyn in his debut fight. Knowing Igor's reputation as a striker, Goodridge took him down and tried to best him there, but the Ukrainian got his way free and landed two solid left hooks, knocking Goodridge out on his feet.
Following a brief return to the UFC in 1999 when he submitted Andre Roberts at UFC 19: Ultimate Young Guns, Goodridge met Olympic judoka Naoya Ogawa at Pride 6 and lost when his opponent was able to put him in a Kimura lock in the second round.
On January 20, 2000, Goodridge took part in the sixteen-man, open weight tournament at the PRIDE Grand Prix 2000 Opening Round. He submitted Osamu Tachihikari with a choke in under a minute and advanced to the quarter-finals which took place at the PRIDE Grand Prix 2000 Finals on May 1, 2000. There, he faced Ukrainian kickboxer Igor Vovchanchyn for the second time in his career, and was knocked out by him once again. He also went on to lose his next two matches after this, a decision to Ricco Rodriguez at PRIDE 9: New Blood and a violent high kick knockout to Dutch Muay Thai fighter Gilbert Yvel at Pride 10 - Return of the Warriors.
Over the next two years, Goodridge became PRIDE's heavyweight gatekeeper, taking wins over Yoshiaki Yatsu, Valentijn Overeem, Achmed Labasanov, Lloyd van Dams and Dan Bobish, as well as losses to Antônio Rodrigo Nogueira and Fedor Emelianenko. He won his third match vs. Don Frye at PRIDE Shockwave 2003, dropping his rival with a head kick at 0:39 of round 1. This was Goodridge's retirement match. However, he would return to the ring just months later in the K-1 and Hero's organizations for whom he fought both kickboxing and MMA matches.
In 2004, Goodridge began competing for the K-1 promotion's HERO'S series. In his promotional debut, he knocked out pro wrestler Sylvester Terkay in round 1 at K-1 MMA ROMANEX. On March 26, 2005 at HERO'S 1, Goodridge defeated Russian sumo wrestler Alan Karaev by submission.
Following this, he lost to fellow PRIDE veteran Heath Herring at HERO'S by knockout on March 15, 2006. At HERO'S 8 on March 12, 2007, Goodridge beat South African Jan "The Giant" Nortje via TKO. This would be his last professional victory despite going on to compete for a further three years.
Goodridge made his kickboxing debut in 1999 at K-1 Revenge, against Musashi and lost the fight by disqualification. His first win in K-1 came against Mike Bernardo by technical knockout at the K-1 World Grand Prix 2002 in Las Vegas in 2002. Following this, he took part in the opening round of the 2002 K-1 World Grand Prix against Jérôme Le Banner and was knocked out 42 seconds into the match.
In 2005, Goodridge participated in two K-1 World GP tournaments held in United States. On April 30 in Las Vegas he knocked out Sean O'Haire and Scott Lighty to reach the finals of the K-1 World Grand Prix 2005 in Las Vegas, where he was stopped by Glaube Feitosa with a high kick KO. Three months later, on July 30, 2005, in Honolulu, Hawaii he scored three KO wins over Wesley Correira, Carter Williams and Yusuke Fujimoto, respectively, to win the K-1 World Grand Prix 2005 in Hawaii. He was again given the chance to qualify for the World GP in 2005 but was knocked out by Jérôme Le Banner once again.
In 2006, he returned to the K-1 World Grand Prix 2006 in Las Vegas where he defeated Kengo and Scott Lighty before losing to Chalid Arrab by knockout in the final.
Following 85 fights in his martial arts career, in which he was knocked out 25 times, Goodridge now suffers from chronic traumatic encephalopathy. Goodridge, and co-author Mark Dorsey, published in December 2011, "Gatekeeper: The Fighting Life of Gary "Big Daddy" Goodridge." The book details his experience in UFC, Pride, and K1 along with detailed personal information about his life and family.
Goodridge stated in an interview that it was not uncommon for fighters in Pride FC to take bribes to determine the outcomes of fights. He says that people contacted him before his fight with Naoya Ogawa at Pride 6 and offered him a bribe to lose the match. He claims that he turned it down as the bribe offered was too small. Goodridge says he lost that bout legitimately.
Amateur boxing
Super Heavyweight Champion of Canada
Kickboxing
K-1
2005 K-1 World Grand Prix in Hawaii champion
2005 K-1 World Grand Prix in Las Vegas runner up
2006 K-1 World Grand Prix in Las Vegas runner up
Kuk Sool Won
Honorary 4th Degree Black Belt (Sa Beom Nim)
Mixed martial arts
International Vale Tudo Championship
1st I.V.C Tournament champion
Ultimate Fighting Championship
UFC 8 Tournament Runner Up
UFC 10 Tournament Semifinalist
Pride Fighting Championships
PRIDE Grand Prix 2000 Quarterfinalist