Division

Super Heavyweight

Role

Professional wrestler







Team

Team BeastBodyShop MMA & Fitness

Movies

The Longest Yard, Conan the Barbarian, Blood and Bone, Elektra, Big Stan




Similar People

Akebono Taro,

Ernesto Hoost

, Alexander Emelianenko, Mirko Filipovic, Choi Hong‑man



Fedor emelianenko vs bob sapp arm wrestling highlights
Robert Malcolm Sapp (born September 22, 1973) is an American professional wrestler, actor, and former American football player best known for his career as a kickboxer and mixed martial artist. He is currently under contract with Rizin Fighting Federation. Sapp has a combined fight record of 23–35–1, mostly fighting in Japan. He is well known in Japan, where he has appeared in numerous commercials, television programs, and various other media, and has released a music CD, Sapp Time. He also appeared in an episode of the HBO program Real Sports with Bryant Gumbel. He is currently working sporadically for various MMA promotions in the U.S., Japan, and Europe.
Contents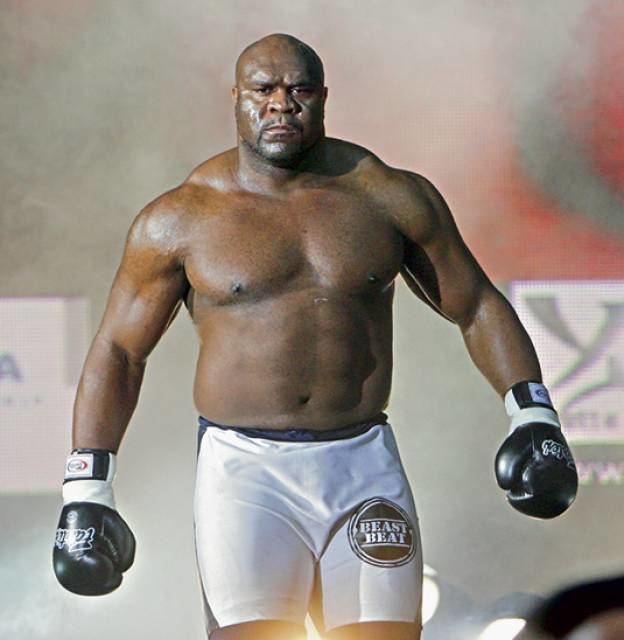 The most jacked fighter ever?
American football career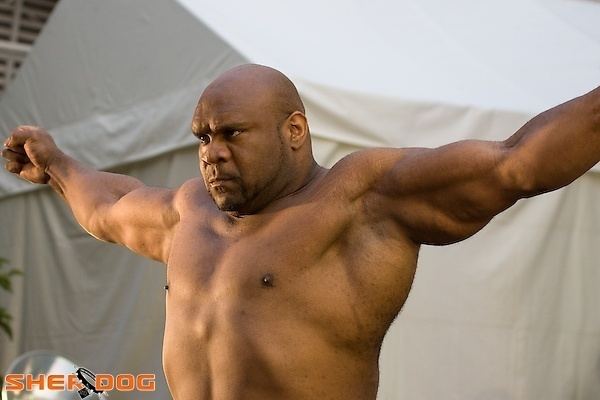 Sapp began his athletic career in high school playing football at Mitchell High School in Colorado Springs, Colorado. He received a football scholarship to the University of Washington, where he won the Morris Award.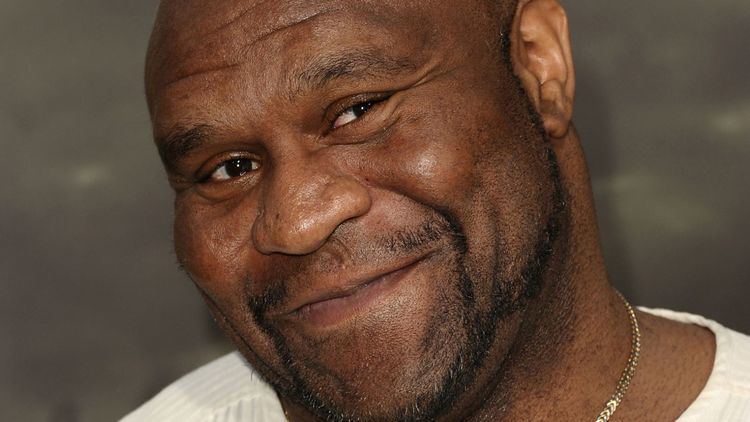 Sapp was drafted by the Chicago Bears in the third round (69th overall) on the 1997 NFL Draft. He signed with the Minnesota Vikings after being released by the Bears. His career took a hit after he was suspended by the NFL in 1998 for alleged steroid abuse. He spent two seasons with the Vikings and only played in one game.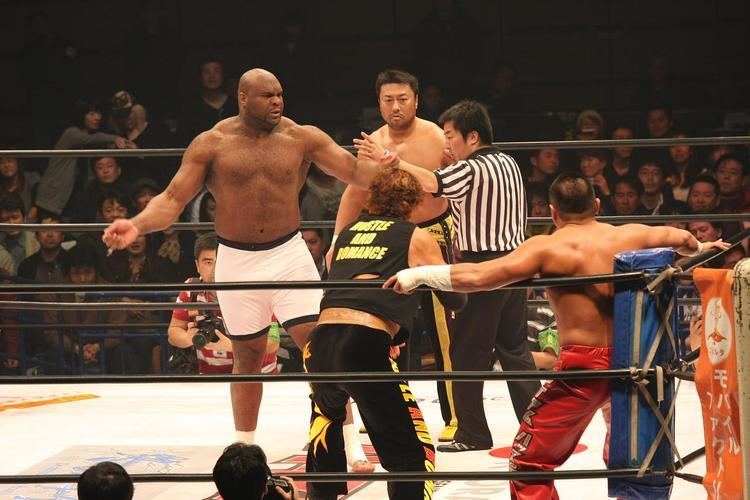 Afterwards, Sapp was reportedly in poverty, and worked at a funeral home moving coffins.
Professional wrestling
Bob Sapp's professional wrestling career started in NWA Wildside in 2001. He was quickly contracted by World Championship Wrestling (WCW) as a developmental wrestler, before the company was bought out by the World Wrestling Federation (WWF). In 2004, Sapp competed for New Japan Pro Wrestling (NJPW), debuting on October 14, 2002, with a win over Manabu Nakanishi. On March 28, 2004, Sapp defeated Kensuke Sasaki to win the IWGP Heavyweight Championship, becoming the first (and only, to date) African-American to hold the title. After successfully defending the title against Shinsuke Nakamura on May 3 at Nexess, Sapp forfeited the title after losing to Kazuyuki Fujita in a mixed martial arts fight. On October 16, 2007, Sapp made a surprise appearance at Hustle's Korakuen Hall event, attacking Razor Ramon HG and his partner Wataru Sakata. Sapp aligned himself with Generalissimo Takada's Monster Army. He also announced that he would wrestle at the Hustle Mania 11/25 Yokohama Arena event. His opponent was later confirmed to be Razor Ramon HG, whom Sapp went on to defeat. In 2008, Sapp began to participate in WWA, a pro-wrestling organization in South Korea. On October 26, 2009, Sapp captured the WWA Heavyweight title by defeating Lee Wang Pyo. On July 24, 2011, Sapp made his debut for Dramatic Dream Team (DDT) at the "2011: A Ryogoku Peter Pan" event, using a "Beast will fight for money" gimmick. In a comedy match, he was defeated by Danshoku Dino, a wrestler with a homosexual character, being pinned after a kiss and a roll-up. At a NJPW event on December 20, 2012, Toru Yano announced that Sapp would represent the villainous Chaos stable on January 4, 2013, at Wrestle Kingdom 7 in Tokyo Dome. At the event, Sapp teamed with Yano, Takashi Iizuka and Yujiro Takahashi in an eight-man tag team match, where they were defeated by Akebono, Manabu Nakanishi, MVP and Strong Man. Sapp made another appearance for New Japan on April 7, 2013, at Invasion Attack, where he and Chaos stablemates Takashi Iizuka, Tomohiro Ishii and Yoshi-Hashi were defeated by Akebono, Hiroyoshi Tenzan, Manabu Nakanishi and Super Strong Machine in another eight-man tag team match. On September 8, Sapp took part in the Wrestle-1 promotion's inaugural event, teaming with Keiji Mutoh in a main event tag team match, where they defeated René Duprée and Zodiac. In 2014, he would compete in the Inoki Genome Federation (IGF) and would lose to Aztecaser in his debut match.
Pride Fighting Championships
Sapp was subsequently recruited by the Japanese MMA organization Pride, where he quickly became a fan favorite due to his size, charisma and aggression. After a number of successes in Pride, Sapp was then invited to K-1 by Kazuyoshi Ishii, the creator of the fighting sport K-1. Ishii saw the combination of great potential and great marketability in Sapp, and he also had actually fought and not just taken dives.
After arriving in Japan, Sapp fought three matches in Pride. His first match pitted him against pro wrestler and longtime Fighting Network RINGS competitor Yoshihisa Yamamoto, who he finished by TKO at 2:44 of the first round. Sapp's second Pride match was against two-time RINGS Openweight Champion Kiyoshi Tamura. Though Tamura was a highly respected fighter who held wins over the likes of Pat Miletich, Jeremy Horn and Renzo Gracie, he was giving up 150 lbs to his foe and was quickly overwhelmed by the much larger American, succumbing to strikes just 11 seconds into the bout. During this time fans were first introduced to Sapp's "bullrush" technique, whereby he would rush an opponent with punches, quickly overwhelming them. Sapp's fighting style was relatively devoid of technique, but it was distinguished by an aggressive usage of his size and strength, being able to strike in an impredictable way with his large arms and lift his opponents with ease.
In a show held by both Pride and K-1 called "Dynamite", Sapp faced then-champion Antônio Rodrigo Nogueira in a memorable fight, in which Sapp threw Nogueira around and performed powerbombs and piledrivers on him to counter his takedown attempts. However, Nogueira demonstrated a surprising endurance and will, and late on the second round, with Sapp's stamina near his end, the worn out Brazilian finally could mount him and submit him with an armbar. Sapp would never again compete in Pride, instead focusing his attention on K-1.
K-1
Despite losing his first fight by disqualification, Sapp was initially successful in K-1. He twice defeated four-time K-1 champion Ernesto Hoost by technical knockout on October 5th, 2002. His win was not without controversy, however, as the majority of damage dealt by Sapp to end the fight appeared to be inflicted after the bell. Nonetheless, Sapp became an overnight sensation in Japan afterwards, appearing on numerous television shows, advertisements, and movie cameos such as in the big screen adaptation of Devilman. K-1 heads, hoping to capitalize on the success of Sapp and others, made a new fighting division called "Beast" (Sapp's nickname), which featured larger fighters such as Choi Hong-man. However, the division was stopped after two events due to disappointing reviews and gate takes.
At the height of his success, there was talk and promotion of a fight between him and the former boxing Undisputed Heavyweight Champion Mike Tyson. The two had a face to face confrontation immediately after Sapp's victory in Las Vegas over Kimo. K-1 signed Tyson to a contract and the fight looked to be on. However, Tyson's status as a convicted felon made him unable to get a visa to fight in Japan where the fight would have been most profitable. Other locations for the proposed fight were made, but the fight ultimately never happened.
Sapp's second defeat in MMA came in K-1 Romanex, where he was pitted against Kazuyuki Fujita. The match was short and one-sided, with Fujita controlling the takedowns and keeping Sapp on the ground. Bob tried to counterattack with an ankle lock, but Fujita escaped and hit numerous soccer kicks while Sapp was on four corners, winning by stoppage.
At K-1 Premium Dynamite!! Sapp faced Jérôme Le Banner in a special mixed rules match, in which first and third rounds would be under regular K-1 rules and under MMA rules the second and fourth. Sapp spent the first round covering and guarding up, almost being finished, but he recovered in the second one by taking down Le Banner and raining ground and pound from the full mount. He kept the momentum at the third, utilizing a defensive strategy of charging and clinching to neutralize Le Banner; however, most of the action would take place at the fourth and last, which saw the two trading dominant positions and ended with Sapp looking for an armlock. Under the agreed upon rules, the fight was declared a draw. Sapp dedicated the fight to the memory of sparring partner Masaaki Miyamoto's father, recently passed.
In June 2005, Sapp won the K-1 Japan Grand Prix in Hiroshima to become one of 16 fighters qualified for the 2005 K-1 World GP. In the Japan GP, Sapp showcased greatly improved stamina, as well as better technique, than in his previous fights after intensive training under Sam Greco. In the K-1 2005 World GP Eliminations he lost by decision to "The Techno Goliath" Choi Hong-man.
Sapp's initial success with his intimidating, blind chase-and-punch method (which he dubbed as "NFL Style") slowly petered out into disqualifications for bullrushing and punching after referee breaks. Additionally, experienced opponents discovered Sapp's weak points: his vulnerable midsection and legs as well as his limited stamina.
On May 13, 2006, Sapp was to headline the K-1 show in the Netherlands against Ernesto Hoost, in which Hoost had stated in previous interviews and the interview on that show that it was to be his last match in the Netherlands before his retirement. Sapp attended all the pre-fight press conferences and even attended the opening ceremonies for the show. It is unclear at the moment as to why, but Sapp pulled out of the event midway through the show. K-1 issued a statement claiming Sapp pulled out due to new demands he brought to promoters during the show. K-1 would not agree to those demands since they felt their written contract was final and Sapp left. The full K-1 press release can be viewed on the organization's website. Sapp has not issued a statement, but some sources indicated that he disagreed with K-1's account of events.
However, he did participate in 2007's K-1 event in the Amsterdam Arena, fighting as a replacement for Remy Bonjasky, against Peter Aerts. Sapp lost the fight by KO within 20 seconds in the first round by a knee to the liver. While Sapp was being led from the ring, Aerts apologized to the fans in Dutch for the short bout as well as having berated his fallen opponent.
After his falling out with K-1, Sapp began to get offers from WWE as well as Total Nonstop Action Wrestling (TNA) to work with them, but his K-1 contract prohibited him from going through with any return to the ring.
Sapp made a surprise return to the K-1 ring in Japan after a two-year absence against comedian and part-time K-1 competitor Bobby Ologun. Ologun was unable to mount any effective offense as he was quickly run down and overpowered by Sapp in the 1st round.
Cage Rage
On February 10, 2007 it was announced by the United Kingdom's Cage Rage promotion that Sapp would appear on its Cage Rage 21 event on April 21, facing Gary Turner. The move was partly a retaliatory one, as the UFC had chosen to run its first British show in years that same night at the Manchester Evening News Arena, headlined by Mirko Cro Cop, Andrei Arlovski and British star Michael Bisping. Though Cage Rage promoter Andy Geer said that the UFC show would not affect ticket sales for CR21, the signing of Sapp was a clear sign that the company knew it would need a superstar draw in order to successfully compete with the American promotion. A few days before the event Bob Sapp pulled out of the scheduled fight. On short notice, Tank Abbott stepped in for Sapp and lost to Gary Turner.
Strikeforce, FEG and other
Sapp faced the South African fighter Jan "The Giant" Nortje at the Strikeforce: At The Dome event in Tacoma, Washington, at the Tacoma Dome on February 23, 2008. Sapp was defeated at the 55 second mark of the first round by TKO after receiving an unanswered torrent of punches. Sapp then returned to Japan on New Year's Eve 2008 and defeated Akihito Tanaka via first-round TKO.
Sapp lost to Japanese Ikuhisa Minowa at Dream 9 on May 26, 2009, due to Achilles lock. He fought and lost to Bobby Lashley at Ultimate Chaos in Biloxi, Mississippi, on June 27, 2009, due to first round tapout from strikes. On October 6, Sapp stood in for an injured Gegard Mousasi to face Rameau Thierry Sokoudjou in the semifinals at Dream 11. He lost via TKO (punches) in the first round.
On November 27, Sapp fought against Swedish K-1 veteran Jörgen Kruth. The fight got a lot of publicity in Swedish and international press, but ended with an anticlimax when Sapp's corner threw in the towel after only 45 seconds, after Kruth hit Sapp with a knee to the liver.
Sapp was next going to face Stav Economou at BAMMA 5, but the event was canceled due to extreme weather conditions.
Sapp was scheduled to fight at K1 Dynamite!! 2010. He was set to battle Shinichi Suzukawa on New Year's Eve in a Pancrase-style matchup, but pulled out at the last minute due to contract disputes. When questioned about Sapp's refusal to fight on the day of the event, FEG President Sadaharu Tanikawa asked, "Does anyone actually care? I don't know the reasons why, but we did our best to make him fight. He just said he didn't want to. This is typical [of Sapp]." But Sapp claims that the promoters were contracted to pay him $30,000 for the fight, but that Tanikawa offered him $15,000 shortly after he arrived in Japan for the event. Sapp refused to fight for half of the original purse. In response, he "should not be considered as a normal person" and is "the worst, most lamentable dust man." Tanikawa went on to say via Twitter that "No one cares anymore, but the Sapp incident had NOTHING to do with the fight money … That guy is such a loser. He is one lonely man."
ONE Fighting Championship
On February 11, 2012, Sapp debuted for the Asian ONE Fighting Championship promotion. He faced Rolles Gracie at ONE Fighting Championship: Battle of Heroes in Jakarta, Indonesia and lost via submission to strikes in the first round.
Super Fight League
Sapp fought in the main event of the Super Fight League's inaugural event, SFL 1, against James Thompson on March 11, 2012. Sapp tapped out due to a Thompson takedown that caused a leg injury to Sapp in the first round.
Sapp fought Yōsuke Nishijima in Nishijima's retirement fight under kickboxing rules Legend 4 in Kumamoto, Japan on November 17, 2013. Sapp was dropped with a body shot, stood back up but was then finished with body shots followed by couple of right hooks.
Sapp announced his retirement in April 2014 citing that he'd paid off big medical bills and will be retiring with several million dollars in savings (including money doing work outside of fights).
Rizin Fighting Federation
Sapp had a rematch against Akebono with shoot boxing rules on December 31, 2015 at Rizin Fighting Federation Grand Prix event. He won the fight by technical decision.
Fight Night Saint Tropez 2017
Returning to kickboxing after a nearly two year hiatus, Sapp appeared at Fight Night Saint Tropez on August 4, 2017 in Saint Tropez, France. He faced Greg Tony and lost the bout via TKO in the first round.
In wrestling
Finishing moves
Avalanche Hold (Falling powerslam)
Beast Backbreaker (High-angle backbreaker rack)
Beast Backdrop (Bridging leg hook belly to back suplex)
Beast Bomb (Falling powerbomb, sometimes done three times)
Human Bullet Headbutt (Diving headbutt)
Muscle buster
Signature moves
Airplane spin
Body avalanche
Chokeslam
Elbow drop
German suplex
Lariat
Multiple turnbuckle thrusts
Plancha
Sambo suplex
Shoulder block
Throwing scoop powerslam
Kickboxing and mixed martial arts
Black Belt Magazine
2003 NHB Fighter of the Year
K-1
K-1 World Grand Prix 2005 in Hiroshima Tournament Winner
Wrestling Observer Newsletter
2002 Best Box Office Draw- K-1, PRIDE Fighting Championships
2003 Best Box Office Draw- K-1, PRIDE Fighting Championships
2002 Rookie of the Year- K-1, PRIDE Fighting Championships
Professional wrestling
New Japan Pro Wrestling
IWGP Heavyweight Championship (1 time)
Pro Wrestling Illustrated
PWI ranked him #26 of the top 500 singles wrestlers in the PWI 500 in 2004
Tokyo Sports
MVP Award (2002)
World Wrestling Association (Korea)
WWA World Heavyweight Championship (1 time)
Wrestling Observer Newsletter
Most Charismatic (2003)
References
Bob Sapp Wikipedia
(Text) CC BY-SA