Lederer fell in love with acting when he was young, and was trained at the Academy of Music and Academy of Dramatic Art in Prague. After service in the Austrian-Hungarian Imperial Army in World War I, he made his stage debut as an apprentice with the New German Theater, a walk-on in the play Burning Heart. He toured Moravia and central Europe, making a name for himself as a matinee idol in theaters in Czechoslovakia, Hungary, Austria and Germany. Notable among his performances was a turn as Romeo in Max Reinhardt's staging of Romeo and Juliet.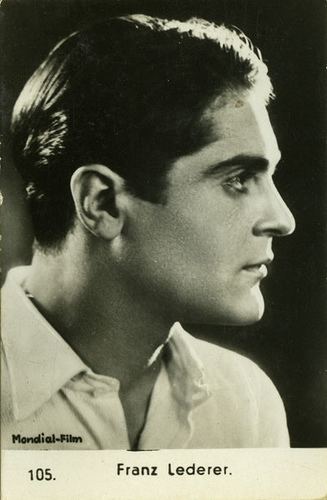 In the late 1920s, Lederer was lured into films by the German actress Henny Porten and her producer husband. Because of his good looks it took some time for the critics to take him seriously but his association with directors such as G. W. Pabst, for whom he did Pandora's Box with Louise Brooks, and Atlantic (both 1929), helped him overcome that problem. He was also notable in The Wonderful Lies of Nina Petrovna in the same year. Lederer, who was billed as "Franz" at this time, easily made the transition from silent films to talkies, and was on his way to becoming one of Europe's top male film stars.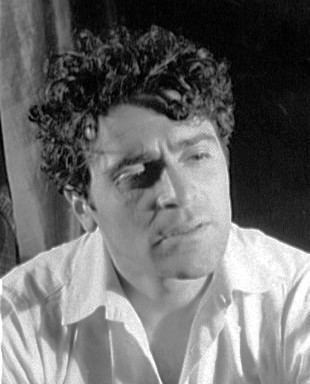 In 1931, Lederer was in London to perform on stage in Volpone and the next year in Autumn Crocus by Dodie Smith, which he then performed on Broadway – using the name "Francis" – where it played for 210 performances in 1932 and 1933. He also performed the play in Los Angeles. His performances attracted attention and film offers from Hollywood. With the deteriorating political situation in Europe, Lederer decided to stay in the United States. He became a U.S. citizen in 1939.
Lederer's first American movies were fairly light fare in which he played the leading man, in films such as Man of Two Worlds (1934), Romance in Manhattan (1934), opposite Ginger Rogers, The Gay Deception (1935), opposite Frances Dee, and One Rainy Afternoon (1936). He won the lead opposite Katharine Hepburn in the 1935 film Break of Hearts, but the producers replaced him with Charles Boyer. It was Irving Thalberg's plan to make Lederer "the biggest star in Hollywood" but the death of Thalberg ended that, and Lederer never really caught on as a star in the American mode.
Although he continued to play leads occasionally – notably when he was a playboy in Mitchell Leisen's Midnight with Claudette Colbert and John Barrymore in 1939 – in the late 1930s Lederer began to expand his film acting repertoire with offbeat character parts, even playing villains. Edward G. Robinson praised Lederer's performance as a German American Bundist opposite him in Confessions of a Nazi Spy in 1939, and he earned plaudits for his portrayal of a Fascist in The Man I Married (1940) opposite Joan Bennett. He also played Count Dracula for The Return of Dracula in 1958.
Throughout his career, Lederer, who studied with Elia Kazan at the Actors Studio in New York, continued to take stage acting seriously, and he performed often both in New York and elsewhere. He appeared in stage productions of Golden Boy (1937), Seventh Heaven (1939), No Time for Comedy (1939), in which he replaced Laurence Olivier, The Play's the Thing (1942), A Doll's House (1944), Arms and the Man (1950), The Sleeping Prince (1956) and The Diary of Anne Frank (1958).
Although he took a break from making films in 1941, in order to concentrate on his stage work, he returned to the silver screen in 1944, appearing in Voice in the Wind and The Bridge of San Luis Rey, and in films such as Jean Renoir's The Diary of a Chambermaid (1946) and Million Dollar Weekend (1948). He took another break from Hollywood in 1950, after making Surrender (1950), and returned once more in 1956 with Lisbon and the light comedy The Ambassador's Daughter. His final film appearance was in Terror Is a Man in 1959. During the 1950s, he served as honorary mayor of Canoga Park. He would continue to make television appearances for the next ten years in such shows as Sally, The Untouchables, Ben Casey, Blue Light, Mission: Impossible and That Girl. His final television appearance occurred in a 1971 episode of Rod Serling's Night Gallery called "The Devil Is Not Mocked". In it he reprised his role as Dracula from The Return of Dracula.
In his later life, Lederer, who had become very wealthy, invested in real estate, especially in the Canoga Park community (renamed West Hills in 1987). He was active in local and Los Angeles civic affairs, philanthropy and politics. He served as Recreation and Parks Commissioner for the city of Los Angeles, received awards for his efforts to beautify the city and was the honorary mayor of Canoga Park for quite a time. He became involved with peace movements, taught acting, and was one of the founders of the American National Academy of Performing Arts in Los Angeles, and the International Academy of Performing Arts in Washington, D.C. In 2000, he was honored by the Austrian government with the Cross of Honor for Science and Arts, First Class.
Lederer was married three times. His wives were:
Ada Nejedly, an opera singer; they divorced in 1928
Margo, a Mexican movie actress (née María Marguerita Guadalupe Teresa Estela Bolado Castilla y O'Donnell). They married in 1937 and divorced in 1940. After their divorce, she married actor Eddie Albert.
Marion Eleanor Irvine, who served as Los Angeles' Commissioner of Cultural Affairs. They married in 1941.
Francis Lederer worked until the week before he died, at the age of 100, in Palm Springs, California, one of the last surviving World War I veterans of the Austro-Hungarian Army. He was buried at the Forest Lawn Cemetery in Cathedral City, California.
In 1934, Francis Lederer began design and construction, with the help of artisan builder John R. Litke, of his landmark residence and stables on the hilltop of a large rancho in the Simi Hills in Owensmouth, renamed Canoga Park, renamed again to present day West Hills. It is in the western San Fernando Valley of Los Angeles, California, at the west end of Sherman Way. The house is a sophisticated example of a distinguished blending of Mediterranean Revival style with Mission Revival style architecture in which the interior and exterior integral design, artisan work, and construction details are in a refined landmark quality. The rich building materials were chosen with the greatest of care and painstakingly employed to make the finished buildings appear centuries old. The imported original 14th and 15th century Italian Renaissance and Spanish Renaissance museum-quality art pieces, decorative arts elements, and furnishings are of particular rarity, value, and interest.
The stables are in pure Mission Revival style, also designed by Francis Lederer with John R. Litke in the 1930s. It was built beside Bell Creek. Marion Lederer, his wife, transformed them into the Canoga Mission Gallery in the 1970s, which continues to the present day.
The father of singer-songwriter Guthrie Thomas was a gifted horse trainer who was hired by Lederer to care for the actor's horses and Mission Stables in Canoga Park. The house where Guthrie Thomas grew up is now a Mission-style art gallery. Thomas' family were close friends of Francis Lederer. Many Western films used Francis Lederer's spacious Spanish-style estate for location filming. John Ford, the famous Western film director, filmed and directed many films there, including Sergeant Rutledge, which starred one of the first black actors in a leading role, Woody Strode. The film also starred Jeffrey Hunter. It was filmed in 1960 at Lederer's estate and in Monument Valley, Utah. Many famous film actors of the period boarded and kept their horses at Lederer's elegant Spanish-style estate. Sergeant Rutledge was also the first introduction to acting for Guthrie Thomas, then 7 years old, when he was cast as an extra.
The residence and stables are both protected Los Angeles Historic-Cultural Monuments. The 1994 Northridge earthquake damaged the house, and the property went through a total renovation that is complete. The estate is next to the very large 1845 Mexican land grant Rancho El Escorpión, which was his southern rural viewshed and remained undeveloped open space until 1959. The home and grounds are still in the hands of the family.
Zuflucht (1928)
Pandora's Box (1929)
Atlantik (1929)
The Wonderful Lies of Nina Petrovna (1929)
Maman Colibri (1929)
Perjury (1929)
The Great Longing (1930)
The Road to Dishonour (1930)
Her Majesty the Barmaid (1931)
The Fate of Renate Langen (1931)
Abenteuer in Wien (1952)
Stolen Identity (1953)
Man of Two Worlds (1934)
The Pursuit of Happiness (1934)
Romance in Manhattan (1935)
The Gay Deception (1935)
One Rainy Afternoon (1936)
My American Wife (1936)
It's All Yours (1937)
The Lone Wolf in Paris (1938)
Midnight (1939)
Confessions of a Nazi Spy (1939)
The Man I Married (I Married a Nazi) (1940)
Puddin' Head (1941)
Voice in the Wind (1944)
The Bridge of San Luis Rey (1944)
The Diary of a Chambermaid (1946)
The Madonna's Secret (1946)
Million Dollar Weekend (1948)
Surrender (1950)
Captain Carey, U.S.A. (1950)
Lisbon (1956)
The Ambassador's Daughter (1956)
The Return of Dracula (1958)
Terror Is a Man (1959)