An Arizona rancher (Barbara Stanwyck) rules with her cowboy army until a U.S. marshal (Barry Sullivan) and his brothers come to town.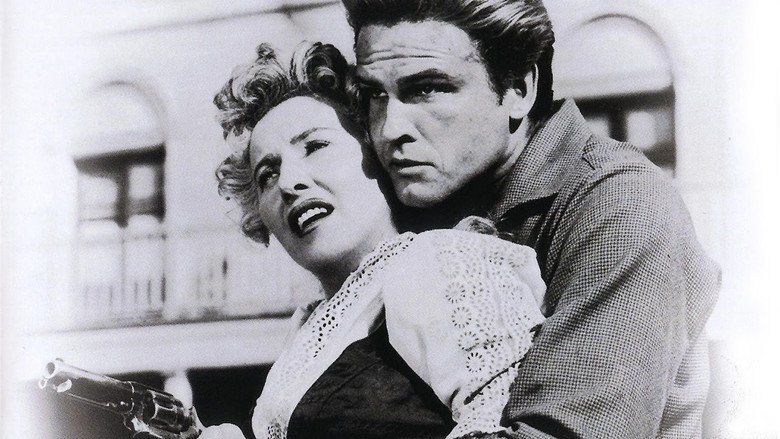 Forty Guns is a 1957 gothic western film written and directed by Samuel Fuller, filmed in black-and-white CinemaScope and released by the 20th Century Fox studio. The film stars Barbara Stanwyck, Barry Sullivan and Gene Barry.
An authoritarian rancher, Barbara Stanwyck, who rules an Arizona county with her private posse of hired guns. When a new Marshall arrives to set things straight, the cattle queen finds herself falling, brutally for the avowedly non-violent lawman. Both have itchy-fingered brothers, a female gunman enters the picture, and things go desperately wrong.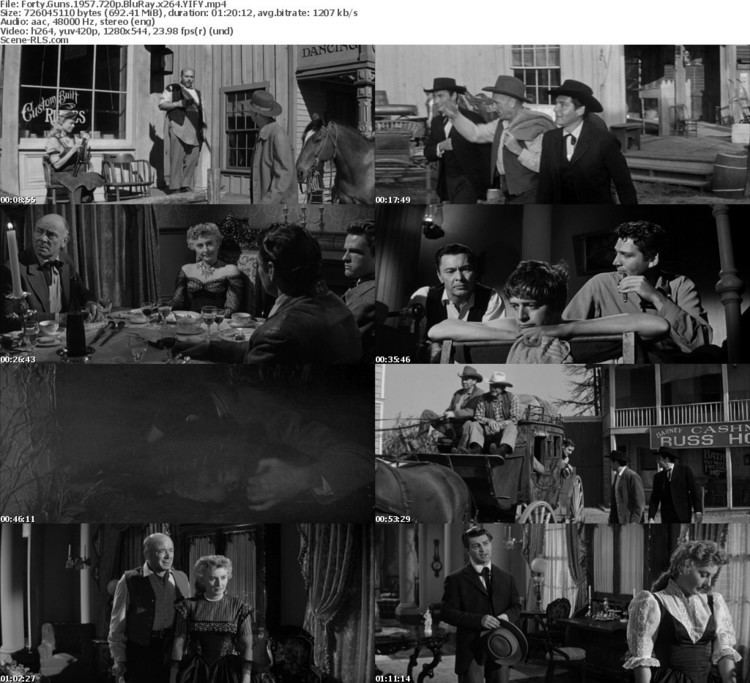 In the 1880s, Griff Bonnell and his brothers Wes and Chico arrive in the town of Tombstone in Cochise County, Arizona. Griff is a reformed gunslinger, now working for the Attorney Generals office, looking to arrest Howard Swain for mail robbery.
Swain is one of landowner Jessica Drummonds forty hired guns. She runs the territory with an iron fist, permitting the town to be terrorized and trashed by her brother, Brockie Drummond, and his boys. Brockie is an arrogant drunk and bully, but he goes too far by shooting vision-impaired town Marshal, Chisolm, in the leg. Thereupon, Brockie and his drunken friends start trashing the town.
Griff intervenes and pistol-whips Brockie with a single blow while Wes covers him with a rifle from the gunsmith shop. Aware of how close Brockie is to his sister, Griff makes it a point not to crack Brockies. Jessica delivered Brockie when their mother gave birth for the last time.
Wes falls in love with Louvenie Spanger, the daughter of the town gunsmith, so he decides to settle down and become the towns marshal. Griff becomes romantically involved with Jessica after she is dragged by a horse during a tornado.
Two of Jessicas forty dragoons, Logan and Savage, attempt an ambush of Griff in an alley. He is saved by youngest brother Chico, who was supposed to be leaving for California for a new life on a farm. Chicos shot kills Savage, after which Jessicas brother and hired guns try to turn the town against the Bonnell brothers.
On his wedding day, Wes is gunned down by Brockie, who is really aiming at Griff (who leans forward to kiss the bride, thereby unknowingly saving himself). Brockie is jailed for the murder. He tries to escape by using his sister as a shield, daring Griff to shoot, and is shocked when Griff does exactly that. Griffs expertly-placed bullet merely wounds Jessica, and the cowardly Brockie then becomes the first man Griff has had to kill in ten years. Brockies last words are "Mr. Bonnell, Im killed!"
Chico remains behind to take the marshals job. Griff rides out, certain that Jessica hates him for killing her brother, but she runs down the dirt street after his buckboard - repeatedly calling out "Griff! Mr. Bonnell!" - and they appear to ride off together for California.
Barbara Stanwyck as Jessica Drummond
Barry Sullivan as Griff Bonnell
Gene Barry as Wes
Robert Dix as Chico
Dean Jagger as Logan
John Ericson as Brockie
Hank Worden as Chisolm
Barbara Stanwyck and Barry Sullivan appear in Forty Guns and The Maverick Queen. Gunmans Walk (1958). Barry Sullivan appears in Forty Guns and Buckskin. Outlaws Son (1957). Barbara Stanwyck appears in Forty Guns and The Furies.
Fuller uses every opportunity to show off the widescreen format while employing extensive use of close-ups and one of the longest tracking shots ever done at Fox's studio at that time.