Ernst Iosifovich Neizvestny (Russian: Эрнст Ио́сифович Неизве́стный; April 9, 1925 – August 9, 2016) was a Russian-American sculptor, painter, graphic artist, and art philosopher. He emigrated to the U.S. in 1976 and lived and worked in New York City. His last name in Russian literally means "unknown".
Contents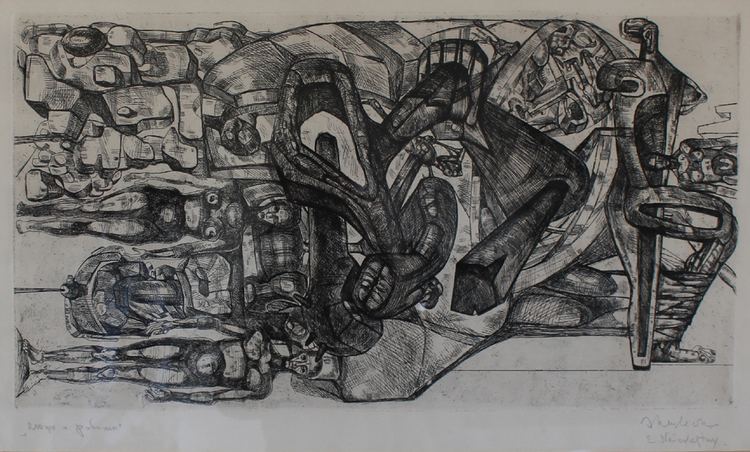 American playwright Arthur Miller once described Neizvestny as an "artist of the East" who is regarded by Russians as an "expression of the country, of its soul, language, and spirit" and as a "prophet of the future" who represents the "philosophical conscience of his country."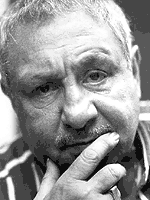 Alexander Calder, the American artist, once said to Neizvestny, "All my life I create the world of children, and you create the world of man." [as reported by New York City Tribune, March 29, 1988.]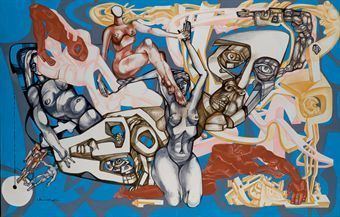 Ernst neizvestny fragment tv programm ch1 russia
Early life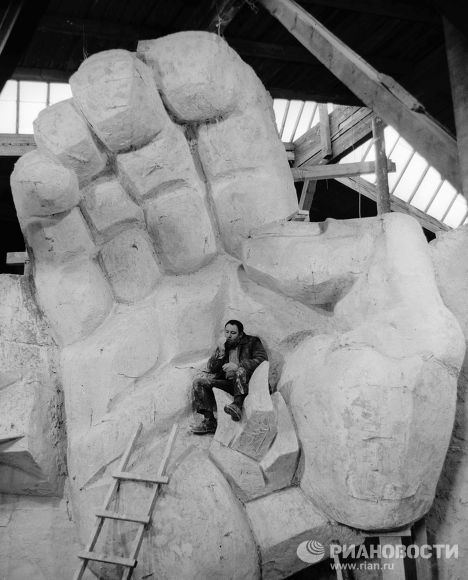 Neizvestny was born 9 April 1925 in Sverdlovsk (now Yekaterinburg). In 1942, at the age of 17, he joined the Red Army as a volunteer. At the close of World War II, he was heavily wounded and sustained a clinical death. Although he was awarded the Order of the Red Star "posthumously" and his mother received an official notification that her son had died, Neizvestny managed to survive.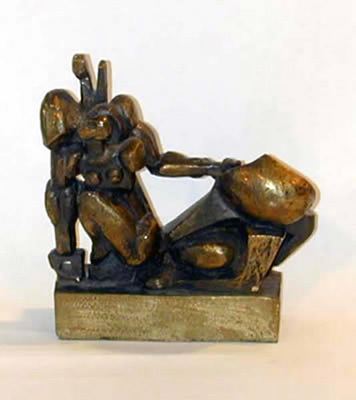 In 1947, Neizvestny was enrolled at the Art Academy of Latvia in Riga. He continued his education at the Surikov Moscow Art Institute and the Philosophy Department of the Moscow State University. His sculptures, often based on the forms of the human body, are noted for their expressionism and powerful plasticity. Although his preferred material is bronze, his larger, monumental installations are often executed in concrete. Most of his works are arranged in extensive cycles, the best known of which is The Tree of Life, a theme he has developed since 1956.
Art career
Although Nikita Khrushchev famously derided Neizvestny's works as "degenerate" art at the Moscow Manege exhibition of 1962 ("Why do you disfigure the faces of Soviet people?"), the sculptor was later approached by Khrushchev's family to design a tomb for the former Soviet leader at the Novodevichy Cemetery. Other well-known works he created during the Soviet period include Prometheus in Artek (1966). Much of his art from the Soviet era was destroyed before he was force exiled to America.
Neizvestny's talent for large monumental sculptures was again recognized when in the late 1980s six Taiwan cities commissioned the New Statue of Liberty to be built in Kaohsiung harbor. Like the original in New York, it was planned to be 152 feet tall. Several models were built. At least one about five feet tall, and approximately 13 smaller bronzes, each slightly over 18 inches, sold to clients of Magna Gallery in San Francisco. Although the authorized maximum number of signed and numbered castings was 200, far fewer were actually cast and sold, in part because the monument was never built in Taiwan. The reasons are largely political, and are described in Albert Leong's bio of Neizvestny, referred to below.
During the 1980s, Neizvestny was a visiting lecturer at the University of Oregon and at UC Berkeley. He also worked with Magna Gallery in San Francisco, and had a number of shows which were well-attended in the mid to late 1980s. This gallery also asked him to create his suite of five original graphics, "Man through the Wall," to mark the end of Communism at the end of the 1980s. Magna Gallery was closed at the end of 1992.
During this time, Neizvestny worked diligently to get his dream "Tree of Life" monumental sculpture funded and built. Several small versions or spinoffs based on the theme were built, but the enormous monumental version that Neizvestny dreamed to build, inside which people could walk, has not been built although it has been fully conceptualized, planned out and detailed by the artist as a labor of love.
In 1996, Neizvestny completed his Mask of Sorrow, a 15-meter tall monument to the victims of Soviet purges, situated in Magadan. The same year, he was awarded the State Prize of the Russian Federation. Although he lived in New York City and worked at Columbia University, Neizvestny frequently visited Moscow and celebrated his 80th birthday there. A museum dedicated to his sculptures was established in Uttersberg, Sweden. Some of his crucifixion statues were acquired by John Paul II for the Vatican Museums. In 2004, Neizvestny became an honorary member of the Russian Academy of Arts.
A biography of Neizvestny was written by University of Oregon professor Albert Leong in 2002 entitled: Centaur: The Life and Art of Ernst Neizvestny. Another book about Neizvestny is Art and Revolution: Ernst Neizvestny, Endurance, and the Role of the Artist, written by British art critic John Berger in 1969.
References
Ernst Neizvestny Wikipedia
(Text) CC BY-SA