Country

Latvia




Area

304 km2


Mayor

Nils Ušakovs


Population

703,260 (2010)




Points of interest

St Peters Church - Riga, Freedom Monument, Museum of the Occupation of Latvia, Latvian Ethnographic Open Air Museum, Nativity Cathedral - Riga




Colleges and Universities

University of Latvia (Riga), Riga Stradi?š University (Riga), Riga Technical University (Riga), Tur?ba University (Riga), Art Academy of Latvia (Riga)



Riga ( Latvian: , ) is the capital and the largest city of Latvia. With 643,368 inhabitants (January 2014), Riga is the largest city of the Baltic states and home to more than one third of Latvias population. The city lies on the Gulf of Riga, at the mouth of the Daugava. Rigas territory covers 307.17 km2 (118.60 sq mi) and lies between 1 and 10 metres (3.3 and 32.8 ft) above sea level, on a flat and sandy plain.
Contents
Map of Riga
Riga was founded in 1201 and is a former Hanseatic League member. Rigas historical centre is a UNESCO World Heritage Site, noted for its Art Nouveau/Jugendstil architecture and 19th century wooden architecture. The city is the European Capital of Culture during 2014, along with Umeå in Sweden. The city hosted the 2006 NATO Summit, the Eurovision Song Contest 2003, the 2006 IIHF Mens World Ice Hockey Championships and the Kaspersky Lab Riga Open Snooker tournament. It is home to the European Unions office of European Regulators for Electronic Communications (BEREC). Riga is served by Riga International Airport, the largest airport in the Baltic states.
Riga is a member of Eurocities, the Union of the Baltic Cities (UBC) and Union of Capitals of the European Union (UCEU).
History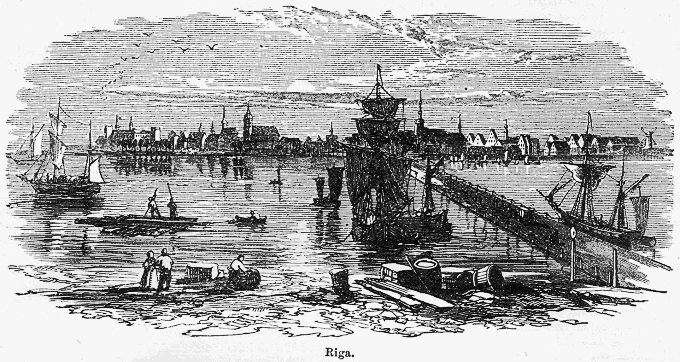 The river Daugava has been a trade route since antiquity, part of the Vikings Dvina-Dnieper navigation route to Byzantium. A sheltered natural harbour 15 km (9.3 mi) upriver from the mouth of the Daugava—the site of todays Riga—has been recorded, as Duna Urbs, as early as the 2nd century. It was settled by the Livs, an ancient Finnic tribe.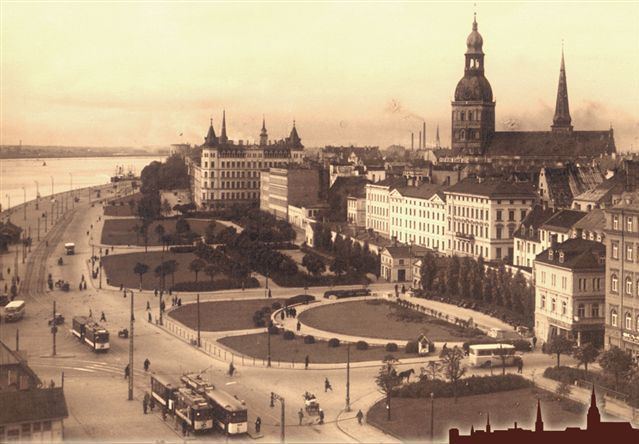 Riga began to develop as a centre of Viking trade during the early Middle Ages. Rigas inhabitants occupied themselves mainly with fishing, animal husbandry, and trading, later developing crafts (in bone, wood, amber, and iron).
The Livonian Chronicle of Henry testifies to Riga having long been a trading centre by the 12th century, referring to it as portus antiquus (ancient port), and describes dwellings and warehouses used to store mostly corn, flax, and hides. German traders began visiting Riga, establishing a nearby outpost in 1158.
Along with German traders also arrived the monk Meinhard of Segeberg to convert the Livonian pagans to Christianity. (Catholic and Orthodox Christianity had already arrived in Latvia more than a century earlier, and many Latvians baptised) Meinhard settled among the Livs, building a castle and church at Ikš?ile, upstream from Riga, and established his bishopric there. The Livs, however, continued to practice paganism and Meinhard died in Ikš?ile in 1196, having failed his mission. In 1198 the Bishop Berthold arrived with a contingent of crusaders and commenced a campaign of forced Christianization. Bertold was killed soon afterwards and his forces defeated.
The Church mobilised to avenge. Pope Innocent III issued a bull declaring a crusade against the Livonians. Bishop Albert was proclaimed Bishop of Livonia by his uncle Hartwig of Uthlede, Prince-Archbishop of Bremen and Hamburg in 1199. Albert landed in Riga in 1200 with 23 ships and 500 Westphalian crusaders. In 1201 he transferred the seat of the Livonian bishopric from Ikš?ile to Riga, extorting agreement to do so from the elders of Riga by force.
Geography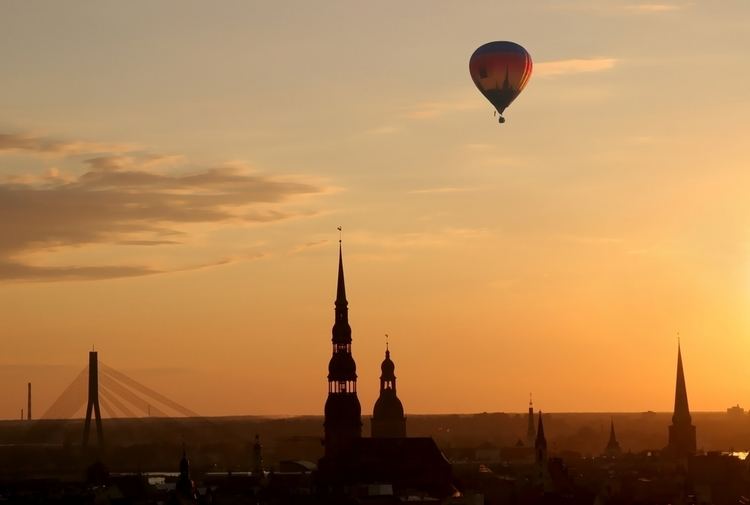 Central District (3 km2 or 1.2 sq mi)
Kurzeme District (79 km2 or 31 sq mi)
Zemgale Suburb (41 km2 or 16 sq mi)
Northern District (77 km2 or 30 sq mi)
Vidzeme Suburb (57 km2 or 22 sq mi)
Latgale Suburb (50 km2 or 19 sq mi)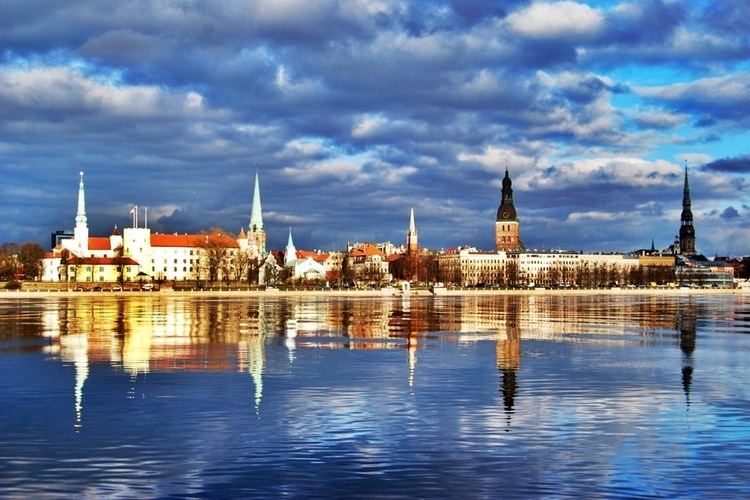 Rigas administrative divisions consist of six administrative entities: Central, Kurzeme and Northern Districts and the Latgale, Vidzeme and Zemgale Suburbs. Three entities were established on 1 September 1941, and the other three were established in October 1969. There are no official lower level administrative units, but the Riga City Council Development Agency is working on a plan, which officially makes Riga consist of 58 neighbourhoods. The current names were confirmed on 28 December 1990.
Economy
Riga is one of the key economic and financial centres of the Baltic States. Roughly half of all the jobs in Latvia are in Riga and the city generates more than 50% of Latvias GDP as well as around half of Latvias exports. The biggest exporters are in wood products, IT, food and beverage manufacturing, pharmaceuticals, transport and metallurgy. Riga Port is one of the largest in the Baltics. It handled a record 34 million tons of cargo in 2011 and has potential for future growth with new port developments on Krievu Sala. Tourism is also a large industry in Riga and after a slowdown during the recent global economic recessions, grew 22% in 2011 alone.
Culture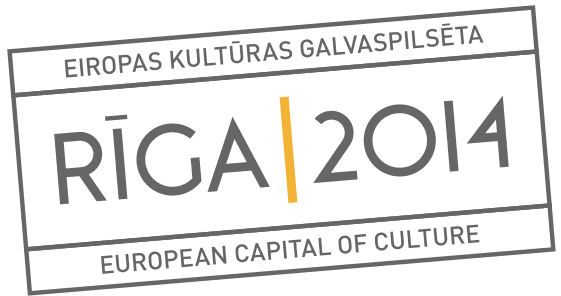 The Latvian National Opera was founded in 1918. The repertoire of the theatre embraces all opera masterpieces. The Latvian National Opera is famous not only for its operas, but for its ballet troupe as well.
The Latvian National Theatre was founded in 1919. The Latvian National Theatre preserves the traditions of Latvian drama school. It is one of the biggest theatres in Latvia.
The Riga Russian Theatre is the oldest professional drama theatre in Latvia, established in 1883. The repertoire of the theatre includes classical plays and experimental performances of Russian and other foreign playwrights.Riga Russian Theatre
The Daile Theatre was opened for the first time in 1920. It is one of the most successful theatres in Latvia. This theatre is distinguished by its frequent productions of modern foreign plays.
Latvian State Puppet Theatre was founded in 1944. This theatre presents shows for children and adults.
The New Riga Theatre was opened in 1992. It has an intelligent and attractive repertoire of high quality that focused on a modern, educated and socially active audience.
References
Riga Wikipedia
(Text) CC BY-SA
(,)http://3.bp.blogspot.com/_vkGso8H6L14/THdEqF1VstI/AAAAAAAACkI/S54v2r_hPm4/s1600/riga-1897-300dpi-pic.gif(,)http://cultured.com/images/image_files/82/2468_o_old_riga.jpg(,)http://erwin.bernhardt.net.nz/europe/images/latviariga165001.jpg(,)http://www.citariga.lv/images/andrejsala/spekstacija_b.gif(,)http://www.rsu.lv/eng/images/images/International_students/Riga16.jpg(,)http://upload.wikimedia.org/wikipedia/commons/0/09/Old_Riga_City_Hall.jpg(,)http://wpc-europe2015.com/wp-content/uploads/2011/01/riiga2.png(,)http://cdn.images.express.co.uk/img/dynamic/136/590x/19f48riga1-489841.jpg(,)http://www.riga-guide.com/uploads/2011/08/riga-town-hall-sqaure-ratslaukums.jpg(,)http://www.travel-earth.com/latvia/riga-old-town.jpg
(,)http://www.gcpr.net/wp-content/uploads/2011/04/Riga_Latvia_shutterstock_1163171.jpg(,)http://paradiseintheworld.com/wp-content/uploads/2012/03/riga-skyline.jpg(,)http://vipinwest.com/wp-content/uploads/2012/09/riga-landscape.jpg(,)http://aminus3.s3.amazonaws.com/image/g0003/u00002378/i00628815/b6b4928740ecf02dad096246bf3bac51_large.jpg(,)http://3hcsca1whezf4mxv71skgwt8n6.wpengine.netdna-cdn.com/wp-content/uploads/2013/04/riga-lativa-at-night.jpg(,)http://www.rigabiketours.com/wp-content/uploads/2012/06/riga-spring-industrial-2012-landscape-IMG_2418.jpg(,)http://www.fotothing.com/photos/924/92408eac31764c95c63d6647c0ef8fda.jpg(,)http://fc04.deviantart.net/fs45/f/2009/143/5/4/Landscape_of_Riga_by_liga_marta.jpg(,)http://www.ctvnews.ca/polopoly_fs/1.1618563.1388948117!/httpImage/image.jpg_gen/derivatives/landscape_620/image.jpg(,)http://www.artmajeur.com/files/janzing/images/artworks/650x650/5988586_snow-in-old-town-riga.jpg(,)http://happytobehomeless.com/wp-content/uploads/2012/08/RigaSunrise2.jpg(,)https://c1.staticflickr.com/5/4141/4871266463_39aaf7fe85.jpg(,)http://commondatastorage.googleapis.com/static.panoramio.com/photos/original/856291.jpg
(,)http://www.restorans.lv/objs/pagegal//images//image_64277.jpg(,)http://welcomelit.com/img/pages/salve_latvia.jpg(,)http://www.inyourpocket.com/gallery/2919.jpg(,)http://s.inyourpocket.com/gallery/item_3758.jpg(,)http://welcomelit.com/img/pages/charleston_riga.jpg(,)http://www.playriga.com/assets/images/comix/riga_latvian_food.jpg(,)http://s.inyourpocket.com/gallery/item_2920.jpg(,)http://www.riga-guide.com/uploads/2013/06/indian-raja-riga-panorama.jpg(,)http://www.riga-guide.com/uploads/2010/03/rozengrals-restaurant-medieval-riga.jpg(,)http://media-cdn.tripadvisor.com/media/photo-s/03/33/dd/aa/caption.jpg(,)http://s.inyourpocket.com/gallery/item_5010.jpg(,)http://www.meetriga.com/userfiles/images/galery/feel/dine-riga/restorani-eiropas-virtuve/monterosso/133458049184.jpg%3Fw%3D1024(,)http://www.virtuallatvia.lv/wp-content/gallery/rozengrals/img_0390.jpg(,)http://www.eurogolfadvisor.com/pictures/restaurants/riga-golf-radisson-latvija-1325534849.jpg(,)http://www.virtualriga.com/wp-content/uploads/lido.lidosta6.jpg(,)http://www.virtualriga.com/wp-content/uploads/lido.spice_.55.jpg
(,)http://thumbs.dreamstime.com/z/riga-festival-open-air-opera-music-concert-there-will-be-artists-who-famous-latvia-around-world-will-be-32978856.jpg(,)http://thumbs.dreamstime.com/z/riga-festival-open-air-opera-music-concert-there-will-be-artists-who-famous-latvia-around-world-will-be-32978972.jpg(,)http://thumbs.dreamstime.com/z/riga-festival-open-air-opera-music-concert-there-will-be-artists-who-famous-latvia-around-world-will-be-32978850.jpg(,)http://www.sseriga.edu/files/content/sseriga_light5.png(,)http://www.latvia.travel/sites/default/files/styles/lightbox/public/news/egle.jpg%3Fitok%3DiLEIs9la(,)http://www.urbancentre.net/citylife/wp-content/uploads/2012/11/DSC_0112.jpg(,)http://www.salsatraveladvisor.com/wp-content/uploads/Riga-Salsa-Festival.jpg(,)http://www.rigasritmi.lv/img/news/RJS_Publicitate_596x365.jpg(,)http://www.urbancentre.net/citylife/wp-content/uploads/2013/11/DSC_1603no_RAW3-StaroRiga.jpg(,)http://www.rigasritmi.lv/img/news/3443-Paolo-Fresu-e-Daniele-Di-Bonaventura-Live.jpg(,)http://www.urbancentre.net/citylife/wp-content/gallery/staro-riga-2010/dsc_0986.jpg(,)http://www.riga-guide.com/uploads/2012/09/International-Winter-Music-Festival-Winterfest1.jpg(,)http://www.ferretingoutthefun.com/wp-content/uploads/2014/09/Riga-City-Festival3.jpg(,)http://www.urbancentre.net/citylife/wp-content/uploads/2013/11/DSC_1592no_RAW3-StaroRiga.jpg(,)http://www.likealocalguide.com/blog/wp-content/uploads/2014/05/2764067748_7216352dfd_z.jpg(,)http://thumbs.dreamstime.com/z/riga-festival-open-air-opera-music-concert-there-will-be-artists-who-famous-latvia-around-world-will-be-32978872.jpg(,)http://2.bp.blogspot.com/_EHbf-gkQ3Hc/TOw6Z5tIEJI/AAAAAAAAGFc/9_0rrKthdqc/s1600/staro-alexander-bridge.jpg(,)http://thumbs.dreamstime.com/z/riga-festival-open-air-opera-music-concert-there-will-be-artists-who-famous-latvia-around-world-will-be-32978836.jpg
(,)http://www.remaco.lv/userfiles/image/riga2014.png(,)http://umea2014.se/wp-content/uploads/2012/12/riga.jpg(,)http://btp.travel/allfiles/images/RIGA2014-LOGO.jpg(,)http://i.bestriga.com/uploads/photo/large/2010/05/10/staro-riga.jpg(,)https://i.vimeocdn.com/video/453038883_640.jpg(,)http://blog.radissonblu.com/wp-content/uploads/2014/05/riga-culture.jpg(,)http://www.puretravel.com/blog/wp-content/uploads/2013/06/Riga-in-Latvia-is-the-European-Capital-of-Culture-2014.jpg(,)http://www.perugia2019.eu/wp-content/uploads/2013/01/riga_1.jpg(,)http://rnajtn376nq1w0ss.zippykid.netdna-cdn.com/wp-content/uploads/2011/12/LatviaWeaver-960x640.jpeg(,)http://www.zeus.aegee.org/magazine/wp-content/uploads/RIGA2014-LOGO-GRAY-EKG-e1394815154980-1024x595.jpg(,)http://static.guim.co.uk/sys-images/Travel/Pix/pictures/2014/4/3/1396542150549/Sunlight-over-Riga-Latvia-012.jpg(,)https://culturetrade.files.wordpress.com/2012/09/cropped-umearuga24.jpg(,)http://www.autoosta.lv/wp-content/uploads/2014/01/RIGA2014-LOGO-EKG_ENGonly.jpg(,)http://www.trm.md/photo_news/riga-si-umea-sunt-capitalele-culturii-in-2014/big-riga-si-umea-sunt-capitalele-culturii-in-2014.jpg(,)http://www.telegraph.co.uk/inluxury/9916/1381747110051/rigafreedommonumentjpg/ALTERNATES/h585-var/RigaFreedomMonument.jpg
(,)http://www.mappery.com/maps/Riga-Tourist-Map-2.mediumthumb.jpg(,)http://www.mappery.com/maps/Riga-Tourist-Map.mediumthumb.gif(,)http://balticreports.com/wp-content/uploads/2009/10/Riga-Tourists.jpg(,)http://www.journeymart.com/de/CountryImages/latvia-riga.jpg(,)http://www.mappery.com/maps/Riga-City-Map-2.mediumthumb.jpg(,)http://showbus.lv/uploads/images/RigaMap_SHOWBus-Print-500dpi-CMYK-2%2520-%2520kopija.jpg(,)http://www.mappery.com/maps/Riga-and-Jurmala-Map.mediumthumb.jpg(,)http://cdn.drprem.com/travel/wp-content/uploads/2014/02/riga-latvia-best-places-to-travel-2014.jpg(,)http://www.balticroutes.com/_/rsrc/1340976777243/maps/Riga_map_center_web.jpg(,)http://lifestyle.iloveindia.com/lounge/images/things-to-do-in-riga.jpg(,)http://www.europe-trips.eu/Latvia/Riga-Latvia.jpg(,)http://www.latvia-florida.org/images/latviapicblackh.jpg(,)http://www.latviaphoto.com/images/riga_skylinebridge.jpg