98,920 (2009)




Andey Popov (Head), Sergey Abramov (Mayor)



Magadan (Russian: ; ) is a port town and the administrative center of Magadan Oblast, Russia, located on the Sea of Okhotsk in Nagayevo Bay in the Taui Bay and serving as a gateway to the Kolyma region. Population: 95,982?(2010 Census); 99,399?(2002 Census); 151,652?(1989 Census).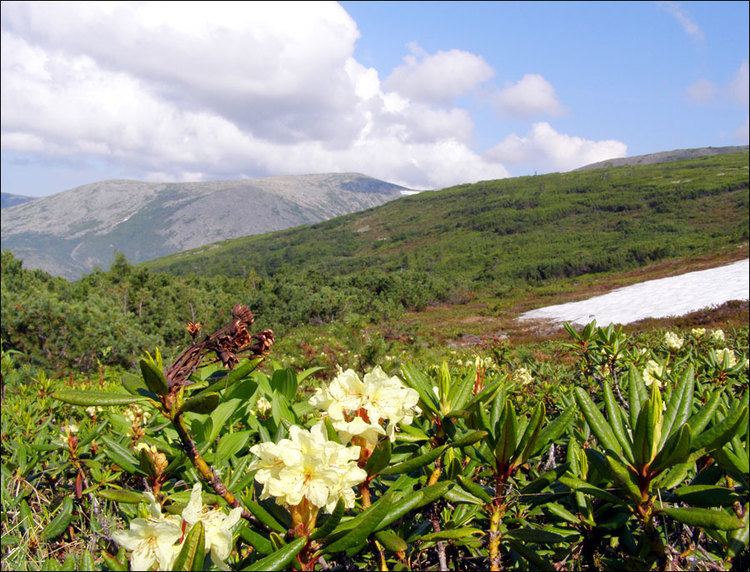 Magadan was founded in 1930 in the Magadan River valley, near the settlement of Nagayevo. During the Stalin era, Magadan was a major transit center for prisoners sent to labor camps. From 1932 to 1953, it was the administrative center of the Dalstroy organization—a vast and brutal forced-labor gold-mining operation and forced-labor camp system. The town later served as a port for exporting gold and other metals mined in the Kolyma region. Its size and population grew quickly as facilities were rapidly developed for the expanding mining activities in the area. Town status was granted to it on July 14, 1939.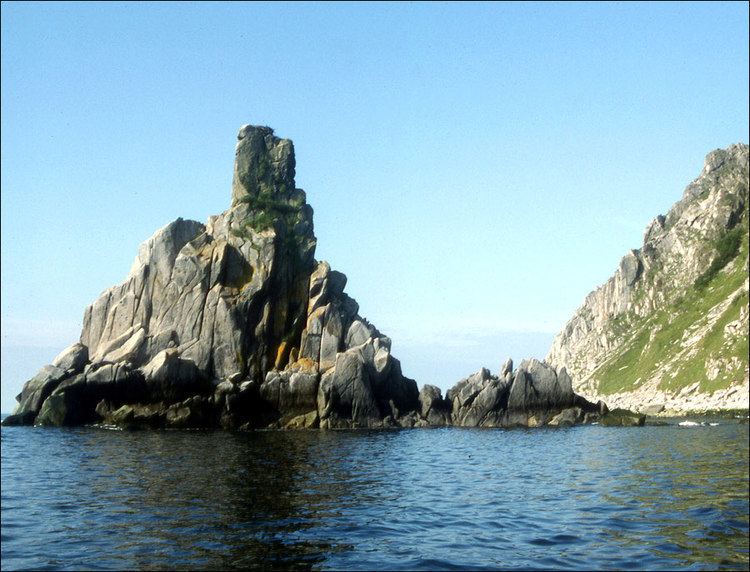 Magadan was temporarily transformed into a Potemkin village to mark an official visit by U.S. Vice-President Henry Wallace in May 1944. He took an instant liking to his secret policeman host, admired handiwork done by prisoners, and later glowingly called the town a combination of Tennessee Valley Authority and Hudsons Bay Company. Wallaces collaborative stance towards Russia discouraged the Democratic Party of the United States from renominating him as vice president later in the summer of 1944, helping lead to the selection of Harry Truman in his place.
Ship building and fishing are the major industries. The town has a seaport (fully navigable from May to December) and a small international airport, Sokol Airport. There is also a small airport nearby, Magadan 13. The unpaved Kolyma Highway leads from Magadan to the rich gold-mining region of the upper Kolyma River and then on to Yakutsk.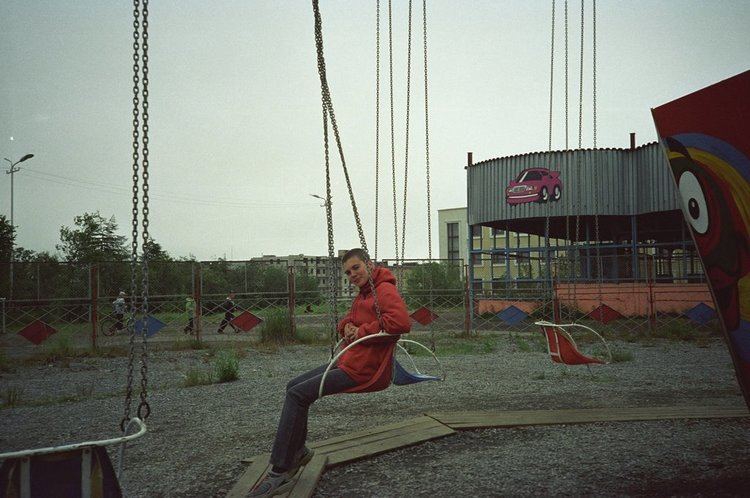 The town has a number of cultural institutions including the Regional Museum of Anthropology, a geological museum, a regional library and a university. The town has the new Orthodox Cathedral Church of the Trinity, a recently completed Roman Catholic Church of the Nativity and the Mask of Sorrow memorial, a large sculpture in memory of Stalins victims, designed by Ernst Neizvestny. The Church of the Nativity is actually a part of the diocese of Anchorage, Alaska and ministers to the survivors of the labor camps. It is staffed by several priests and nuns.
The town figures prominently in the labour camp literature of Varlam Shalamov and in the eponymous song by Mikhail Krug, and was a focal point of the Long Way Round motorcycle journey made by Ewan McGregor, Charley Boorman and their team in 2004.
Magadan Wikipedia
(,)http://russiatrek.org/images/photo/magadan-oblast-scenery.jpg(,)http://russiatrek.org/images/photo/magadan-region-view.jpg(,)http://russiatrek.org/images/photo/magadan-oblast-view.jpg(,)http://mannaismayaadventure.files.wordpress.com/2012/04/nt_israel-flat.jpg(,)http://upload.wikimedia.org/wikipedia/commons/e/ef/Magadan-church-winter.jpg(,)http://www.koryogroup.com/pictures/magadan2012/magadan9.JPG(,)http://www.tampapix.com/cuscaden-roofing-job-1941.jpg(,)http://languagesoftheworld.info/wp-content/uploads/2014/10/Magadan_population_chart.jpg(,)https://datomusayob.files.wordpress.com/2014/09/wpid-20140912_095114.jpg
(,)http://russiatrek.org/images/photo/magadan-russia-oblast-landscape.jpg(,)http://www.city.sapporo.jp/somu/kokusai/wwcam/images/magadan2.jpg(,)http://russiatrek.org/images/photo/magadan-oblast-landscape.jpg(,)http://www.thegulag.org/sites/default/files/12.jpg(,)http://www.themoscowtimes.com/upload/iblock/2e0/5560-06-ask-russia-magadan-nwikicommonst9.jpg(,)http://russiatrek.org/images/photo/kamchatka-russia-krai-landscape.jpg(,)http://previews.123rf.com/images/sergunt/sergunt1404/sergunt140400052/27364283-Soil-highway-in-Yakutia-Cloudy-landscape-on-a-route-Yakutsk-Magadan-Russia-mountains-Stock-Photo.jpg(,)http://previews.123rf.com/images/sergunt/sergunt1312/sergunt131200028/24429511-The-river-in-mountains-of-Yakutia-Cloudy-landscape-on-a-route-Yakutsk-Magadan-RussiaStock-Photo.jpg(,)http://thumbs.dreamstime.com/z/autumn-tundra-background-mountains-yakutia-cloudy-landscape-route-area-kolyma-yakutsk-magadan-russia-35839482.jpg(,)http://us.123rf.com/450wm/sergunt/sergunt1312/sergunt131200023/24429505-soil-highway-in-yakutia-cloudy-landscape-on-a-route-yakutskmagadan-russia-mountains.jpg(,)http://previews.123rf.com/images/sergunt/sergunt1404/sergunt140400175/27874977-Soil-highway-in-Yakutia-Cloudy-landscape-on-a-route-Yakutsk-Magadan-Russia-mountains-Stock-Photo.jpg(,)http://thumbs.dreamstime.com/z/far-east-magadan-gerion-summer-landscape-30250792.jpg
(,)http://askmagadan.com/wp-content/uploads/2012/08/busstation.jpg(,)http://askmagadan.com/wp-content/uploads/2012/04/img214.jpg(,)http://www.blue-dunes.com/photos/magadan2/images/matt_flight_-_magadan_017.jpg(,)http://languagesoftheworld.info/wp-content/uploads/2014/10/Magadan_Oblast_map.jpg(,)http://images.travelpod.com/cache/accom_maps/Hotel-VM-Centr-Magadan.gif(,)http://media-cdn.tripadvisor.com/media/photo-s/01/7c/44/40/magadan.jpg(,)http://upload.wikimedia.org/wikipedia/commons/b/b3/Buchta_Nagajewa_(Magadan).jpeg(,)http://www.saidthegramophone.com/images/magadan_map.jpg(,)http://askmagadan.com/wp-content/uploads/2011/02/magadan2.jpg(,)http://russia.rin.ru/pictures/3023.jpg
(,)https://s-media-cache-ak0.pinimg.com/736x/29/93/77/299377c74d5a30bfe4a46e58a69f7129.jpg(,)http://www.parallelsixty.com/images/magadan.jpg(,)http://www.melodiadelvino.it/wp-content/uploads/2012/03/jascha5maxi.jpg(,)http://famousdude.com/images/dave-magadan-02.jpg(,)http://photos.thenews.com.pk/tasveer_images/2013-1-18/large/3_201301180128442335.jpg(,)http://www.concertzender.nl/wp-content/themes/cz-theme/SharedLibsAndClasses/media.php%3Fid%3D7307
(,)http://static.panoramio.com/photos/large/723774.jpg(,)http://media.englishrussia.com/022013/planesfalling/planesfallinginmagadan001-17_full.jpg(,)http://www.themoscowtimes.com/upload/iblock/38a/Magadan-floods.jpg(,)http://siberiantimes.com/PICTURES/ECOLOGY/Crazy-summer-weather-in-Siberia/inside_road_closed_magadan.jpg(,)http://askyakutia.com/wp-content/gallery/siberia_magadan-to-yakutsk-2011-hhoward/20110615_Siberia_045-Magadan.jpg(,)http://www.kseniyamelnik.com/uploads/2/5/0/2/25020273/1986641_orig.jpg(,)http://englishrussia.com/images/022013/planesfalling/planesfallinginmagadan001-10_full.jpg(,)http://media-cdn.tripadvisor.com/media/photo-s/03/df/ba/91/magadan.jpg(,)http://russia.rin.ru/pictures/3022.jpg(,)http://askyakutia.com/wp-content/uploads/2011/09/madexpeditionskolyma_01-500x333.jpg
(,)http://www.koryogroup.com/images/magadan/Russia%2520-%2520big.jpg(,)http://media-cdn.tripadvisor.com/media/photo-p/05/5b/44/47/caption.jpg(,)http://www.city.sapporo.jp/somu/kokusai/wwcam/images/magadan4.jpg(,)http://www.bamriders.com/wordpress/wp-content/uploads/2013/05/Magadan-church-e1368306087232.jpg(,)http://askyakutia.com/wp-content/gallery/yakutskoymyakonmagadanwintertour/yakutsk_magadan_roadofbones_tour_57.jpg(,)http://siberiantimes.com/PICTURES/OTHERS/Gulags-Yakutia/inside%2520memorial%2520to%2520the%2520ones%2520who%2520perished.jpg(,)http://askyakutia.com/wp-content/gallery/yakutsk-magadan-summer-tour-05/ust_nera_ancient_stones_09.jpg(,)http://media-cdn.tripadvisor.com/media/photo-s/03/df/ba/78/magadan.jpg(,)http://cdn1.vtourist.com/19/7164627-Maska_Skorbi_Magadan.jpg%3Fversion%3D2(,)http://rbth.co.uk/assets/images/2011-010203/big/Shamanskie%2520Piramidy_0002119603-preview-clean.jpg(,)http://askyakutia.com/wp-content/uploads/2010/05/anyujsk.jpg