In 1947 he was named as one of the Hollywood Ten, a group of blacklisted film industry professionals who refused to testify to the House Un-American Activities Committee (HUAC) in their investigations during the McCarthy-era 'Red scare'. They all served time in prison for contempt of Congress. In 1951, however, Dmytryk did testify to HUAC and rehabilitated his career.
First hired again by independent producer Stanley Kramer in 1952, Dmytryk is likely best known for directing The Caine Mutiny (1954), a critical and commercial success. The second highest-grossing film of the year, it was nominated for Best Picture and several other awards at the 1955 Oscars. Dmytryk was nominated for a Directors Guild Award for Outstanding Directorial Achievement in Motion Pictures.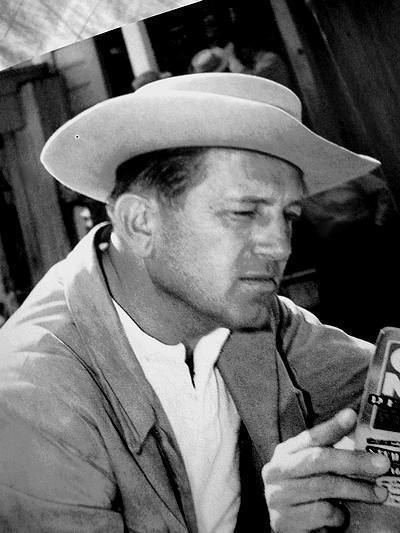 Dmytryk was born in Grand Forks, British Columbia, Canada, the son of Polish-Ukrainian immigrant parents, Frances (Berezowski) and Michael Dmytryk. His father, a severe disciplinarian, bounced between jobs as truck driver, smelter worker and motorman. His family moved to San Francisco, California, and then to Los Angeles. After his mother died, his father remarried. Dmytryk worked as a messenger at Famous Players-Lasky (forerunner of Paramount Pictures) for $6 a week while attending Hollywood High School. He progressed to projectionist, film editor and, by age 31, director and a naturalized citizen of the United States.
Dmytryk made his directorial debut with The Hawk in 1935. His best-known films from these early years were film noirs: Murder, My Sweet (1944), adapted from Raymond Chandler's novel, Farewell, My Lovely; and Crossfire (1947), for which he received a Best Director Oscar nomination. He made three contemporary World War II films: Behind the Rising Sun (1943), Hitler's Children (1943), the story of the Hitler Youth; and Back to Bataan (1945), starring John Wayne. His fourth World War II film, Anzio, was made in 1968.
After the war, many Americans were alarmed by Soviet actions in Europe, and by reports of covert Communist activity in the U.S. This period has been dubbed the Second Red Scare. The House Un-American Activities Committee (HUAC) investigated Communist Party influence in the film industry, and Dmytryk was among those called to testify about it before HUAC in 1947. Dmytryk had briefly been a Communist Party member in 1945. He was persuaded by his former Party associates to join nine other Hollywood figures in a public refusal to testify. The "Hollywood Ten" were cited for contempt of Congress and sentenced to prison terms.
Dmytryk fled to England and was unofficially ostracized. In England he made Give Us this Day (1949), a neo-realistic movie sympathetic to the working man, based on the novel Christ in Concrete. The movie, which was successful in Europe, was released as Christ in Concrete in the United States and quickly suppressed. When his passport ran out, Dmytryk returned to the United States, where he was arrested and imprisoned.
After several months behind bars, Dmytryk decided that he had been duped by the Communists. They had cost him exile and imprisonment so they could win sympathy for the "Ten" as persecuted innocents, although as Dmytryk knew, all ten were current or former Party members. He agreed to testify and to name people he knew were Communist Party members. On April 25, 1951, Dmytryk appeared before HUAC for the second time, answering all questions. He spoke of his own brief Party membership in 1945, and named 26 other Party members. He said that John Howard Lawson, Adrian Scott, Albert Maltz, and others had pressured him to include Communist elements in his films. His testimony damaged several court cases that others of the "Ten" had filed. He recounted his experiences of the period in his book, Odd Man Out: A Memoir of the Hollywood Ten (1996).
Independent American producer Stanley Kramer was the first to hire him again, choosing him to direct a trio of low-budget films beginning in 1952. Next Kramer selected Dmytryk to direct Humphrey Bogart and Van Johnson in The Caine Mutiny (1954), a World War II naval drama adapted from Herman Wouk's Pulitzer Prize-winning novel which proved to be a great critical and commercial success for Columbia Pictures. It was the second highest-grossing film of the year, and in 1955 received Oscar nominations for Best Picture, Best Actor and other awards.
Through the 1950s and 1960s, Dmytryk continued to make films for major studios such as Columbia, 20th Century Fox, MGM and Paramount Pictures; his works in the 1950s included The Left Hand of God (1955), Raintree County (1957), The Young Lions (1958), and a 1959 remake of The Blue Angel.
Later in the 1960s and 1970s, he directed The Carpetbaggers (1964), Where Love Has Gone (1964) -both based on novels by Harold Robbins; Anzio (1968) - his last World War II film; Alvarez Kelly (1966), Shalako (1968), and Bluebeard (1972).
After his film career tapered off in the 1970s, Dmytryk entered academic life. He taught about film and directing at the University of Texas at Austin, and at the University of Southern California film school. He wrote several books on the art of filmmaking (such as On Film Editing). He also appeared on the lecture circuit, speaking at various colleges and theaters, such as the Orson Welles Cinema.
Dmytryk died from heart and kidney failure on July 1, 1999, aged 90, in Encino, California. He was buried at the Forest Lawn Memorial Park, in Hollywood.
Dmytryk was married to actress Jean Porter from May 12, 1948 til his death.
This filmography lists all the feature films Dmytryk directed, and is believed complete.
1948, nominated for Best Director for Crossfire at the Oscars
1955, The Caine Mutiny nominated for Best Picture at the Oscars
1955, Dmytryk was nominated for a Directors Guild Award for Outstanding Directorial Achievement in Motion Pictures for The Caine Mutiny 1954 and The Young Lions 1957