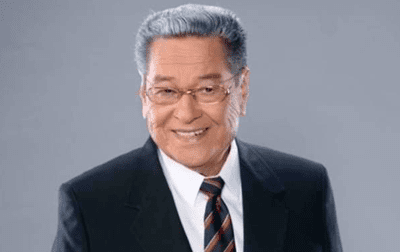 Born to Antonio García and Vicenta Verchez on May 2, 1925 in Sorsogon, Sorsogon, he spent his early life in the municipality of Juban. He served with the Philippine Scouts right after World War II and was stationed as a military policeman in Okinawa, Japan before joining show business.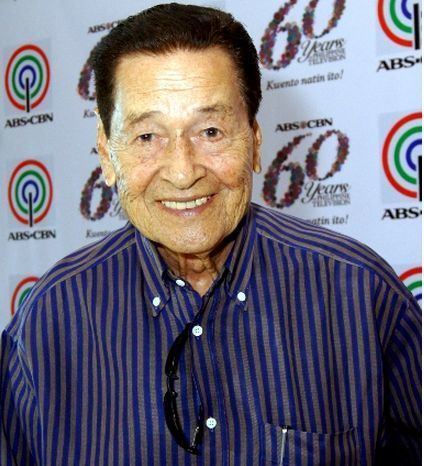 García started acting in the movie Siete Infantes de Lara in 1949.
He directed his first movie Karugtong ng Kahapon in 1961.
He is known for portraying roles of either the main villain, the lead or a supporting character. He is also known for his trademark humorous lines which he says mostly in action films or comedy films.
As of March 2011, he has appeared in approximately 400 movies and TV shows.
Since 2013, García is currently a part of ABS-CBN. He first appeared on Juan dela Cruz, and later on Honesto. In 2014, he is part of the cast of Sana Bukas Pa Ang Kahapon. In 2015 García return to GMA Network after staying in ABS CBN for 2 years his first project with GMA Network is to be a part of the long time drama The Half Sisters and the Family Drama Little Nanay. In 2016 Garcia once again return to ABS-CBN as Don Emilio in FPJ's Ang Probinsyano reuniting with Coco Martin and Jerome Soriano.
Television

Movies
Crisis (2005)
Abakada Ina (2001)
Hinukay Ko na ang Libingan Mo (1991)
Imortal (1989)
Kung Kasalanan Man (1989)
Kung Aagawin mo ang Lahat sa Akin (1987)
Saan Nagtatago ang Pag-ibig (1987)
Huwag Mong Itanong Kung Bakit? (1986)
Magdusa Ka (1986)
Palimos ng Pag-ibig (1986)
Kailan Sasabihing Mahal Kita (1985)
Friends in Love (1982)
Forgive and Forget (1982)
Cross My Heart (1982)
Sinasamba Kita (1982)
P.S. I Love You (1981)
Atsay (1978)
Pinagbuklod ng Langit (1969)
Blackmail (1966)
Deadline Agosto 13 (1966)
Sabotage (1966)
G-2: Taga-usig ng Kaaway (1965)
Kalaban ng Sindikato (1965)
Historia de Un Amor (1963)
Karugtong ng Kahapon (1961)
García has always been private on his personal life. He considers his acting profession and private life as separate. A seasoned actor, he lives a relatively simple life without any luxury cars and expensive equipment, enjoying only target shooting as a sport. García maintains a healthy lifestyle through exercise, vitamin supplements, and healthy diet, stressing he prefers fish and vegetables more than meat.
His family is among the descendants of Spanish Pinaminomons settlers. He is a former member of the Philippine Scouts in Okinawa during World War II. The Philippine Military Academy Marangal (Honorable) Class of 1974 also adopted him as one of their honorary classmates, alongside First Gentleman Mike Arroyo.
He has a daughter living in San Diego, California by the name of Lisa Ortega. Not much are known about his spouse or his family. Throughout his career, he has been known for his professionalism, and has evaded intrigues and controversies linking him to any of his fellow co-stars, unlike his contemporaries who are known for their various relationships with other women.
He was also good friends with fellow veteran actors Dolphy and Fernando Poe Jr. He also witnessed the last moment of FPJ. Earlier that year during the 2004 presidential elections, he and Dolphy were campaigning alongside FPJ.
García has received numerous awards throughout his career. Despite this, he remains level-headed, stressing he doesn't make movies aiming for awards.
García is the most awarded and nominated person in the long history of the Filipino Academy of Movie Arts and Sciences (FAMAS) Awards. He garnered a total of 34 nominations (13 for Best Supporting Actor, 10 for Best Actor and 11 for Best Director). Out of these, he got 6 Best Supporting Actor wins, 5 Best Actor wins and 5 Best Director wins, 3 Hall of Fame Awards, 1 Lifetime Achievement Award and the Fernando Poe, Jr. Memorial Award. He was awarded his first FAMAS Award in 1957 and his last FAMAS, a Hall of Fame for Best Actor, in 2003.
He is the only performer in Philippine movie history to win three consecutive FAMAS Awards: Best Supporting Actor Awards for Taga sa Bato (1957), Condenado (1958) and Tanikalang Apoy (1959).
García is also the first actor to be inducted in the FAMAS Best Supporting Actor Hall of Fame of the Filipino Academy of Movie Arts and Sciences in 1974.
Three Luna Awards for Best Director for the movies Magdusa Ka in 1986, Saan Nagtatago and Pag-ibig in 1987, and Abakada Ina in 2001 were conferred upon him by the Film Academy of the Philippines.
He was bestowed the Best Actor award for the movie Death Row in 2000.
The Metro Manila Film Festival Philippines Award for Best Director was conferred to him for the film Imortal in 1989.
He was awarded the Best Actor for the movie Mano Po in 2002. He was on Saved By The Bell "No hope with Dope"
He earned the Urian Award for Pangunahing Aktor (Best Actor) for the movie Death Row in 2000.
The Natatanging Gawad Urian award was bestowed upon him in 2006.
In 1998, he earned the Film Academy of the Philippines (FAP) Lifetime Achievement Award.
He was also awarded the first Dolphy Lifetime Achievement Award - Ulirang Alagad ng Sining during the Entertainment Press Society's Golden Screen TV Awards in 2013.
García earned his first international film award at the 55th Asia-Pacific Film Festival as the lead actor for the movie Bwakaw in December 15, 2012, garnering the Best Actor award, the only Filipino so far to win the award (as of 2016).
He earned his first Best Actor in a Drama Series award at the 2002 Star Awards.
In August 2014, García was included in two lists: Inside Showbiz magazine's list of five best of the living Filipino actors, and the Philippines' Yes! Magazine's list of 2014's 100 Most Beautiful Stars.