Preceded by

Brian Bilbray




Name

Duncan Hunter




Preceded by

Duncan L. Hunter




Parents

Duncan Hunter





Political party

Republican




Succeeded by

Scott Peters




Children

3




Spouse

Margaret Hunter







Full Name

Duncan Duane Hunter




Born

December 7, 1976 (age 39) San Diego, California, U.S. (

1976-12-07

)


Residence

Lakeside, California, U.S.




Alma mater

San Diego State University




Role

United States Representative




Office

Representative (R-CA 50th District) since 2013




Previous office

Representative (CA 52nd District) 2009–2013




Similar People

Duncan Hunter, Brian Bilbray, Scott Peters, Isadore Hall III




Profiles




Facebook

Twitter
Congressman duncan d hunter talks the mount soledad cross and more
Duncan Duane Hunter (born December 7, 1976) is an American politician and member of the Republican Party from California who has represented San Diego County in the United States House of Representatives since 2009, representing California's 50th congressional district. The district, numbered as the 52nd district from 2009 to 2013, covers almost all of San Diego County except for the coastal and border areas. It includes the cities of Escondido, San Marcos and Santee as well as Fallbrook, Lakeside and Valley Center and mountain and desert areas stretching to the Imperial County line.
Contents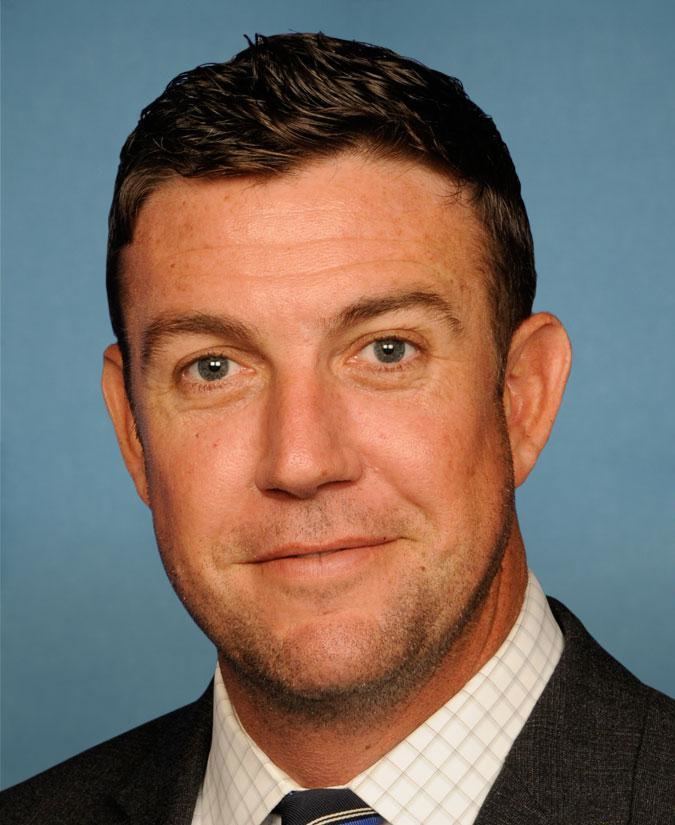 On March 20, 2007, Duncan's father, Republican Congressman Duncan Lee Hunter announced that as part of his 2008 presidential campaign, he would not seek re-election to the House of Representatives in 2008. Duncan D. Hunter announced his candidacy for his father's seat and on June 3, 2008, won the Republican primary to replace his father.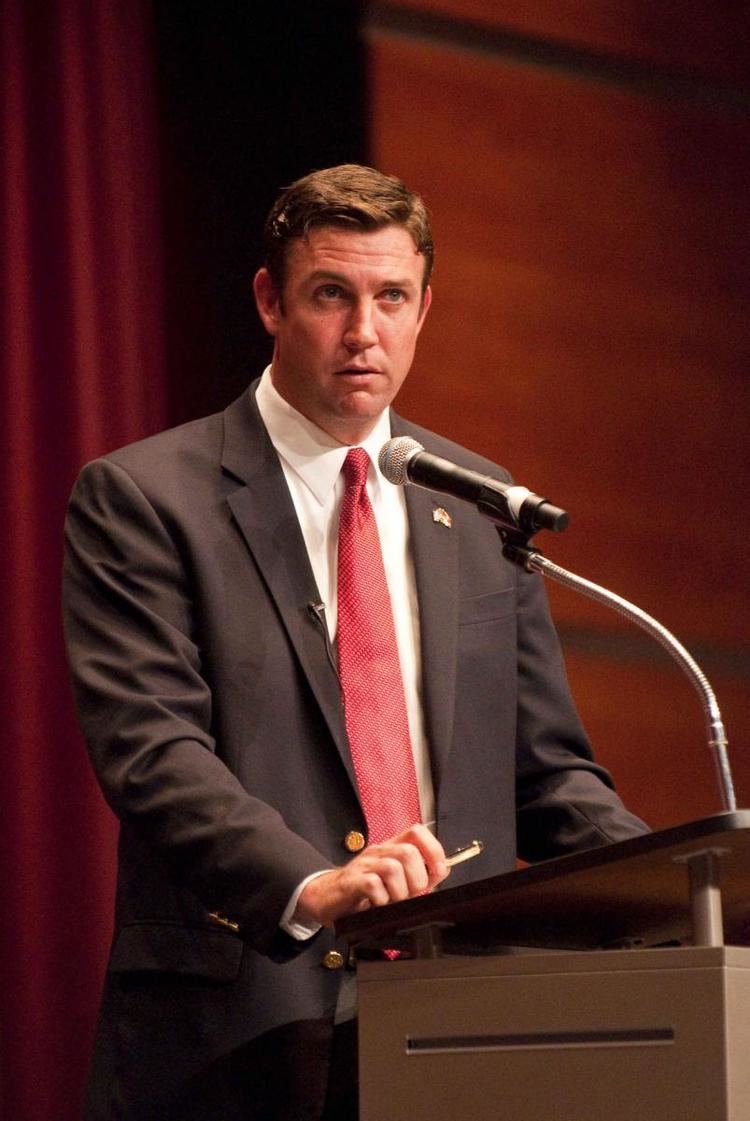 He defeated the Democratic nominee, fellow Iraq War veteran Michael D. Lumpkin, in the general election and succeeded his father in Congress. He became the first combat veteran of either Iraq or Afghanistan to serve in the U.S. Congress. As of 2014, he was one of 17 veterans of the Iraq War serving in the U.S. House of Representatives.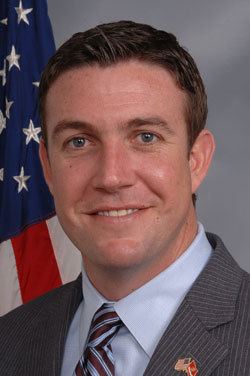 Hunter was re-elected to the seat in 2010. After redistricting following the 2010 United States Census, Hunter followed most of his constituents into the 50th district. He was elected to the new seat in 2012, 2014 and 2016. In Congress, Hunter has focused on military, foreign affairs and veterans issues. He serves on the Armed Services, Education and the Workforce and Transportation and Infrastructure committees, chairing the Transportation Subcommittee on Coast Guard and Maritime Transportation.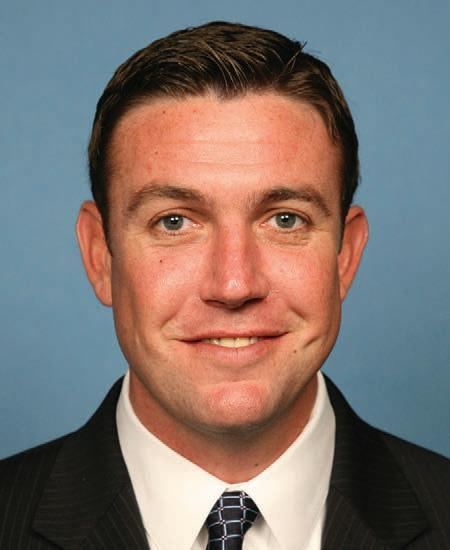 In 2017 it was reported that Hunter is under criminal investigation for alleged campaign finance violations. In March 2017 the House Ethics Committee deferred its probe into the alleged misuse of campaign funds by Rep. Duncan Hunter at the request of the Justice Department. The Justice Department makes such requests when it is conducting its own investigation.
Rep duncan d hunter interview don t close gitmo
Early life and education
Hunter was born in San Diego, California, the son of Helynn Louise (née Layh) and Duncan Lee Hunter. He graduated from Granite Hills High School, El Cajon, California and San Diego State University, where he earned a degree in Business Administration. He started a web design company in college to help pay for tuition. Upon graduation from San Diego State, he worked full-time in San Diego as an information technology business analyst.
Military service
The day after the September 11 attacks, Hunter quit his job and joined the United States Marine Corps. He attended Officer Candidates School at Marine Corps Base Quantico. Upon graduation in March 2002, he was commissioned as a second lieutenant. He subsequently served as a field artillery officer in the 1st Marine Division after the 2003 invasion of Iraq and completed a second tour in Fallujah, Iraq, in 2004, serving in Battery A, 1st Battalion, 11th Marines. During his second tour, he participated in Operation Vigilant Resolve.
In September 2005, Hunter was honorably discharged from active duty but remained in the Marine Corps Reserve. He then started a residential development company. In 2007, he was recalled to active duty and deployed to Afghanistan in support of the War in Afghanistan; this was his third tour of duty during the War on Terrorism. Hunter was honorably discharged from active duty in December 2007, but continues to serve in the Marine Corps Reserve. Hunter was promoted to major in 2012.
Hunter's awards include:
2008
On March 20, 2007, his father, Duncan Lee Hunter announced that, as part of his presidential bid, he would not seek re-election to the House of Representatives in 2008.
After his son, Duncan D. Hunter, announced his candidacy for his father's seat, the younger Hunter was recalled by the United States Marine Corps to serve in the Operation Enduring Freedom – Afghanistan. On June 3, 2008, Duncan D. Hunter won the Republican primary with 72% of the vote in a four candidate field and became the Republican nominee to replace his father representing the 52nd District.
In the general election, Hunter defeated Democratic nominee Mike Lumpkin, 56%–39%.
Hunter succeeded his father, Congressman Duncan L. Hunter (R-Calif.), who retired from Congress after fourteen terms. He was the first combat veteran of either Iraq or Afghanistan to serve in the U.S. Congress.
As of 2014, he was one of 17 veterans of the Iraq War serving in the U.S. House of Representatives.
2010
He won re-election to a second term with 63% of the vote, defeating Ray Lutz and Michael Benoit.
2012
After redistricting, Hunter's district was renumbered as the 50th District. It expanded to cover most of inland San Diego County.
In the five-candidate open primary field, Hunter ranked first with 67% of the vote; Democratic nominee David Secor ranked second with 17% of the vote, qualifying for the November election. In the general election, Hunter defeated Secor 68%–32%.
2014
In the primary election, Hunter finished first with 62,371 votes (70%) to Democrat James H. Kimber's 21,552 (24%). In the general election, Hunter defeated Kimber by 111,997 votes (71%) to 45,302 (29%).
2016
In the primary election, Hunter took 56.5% of the vote against four opponents. In the general election, he defeated Democrat Patrick Malloy, 63.9% to 36.1%.
Tenure
Following in the footsteps of his father, Hunter's voting record has been decidedly conservative. He has a lifetime rating of 93 from the American Conservative Union. He is also a member of the Republican Study Committee, a caucus of conservative House Republicans of which his father was a longtime member.
In a 2009 interview with KPBS, Hunter expressed support for "overriding" the designation of the delta smelt as an endangered species, saying that overriding it would reduce unemployment in California.
He opposed the Health Care and Education Reconciliation Act of 2010, saying that it would "take away" the doctor-patient relationship and the right for people to choose "what type of operations they have", and that it would allow a "government bureaucrat" to make health care decisions for people. In the KPBS interview, Hunter said, "Things that you have problems with now would be exacerbated if you had government-run healthcare."
At an April 2010 Tea Party movement rally in Ramona, California, Hunter advocated for the deportation of United States citizens who are the children of illegal immigrants.
At the rally, Hunter said, "It's a complex issue and ... you could look and say, 'You're a mean guy. That's a mean thing to do. That's not a humanitarian thing to do' ... We simply cannot afford what we're doing right now. We just can't afford it. California's going under." He confirmed the comments to San Diego County's North County Times, telling the newspaper that he supported House Resolution 1868, a measure that called for the elimination of birthright citizenship in the United States. He expressed support for the controversial 2010 Arizona immigration law, calling it a national security issue and "a fantastic starting point".
On July 24, 2013, Hunter voted against an amendment offered by Justin Amash to rein in warrantless domestic surveillance conducted by the NSA.
In October 2013 Hunter was the only representative from San Diego County to vote against the bill ending the nation's 16-day partial government shutdown, explaining that he voted against it because it did not reduce spending or the national debt.
In February 2016, Hunter puffed on an electronic cigarette during a committee hearing, to dramatize his opposition to a proposed federal ban on such "vaping" on airplanes; however, his colleagues on the House Transportation and Infrastructure Committee approved the ban.
At a town-hall-style meeting in March 2017, Hunter was confronted by protesters. Before the crowd, Hunter asserted that the American intelligence community was filled with "seditious Obama folks" who "hate Donald Trump as much as you (those at the meeting) do" and are trying to undermine the Trump administration. He also described the American government as "Orwellian".
Military affairs
Hunter opposed the repeal of the don't ask, don't tell policy, which barred gays and lesbians from serving openly in the United States military. In 2011, Hunter advocated for delaying the implementation of the Don't Ask, Don't Tell Repeal Act of 2010, which was signed into law by U.S. President Barack Obama. In 2011, Hunter introduced legislation to require that all "four military service chiefs certify that the repeal of Don't Ask Don't Tell won't negatively affect their combat units".
In 2011, Hunter voted for the National Defense Authorization Act for Fiscal Year 2012.
Columnist Dan Murtaugh of the Press-Register has suggested that Hunter's 2011 call to rebid the littoral combat ship program is an attempt to get federal funds for a shipyard in his district. He returned to the LCS program in 2012, with a call to reduce LCS builds in favor of amphibious ships, because he had read a report that the Marines had leased a ferry with similar characteristics to the LCS and Joint High Speed Vessel (JHSV).
In a 2011 op-ed in Politico, Hunter opposed a complete withdrawal of American forces from Afghanistan, citing "unreliable Afghan leadership" and accusing the Obama administration of "echoing a misshapen worldview that puts American interests last". In October 2012, Hunter returned from a visit to Afghanistan, as part of a congressional delegation, with a more upbeat assessment, stating "Frankly I was very skeptical last year when I went last, and have been, on whether [the Afghans] can do this, but they are."
In 2013 Hunter said the United States Navy was overworked and spread thin, and said that a "306-ship target might represent the absolute minimum capacity the navy needs".
In 2013, Hunter accused the nation's military leaders of theatrics in the cuts that resulted from the failure of Congress to come to a deal to avert sequestration. He listed targeted spending reductions that he would prefer to make instead of the across the board cuts.
In 2013, following the Obama administration's decision to allow women to serve in combat roles in the U.S. military, Hunter voiced about the policy change, suggesting that there might be potentially different standards for women and men for the same combat positions. In 2016, Hunter introduced an amendment to the defense authorization act to require 18-to-26-year old women to register for the Selective Service System (as 18-to-26-year old men are required to do). Hunter opposes women in combat and did not actually draft registration for women, but offered the amendment to make a point. This backfired against Hunter, however, as the House Armed Services Committee voted 32-30 to adopt the amendment.
In December 2013, Hunter said that if a U.S. war with Iran becomes inevitable, which he "sure as hell" hoped wouldn't happen, the American response should be a "massive aerial bombing campaign" including "tactical nuclear devices". He also said that the culture of Middle Easterners made them unreliable negotiating partners.
Hunter has strongly criticized the Army's use of its internally developed DCGS-A system for tracking battlefield intelligence. He says that an alternative technology developed by Palantir Technologies is more effective at identifying IEDs and is preferred by Army personnel. He stated that if Lt. Gen. Mary A. Legere is nominated to head the Defense Intelligence Agency, he will oppose her due to her support of the DCGS-A system.
In 2013, Hunter called for the United States to train and arm Syrian rebels and stated his opinion that President Obama would be breaking the law if he bombed Syria without a Congressional mandate, and that it should be considered an impeachable offense. In September 2014, however, Hunter voted against a proposal to train and arm Syrian rebels fighting against ISIL extremists, saying that the proposal didn't go far enough.
In July 2010, Hunter introduced legislation into the 111th Congress to allow tobacco products to be shipped to service members serving in Iraq and Afghanistan; the legislation died after being referred to committee. In 2014, Hunter moved to block a plan by the military to ban sales of tobacco products on bases and ships, indicating that he believes servicemembers should be able to make their own choices regarding use of tobacco.
He has called for the system of awarding the Medal of Honor to be evaluated, due to the cases of Sergeant Rafael Peralta and Captain William D. Swenson. Even after Secretary of Defense Chuck Hagel became the third Secretary to deny the award to Peralta, Hunter maintained his pressure on the Pentagon. In late March 2014, he sent a letter asking the Pentagon to reevaluate Peralta's case, as well as the case of Bradley Kasal, who used his body to shield a fellow Marine from a grenade blast in Iraq in 2004.
In 2017, Hunter opposed a proposal floated by the Trump administration to cut the U.S. Coast Guard's annual budget by $1.3 billion, calling the proposed budget cut "an insult" and "an appalling mistake".
Campaign finance investigation
In April 2016, Hunter came under scrutiny from the Federal Elections Commission (FEC) regarding his use of campaign funds for personal expenses. Hunter and his wife, Margaret, who is paid $3,000 monthly from campaign funds in her role as campaign manager, shared a campaign fund credit card with charges being questioned. The expenses included $1,302 in charges for video games, a donation to their son's school, and payments to an oral and maxillofacial surgeon. Hunter returned from international travel to address any issues, promising to correct any inappropriate or mistaken charges. In a subsequent statement issued through his lawyers, Hunter said that he has repaid his campaign approximately $60,000. In August 2016, the Office of Congressional Ethics (OCE) made a recommendation to the Ethics Committee for a full investigation into Hunter.
On March 23, 2017, the House Ethics Committee announced that Hunter was under a Department of Justice (DOJ) criminal investigation for alleged campaign finance violations, and that it was deferring its own investigation as a result. On the same day, the committee released the OCE report, which stated: "Rep. Hunter may have converted tens of thousands of dollars of campaign funds from his congressional campaign committee to personal use to pay for family travel, flights, utilities, health care, school uniforms, and tuition, jewelry, groceries, and other goods, services, and expenses." Hunter denied wrongdoing and said that any improper use of campaign funds was "inadvertent and unintentional".
Legislation
Hunter introduced the Coast Guard and Maritime Transportation Act of 2014 (H.R. 4005; 113th Congress) into the House on February 6, 2014. The bill would amend laws that govern the activities of the United States Coast Guard (USCG), the Maritime Administration (MARAD) within the Department of Transportation, and the Federal Maritime Commission (FMC).
Hunter argued that the bill "improves the effectiveness of Coast Guard missions by reducing inefficient operations and enhancing oversight, places the Coast Guard's major systems acquisition program on a sustainable track, and encourages job growth in the U.S. maritime industry by cutting regulatory burdens on job creation". One provision increased to 75% the proportion of food aid that must be transported on private U.S.-flagged cargo ships. The bill was signed into law on December 18, 2014.
Committee assignments
Committee on Armed Services
Subcommittee on Emerging Threats and Capabilities
Subcommittee on Seapower and Projection Forces
Committee on Education and the Workforce
Subcommittee on Early Childhood, Elementary and Secondary Education
Subcommittee on Workforce Protections
Committee on Transportation and Infrastructure
Subcommittee on Coast Guard and Maritime Transportation (Chairman)
Subcommittee on Highways and Transit
Subcommittee on Water Resources and Environment
2016 Presidential Election
Hunter endorsed Donald Trump for president on February 24, 2016, after Trump's victory in the Nevada caucuses. He and Rep. Chris Collins (R-NY) were the first members of Congress to endorse Trump.
Abortion
Hunter is anti-abortion and believes life begins at conception. He has consistently voted against all forms of abortion, as well as cloning and embryonic stem cell research. He voted yes to criminalize harm to a fetus during another crime, no to funding family planning overseas, and yes to giving fetuses 14th Amendment protections. Hunter voted to ban the "morning after" pill in the case of rape or incest, and would like to ban IUDs.
He has been rated 0% by NARAL, a pro-choice organization, and 100% by NRLC, an anti-abortion organization.
Climate change
Hunter does not believe climate change is caused by humans, and believes it may actually be positive. He has said about climate change, "Nobody really knows the cause ... It could be caused by carbon dioxide or methane. Maybe we should kill the cows to stop the methane, or stop breathing to stop the CO2 ... Thousands of people die every year of cold, so if we had global warming it would save lives ... We ought to look out for people. The earth can take care of itself."
Hunter does not believe the EPA should be allowed to regulate green house gas emissions and has consistently voted against any governmental limits to CO2 pollution. He would like to open up oil drilling in the US to bring down gas prices.
Donald Trump
Hunter was an early supporter of Donald Trump. According to anonymous sources, during an address to Riverside County Young Republicans in late August 2017, Hunter said of President Donald Trump, "He's just like he is on TV ... He's an asshole, but he's our asshole."
Equal pay
He voted against equal pay for equal work in 2009 (Lilly Ledbetter Fair Pay Act).
Gay rights
In February 2013, Hunter voted against renewing the Violence Against Women Act. The conservatives who opposed the measure cited the protections for same-sex couples as one of their reasons against it. He supported the Defense of Marriage Act (DOMA), which restricted federal recognition of marriage to opposite-sex couples and cut off federal benefits to same-sex couples. He voted against enforcement of anti-gay hate crimes. He voted to delay the repeal of Don't Ask, Don't Tell.
Guns
Hunter believes there should be no restrictions on gun ownership in the US.
Healthcare
Hunter favors repealing the Affordable Care Act (Obamacare) and voted in support of a budget resolution to repeal Obamacare in January 2017.
He has expressed support for all drafts of the AHCA, which would partially repeal and replace Obamacare, and voted for the AHCA on May 4, 2017. About the AHCA he said, "this is going to save America."
Immigration
Hunter is strongly anti-amnesty and believes in strict immigration enforcement. He would like to build a double border fence to prevent illegal immigration. He voted against renewing the Violence Against Women Act in part because it would allow battered illegal immigrants to claim temporary visas.
Press relations
After a reporter from the Guardian was allegedly assaulted by a Republican from Montana, Hunter's response was published in several newspapers. The reporter allegedly put a tape recorder in Greg Gianforte's face while asking questions about the AHCA's effect on those with pre-existing conditions. In response, Gianforte allegedly put his hands around the reporter's neck and "bodyslammed" him to the ground, injuring his elbow and breaking his glasses. Hunter was asked if that was appropriate behavior for a politician. Hunter's response was, "It's not appropriate behavior. Unless the reporter deserved it."
Transgender military personnel
Hunter has been quoted as saying that as a Marine Corps veteran, he couldn't imagine sharing a shower with "somebody who was a girl and didn't have the surgery to become a man but kept the girl stuff".
Personal life
Hunter, his wife Margaret, and their three children have lived in Lakeside, California since 2007; he has previously lived in Oklahoma, Virginia and Idaho.
References
Duncan D. Hunter Wikipedia
(Text) CC BY-SA