Covid-19
7.6

/

10

1

Votes

Alchetron

Rate This





Shea Fontana






Chris Nee




Chris Nee






Doc McStuffins: Toy Hospital (season 4)




Kiara Muhammad (seasons 1–2) Laya DeLeon Hayes (season 3–present) Lara Jill Miller Robbie Rist Jess Harnell Loretta Devine Jaden Isaiah Betts Kimberly Brooks Gary Anthony Williams




The Doc is In by China Anne McClain (seasons 1–3) Amber Riley (season 4–present)




The Doc is In (instrumental)




Donny, Little Jack, Awesome Guy, Squeakers, Emmie, Bess, Norton, Alma, Dolly, Orville, Carlos




Disney Junior, Disney Channel




Kiara Muhammad, Lara Jill Miller, Robbie Rist, Jess Harnell, Loretta Devine
Doc McStuffins (also known as Doc McStuffins: Toy Hospital in the fourth season) is an American-Irish animated children's television series produced by Brown Bag Films. It was created and executive produced by Chris Nee and premiered on March 23, 2012 on Disney Channel and Disney Junior. The series is about a girl who can "fix" toys, with help from her toy friends. It features songs written and composed by Kay Hanley and Michelle Lewis.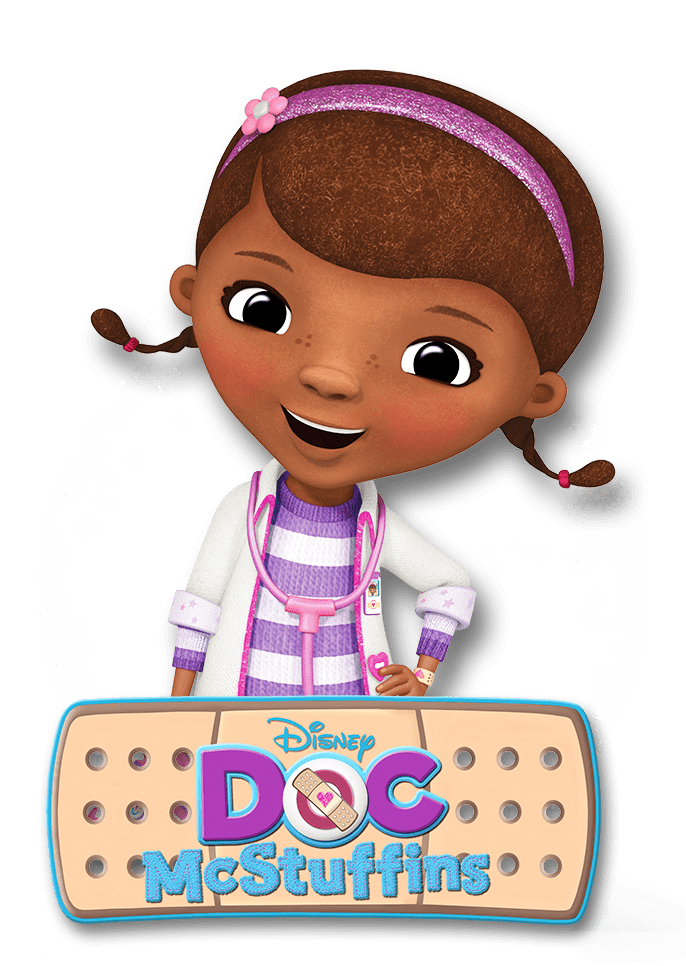 The series received positive reviews due to the show's concept and the main character, as well as its portrayal of African-Americans (Nee stated in 2013 that Doc is African-American, proposed by Disney during her initial pitch, Nee initially only knowing she wanted a girl doctor) in a Disney series. Chris Nee describes the series as "Cheers for Preschoolers."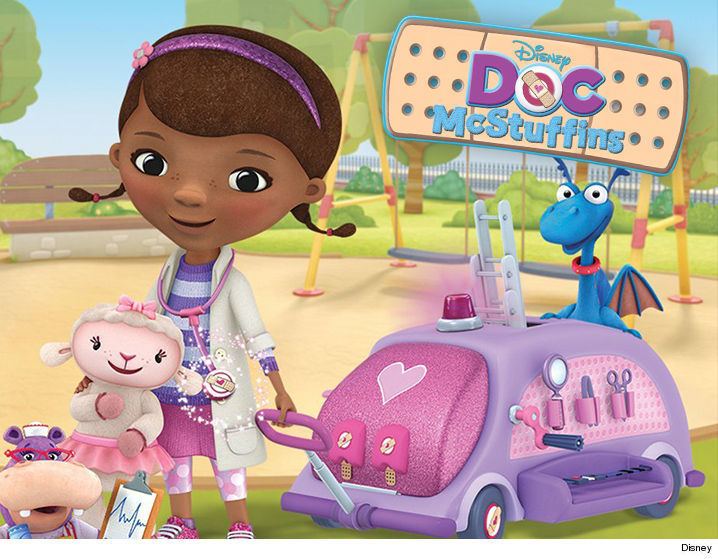 On November 16, 2016, the series was renewed for a fifth season by Disney Junior.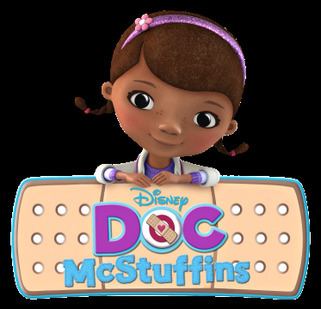 The series chronicles freckled, six-year-old (later seven) Dottie "Doc" McStuffins who decides she wants to become a doctor like her mother, a pediatrician. She practices her dream by fixing toys and dolls.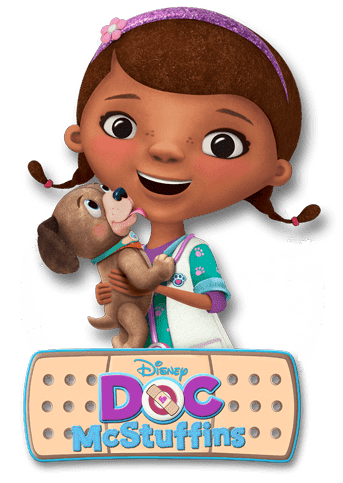 When she activates her magic stethoscope (similar to an amulet or talisman), she can create a variety of supernatural effects, including traveling through time. Her most regular use of it in the show is to cause toys, dolls, and stuffed animals to come to life. They are able to move, speak, hear, see and smell, and she can interact with them. With help from her stuffed friends – Stuffy the Dragon (a.k.a. Stuffy Filbert McStuffins), Hallie the Hippo, Lambie the Lamb, and Chilly the Snowman – Doc helps toys recover, or "feel better", by giving them check-ups and diagnosing their illnesses with an encyclopedia called "The Big Book of Boo Boos" and another encyclopedia called "The Big Vet Book" for her toy pets when she's a veterinarian. In Season four the Big Book of Boo Boos and The Big Vet Book goes Hi Tech in a tablet form.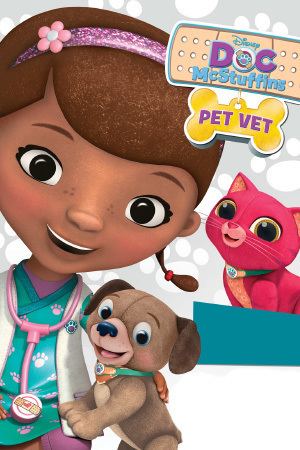 Each 11-minute episode includes original songs. During ending credits in Season 1, Doc gives advice to viewers about staying healthy. Seasons 1 and 2 have the original intro for the theme song, but in Season 3, the spoken line by Doc at the end of the theme song was re-recorded with Doc's new voice. In Season 3 Doc opens up a veterinarian clinic for fixing toy pets in addition to the regular medical services that she provides for the other toys. In Season 4, Doc's Grandma reveals her own magical stethoscope and teleports her and Doc to McStuffinsville and puts Doc in charge of the McStuffinsville Hospital.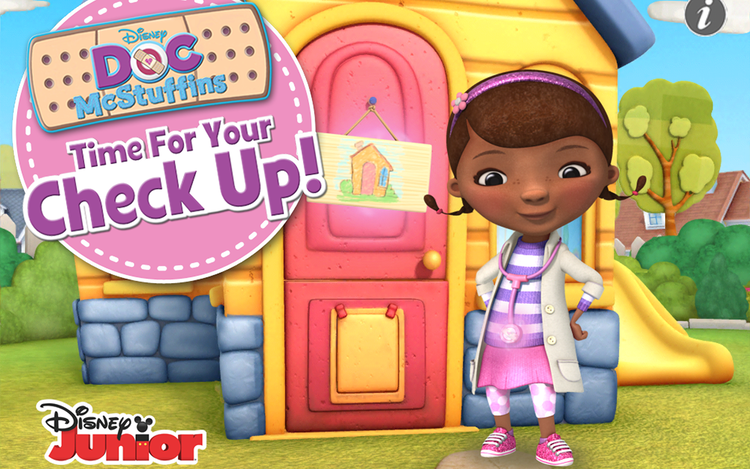 Dottie "Doc" McStuffins, a girl with the power to bring toys to life with her magical stethoscope
Donny McStuffins, Doc's 4 year-old brother
Mr. Marcus McStuffins, Doc's stay-at-home dad
Dr. Maisha McStuffins, Doc's mother
Maya Alana McStuffins, Doc and Donny's new adopted baby sister, referred to as "Baby McStuffins" prior to being named
Grandma McStuffins, Doc and Donny's Grandmother
Emmie, Doc's gymnast and pianist best friend
Alma, Emmie's younger sister
Dr. Peerless, Dr. Maisha McStuffins' peer at the clinic
Lucas, one of Donny's friends
Tisha, Doc's cousin who gives her Hootsburgh and Amena/Amina
Will, Donny's friend and soccer teammate
Carlos, Doc and Donny's friend
Henry, Doc and Donny's friend
(Queen) Amena (Amina) Sparkly Queen of the World is a monarch Doc receives from her cousin Tisha Some of the other toys including The Wicked King once consider her as "bossy" but Doc objects to that label.
Army Al, a toy soldier
Awesome Guy, a Super Hero action figure
Bella, a ballerina
Ben and Anna, a pair of Huggy Monkeys plushies
Bonnie Blue, a toy horse on wheels
Boppy, a toy punching bag shaped like a dog. (Voiced By James Arnold Taylor)
Bronty, a waterproof brontosaurus
Buddy, a toy dump truck
(Creepy Crawly) Charlie, a stuffed three eye monster who is not scary but very friendly.
Commander Crush, a Transformer type spacebot action figure that morphs into a space vehicle.
Dragon-Bot a hi tech robotic dragon
(Dress-Up) Daisy, a dress-up doll
Farmer Mack, a toy farmer based on the Playmobil line of toys
Gabby, a stuffed toy giraffe
Gillian, an Irish Giantess doll based on a series of storybooks
Glo-Bo, a six armed monster that glows in the dark
Gloria, a purple stuffed toy gorilla who loves to giggle
Hermie, a toy crab
(Professor) Hootsburgh (a.k.a. Hootie) a stuffed owl
(Big) Jack and (Little) Jack (a.k.a. Little J), a pair of Jack in the Boxes who are also father and son
Jony, a pony
Lala Koala, the new baby toy
Lenny, a toy pumper fire truck
Lieutenant Luna 2200 an astronaut with a pet mechanical dog (Space Rover) Olivia 0-197-0 a.k.a. Liv
(Wicked) King (a.k.a. Percy), a limbless monarch, similar in style to the original Fisher-Price Little People toys.
(Sir) Kirby, a knight
Merlinda, a wind up mermaid
Millie Microphone, a CD player & Karaoke machine
Niles, a toy crane
Nikki Nickel, a toy piggy bank
Oooey Gablooey, a gel-filled stretch toy
(Officer) Pete, a large scale metal die cast toy police car
Pickles, a blue stuffed bunny with a green button nose, similar to the Care Bears/Care Bear Cousins stuffed toys
Rescue Rhonda, a yellow remote-control helicopter who serves as a aerial ambulance for the hospital
Robot Ray, a toy robot
Squibbles McStuffins, Stuffy's furry pet critter
Star Blazer Zero, an intergalactic action figure
Stanley, a toy lion with parts of a toy rabbit
Surfer Girl, a surfboard-riding wind up toy
Susie Sunshine, a large doll
Tavia, a toy sea otter
Teddy B, a teddy bear
Twiggley, a toy squirrel
Val, a heart shaped stuffed toy that Doc received as a gift for Valentine's Day
Laya DeLeon Hayes as Doctor Dottie "Doc" McStuffins, the main protagonist of the series. She has a grandfather who survived heart and knee replacement surgery. Doc was voiced by Kiara Muhammad for seasons 1-2.
Robbie Rist (or Ben Schwartz in "The Doc Files") as Stuffy Philbert McStuffins, a brave blue stuffed toy dragon who is the bravest yet clumsiest dragon around but has a terrifying fear of spiders.
Lara Jill Miller as Lambie McStuffins, a stuffed lamb in a pink tutu who is Doc's best friend and loves to give out cuddles and supporting character Arcade Worker, a human character who works at Archie's Arcade and Witch Hazel.
Jess Harnell as Chilly McStuffins, a plump stuffed plush snowman who worries a lot, and supporting characters Buddy, the Singing Turtle on the Plaque, the Halloween Bat decoration, Morton, Rodriguez the Foosball Player, Bozini the Foosball Goaltender, Fabulous Fabio, the Wicked King, and the Dude.
Loretta Devine as Hallie McStuffins, named after the "Nurse Hallie" incarnation of the "Hallie Hippo" toy series), a stuffed plush purple hippopotamus in a candy striped nurse's outfit, and supporting characters Hattie the Nurse and Addie the Receptionist at the clinic where Myiesha McStuffins works with Dr. Peerless.
Kimberly Brooks (also credited as Kim Brooks and Kimberly D. Brooks) as Dr. Maisha McStuffins (Doc and Donny's mother, named based on Dr. Myiesha Taylor) and supporting character Surfer Girl.
Gary Anthony Williams as Marcus McStuffins, Doc and Donny's father, a stay-at-home dad and chef extraordinaire.
Jaden Betts then Sayeed Shahidi and later Andre Robinson as Donny McStuffins, Doc's younger brother who is 4 years old.
TBA as Julian the Giant
TBA as Lala
TBA as Stella
TBA as Joni the Pony
TBA as Stanley
Meira Blinkoff
Joe Ochman
Debi Derryberry as Twiggly
Ellen Pompeo as Willow
Note: Toy Hospital: Into the Hundred Acre Wood; voice actors to be launched shortly
In the United States, Doc McStuffins first premiered on March 23, 2012 on Disney-ABC networks Disney Channel and Disney Junior. On June 5, 2012, Disney Junior renewed the series for a second season, which premiered on September 6, 2013. On January 8, 2014, the series was renewed for a third season which premiered on November 2, 2014. On April 14, 2015, the series was renewed for a fourth season by Disney Junior, which premiered on August 5, 2016. It is titled "Doc McStuffins: Toy Hospital".
In Canada, the show started airing on the Canadian Disney Junior channel on April 8, 2012. The show also is aired in many foreign countries and has been dubbed into several languages.
The series received positive reviews and criticisms after its release. Kia Morgan Smith of Cincomom.com said that "It truly warmed my heart and almost brought tears to my eyes when my 8-year-old, Mikaela, saw 'Doc McStuffins' for the first time and said, 'Wow, mommy — she's brown,'" Myiesha Taylor of CoilyEmbrace.com said that "This program featuring a little African-American girl and her family is crucial to changing the future of this nation." Taylor also applauded the concept of its portrayal of a young black girl who wishes to follow in the footsteps of her mother as a doctor as the lead character, that inspired her to collect pictures of 131 doctors — all women of color — and publish a collage online under the heading, 'We Are Doc McStuffins.'"
The program is also a ratings hit on Disney Junior. The series premiere attracted 1.08 million children ages 2 to 5, and the show has attracted an average of 918,000 viewers in the same demographic, leading AdWeek magazine to dub the show an "improbable ratings juggernaut".
In 2013, $500 million worth of Doc McStuffins merchandise was sold, something New York Times writers claimed industry experts said "seems to be setting a record" for a "toy line based on an African-American character". They also said the character had broad appeal and the toys sold well to all demographics.
In 2016, news that Disney had yet to formally renew the program for a fifth season resulted in a number of celebrities, including W. Kamau Bell, Jamilah Lemieux and Audra McDonald to appeal Disney to continue the program. Chris Nee, the show's creator, tweeted that she would report immediately if she received any news of the show being picked up, commenting that the writing staff was eager to continue with new stories.
see List of Doc McStuffins episodes for original air dates
"Doc McStuffins Pet Vet" was released on iOS and Android.
There are a variety of games specifically focused on the series, including:
Big Air Adventure a 5-series crossover of title characters from Henry Hugglemonster, Jake and the Never Land Pirates, Miles from Tomorrowland, and Sofia the First
Doc McStuffins Sticker Book
Doc Me
Doc's Seek and Find
Doc's Snowman Rollup
Doc's Summertime Clinic
Frost Magic
Sparkly Ball Sports
Stuffy's Scramble
The Doc Mobile
Doc McStuffins Wikipedia