Retired FBI Agent Clarence Hurt, one of the agents involved in the final shootout with Dillinger, was the film's technical advisor. The film includes documentary imagery and film footage from the era. It includes a verbal renouncing of gangster films written by FBI chief J. Edgar Hoover: he was scheduled to read it for the film, but died before it started production. Hoover's text is read at the film's close by voice actor Paul Frees.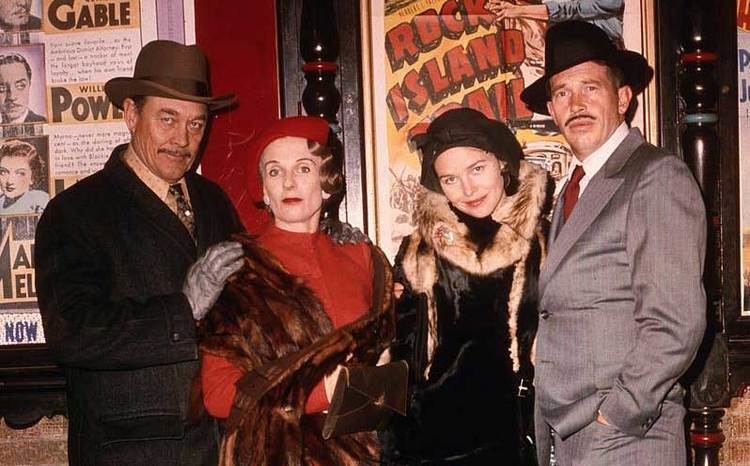 "Indiana, 1933". During the Great Depression, various bank robbers and other outlaws have become folk heroes due to public distrust of financial institutions and the law. Following the Kansas City Massacre in June 1933 in which several law enforcement offers were killed brazenly in broad daylight, FBI field office chief Melvin Purvis decides to personally hunt down the men he deems responsible: Charles Arthur "Pretty Boy" Floyd, Lester "Baby Face" Nelson, George "Machine Gun" Kelly, "Handsome" Jack Klutas, Wilbur Underhill and John Dillinger. During a meeting with fellow FBI agent Samuel Cowley, Purvis makes it clear he seeks personal vengeance and that he's willing to use extralegal measures if necessary.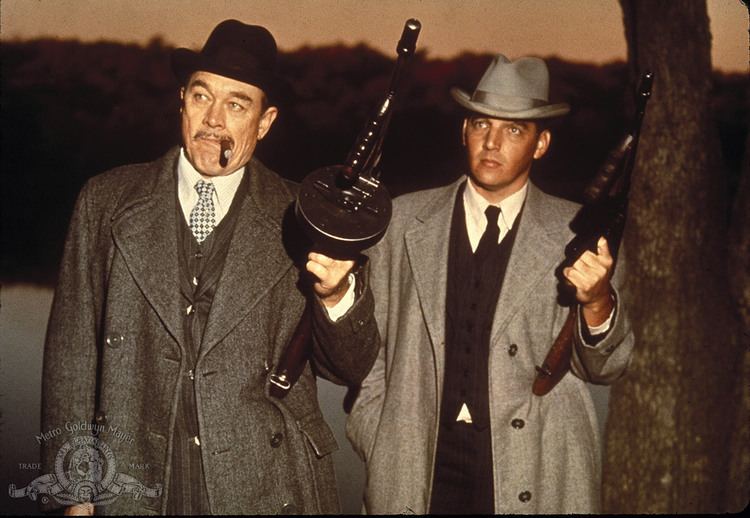 Dillinger is in the midst of his criminal career, accompanied by Homer Van Meter, Harry Pierpont, Charles Mackley and others and is very braggadocios about his exploits. He meets Billy Frechette at a bar and immediately takes a liking to her, but becomes nonplussed when she doesn't recognized him and robs the bar patrons to impress her. She becomes his lover, accompanying him and his gang on their exploits. During one robbery in East Chicago, the gang loses Mackley and several others, forcing the gang to scatter.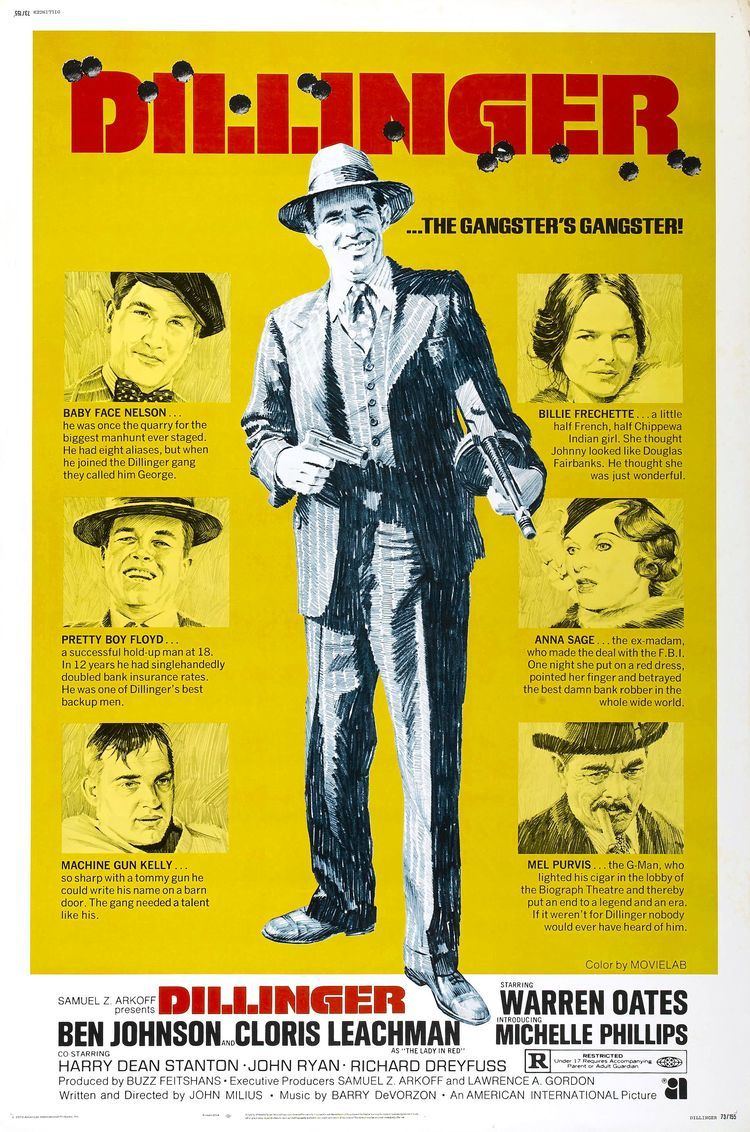 It's during this time that Purvis has began his purge of the gangsters, hunting down and killing Underhill and Klutas and capturing Kelly. He's unable to move against Dillinger and the others as they haven't violated federal laws yet. While lying low in Arizona with the rest of the gang, Dillinger is captured by the local authorities and transported to Crowne Point, Indiana. While imprisoned there, Dillinger makes a daring escape after carving a bar of soap into the shape of a gun and fooling the guards into releasing him. It is during this escape that Dillinger finally commits a federal crime, driving a stolen car across state lines.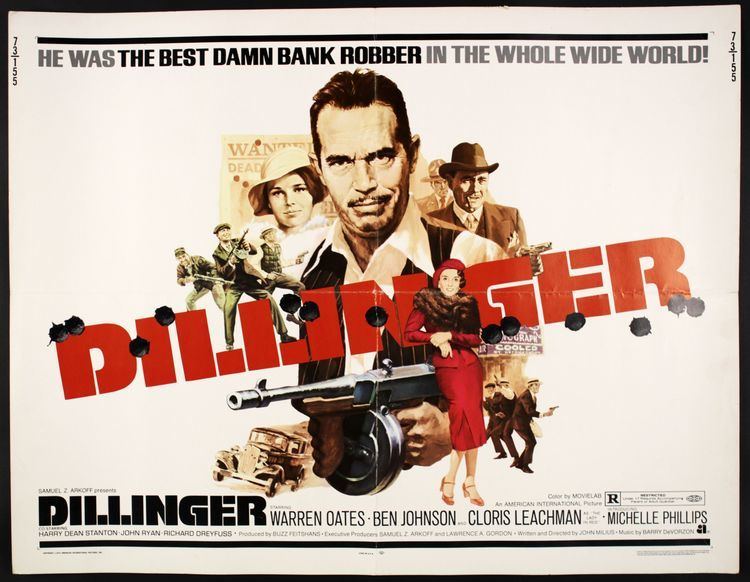 He takes a fellow prisoner Reed Youngblood with him, and they eventually meet back up with the gang, including new members Nelson and Floyd. They start a crime spree across the Midwest to the chagrin of Purvis, angry and jealous of the how the media romanticizes their exploits. The gang's luck runs out following a bank robbery in Mason City, Iowa, which leads to a violent shootout ending in Youngblood's death and the wounding of another member. While staying at the Little Bohemia lodge in Wisconsin following the heist, Purvis leads a team of FBI agents on a raid of the lodge, costing numerous agents lives and sending the gang scattering again. During this chaos, Pierpont, Nelson, Van Meter and Floyd are all hunted down by either federal agents or local vigilantes and summarily killed.
While hiding in Chicago, Dillinger makes the acquaintance of a brothel owner, Anna Sage. Purvis, sensing an opportunity, offers to protect Sage from being deported if she'll help finger Dillinger. While attending the gangster film Manhattan Melodrama at the Biograph Theater, Purvis and his men get into position to capture Dillinger as he, Sage and a female acquaintance exit the theater. At the last minute, Purvis instead goads Dillinger into going for his gun and then shoots the gangster down in the alleyway.
In the epilogue, it's revealed the Sage was eventually deported back to Romania despite Purvis' promise, Purvis eventually committed suicide after retiring from the FBI, Frechette ended up dying penniless, and that Dillinger's likeness is now used for the FBI's targets during shooting practice.
Dillinger was in production during early 1972, more than a year before its Dallas premiere on June 19, 1973. J. Edgar Hoover, who died on May 2, 1972, wrote a denunciation of the film's glamorization of gangsters. Hoover's message is delivered by voice actor Paul Frees after the end credits have stopped rolling:
"Dillinger was a rat that the country may consider itself fortunate to be rid of, and I don't sanction any Hollywood glamorization of these vermin. This type of romantic mendacity can only lead young people further astray than they are already, and I want no part of it."
As photographs of Depression-era's impoverished victims pass on the screen during opening credits, "We're in the Money" (from Golddiggers of 1933) is heard on the soundtrack.
The 1917 tango, "La Cumparsita", still popular in the 1930s, plays during a scene in a Chicago restaurant, followed by "Beyond the Blue Horizon" from the 1930 film Monte Carlo.
"One More Chance", popularized by Bing Crosby in his 1931 short film of the same name, plays during a scene featuring Machine Gun Kelly.
Another song popularized by Crosby, "It's Easy to Remember (And So Hard to Forget)", was written for his film Mississippi, released in 1935, one year after Dillinger's death. It is heard during an intimate bedroom scene with Dillinger and Billie Frechette.
The 1929 song, Happy Days Are Here Again, featured in the Technicolor finale of the 1930 film, Chasing Rainbows, is prominently featured in the aftermath of Dillinger's capture.
The melody "Honey", a 1929 hit for Rudy Vallee, is heard through the entire length of the closing credits.
In the early 1970s, John Milius was one of the most sought after screenwriters in Hollywood, selling his scripts for Jeremiah Johnson and The Life and Times of Judge Roy Bean for record sums. He was unhappy with the way both films turned out, however and wanted to turn director. Samuel Z. Arkoff said that AIP approached him with the offer to direct Dillinger if he would write the script "for a fraction of his usual price."
The project was announced in April 1972.
"My father always predicted I would wind up in San Quentin by the age of 21," said Milius. "I wouldn't want to disappoint him too much. So here I am... directing a film about John Dillinger, the greatest criminal that ever lived."
Milius cast Warren Oates in the lead. Milius had wanted Oates to play the lead role in The Life and Times of Judge Roy Bean. "I write all my things for Warren Oates or young John Wayne types," he said. "Or sometimes Clint Eastwood. He looks good holding a gun. But to me John Wayne is the ultimate American hero. Not because he's big and tough but because he's sentimental. My pictures are sentimental, idealistic. I deal with values of friendliness and courtliness and the family and chivalry and honour and courage - not just guts but bigger than life courage. Nobody today writes movies in the style that I do. Nobody. I write characters that are strong and direct, superindividuals. The people in my movies fear no one but God."
Milius says he wanted to make a movie about Dillinger because "of all the outlaws, he was the most marvellous". He elaborated:
People admired and respected Dillinger for being the greatest criminal. They admired him because he could get away with it. Because he did it well and he did it with style. And also because he enjoyed his work. I've made a myth out of him but not a romantic myth like Bonnie and Clyde. Dillinger is a tough guy he's a Cagney. I'm not at all concerned with showing his early life or explaining how he got that way. What I'm interested in is the legend. That's what this movie is, that's exactly what it is. It's not a character study or a Freudian analysis; it's an American folk tale
Michelle Phillips claimed she got cast by pretending to be half Cherokee, like her character.
Filming took place in late 1972. Dillinger was filmed in its entirety in Oklahoma. Nothing was filmed out of state. Despite some comment to the contrary.
Much use of various local landmark buildings were used in the filming from Jet, Nash, Jefferson, and Enid, Oklahoma in the North, to Ardmore, the Chickasaw Country Club which served as Dillinger's Wisconsin hideout, and the old iron truss bridge near Mannsville, Oklahoma in the south, the Skirvin Tower ballroom, and the Midwest Theater in downtown Oklahoma City, filling in as the Biograph. The house at the end of the movie was filmed in Dougherty, Oklahoma.
Many local would-be actors wound up immortalized on film, such as the warden of the prison, who was in real life, an Enid, Oklahoma postman.
"It's my first time as director and I think I did an excellent job because I had such a superb script," said Milius.
Milius later said in 2003:
I look at it today and I find it very crude, but I do find it immensely ambitious. We didn't have a lot of money, or time, and we didn't have such things – we only had so many feet of track, stuff like that. So I couldn't do moving shots if they involved more than, what, six yards of track. We never had any kind of crane or anything. That's the way movies were made then.
By 1976 Variety estimated the film had earned $4 million in rentals.[9]
Theodore "Handsome Jack" Klutas is shown being killed by Melvin Purvis; in fact Klutas of The College Kidnappers was killed by Chicago Police on January 6, 1934
Wilbur Underhill is shown being shot and killed by Melvin Purvis, in fact Underhill died on January 6, 1934, of wounds inflicted more than a week previously by an inter-jurisdictional group of law officers led by FBI Agents T.H. Colvin and Frank Smith, a survivor of the Kansas City Massacre. Purvis had nothing to do with the apprehension.
A Chicago bank guard named O'Malley is killed by the Dillinger gang during a robbery attempt. In fact William Patrick O'Malley was a member of the East Chicago Police force killed January 15, 1934. Likewise Dillinger gang member Eddie Green is shown being killed in the getaway; in fact Eddie Green (criminal) was killed in March 1934.
The Little Bohemia Lodge shootout was filmed at the Chickasaw Country Club near Ardmore, Oklahoma. The shootout implies that about four of the Dillinger gang are killed (including Herbert Youngblood) and half a score of federal agents were casualties. In fact the first three men shot in the raid were two YCC workers and a local resident shot by the FBI by mistake (one killed and two wounded), while one FBI agent was killed, one FBI agent was wounded, and one constable was critically wounded. In reality Youngblood had been killed in a gunfight with police in March 1934.
Homer Van Meter is shown escaping from Little Bohemia and then being killed by vigilantes in Iowa, which was filmed in Dougherty, Oklahoma in the foothills of the Arbuckle Mountains. In fact he was killed in St. Paul, Minnesota. Dillinger gang member Tommy Carroll was mortally wounded during a shootout with police in Waterloo, Iowa on June 7, 1934.
Charles Makley is shown dying of a wound and being buried by Dillinger; in fact Mackley was killed September 22, 1934 while trying to escape from prison. Dillinger gang member John Hamilton did die of wounds, and his remains were later found in a grave.
Dillinger was released to DVD by MGM Home Video on August 12, 2003 as a Region 1 widescreen DVD and by Arrow Video (under license from MGM) on April 26, 2016 as a Region 1 widescreen Blu-ray & DVD combo pack.