Born

March 14, 1923 (

1923-03-14

)

New York, NY, USA

Died

July 26, 1971, Greenwich Village, New York City, New York, United States

Artwork

Identical Twins - Roselle, Child with Toy Hand Grenade i, A flower girl at a wedding, A Puerto Rican Housewif, Two Friends in the Park




Similar People
Diane Arbus (; March 14, 1923 – July 26, 1971) was an American photographer noted for photographs of marginalized people—dwarfs, giants, transgender people, nudists, circus performers—and others whose normality was perceived by the general populace as ugly or surreal. Her work has been described as consisting of formal manipulation characterized by blatant sensationalism.
Contents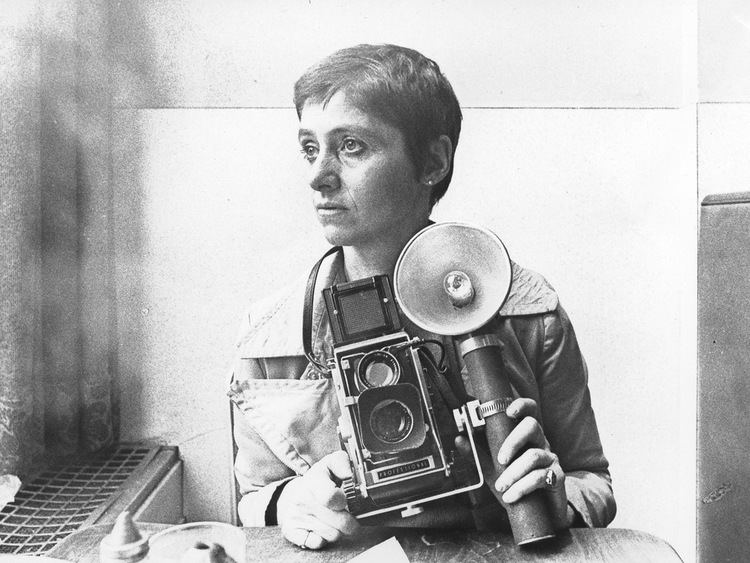 In 1972, a year after she committed suicide (there exists a popular cliche of her being the Sylvia Plath of photographers), Arbus became the first American photographer to have photographs displayed at the Venice Biennale. Millions viewed traveling exhibitions of her work in 1972–1979. The book accompanying the exhibition, Diane Arbus: An Aperture Monograph, edited by Doon Arbus and Marvin Israel and first published in 1972 was still in print by 2006, having become the best selling photography monograph ever. Between 2003 and 2006, Arbus and her work were the subjects of another major traveling exhibition, Diane Arbus Revelations. In 2006, the motion picture Fur, starring Nicole Kidman as Arbus, presented a fictional version of her life story.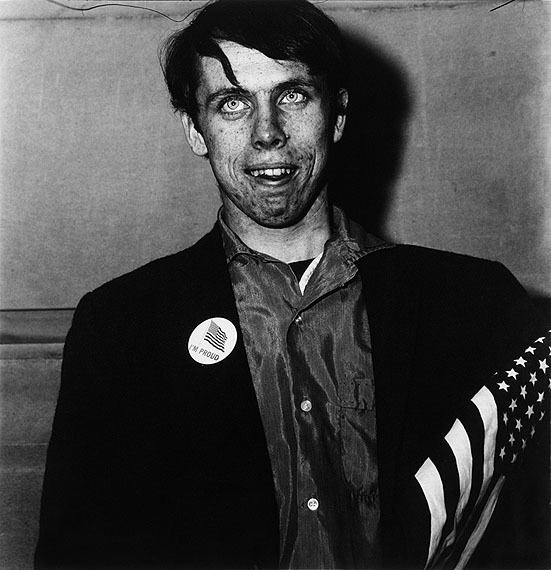 Masters of photography diane arbus documentary 1972
Personal life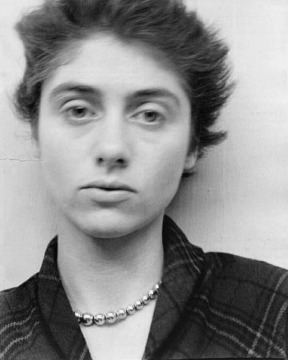 Arbus was born Diane Nemerov to David Nemerov and Gertrude Russek Nemerov, a Jewish couple who lived in New York City and owned Russek's, a famous Fifth Avenue department store. Because of her family's wealth, Arbus was insulated from the effects of the Great Depression while growing up in the 1930s. Her father became a painter after retiring from Russek's; her younger sister would become a sculptor and designer; and her older brother, Howard Nemerov, a professor of English at Washington University in St. Louis, would later become United States Poet Laureate and the father of the Americanist art historian Alexander Nemerov.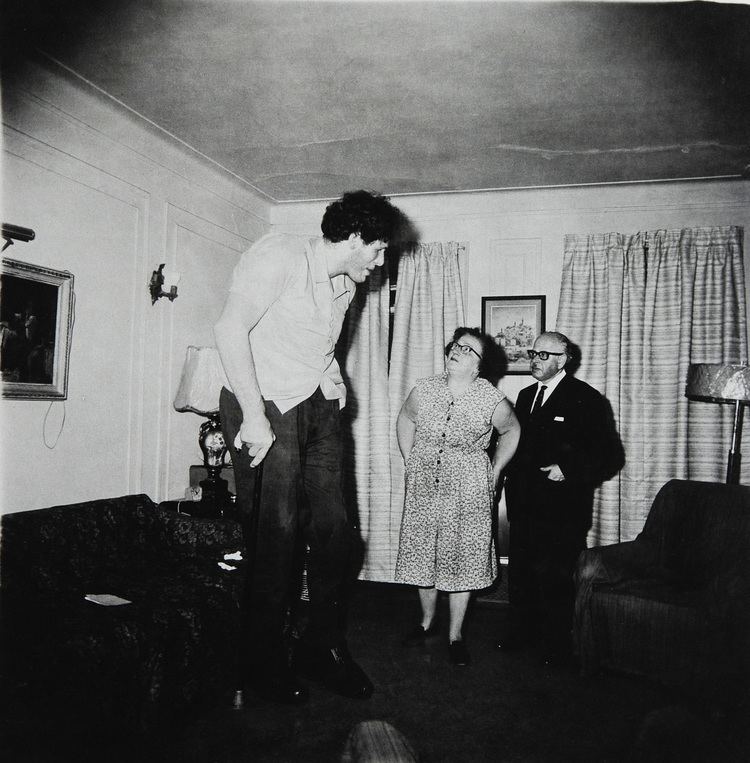 Diane Nemerov attended the Fieldston School for Ethical Culture, a prep school. In 1941, at the age of eighteen, she married her childhood sweetheart Allan Arbus. Their first daughter, Doon, who would later become a writer, was born in 1945; their second daughter, Amy, who would later become a photographer, was born in 1954. Arbus and her husband worked together. After long hours in the studio, Diane would rush home to cook dinner for Allan and their two daughters. Allan was very supportive of Diane, even after she quit commercial photography. Allan had given Diane her first camera after their honeymoon. She began developing an independent relationship to photography.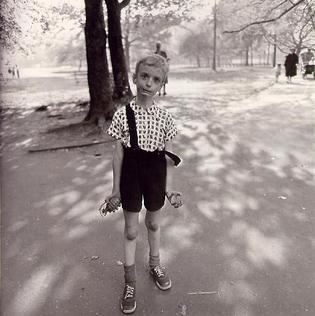 Diane and Allan Arbus separated in 1959, and were divorced in 1969. They still remained close because of their daughters. Allan would come over for Sunday breakfast and he continued to develop Diane's film.
Diane began a relationship with art director and painter Marvin Israel that would last roughly ten years, until the time of her death. He was married and made clear to Arbus that he was never going to leave his wife. He pushed Arbus very hard regarding her work.
Photographic career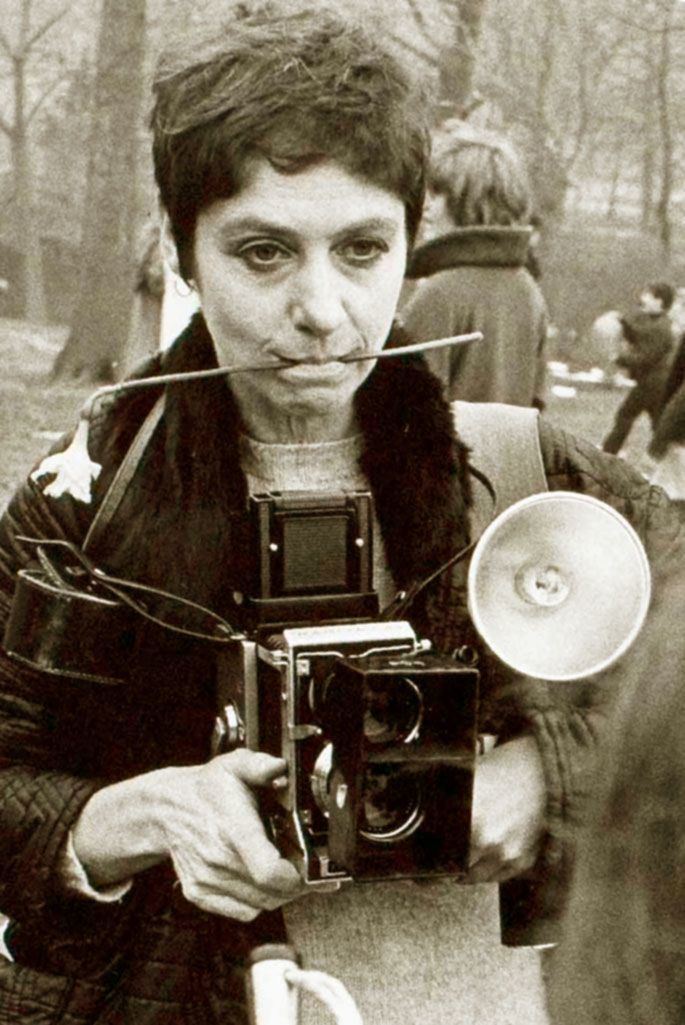 The Arbuses' interests in photography led them, in 1941, to visit the gallery of Alfred Stieglitz, and learn about the photographers Mathew Brady, Timothy O'Sullivan, Paul Strand, Bill Brandt, and Eugène Atget. In the early 1940s, Diane's father employed them to take photographs for the department store's advertisements. Allan was a photographer for the U.S. Army Signal Corps in World War Two.
In 1946, after the war, the Arbuses began a commercial photography business called "Diane & Allan Arbus", with Diane as art director and Allan as the photographer. Diane would come up with the concepts for their shoots and then take care of the models. She grew dissatisfied with this role, a role even her husband thought was "demeaning." They contributed to Glamour, Seventeen, Vogue, Harper's Bazaar, and other magazines even though "they both hated the fashion world". Despite over 200 pages of their fashion editorial in Glamour, and over 80 pages in Vogue, the Arbuses' fashion photography has been described as of "middling quality". Edward Steichen's noted 1955 photography exhibition, The Family of Man, did include a photograph by the Arbuses of a father and son reading a newspaper.
In 1956, Arbus quit the commercial photography business. During a spring shoot for Vogue, Arbus came to the realization that she didn't want to do it anymore. It is noted that she simply stated, "I can't do it anymore. I'm not going to do it anymore." She began wandering the streets of New York City with a 35mm Nikon. She would follow strangers and wait in doorways until she saw someone she felt compelled to photograph. She would number her film as she developed her photos. Her last known negative was labeled #7459.
Although earlier she had studied photography with Berenice Abbott, her studies with Lisette Model, which began in 1956 with her enrollment in one of Model's classes taught at The New School, led to Arbus's most well-known methods and style. She began photographing on assignment for magazines such as Esquire, Harper's Bazaar, and The Sunday Times Magazine in 1959. Around 1962, Arbus switched from a 35 mm Nikon camera which produced grainy rectangular images to a twin-lens reflex Rolleiflex camera which produced more detailed square images, on larger 2 1/4 film.
In 1963, Arbus was awarded a Guggenheim Fellowship for a project on "American rites, manners, and customs"; the fellowship was renewed in 1966. In 1964, Arbus began using a twin-lens reflex Mamiya camera with flash in addition to the Rolleiflex. Her methods included establishing a strong personal relationship with her subjects and re-photographing some of them over many years.
During the 1960s, she was hired by The Matthaeis' (art collectors) to photograph them while she also taught photography at the Parsons School of Design and the Cooper Union in New York City, and the Rhode Island School of Design in Providence, Rhode Island.
The first major exhibition of her photographs occurred at the Museum of Modern Art in an influential 1967 show called "New Documents", alongside the work of Garry Winogrand and Lee Friedlander, curated by John Szarkowski. Szarkowski presented what he described as "a new generation of documentary photographers", described elsewhere as "photography that emphasized the pathos and conflicts of modern life presented without editorializing or sentimentalizing but with a critical, observant eye.".
Some of her artistic work was done on assignment. Although she continued to photograph on assignment (e.g., in 1968 she shot documentary photographs of poor sharecroppers in rural South Carolina for Esquire magazine), in general her magazine assignments decreased as her fame as an artist increased. Szarkowski hired Arbus in 1970 to research an exhibition on photojournalism called "From the Picture Press"; it included many photographs by Weegee whose work Arbus admired.
Using softer light than in her previous photography, she took a series of photographs in her later years of people with intellectual disability showing a range of emotions. At first, Arbus considered these photographs to be "lyric and tender and pretty", but by June, 1971, she told Lisette Model that she hated them.
Among other photographers and artists she befriended during her career, Arbus was close to photographer Richard Avedon; he was approximately the same age, his family had also run a Fifth Avenue department store, and many of his photographs were also characterized as detailed frontal poses. Another good friend was Marvin Israel, an artist, graphic designer, and art director whom Arbus met in 1959.
During her career, Arbus photographed Mae West, Ozzie and Harriet Nelson, Bennet Cerf, famous atheist Madalyn Murray, and Marguerite Oswald (Lee Harvey Oswald's mother).
Her photography style is said to be "direct and unadorned, a frontal portrait centered in a square format. Her pioneering use of flash in daylight isolated the subjects from the background, which contributed to the photos' surreal quality."
Death
Arbus experienced "depressive episodes" during her life similar to those experienced by her mother, and the episodes may have been made worse by symptoms of hepatitis. Arbus wrote in 1968, "I go up and down a lot", and her ex-husband noted that she had "violent changes of mood". On July 26, 1971, while living at Westbeth Artists Community in New York City, Arbus took her own life by ingesting barbiturates and slashing her wrists with a razor. She wrote the words "Last Supper" in her diary and placed her appointment book on the stairs leading up to the bathroom. Marvin Israel found her body in the bathtub two days later; she was 48 years old. Photographer Joel Meyerowitz told journalist, Arthur Lubow, "If she was doing the kind of work she was doing and photography wasn't enough to keep her alive, what hope did we have?"
Her ashes were buried at Ferncliff Cemetery, but no record exists at the cemetery.
Without a will, responsibility of Arbus' work went to her daughter, Doon. Doon had her work displayed in Venice Biennale and a posthumous retrospective at MoMA just over a year after her mother's death.
Publications
Diane Arbus: An Aperture Monograph. Edited by Doon Arbus and Marvin Israel. Accompanied an exhibition at Museum of Modern Art, New York.
New York: Aperture, 1972. ISBN 9780912334400.
New York: Aperture, 1997. ISBN 9780893816940.
Fortieth-anniversary edition. New York: Aperture, 2011. ISBN 978-1-59711-174-4 (hardback); ISBN 978-1-59711-175-1 (paperback).
Diane Arbus: Magazine Work. Edited by Doon Arbus and Marvin Israel. With texts by Diane Arbus and essay by Thomas W. Southall.
New York: Aperture, 1984. ISBN 978-0-89381-233-1.
London: Bloomsbury, 1992. ISBN 9780893812331.
Untitled. Edited by Doon Arbus and Yolanda Cuomo.
New York: Aperture, 1995. ISBN 9780893816230.
Fortieth-anniversary edition. New York: Aperture, 2011. ISBN 978-1-59711-190-4.
Diane Arbus: Revelations. New York: Random House, 2003. ISBN 9780375506208. Includes essays by Sandra S. Phillips ("The question of belief") and Neil Selkirk ("In the darkroom"); a chronology by Elisabeth Sussman and Doon Arbus including text by Diane Arbus; afterword by Doon Arbus; and biographies of fifty five of Arbus' friends and colleagues by Jeff L. Rosenheim. Accompanied an exhibition that premièred at San Francisco Museum of Modern Art.
Diane Arbus: A Chronology, 1923–1971. New York: Aperture, 2011. ISBN 978-1-59711-179-9. By Elisabeth Sussman and Doon Arbus. Contains the chronology and biographies from Diane Arbus: Revelations.
Notable photographs
Arbus's most well-known individual photographs include:
Child with Toy Hand Grenade in Central Park, N.Y.C. 1962 – Colin Wood, with the left strap of his jumper awkwardly hanging off his shoulder, tensely holds his long, thin arms by his side. Clenching a toy grenade in his right hand and holding his left hand in a claw-like gesture, his facial expression is maniacal. However, the contact sheet demonstrates that his deranged appearance was an editorial choice by Arbus who took a number of shots of this really quite ordinary boy who just shows off for the camera. A print of this photograph was sold in 2005 at auction for $408,000.
Teenage Couple on Hudson Street, N.Y.C., 1963 – Wearing long coats and "worldlywise expressions", two adolescents appear older than their ages.
Triplets in Their Bedroom, N.J. 1963 – Three girls sit at the head of a bed.
A Young Brooklyn Family Going for a Sunday Outing, N.Y.C. 1966 – Richard and Marylin Dauria, who actually lived in the Bronx. Marylin holds their baby daughter, and Richard holds the hand of their young son, who is mentally challenged.
A Young Man in Curlers at Home on West 20th Street, N.Y.C. 1966 – A close-up shows the man's pock-marked face with plucked eyebrows, and his hand with long fingernails holds a cigarette. Early reactions to the photograph were strong; for example, someone spat on it in 1967 at the Museum of Modern Art. A print was sold for $198,400 at a 2004 auction.
Boy With a Straw Hat Waiting to March in a Pro-War Parade, N.Y.C. 1967 – With an American flag at his side, he wears a bow tie, a pin in the shape of a bow tie with an American flag motif, and two round button badges: "Bomb Hanoi" and "God Bless America / Support Our Boys in Viet Nam". The image may cause the viewer to feel both different from the boy and sympathetic toward him. An art consulting firm purchased a print for $228,000 at a 2005 auction.
Identical Twins, Roselle, N.J. 1967 – Young twin sisters Cathleen and Colleen Wade stand side by side in dark dresses. The uniformity of their clothing and haircut characterise them as being twins while the facial expressions strongly accentuate their individuality. This photograph is echoed in Stanley Kubrick's film The Shining, which features twins in an identical pose as ghosts. A print was sold at auction for $478,400 in 2004.
A Family on Their Lawn One Sunday in Westchester, N.Y. 1968 – A woman and a man sunbathe while a boy bends over a small plastic wading pool behind them. In 1972, Neil Selkirk was put in charge of producing an exhibition print of this image when Marvin Israel advised him to make the background trees appear "like a theatrical backdrop that might at any moment roll forward across the lawn.". This anecdote illustrates vividly just how fundamental dialectics between appearance and substance are for the understanding of Arbus' art. A print was sold at auction in 2008 for $553,000.
A Naked Man Being a Woman, N.Y.C. 1968 – The subject has been described as in a "Venus-on-the-half-shell pose" (referring to The Birth of Venus by Sandro Botticelli) or as "a Madonna turned in contrapposto... with his penis hidden between his legs" (referring to a Madonna in contrapposto). The parted curtain behind the man adds to the theatrical quality of the photograph.
A Very Young Baby, N.Y.C. 1968 – A photograph for Harper's Bazaar depicts Gloria Vanderbilt's then-infant son, future CNN anchorman Anderson Cooper.
A Jewish Giant at Home with His Parents in The Bronx, N.Y. 1970 – Eddie Carmel, the "Jewish Giant", stands in his family's apartment with his much shorter mother and father. Arbus reportedly said to a friend about this picture: "You know how every mother has nightmares when she's pregnant that her baby will be born a monster?... I think I got that in the mother's face...." The photograph motivated Carmel's cousin to narrate a 1999 audio documentary about him. A print was sold at auction for $421,000 in 2007.
In addition, Arbus' Box of Ten Photographs was a portfolio of selected 1963–1970 photographs in a clear Plexiglas box/frame that was designed by Marvin Israel and was to have been issued in a limited edition of 50. However, Arbus completed only about 11 boxes and sold only four (two to Richard Avedon, one to Jasper Johns, and one to Bea Feitler). One copy printed by Neil Selkirk after Arbus's death sold for $553,600 in 2005, an auction record for Arbus.
Legacy
Arbus is the best known female photographer of her generation. As stated in the journal History of Photography in 2012, "The obsessive, self-indulgent, no-holds-barred quality of Diane Arbus's life, and the helpless, desperate nature of her death, have led to the photographer's being portrayed as a spectacularly flawed shooting star of photographic history." After Arbus's death, her daughter Doon managed Arbus's estate. She forbade examination of Arbus's correspondence and often denied permission for exhibition or reproduction of Arbus's photographs. The editors of an academic journal published a two-page complaint in 1993 about the estate's control over Arbus's images and its attempt to censor part of an article about Arbus. As of 2000, the estate would not release Arbus's 1957–1965 images of transvestites. A 2005 article called the estate's allowing the British press to reproduce only fifteen photographs an attempt to "control criticism and debate". The estate was also criticized in 2008 for minimizing Arbus's early commercial work.
In mid–1972, Arbus was the first American photographer to have photographs displayed at the Venice Biennale; her ten photographs were described as "the overwhelming sensation of the American Pavilion" and "an extraordinary achievement".
The Museum of Modern Art held a retrospective of Arbus's work in late 1972 that subsequently traveled around the United States and Canada through 1975; it was estimated that over seven million people saw the exhibition. A different retrospective traveled around the world between 1973 and 1979.
Doon Arbus and Marvin Israel edited and designed a 1972 book Diane Arbus: an Aperture Monograph, published by Aperture and accompanying the Museum of Modern Art's exhibition. It contained eighty of Arbus's photographs, as well as texts from classes that she gave in 1971, some of her writings, and interviews, including some of her most widely cited quotations:
"My favorite thing is to go where I've never been".
"Our whole guise is like giving a sign to the world to think of us in a certain way but there's a point between what you want people to know about you and what you can't help people knowing about you. And that has to do with what I've always called the gap between intention and effect."
"Freaks was a thing I photographed a lot.... Most people go through life dreading they'll have a traumatic experience. Freaks were born with their trauma. They've already passed their test in life. They're aristocrats."
"I do feel I have some slight corner on something about the quality of things. I mean it's very subtle and a little embarrassing to me, but I really believe there are things which nobody would see unless I photographed them."
In comparing movies to photographs, Arbus once said, "When you go to the movies and you see two people in bed, you're willing to put aside the fact that you perfectly well know that there was a director and a cameraman and assorted lighting people all in that same room, and the two people in bed weren't really alone. But when you look at a photograph, you can never put that aside." She has also said that "everybody has this thing where they need to look one way, but they come out looking another way, and that's what people observe...you see someone on the street, and essentially what you notice about them is the flaw." Another comment of hers is that "everybody has that thing where they need to look one way but they come out looking another way...and that has to do with what I've always called the gap between intention and effect. I mean if you scrutinize reality closely enough, if in some way you really, really get to it, it becomes fantastic."
In 2001–2004 Diane Arbus: an Aperture Monograph was selected as one of the most important photobooks in history. Over 300,000 copies had been sold by 2004, unusual as "independent" photobooks are normally produced in editions of less than 5,000.
A half-hour documentary film about Arbus's life and work known as Masters of Photography: Diane Arbus or Going Where I've Never Been: the Photography of Diane Arbus was produced in 1972 and released on video in 1989.
Patricia Bosworth wrote an unauthorized biography of Arbus published in 1984. Although it is said to be "the main source" for understanding Arbus, Bosworth reportedly "received no help from Arbus's daughters, or from their father, or from two of her closest and most prescient friends, Avedon and ... Marvin Israel". The book was also criticized for insufficiently considering Arbus's personal writings, for speculating about missing information, and for focusing on "sex, depression and famous people", instead of Arbus's art.
Between 2003 and 2006, Arbus and her work were the subject of another major traveling exhibition, Diane Arbus Revelations, that was organized by the San Francisco Museum of Modern Art. Accompanied by a book of the same name, the exhibition included artifacts such as correspondence, books, and cameras as well as 180 photographs by Arbus. By "making public substantial excerpts from Arbus's letters, diaries and notebooks" the exhibition and book "undertook to claim the centre-ground on the basic facts relating to the artist's life and death". Because Arbus's estate approved the exhibition and book, the chronology in the book is "effectively the first authorized biography of the photographer".
In 2006, the fictional film Fur: an Imaginary Portrait of Diane Arbus was released, starring Nicole Kidman as Arbus; it used Patricia Bosworth's book Diane Arbus: A Biography as a source of inspiration.
The Metropolitan Museum of Art purchased twenty of Arbus's photographs (valued at millions of dollars) and received Arbus's archives as a gift from her estate in 2007.
Reactions of critics and others
Susan Sontag wrote an essay in 1973 entitled "Freak Show" that was critical of Arbus' work; it was reprinted in her 1977 book On Photography as "America, Seen Through Photographs, Darkly". Among other criticisms, Sontag opposed the lack of beauty in Arbus' work and its failure to make the viewer feel compassionate about Arbus' subjects. Sontag's essay itself has been criticized as "an exercise in aesthetic insensibility" and "exemplary for its shallowness". Sontag has also stated that "the subjects of Arbus' photographs are all members of the same family, inhabitants of a single village. Only, as it happens, the idiot village is America. Instead of showing identity between things which are different (Whitman's democratic vista), everybody is the same." A 2008 essay characterized Sontag and Arbus as "Siamese twins of photographic art", because they both struggled with photography as art versus documentation (e.g., the relationship of photographer and subject). A 2009 article pointed out that Arbus had photographed Sontag and her son in 1965, thereby causing one to "wonder if Sontag felt this was an unfair portrait". Philip Charrier argues in a 2012 article that despite its narrowness and widely discussed faults, Sontag's critique continues to inform much of the scholarship and criticism of Arbus' oeuvre. The article proposes overcoming this tradition by asking new questions, and by shifting the focus away from matters of biography, ethics, and Arbus' suicide.
Other critics' opinions of Arbus' photographs vary widely, for example:
Max Kozloff wrote in 1967 that Arbus' photographs have "an extraordinary ethical conviction" because they were taken with the subjects' consent and thereby challenge the viewer.
Robert Hughes praised Arbus in 1972 as having "altered our experience of the face".
Hilton Kramer opined in 1972 that Arbus "altered the terms of the art she practiced" and "completely wins us over".
Judith Goldman in 1974 was of the opinion that Arbus' photographs betrayed their subjects by portraying them as full of despair.
David Pagel in 1992 found Arbus' pictures of women with intellectual disability "remarkable" and "intriguing".
Jed Perl felt that Arbus was "master of the high-falutin' creep-out" and that her photographs were "an emotional tease" in a 2003 critique.
Barbara O'Brien in a 2004 review of the exhibition "Diane Arbus: Family Albums" found her and August Sander's work "filled with life and energy".
Peter Schjeldahl, while claiming in 2005 that "no other photographer has been more controversial", also felt that her work was "revolutionary".
Brian Sewell dismissed Arbus's work in 2005 as unremarkable and as having gained prominence partly because of her suicide, but as "worth a second glance".
Ken Johnson, reviewing a show of Arbus' lesser-known works in 2005, likened Arbus' story-telling ability to that of writer Flannery O'Connor.
Leo Rubinfien in 2005 compared Arbus to Franz Kafka and Samuel Beckett in exploring absurdity and fatalism.
Stephanie Zacharek wrote in 2006 "When I look at her pictures, I see not a gift for capturing whatever life is there, but a desire to confirm her own suspicions about humanity's dullness, stupidity and ugliness."
Wayne Koestenbaum asked in 2007 whether Arbus' photographs humiliate the subjects or the viewers.
Some of Arbus' subjects and their relatives have offered their opinions:
The father of the twins pictured in "Identical Twins, Roselle, N.J. 1967" felt that the photograph "was the worst likeness" of the girls he had ever seen.
Writer Germaine Greer, who was the subject of an Arbus photograph in 1971, criticized it as an "undeniably bad picture" and Arbus' work in general as unoriginal and focusing on "mere human imperfection and self-delusion".
Norman Mailer said, in 1971, "Giving a camera to Diane Arbus is like putting a live grenade in the hands of a child." Mailer was reportedly displeased with the well-known "spread-legged" New York Times Book Review photo. Arbus photographed him in 1963.
Colin Wood, the subject of "Child With a Toy Grenade in Central Park," said, "She saw in me the frustration, the anger at my surroundings, the kid wanting to explode but can't because he's constrained by his background."
Notable solo exhibitions
1972: Diane Arbus Portfolio: 10 Photos. Venice Biennale.
1972–1975: Diane Arbus (125 photographs, curated by John Szarkowski). Museum of Modern Art, New York; Baltimore; Worcester Art Museum, Massachusetts; Museum of Contemporary Art, Chicago; Walker Art Center, Minneapolis; National Gallery of Canada, Ottawa; Detroit Institute of Arts; Witte Memorial Museum, San Antonio, Texas; New Orleans Museum of Art; Berkeley Art Museum and Pacific Film Archive, California; Museum of Fine Arts, Houston; Florida Center for the Arts, University of South Florida, Tampa; and Krannert Art Museum, University of Illinois, Champaign.
1974: "Hommage à Diane Arbus" by Jean-Marc Bustamante, Arles' Théâtre Antique, Rencontres d'Arles festival, France.
1973–79: Diane Arbus: Retrospective (118 photographs, curated by Doon Arbus and Marvin Israel). Seibu Museum, Tokyo; Hayward Gallery, London; Ikon Gallery, Birmingham, England; Scottish Arts Council, Edinburgh, Scotland; Van Abbe Museum, Eindhoven, The Netherlands; Van Gogh Museum, Amsterdam; Lenbachhaus Städtische Galerie, Munich, Germany; Von der Heydt Museum, Wuppertal, Germany; Frankfurter Kunstverein; 14 galleries and museums in Australia; and 7 galleries and museums in New Zealand.
1980: Diane Arbus: Vintage Unpublished Photographs. Robert Miller Gallery, New York.
1984–1987: Diane Arbus: Magazine Work 1960–1971. Spencer Museum of Art, Lawrence, Kansas; Minneapolis Institute of Art, Minneapolis; University of Kentucky Art Museum, Lexington; University Art Museum, California State University, Long Beach; Neuberger Museum, State University of New York at Purchase; Wellesley College Museum, Massachusetts; and Philadelphia Museum of Art.
1986: Seattle Art Museum.
1991: Diane Arbus: Photographs. Edwynn Houk Gallery, Chicago.
1991: Diane Arbus. Ydessa Hendeles Art Foundation, Toronto.
1992: Diane Arbus: the Untitled Series, 1970–1971. Jan Kesner Gallery, Los Angeles.
1995: The Movies: Photographs from 1956 to 1958. Robert Miller Gallery, New York.
1997: Diane Arbus: Women. Photology Gallery, London.
2003–2006: Diane Arbus: Revelations. San Francisco Museum of Modern Art; Los Angeles County Museum of Art; Museum of Fine Arts, Houston; Metropolitan Museum of Art, New York; Museum Folkwang, Essen, Germany; Victoria and Albert Museum, London; CaixaForum, Barcelona; and Walker Art Center, Minneapolis.
2004–2005: Diane Arbus: Family Albums. Mount Holyoke College Art Museum, South Hadley, Massachusetts; Grey Art Gallery, New York; Portland Museum of Art, Maine; Spencer Museum of Art, Lawrence, Kansas; and Portland Art Museum, Oregon.
2005: Diane Arbus: Other Faces Other Rooms. Robert Miller Gallery, New York.
2007: Something Was There: Early Work by Diane Arbus. Fraenkel Gallery, San Francisco.
2008–2009: Diane Arbus, a Printed Retrospective, 1960–1971. Kadist Art Foundation, Paris; and Centre Régional de la Photographie Nord Pas-de-Calais, Douchy-les-Mines, France.
2009: Diane Arbus. Timothy Taylor Gallery, London.
2009–2010: Artist Rooms: Diane Arbus. National Museum Cardiff, Wales; and Dean Gallery, Edinburgh, Scotland.
2010: Diane Arbus: Christ in a Lobby and Other Unknown or Almost Known Works. Fraenkel Gallery, San Francisco.
2011–2013: Diane Arbus. Galerie nationale du Jeu de Paume, Paris; Fotomuseum, Winterthur; Martin-Gropius-Bau, Berlin; and Foam Fotografiemuseum Amsterdam.
2016: Diane Arbus: In the Beginning. Met Breuer, New York.
Collections
Arbus' work is held in the following permanent collections:
References
Diane Arbus Wikipedia
(Text) CC BY-SA