Dhoom (English: Blast) is a 2004 Indian action thriller film written by Vijay Krishna Acharya and directed by Sanjay Gadhvi. The film stars Abhishek Bachchan, Uday Chopra, John Abraham, Esha Deol, and Rimi Sen in lead roles.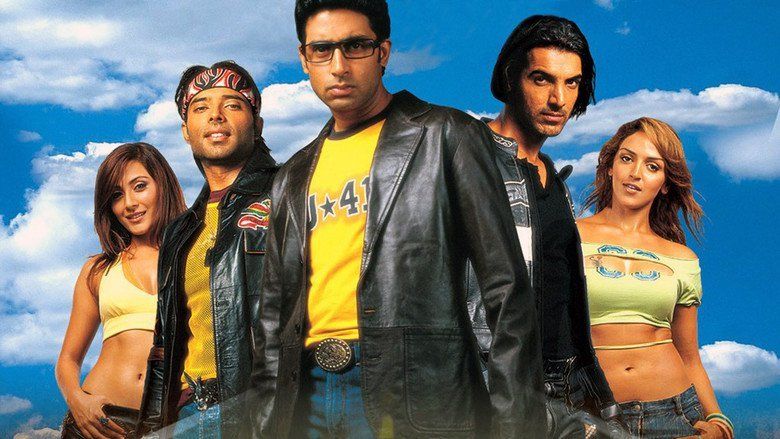 Dhoom was the first action film produced by Yash Raj Films in 16 years, since Yash Chopra directed Vijay (1988). It tells the story of a motorbike gang committing robberies throughout Mumbai and the police officer who teams up with a motorbike dealer to stop them.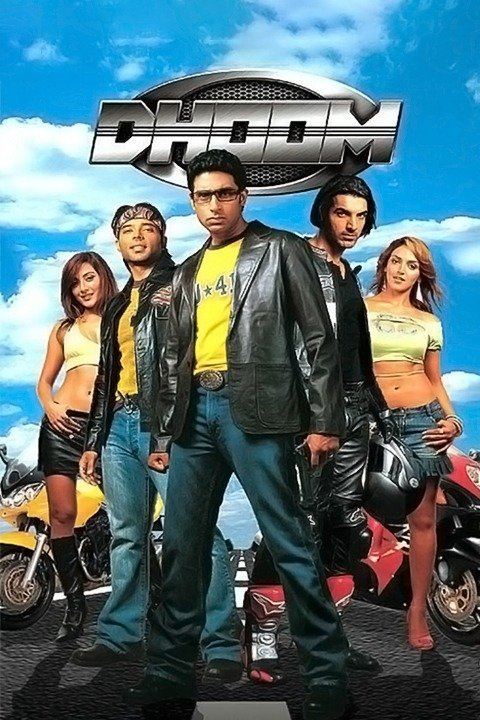 Earning over ₹290 million (US$4.5 million) Nett Gross in India, the film became one of the top-grossing Hindi films of 2004. It spawned a film series, with its sequel Dhoom 2, released on 24 November 2006, and Dhoom 3 released on 20 December 2013.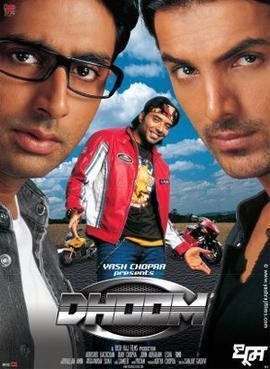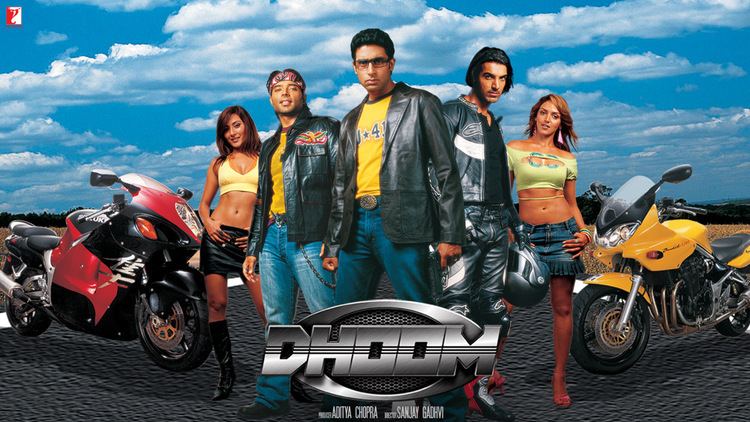 The story starts in the city of Mumbai, where a motorbike gang starts breaking into banks and other public places and vanishing onto the Western Express Highway.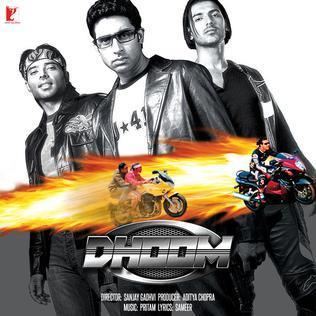 Assistant Commissioner of Police Jai Dixit (Abhishek Bachchan), a no-nonsense cop, is called onto the case. Dixit seeks the help of a local bike dealer/racer named Ali Khan (Uday Chopra), and devises a trap to catch the gang, but it fails. Kabir (John Abraham), the leader of the gang, eventually taunts Dixit, stating that Dixit couldn't catch him even if he was right in front of him. He is proven correct and the failure of Dixit seemingly leads to the breakup of his partnership with Ali.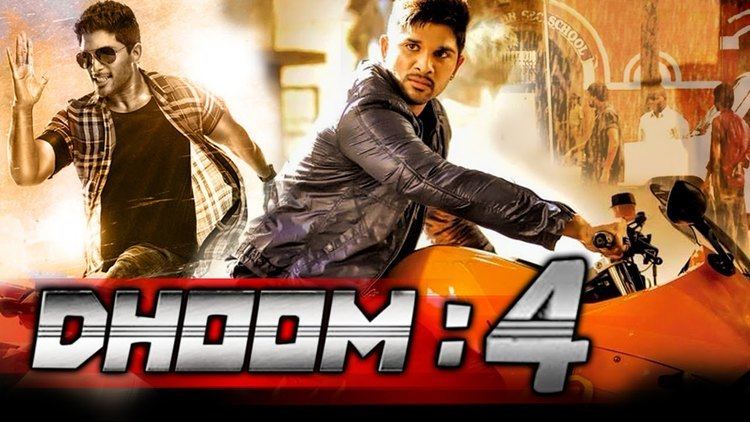 Kabir then lures Ali into his gang to take place of Rohit, the gang member who was killed by ACP Dixit. Ali falls in love with Sheena (Esha Deol), another gang member. The gang later goes to Goa to perform one last big heist before disbanding forever. Kabir sets his eyes on the largest casino in all of India. Kabir and his gang swiftly loot the casino on New Year's Eve, but they soon realize that Dixit has led them right into a trap. It is revealed that Ali was working for Dixit the whole time, and a fight ensues.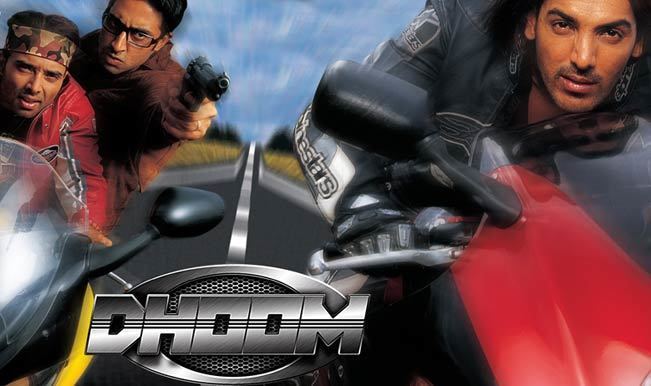 Kabir manages to escape from ACP Dixit, and goes back to the gang's truck where Ali has tied up Sheena. Kabir then viciously beats up Ali for his betrayal, but Ali is saved by the timely arrival of Dixit at the scene. The gang flees, except for Sheena, while Dixit and Khan give chase. They kill all the other gang members except for Kabir, who tries to escape on his bike. He is cornered by Dixit and Khan with nowhere to go. Kabir decides to take his own life rather than let Dixit arrest him, and he rides his bike over the edge of a cliff into the water. The movie ends with Dixit and Khan arguing with each other.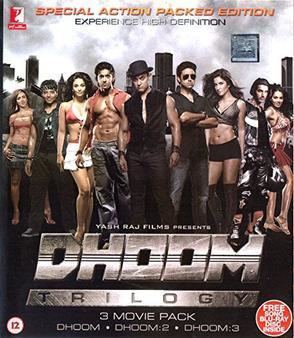 Abhishek Bachchan as ACP Jai Dixit, works for Mumbai police and working on catching thieves.
John Abraham as Kabir, the main lead.
Uday Chopra as Ali Akbar Fateh Khan, who assists Jai.
Esha Deol as Sheena, Ali's first love interest.
Rimi Sen as Sweety Dixit, Jai's wife.
Manoj Joshi as Assistant Commissioner of Police Shekhar Kamal
Ajay Pande as Vinod
Arav Chaudhary as Rahul (Kabir's friend) 2nd man of Kabir's thieving gang.
Farid Amiri as Tony (Kabir's friend) 3rd man of Kabir's thieving gang.
Rohit Chopra as Rohit (Kabir's friend) 4th man of Kabir's thief gang and a brother of Rahul.
Bhupinder as a Chor Bazaar Goon
Mehul Bhojak as Manu
Yusuf Hussain as Police Commissioner
Mukesh Ahuja as Bookie
Perizaad Zorabian (cameo)
Arjun Sablok (cameo)
Sanket Bhosale (cameo)
The film became a commercial success and received generally positive reviews from audiences, but received mixed reviews from critics. Dhoom ended up netting about Rs. 4.5 crores from Bombay circuit in 2004. Its India Nett Gross was ₹29 crore (US$4.5 million), and its lifetime worldwide Adjusted Gross is ₹72.5 crore (US$11 million). Overseas gross of Dhoom stands at US$2 million with its US gross at $330,400.
Won
2005: Filmfare Award for Best Editing - Rameshwar S. Bhagat
2005: Filmfare Award for Best Sound - Dwarak Warrier
2005: IIFA Best Villain Award - John Abraham
2005: Zee Cine Award for Best Actor in a Negative Role - John Abraham
2005: Zee Cine Award Best Playback Singer - Female - Sunidhi Chauhan for "Dhoom Machale"
2005: Zee Cine Award Best Track of the Year - "Dhoom Machale"
Pritam composed the songs for Dhoom while Salim-Sulaiman composed the original Score. The title track Dhoom Dhoom was released in a remixed version song by the Thai-American singer Tata Young. The song and its music video featuring Tata Young proved to be a major hit in India during 2004 and 2005. The original song was sung by Sunidhi Chauhan. Other tracks on the soundtrack included "Dilbara", "Dilbar Shikdum", and "Salaame Salaame", sung by singers like KK, Abhijeet Bhattacharya, Shaan and Kunal Ganjawala. The lyrics were penned by Sameer.The 'Shikdum' music is Sezen Aksu, adapted from Tarkan's big hit "Sikidim"(Hepsi Senin Mi?) from his 1994 album A-Acayipsin. The 'Dhoom machale' music is a fusion of two different songs . The First 3 lines has been adapted from Jesse Cook's "Mario Takes A Walk" and the hook "Dhoom Machale Dhoom" has been directly adapted from Amr Diab's "Enta ma oltesh leih" from his 2003 album Allem Alby. According to the Indian trade website Box Office India, with around 22,00,000 units sold, this film's soundtrack album was the year's third highest-selling.
All lyrics written by Sameer; all music composed by Pritam.