Years active

1986–present









Full Name

Denise Lee Richards

Born

February 17, 1971 (age 50) (

1971-02-17

)

Children

Sam Sheen, Lola Rose Sheen, Eloise Joni Richards

Parents

Joni Richards, Irv Richards

Movies and TV shows





Similar

Neve Campbell, Brooke Mueller, Charlie Sheen




Profiles



Why You Never Hear From Denise Richards Anymore
Denise Lee Richards (born February 17, 1971) is an American actress and former fashion model. She has appeared in numerous films, including Starship Troopers (1997), Wild Things (1998) with Neve Campbell, Drop Dead Gorgeous (1999), The World Is Not Enough (1999) as Bond girl Christmas Jones, and in Valentine (2001). She played Monica and Ross Geller's cousin on Friends (2001). From 2008 to 2009, she starred on the E! reality show Denise Richards: It's Complicated. Between 2010 and 2011, she was a series regular on the comedy Blue Mountain State.
Contents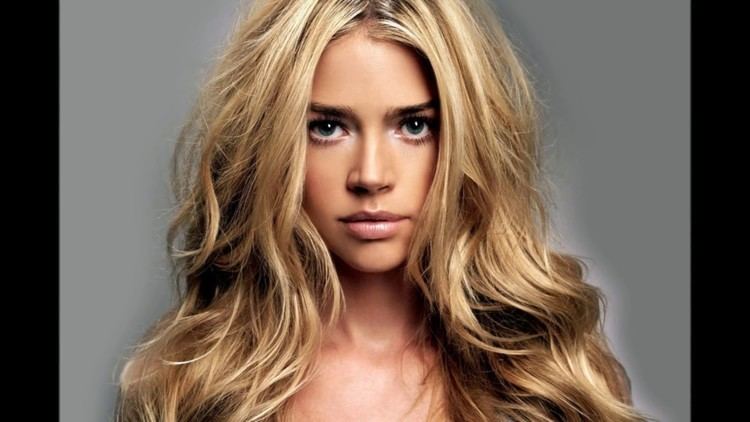 Early life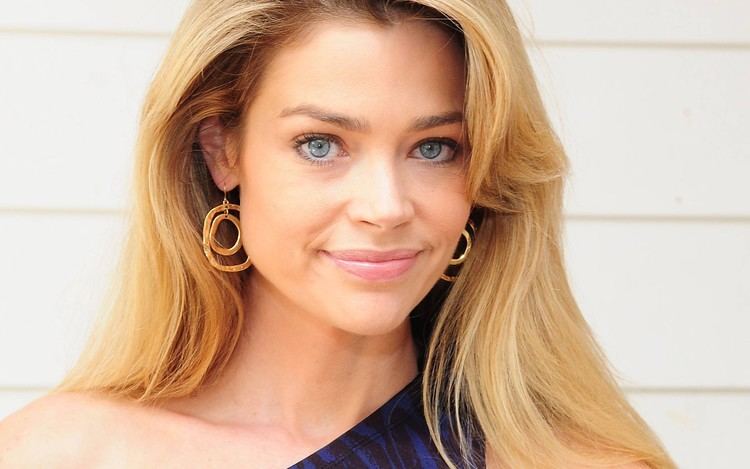 Richards was born in Downers Grove, Illinois to Joni, who owned a coffee shop, and Irv Richards, a telephone engineer. Her ancestry is German and French-Canadian. She has a younger sister, Michelle. Richards grew up in both Mokena and Downers Grove. When Richards was 15 years old, she and her family moved to Oceanside, California where in 1989 she graduated from El Camino High School. As a child, she was the "only girl on the baseball team." Richards was raised Roman Catholic. After her high school graduation, she began working as a model and traveled to big cities such as Paris, New York, and Tokyo to do photo shoots and commercials.
Career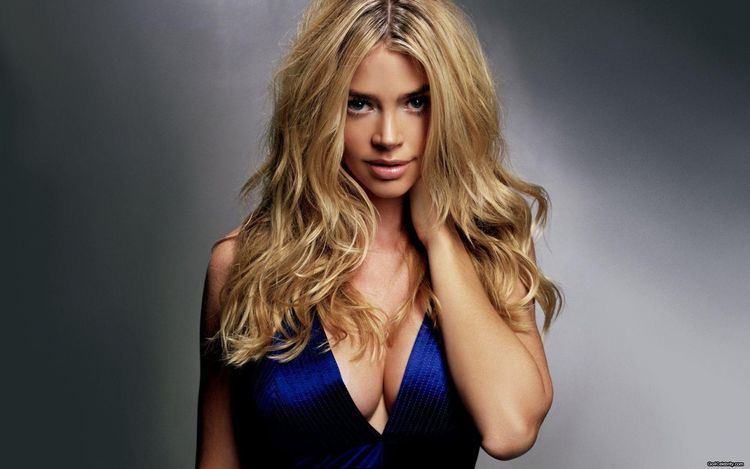 She spent the majority of the 1990s appearing in lower-budget films and television shows such as Saved by the Bell, television movies, and guest starring in episodes of several television shows such as Married... with Children (1991), a five-second walk through. She later made guest appearances in shows such as Beverly Hills, 90210 (1992), Seinfeld (1993), Lois and Clark (1994) and a guest-arc in Melrose Place (1996). Her first starring role in a wide theatrical release was Starship Troopers in 1997 for which Richards was nominated for the Blockbuster Entertainment Award for Favorite Female Newcomer. She followed this with a role in Wild Things. Variety praised Richards' transition from good-girl-type roles to manipulative villainess and the review continued to include her as part of "an ensemble that appears to be enjoying the challenge of offbeat roles and unusual material. There's not a wrong note struck by the game group of players." In 1998, she appeared in the music video for the Blues Traveler song "Canadian Rose".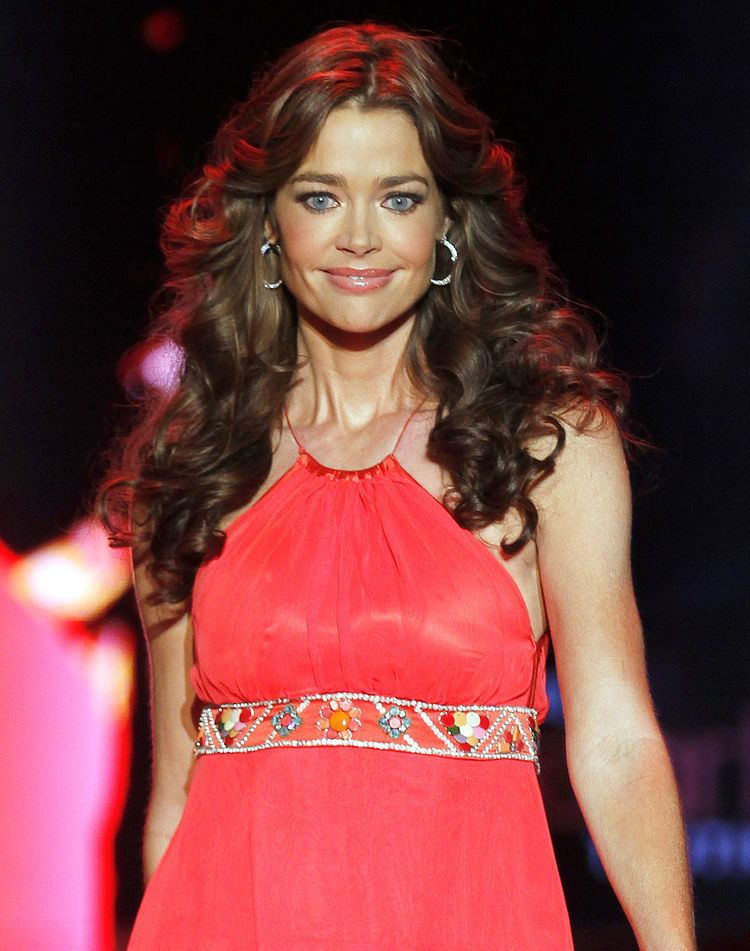 Richards was cast as the nuclear physicist Christmas Jones in the 1999 James Bond film The World Is Not Enough (1999). Though she considered her role "brainy", "athletic", and having depth of character, she was criticized as not credible in the role. Her outfit, which often comprised a low-cut tank top and tight shorts, elicited unfavourable comments. She was ranked as one of the worst Bond girls of all time by Entertainment Weekly in 2008, and was chosen as "Worst Supporting Actress" at the 1999 Razzie Awards for the role, although, Richards was also nominated for the Blockbuster Entertainment Award for Favourite Actress – Action, for the same film. Later that year, Richards starred alongside Kirsten Dunst in the beauty pageant satire, Drop Dead Gorgeous. Richards, playing a spoiled princess, was praised for her performance by Los Angeles Times for being "as rightly nasty as she is pretty."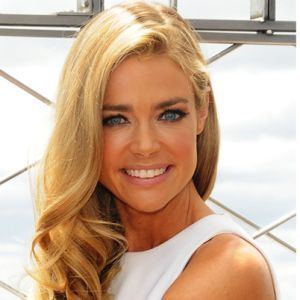 In 2001, she guest-starred in Friends as Ross and Monica Geller's cousin, Cassie Geller in the episode "The One with Ross and Monica's Cousin". Later that year she appeared in four episodes of Spin City as Jennifer Duncan, a love interest of Charlie Sheen's character. She starred as Sheen's character's ex-girlfriend two years later in two episodes of Two and a Half Men. In 2005, she starred in the short-lived UPN series Sex, Love & Secrets. Richards appeared in films such as Valentine (2001), Undercover Brother (2002) and Scary Movie 3 (2003). In 2003, she made a very brief appearance in the British romantic comedy, Love Actually. In 2005, she starred in the ensemble drama, Edmond alongside Julia Stiles.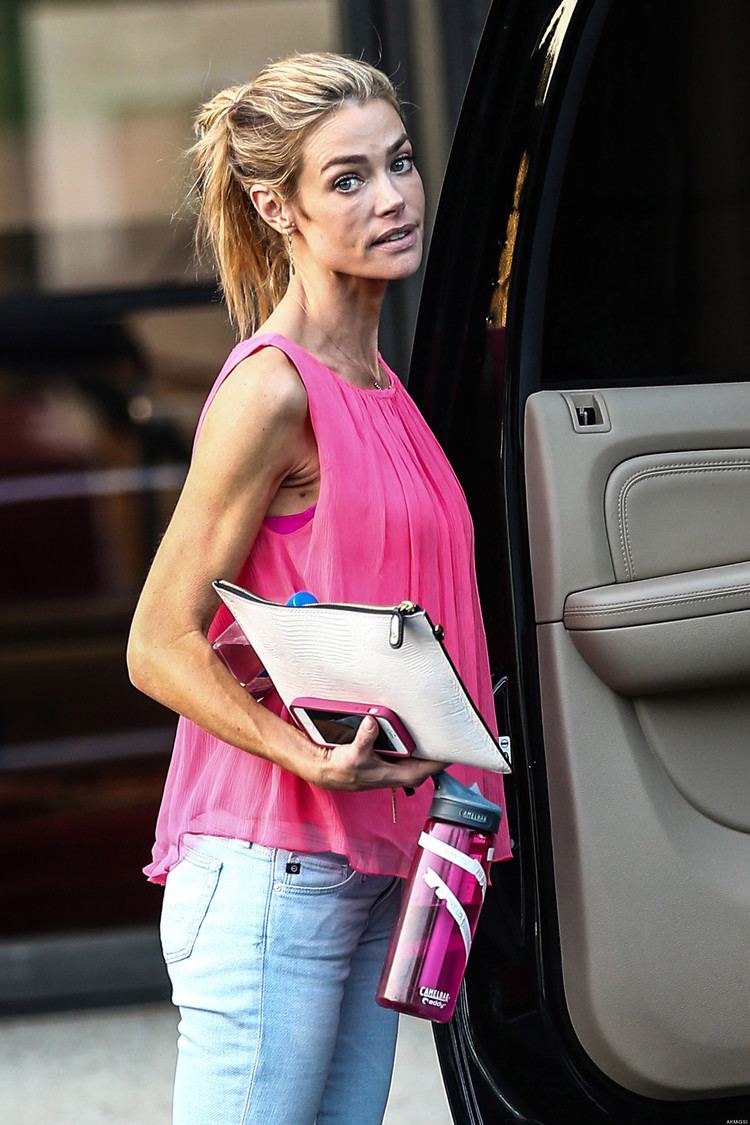 In December 2004, she posed for a nude pictorial in Playboy magazine, five months after giving birth. Richards posed semi-nude for the July 2006 issue of Jane magazine to raise money for the Clothes Off Our Back Foundation. In 1999, she ranked 9th in Maxim's 50 Sexiest Women and in 2001 she was voted 2nd in FHM's USA 100 Sexiest Women, 5th in FHM's 100 Sexiest Women and 19th in AskMen.com's 50 Most Beautiful Women. She was named one of the "100 Hottest Women of All-Time" by Men's Health. In 2008, she reunited with her Wild Things on-screen mother Theresa Russell in Jolene. Richards appeared on the 8th season of Dancing with the Stars, paired with Maksim Chmerkovskiy. She was eliminated second on March 24, 2009.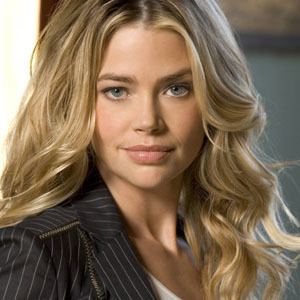 In 2010 she joined the cast of Blue Mountain State, a Spike comedy series. Richards plays Debra, the ex-wife of Coach Daniels. In July 2011, Richards published a memoir The Real Girl Next Door, a New York Times Best Seller. Richards was part of TV Guide Network's show, Hollywood Moms' Club, which aired in November 2011. In September 2011, Richards reportedly turned down $100,000 to appear as an ex-girlfriend at Charlie's funeral in Two and a Half Men. A month later, she began filming a guest spot for an episode for the sixth season of NBC comedy 30 Rock. In 2012, Richards joined the cast of ABC Family pilot, Twisted (formerly Socio). In February 2013, [ABC Family commissioned the drama for a full series.
Marriage to Charlie Sheen and children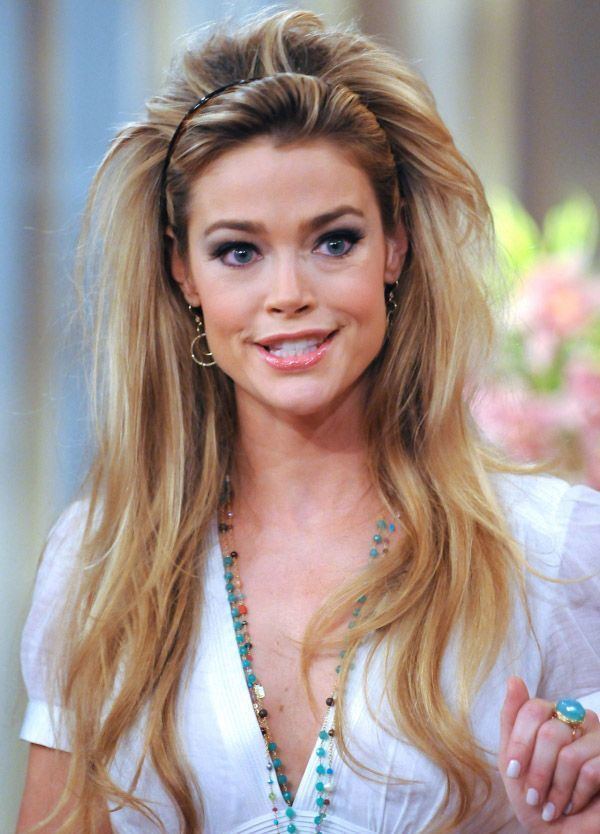 Richards first met actor Charlie Sheen on the set of Loaded Weapon 1 in 1991. They became engaged on December 26, 2001, and married in a Roman Catholic ceremony on June 15, 2002, at the estate of Spin City creator Gary David Goldberg. They have two daughters together, Sam J. Sheen (born March 9, 2004) and Lola Rose Sheen (born June 1, 2005).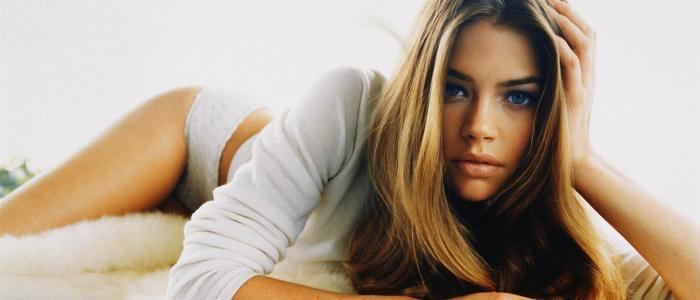 In March 2005, while pregnant with their second daughter, Richards filed for divorce from Sheen. The couple briefly reconciled and sought marriage counselling. However, on January 4, 2006, Richards' representative announced that she was continuing with the divorce. She later sought a restraining order against Sheen, alleging death threats against her. On April 19, 2006, Richards filed formal legal papers seeking a divorce from Sheen under the laws of the state of California. On November 30, 2006, Richards and Sheen's divorce became final, with Sheen being ordered to stay 300 feet away from his ex-wife and their daughters, except during supervised visits.
In 2008, Richards included her and Sheen's two daughters in her confessional reality program on E!, Denise Richards: It's Complicated, which premiered on May 26, 2008. He deemed her plans "greedy, vain and exploitative". On January 25, 2008, Richards won a court case against Sheen so that she could include their daughters in the show. When a judge rejected Sheen's request to block it, Sheen urged fans to boycott it. An agreement was reached between Sheen and Richards in the custody of the children, with Sheen stating in April 2009 that "we had to do what's best for the girls."
In May 2010, Richards was handed over custody of her and Sheen's two daughters by Sheen. The two signed a written agreement stating that she now has sole legal custody of Sam and Lola. They previously had joint legal custody of the girls and Richards wanted sole custody, given Sheen's then "marital turmoil (with his third wife Brooke Mueller), sobriety issues, and criminal problems." According to sources, Sheen did not fight about signing the agreement.
In June 2011, Richards adopted a third daughter, Eloise Joni Richards (born May 24, 2011), as a single parent. Her middle name is that of Richards' mother, who died from cancer in December 2007. Richards adopted her at birth domestically within the United States, following a two-year adoption process.
By mid-2012, Richards and Sheen were on good terms, often spending time together with their children. In 2012, he made a cameo appearance in her movie Madea's Witness Protection and she appeared in Sheen's television series, Anger Management on the FX network. In a move supported by Sheen, in May 2013, Richards was awarded temporary custody of Bob and Max, the twin sons born in 2009 to Sheen and Mueller, after the children were removed from Mueller's home by child protective services due to concerns over drug use. Richards had previously cared for the children on other occasions as well, including during Mueller's December 2012 stint in rehab for addiction to Adderall.
Image
In 1990, at age 19, Richards had a rushed breast implant procedure, which led to the doctor putting in larger implants than she asked for. As Richards was preparing to film 1998's Wild Things, she had a corrective breast implant procedure, with the surgeon again giving her larger implants than she expected. In 2004, Richards posed for Playboy, stating that she "wanted to encourage women that it's OK to embrace your sexuality even though you're a mom […] At the same time, I was having some problems in my marriage [to Charlie Sheen] and I didn't feel sexy and felt I had to prove something."
Richards has appeared in the NOH8 Campaign and has spoken in support of gay marriage, stating (during an interview with radio host Howard Stern) that, years before, she had had a lesbian affair. Richards added, "You would know who she is", but declined to name the woman.
Confrontation with paparazzi
On November 8, 2006, officers from the Royal Canadian Mounted Police (RCMP) were called to the River Rock Casino in Richmond, B.C., where Richards was making a movie. After seeing two photographers taking her picture from a nearby balcony, she confronted them, and threw their two laptop computers over the balcony. No charges were filed against her.
Animal welfare work
Richards has worked with Best Friends Animal Society on several projects, including its Pup My Ride program, which transports small dogs from high-kill animal shelters to other parts of the US where there's a greater demand for small dogs. She has regularly appeared on Access Hollywood's monthly pet segment showcasing shelter dogs rescued by Best Friends and available for adoption. While assisting with relief efforts in New York following Hurricane Sandy, she adopted a puppy from a Long Island shelter.
Filmography
Actress
-
A Christmas Frequency (post-production)
as
Brooke Walkins
-
Angels Fallen: Warriors of Peace (post-production)
as
Deborah
-
A Walking Miracle (post-production)
as
Pamela
-
Glow & Darkness (TV Series) (post-production)
as
Countess of Champagne
- Episode #1.9 - Countess of Champagne
- Episode #1.10 - Countess of Champagne
- Episode #1.4 - Countess of Champagne
- Episode #1.2 - Countess of Champagne
- Episode #1.1 - Countess of Champagne
- Episode #1.6 - Countess of Champagne
- Episode #1.7 - Countess of Champagne
- Episode #1.5 - Countess of Champagne
- Episode #1.3 - Countess of Champagne
-
Saturday at the Starlight (post-production)
as
Mrs. Sproat
-
Second Chances (TV Series) (post-production)
2023
Paper Empire (TV Series) (post-production)
as
Bentley
- The Fintch Factor (2023) - Bentley
- License to Steal (2023) - Bentley
- From Kiev with Love (2023) - Bentley
- What is Money (2023) - Bentley
- Digital Limbo (2023) - Bentley
- Financial Armageddon (2023) - Bentley
- Ribeye in the Sky (2023) - Bentley
- Don't Unleash What You Can't Control (2023) - Bentley
- You're Unbelievable (2023) - Bentley
- A.K.A Noir (2023) - Bentley
- Not Necessarily in That Order (2023) - Bentley
- I Love Lucy (2023) - Bentley
- Something about Mary (2023) - Bentley
- Opening Old Wounds (2023) - Bentley
- Failed to Plan (2023) - Bentley
- Love in the Chaos (2023) - Bentley
- The Anderson Files (2023) - Bentley
- Long Cool Women (2023) - Bentley
- Market Lunch Break (2023) - Bentley
-
The Housekeeper (completed)
as
Kit Ash
2019
The Bold and the Beautiful (TV Series)
as
Shauna Fulton / Shauna Fulton Forrester
2022
Junkyard Dogs
as
Monica Sullivan
2022
Love Accidentally
as
Debra
2022
Wickensburg
as
Celine Lucas
2022
The Guardians of Justice (Will Save You!) (TV Series)
as
Laura Louis
- Proximity to Power Corrupts More than Power Itself (2022) - Laura Louis (credit only)
- Shame Is a Lower Vibration than Anger (2022) - Laura Louis (credit only)
- When Guardians Fall in Love (2022) - Laura Louis (credit only)
- You Can Own the Word "Justice" (2022) - Laura Louis
- Anubis and How I Learned to Stop Worrying and Nukem (2022) - Laura Louis
- A Mentally Shattered Megalomaniac (2022) - Laura Louis
- It Was Murder, She Said! (2022) - Laura Louis
2020
FraXtur (TV Series)
as
Susan
- Episode 2 (2021) - Susan
- Episode 1 (2020) - Susan
2021
Killer Cheer Mom (TV Movie)
as
Amanda
2021
Send It!
as
Catherine (uncredited)
2020
Timecrafters: The Treasure of Pirate's Cove
as
Victoria Dare
2020
Happy Hazel (TV Series)
as
Karen
- My Malibu Melodrama (2020) - Karen
- My Crazy Mom (2020) - Karen
2020
Switched
as
Victoria Sharp
2020
Reality Queen!
as
Angelina Streisand
2019
My Adventures with Santa
as
Valerie Nolan
2019
BH90210 (TV Series)
as
Denise Richards
- The Long Wait (2019) - Denise Richards
2019
Adventures of Dally & Spanky
as
Kelly Banks
2019
The Secret Lives of Cheerleaders (TV Movie)
as
Candice
2018
Christmas Break-In (TV Movie)
as
Heather Rush
2018
Tomboy (TV Movie)
as
Shelley
2018
Alone Together (TV Series)
as
Jackie
- Fertility (2018) - Jackie
2017
Sébastien Tellier: Lovely Blonde (Music Video)
as
Denise Richards
2017
A Girl Is a Gun (TV Series short)
as
Nenuphar
- Seduce & Destroy (2017) - Nenuphar
- Now You Can Heal (2017) - Nenuphar
- A Day in the Life (2017) - Nenuphar
- Save the Last Dance for Me (2017) - Nenuphar
2017
A Violent Man
as
Victoria
2017
Girlfriends' Guide to Divorce (TV Series)
as
Temple Hampton
- Rule #776: The Cat Is Always on the Roof (2017) - Temple Hampton
2017
American Satan
as
Kat Faust
2017
American Violence
as
Amanda Tyler
2017
Altitude
as
Gretchen Blair
2016
Rock in a Hard Place (TV Series)
as
Heather
- Pilot (2016) - Heather
2016
Jane the Virgin (TV Series)
as
Denise Richards
- Chapter Fifty-One (2016) - Denise Richards
2016
A Life Lived
as
Elizabeth
2015
A Christmas Reunion (TV Movie)
as
Amy Stone
2015
Christmas Trade (Video)
as
Chloe
2015
Operation: Neighborhood Watch!
as
Denise Sorensen
2015
Vanity (TV Series)
as
Marion Bellerose
- Empire (2015) - Marion Bellerose
- Princess (2015) - Marion Bellerose
- Wonderland (2015) - Marion Bellerose
- Discovery (2015) - Marion Bellerose
- United (2015) - Marion Bellerose
- Dare (2015) - Marion Bellerose
- Expression (2015) - Marion Bellerose
- Velvet (2015) - Marion Bellerose
- Legacy (2015) - Marion Bellerose
2015
Significant Mother (TV Series)
as
Pepper Spinner
- Mixed Doubles (2015) - Pepper Spinner
2014
Fatal Acquittal (TV Movie)
as
Nora Grant
2013
Twisted (TV Series)
as
Karen Desai
- A Tale of Two Confessions (2014) - Karen Desai
- Danny, Interrupted (2014) - Karen Desai
- You're a Good Man, Charlie McBride (2014) - Karen Desai
- The Son also Falls (2014) - Karen Desai
- Danny Indemnity (2014) - Karen Desai
- Home Is Where the Hurt Is (2014) - Karen Desai
- Sins of the Father (2014) - Karen Desai
- Dead Men Tell Big Tales (2014) - Karen Desai
- Out with the In-Crowd (2013) - Karen Desai
- Poison of Interest (2013) - Karen Desai
- The Truth Will Out (2013) - Karen Desai
- Docu-Trauma (2013) - Karen Desai
- We Need to Talk About Danny (2013) - Karen Desai
- Three for the Road (2013) - Karen Desai
- The Fest and the Furious (2013) - Karen Desai
- Sleeping with the Frenemy (2013) - Karen Desai
- PSA de Résistance (2013) - Karen Desai
- Grief Is a Five-Letter Word (2013) - Karen Desai
- Pilot (2013) - Karen Desai
2013
Funny or Die Presents... (TV Series)
as
Denise Richards
- Denise Richards' Funbags (2013) - Denise Richards
2012
Anger Management (TV Series)
as
Lori
- Charlie Dates Crazy, Sexy, Angry (2013) - Lori
- Charlie Tries to Prove Therapy Is Legit (2012) - Lori
2012
Freeloaders
as
Denise Richards
2012
90210 (TV Series)
as
Gwen Thompson
- 902-100 (2012) - Gwen Thompson
2012
Kickin' It (TV Series)
as
Leona
- Wedding Crashers (2012) - Leona
2012
Madea's Witness Protection
as
Kate Needleman
2012
Blue Lagoon: The Awakening (TV Movie)
as
Barbara Robinson
2012
30 Rock (TV Series)
as
Denise Richards
- Idiots Are People Three! (2012) - Denise Richards
- Idiots Are People Two! (2012) - Denise Richards
2010
Blue Mountain State (TV Series)
as
Debra
- The Corn Field: Part 2 (2011) - Debra
- The Corn Field (2011) - Debra
- Death Penalty (2011) - Debra
- One Week (2011) - Debra
- The C-Word (2011) - Debra
- Fun Facts (2011) - Debra
- Superstition (2011) - Debra (credit only)
- Blackout (2011) - Debra (credit only)
- Training Day (2011) - Debra
- The Peak (2011) - Debra (credit only)
- Thad's Back (2011) - Debra (credit only)
- The Captain (2011) - Debra
- Dic Pics (2011) - Debra
- Riot (2011) - Debra
- Drunk Tank (2011) - Debra
- Debra (2010) - Debra
- Pregnant (2010) - Debra
- Born Again (2010) - Debra
2003
Two and a Half Men (TV Series)
as
Lisa
- Nice to Meet You, Walden Schmidt (2011) - Lisa (uncredited)
- Yes, Monsignor (2004) - Lisa
- Merry Thanksgiving (2003) - Lisa
2009
Deep in the Valley
as
Autumn Bliss
2009
Kambakkht Ishq
as
Denise Richards
2009
Finding Bliss
as
Bliss / Laura
2008
Blonde and Blonder
as
Dawn St. Dom
2006
Secrets of a Small Town (TV Series)
as
Brenda Rhodes
- Pilot (2006) - Brenda Rhodes
2005
Sex, Love & Secrets (TV Series)
as
Jolene Butler
- Protection (2005) - Jolene Butler
- Abandonment (2005) - Jolene Butler
- Fear (2005) - Jolene Butler
- Territorial Defense (2005) - Jolene Butler
- Molting (2005) - Jolene Butler
- Danger (2005) - Jolene Butler
- Ambush (2005) - Jolene Butler
- Secrets (2005) - Jolene Butler
2004
I Do (But I Don't) (TV Movie)
as
Lauren Crandell
2004
Elvis Has Left the Building
as
Belinda
2004
The Life
as
Rebecca Smith
2003
Love Actually
as
Carla - the Real Friendly One
2002
Snoop Dogg: Undercova Funk (Music Video)
as
Denise Richards
2002
The Third Wheel
as
Diana Evans
2002
Undercover Brother
as
White She Devil
2001
Spin City (TV Series)
as
Jennifer Duncan
- Chinatown (2001) - Jennifer Duncan
- Sleeping with the Enemy (2001) - Jennifer Duncan
- She's Gotta Habit (2001) - Jennifer Duncan
- The Arrival (2001) - Jennifer Duncan
- A Tree Falls in Manhattan (2001) - Jennifer Duncan
2001
Good Advice
as
Cindy Styne
2001
Friends (TV Series)
as
Cassie Geller
- The One with Ross and Monica's Cousin (2001) - Cassie Geller
2001
Valentine
as
Paige Prescott
1999
Tail Lights Fade
as
Wendy
1999
The World Is Not Enough
as
Dr. Christmas Jones
1999
Drop Dead Gorgeous
as
Rebecca 'Becky' Ann Leeman
1998
Wild Things: Scenes from the Cutting Room Floor (Video short)
as
Kelly Van Ryan
1998
Starship Troopers: Deleted Scenes (Video short)
as
Carmen Ibanez
1998
Wild Things
as
Kelly Van Ryan
1997
Starship Troopers
as
Carmen Ibanez
1997
Blues Traveler: Canadian Rose (Music Video)
as
Woman
1996
Time Well Spent (TV Movie)
as
1st Girl
1996
Pier 66 (TV Movie)
as
Carlin Mills
1996
Melrose Place (TV Series)
as
Brandi Carson
- Melrose Unglued (1996) - Brandi Carson
- True Fibs (1996) - Brandi Carson
- What Comes Up, Must Come Down (1996) - Brandi Carson
1996
In the Blink of an Eye (TV Movie)
as
Tina Jacobs
1996
Weird Science (TV Series)
as
Valerie
- Funhouse of Death (1996) - Valerie
1995
919 Fifth Avenue (TV Movie)
as
Cathy Damore
1995
Kill Shot (TV Movie)
as
Jess (uncredited)
1995
High Tide (TV Series)
as
Alex
- One on One (1995) - Alex
1995
One West Waikiki (TV Series)
as
Deirdre Mansfield
- Flowers of Evil (1995) - Deirdre Mansfield
1994
Tammy and the T-Rex
as
Tammy
1994
Lois & Clark: The New Adventures of Superman (TV Series)
as
Angela
- Season's Greedings (1994) - Angela
1994
Lookin' Italian
as
Elizabeth
1994
Burke's Law (TV Series)
as
Jennifer
- Who Killed the Beauty Queen? (1994) - Jennifer
1993
Against the Grain (TV Series)
as
Jodi Collins
- Respect (1993) - Jodi Collins
- Pilot (1993) - Jodi Collins
1993
In Living Color (TV Series)
- The Dirty Dozens (1993)
1993
Bodies of Evidence (TV Series)
as
Jennifer Ivey
- Eleven Grains of Sand (1993) - Jennifer Ivey (as Denise Lee Richards)
1993
Loaded Weapon 1
as
Cindy (as Denise Lee Richards)
1993
Seinfeld (TV Series)
as
Molly Dalrymple
- The Shoes (1993) - Molly Dalrymple (as Denise Lee Richards)
1993
The Ben Stiller Show (TV Series)
as
Sunbathing Girl
- At the Beach (1993) - Sunbathing Girl (uncredited)
1992
Beverly Hills, 90210 (TV Series)
as
Robin McGill
- Wedding Bell Blues (1992) - Robin McGill (as Denise Lee Richards)
1992
Eerie, Indiana (TV Series)
as
Girl #2
- Reality Takes a Holiday (1992) - Girl #2 (as Denise Lee Richards)
1991
Doogie Howser, M.D. (TV Series)
as
Alissa
- Doogstruck (1991) - Alissa
1991
Married... with Children (TV Series)
as
Girl #2
- Kelly Does Hollywood: Part 2 (1991) - Girl #2 (as Denise Lee Richards)
1991
Saved by the Bell (TV Series)
as
Cynthia
- The Last Weekend (1991) - Cynthia (uncredited)
1990
Life Goes On (TV Series)
as
Camille
- It Ain't All It's Cracked up to Be (1990) - Camille
Producer
2015
A Christmas Reunion (TV Movie) (co-producer)
2008
Denise Richards: It's Complicated (TV Series) (executive producer - 12 episodes)
- Dating-ish (2009) - (executive producer)
- Denise Does Slamdance (2009) - (executive producer)
- Vegas, Baby (2009) - (executive producer)
- Denise Strikes Back! (2008) - (executive producer)
- Hawaii: Searching for Youth (2008) - (executive producer)
- Bikini Shape (2008) - (executive producer)
- A Weekend in the Country (2008) - (executive producer)
- Saying Goodbye (2008) - (executive producer)
- Desperate House Mom (2008) - (executive producer)
- No Jackets Required (2008) - (executive producer)
- Denise vs. Tabloids (2008) - (executive producer)
- Denise Dating (2008) - (executive producer)
Soundtrack
2012
30 Rock (TV Series) (performer - 1 episode)
- Idiots Are People Three! (2012) - (performer: "La piscine")
2002
Undercover Brother (performer: "Ebony And Ivory")
Thanks
2013
Twisted: Socio Studies 101 (TV Movie) (thanks)
2013
Bridegroom (Documentary) (special thanks)
2009
Clarkworld (Documentary) (special thanks)
1998
SiN (Video Game) (thanks)
Self
-
The Making of 'Blonde and Blonder' (Video documentary)
as
Self
2022
Jeff Lewis Live (TV Series)
as
Self
- Denise Richards on RHOBH & OnlyFans (2022) - Self
- Jeff Lewis Has Issues: Denise Richards (2022) - Self
2018
Ok! TV (TV Series)
as
Self
- Episode #9.6 (2021) - Self
- Episode #4.62 (2018) - Self
- Episode #4.41 (2018) - Self
- Episode #4.27 (2018) - Self
2003
Entertainment Tonight (TV Series)
as
Self / Self - Guest Co-Host
- Blake Shelton, John Legend, Kelly Clarkson (2021) - Self - Guest Co-Host
- Britney Spears (2020) - Self
- Denise Richards Drama (2020) - Self
- MTV Video Music Awards Blowout! (2019) - Self
- Entertainment Tonight Checks into Beverly Hills 90210 (2019) - Self
2014
Extra (TV Series)
as
Self
- Episode #27.303 (2021) - Self
- Episode #26.165 (2020) - Self
- Episode #26.17 (2019) - Self
- Episode #21.244 (2015) - Self
- Episode dated 8 March 2014 (2014) - Self
2010
The Talk (TV Series)
as
Self
- Jerry O'Connell/David Begnaud/Milo Ventimiglia/Denise Richards (2021) - Self
- Denise Richard/Ian Karmel (2020) - Self
- Denise Richards/Tom Ellis/Rachael Harris (2019) - Self
- Henry Winkler/Denise Richards/Chef Marisa Churchill (2014) - Self
- Episode #3.186 (2013) - Self
- Episode dated 12 June 2012 (2012) - Self
- Episode #1.29 (2010) - Self
2004
Live with Kelly and Mark (TV Series)
as
Self / Self - Guest
- Denise Richards/Kware Onwuachi (2021) - Self - Guest
- Laugh with Live - Day 2 (2020) - Self - Guest
- Kenan Thompson/Denise Richards (2019) - Self
- Episode dated 26 September 2005 (2005) - Self
- Episode dated 13 September 2004 (2004) - Self
2020
The Pack (TV Series)
as
Self
- Los Angeles (2020) - Self
2015
The Real Housewives of Beverly Hills (TV Series)
as
Self
- Secrets Revealed (2020) - Self (as Denise)
- Reunion Part 3 (2020) - Self (as Denise)
- Reunion Part 2 (2020) - Self (as Denise)
- Reunion Part 1 (2020) - Self (as Denise)
- Denise and Desist (2020) - Self (as Denise)
- Sex, Lies and Text Messages (2020) - Self (as Denise)
- That's Not Amore (2020) - Self (as Denise)
- There's No Place Like Rome (2020) - Self (as Denise)
- Roman Rumors (2020) - Self (as Denise)
- Kiss and Tell All (2020) - Self (as Denise)
- Black Ties and White Lies (2020) - Self (as Denise)
- Until We Leave Again (2020) - Self (as Denise)
- Mind Your P's and BBQ's (2020) - Self (as Denise)
- Santa Denise (2020) - Self (as Denise)
- Read Between the Signs (2020) - Self (as Denise)
- Let the Mouse Go! (2020) - Self (as Denise)
- All's Fair in Glam and War (2020) - Self (as Denise)
- First Impressions, True Confessions (2020) - Self (as Denise)
- To Live and Text in Beverly Hills (2020) - Self (as Denise)
- The Crown Isn't So Heavy (2020) - Self (as Denise)
- Reunion Part 3 (2019) - Self (as Denise)
- Reunion Part 2 (2019) - Self (as Denise)
- Reunion Part 1 (2019) - Self (as Denise)
- Hurricane Camille (2019) - Self (as Denise)
- Un Petit Hangover (2019) - Self (as Denise)
- Thirst Impressions (2019) - Self (as Denise)
- Pardon Our French (2019) - Self (as Denise)
- A Double Shot of Brandi (2019) - Self (as Denise)
- Meet Rinna Jayne (2019) - Self (as Denise)
- One Wedding and a Polygraph (2019) - Self (as Denise)
- The Show Must Go On (2019) - Self (as Denise)
- Grilling Me Softly (2019) - Self (as Denise)
- The Ultimate Ultimatum (2019) - Self (as Denise)
- Do You Really Want to Hurt Me? (2019) - Self (as Denise)
- A Supreme Snub (2019) - Self (as Denise)
- A Wolf in Camille's Clothing (2019) - Self (as Denise)
- Showdown at Villa Rosa (2019) - Self (as Denise)
- Eat, Drink, and Be Married (2019) - Self (as Denise)
- Fifty Shades of Shade (2019) - Self (as Denise)
- The Proof Hurts (2019) - Self (as Denise)
- Bahama Drama (2019) - Self (as Denise)
- Sun and Shade in the Bahamas (2019) - Self (as Denise)
- Eat Your Heart Out (2019) - Self (as Denise)
- Lucy Lucy Apple Juicy (2019) - Self (as Denise)
- It's Just a Scratch (2015) - Self
2020
The Real (TV Series)
as
Self
- Season 7 Premiere! The Real Welcomes New Co-Host Garcelle Beauvais (2020) - Self
2020
The Kelly Clarkson Show (TV Series)
as
Self
- Summer Staycation #37 (2020) - Self
2011
Dish Nation (TV Series)
as
Self
- Episode #8.202 (2020) - Self
- Episode #7.121 (2019) - Self
- Episode dated 27 July 2011 (2011) - Self
2020
The Story of Soaps (TV Special)
as
Self - Guest
2019
Watch What Happens Live with Andy Cohen (Podcast Series)
as
Self - Guest
- WWHL @ Home: June Diane Raphael & Denise Richards (2020) - Self - Guest
- Denise Richards & Fredrik Eklund (2019) - Self - Guest
- Denise Richards & Kyle Richards (2019) - Self - Guest
2010
Watch What Happens Live with Andy Cohen (TV Series)
as
Self / Self - Guest
- Denise Richards & June Diane Raphael (2020) - Self
- Denise Richards & Fredrik Eklund (2019) - Self
- Denise Richards & Kyle Richards (2019) - Self
- Denise Richards & Karamo Brown (2019) - Self
- Tamar Braxton & Denise Richards (2012) - Self - Guest
- Tamra Barney & Denise Richards (2012) - Self - Guest
- Denise Richards & Kyle Richards (2010) - Self - Guest
2020
Corazón de... (TV Series)
as
Self
- Episode dated 10 January 2020 (2020) - Self
2019
The Price Is Right (TV Series)
as
Self - Guest Model
- Episode #48.31 (2019) - Self - Guest Model
2019
GMA3: Strahan, Sara & Keke (TV Series)
as
Self
- Episode dated 5 March 2019 (2019) - Self
2019
Thrill of the Drill: An Interview with Actress Denise Richards (Video documentary short)
as
Self
2018
2018 Hero Dog Awards (TV Special)
as
Self - Presenter
2018
To Tell the Truth (TV Series)
as
Self - Panelist
- Theresa Caputo, Kal Penn, Denise Richards, Matt McGorry (2018) - Self - Panelist
2018
Ant & Dec's Saturday Night Takeaway (TV Series)
as
Self - Guest Announcer
- Episode #15.6 (2018) - Self - Guest Announcer
2018
Through the Keyhole (TV Series)
as
Self
- Ben Shephard, Frankie Bridge, Jonathan Ross (2018) - Self
2017
Battle of the Network Stars (TV Mini Series)
as
Self - Contestant
- ABC Stars vs. Variety (2017) - Self - Contestant
2014
CNN Newsroom (TV Series)
as
Self
- Episode dated 30 November 2014 (2014) - Self
2014
On Your Marc! (TV Series)
as
Self - Guest
- Vanessa Lachey & Denise Richards (2014) - Self - Guest
2008
The View (TV Series)
as
Self
- Guest Co-Host Josh Elliott/Denise Richards/Brandi Granville/Candice Glover (2014) - Self
- Episode dated 11 June 2013 (2013) - Self
- Episode dated 21 May 2008 (2008) - Self
2013
Losing It with John Stamos (TV Mini Series)
as
Self
- Denise Richards (2013) - Self
2013
Kris (TV Series)
as
Self - Special Guest
- Episode #1.12 (2013) - Self - Special Guest
2013
Oprah: Where Are They Now? (TV Series)
as
Self
- Oprah's Sister, Actress Denise Richards and Survivor Winner Richard Hatch (2013) - Self
2011
Chelsea Lately (TV Series)
as
Self - Guest
- Episode #7.100 (2013) - Self - Guest
- Episode #5.171 (2011) - Self - Guest
2013
The Insider (TV Series)
as
Self
- Episode dated 11 June 2013 (2013) - Self
2013
Radio Disney Music Awards (TV Special)
as
Self
2013
The Millionaire Matchmaker (TV Series)
as
Self
- Denise Richards' Dad Is Looking for Love (2013) - Self
2013
Blue Mountain State: Behind the Scenes Documentary (Documentary short)
as
Self
2012
2012 Hero Dog Awards (TV Special)
as
Self - Presenter
2012
Big Morning Buzz Live (TV Series)
as
Self
- Denise Richards/Tommy Davidson/Paula Cole (2012) - Self
2012
Fox and Friends (TV Series)
as
Self
- Episode dated 27 June 2012 (2012) - Self
2012
The Chew (TV Series)
as
Self - Guest
- Star Spangled Platter (2012) - Self - Guest
2012
2012 CMT Music Awards (TV Special)
as
Self
2011
The 13th Annual 'A Home for the Holidays' (TV Special)
as
Self
2011
Talk Stoop (TV Series)
as
Self
- Women on the Big and Small Screens (2011) - Self
2011
Piers Morgan Live (TV Series)
as
Self
- Adam Levine & Denise Richards (2011) - Self
- Episode dated 3 August 2011 (2011) - Self
- Episode dated 28 July 2011 (2011) - Self
2003
Jimmy Kimmel Live! (TV Series)
as
Self
- Episode #9.169 (2011) - Self
- Episode #9.161 (2011) - Self
- Episode #7.46 (2009) - Self
- Episode #3.211 (2004) - Self
- Episode #2.51 (2003) - Self
2011
Today (TV Series)
as
Self
- Episode dated 27 July 2011 (2011) - Self
- Episode dated 26 July 2011 (2011) - Self
2011
The Marriage Ref (TV Series)
as
Self - Panelist
- Seth Meyers, Denise Richards, George Wallace (2011) - Self - Panelist
2011
Audrina (TV Series)
as
Self
- Episode #1.4 (2011) - Self
2008
Fashion News Live (TV Series)
as
Self
- Episode #8.35 (2011) - Self
- Episode #8.17 (2010) - Self
- Episode #5.52 (2008) - Self
2010
Spike TV VGA Video Game Awards (TV Special)
as
Self
2010
Harry Loves Lisa (TV Series)
as
Self
- Finale (2010) - Self
- Harry's Audition (2010) - Self
2010
Naughty But Nice with Rob Shuter (TV Series)(2010)
2010
The Wendy Williams Show (TV Series)
as
Self
- Episode dated 1 November 2010 (2010) - Self
2010
The Oprah Winfrey Show (TV Series)
as
Self
- Actress Denise Richards And Mr. Ted Haggard (2010) - Self
2010
Sundance Skippy (Documentary)
as
Self
2009
Clarkworld (Documentary)
as
Self
2009
Russian Tenors (TV Series)
as
Self
2008
Denise Richards: It's Complicated (TV Series)
as
Self
- Root for the Home Team (2009) - Self
- Picture Imperfect (2009) - Self
- Dancing with Denise (2009) - Self
- Funbags or Die (2009) - Self
- Labor of Love (2009) - Self
- Dating-ish (2009) - Self
- Denise Does Slamdance (2009) - Self
- Vegas, Baby (2009) - Self
- Denise Strikes Back! (2008) - Self
- Hawaii: Searching for Youth (2008) - Self
- Bikini Shape (2008) - Self
- A Weekend in the Country (2008) - Self
- Saying Goodbye (2008) - Self
- Desperate House Mom (2008) - Self
- No Jackets Required (2008) - Self
- Denise vs. Tabloids (2008) - Self
- Denise Dating (2008) - Self
2009
Hannity (TV Series)
as
Self
- Episode dated 12 June 2009 (2009) - Self
2009
Late Night with Jimmy Fallon (TV Series)
as
Self
- Episode dated 5 June 2009 (2009) - Self
2009
Dancing with the Stars (TV Series)
as
Self / Self - Contestant
- Round Ten: Final Results (2009) - Self
- Round Ten: Finals (2009) - Self (credit only)
- Round Nine (2009) - Self (credit only)
- Round Seven (2009) - Self (credit only)
- Round Six (2009) - Self (credit only)
- Round Five: Results (2009) - Self (credit only)
- Round Five (2009) - Self (credit only)
- Round Four (2009) - Self (credit only)
- Round Three (2009) - Self (credit only)
- Round Two: Results Show (2009) - Self - Contestant
- Round Two (2009) - Self - Contestant
- Round One: Results Show (2009) - Self - Contestant
- Round One: Part 2 (2009) - Self - Contestant
- Round 1: Part 1 (2009) - Self - Contestant
2004
The Ellen DeGeneres Show (TV Series)
as
Self
- Episode #6.112 (2009) - Self
- Episode #3.27 (2005) - Self
- Episode #2.55 (2004) - Self
2008
American Idol (TV Series)
as
Self - Audience Member
- The Top 12 Finalists Perform (2008) - Self - Audience Member
2007
Backstage: Hollywood Fashion (TV Movie)
as
Self
2006
The 2006 Billboard Music Awards (TV Special)
as
Self
2006
The 2006 World Music Awards (TV Special)
as
Self
2006
Space Top 10 Countdown (TV Series)
as
Self
- Movie Aliens (2006) - Self
2006
Fashion Rocks (TV Special)
as
Self
2006
VH1: All Access (TV Series)
as
Self
- Celeb Breakups & Scandals (2006) - Self
2006
Believe Campaign (Documentary short)
as
Self
2006
The Reichen Show (TV Series)
as
Self
- Episode dated 28 April 2006 (2006) - Self
2006
Dog Whisperer with Cesar Millan (TV Series)
as
Self - Owner
- Chip, Lucy, Hank & Betty, and Leo (2006) - Self - Owner
2005
The Victoria's Secret Fashion Show (TV Special)
as
Self - Model
2005
The Tony Danza Show (TV Series)
as
Self
- Episode #2.27 (2005) - Self
- Episode #2.25 (2005) - Self
1998
The Tonight Show with Jay Leno (TV Series)
as
Self
- Episode #13.171 (2005) - Self
- Episode #12.190 (2004) - Self
- Episode #10.203 (2002) - Self
- Episode #10.87 (2002) - Self
- Episode #7.189 (1999) - Self
- Episode #7.123 (1999) - Self
- Episode #6.57 (1998) - Self
2005
11th Annual Screen Actors Guild Awards (TV Special)
as
Self - Audience Member
2005
The 62nd Annual Golden Globe Awards 2005 (TV Special)
as
Self - Audience Member
2004
The Best Damn Sports Show Period (TV Series)
as
Denise Richards
- Episode dated 16 November 2004 (2004) - Denise Richards
2002
E! True Hollywood Story (TV Series documentary)
as
Self
- Scream Queens (2004) - Self
- Saved by the Bell (2002) - Self
2004
Fashion Rocks (TV Special)
as
Self
1999
Late Night with Conan O'Brien (TV Series)
as
Self - Guest
- Matthew Broderick/Denise Richards/Dave Eggers (2004) - Self - Guest
- William Shatner/Denise Richards/John Pizzarelli (2001) - Self - Guest
- Ben Affleck/Denise Richards/Robert Schimmel (1999) - Self - Guest
2003
Tinseltown TV (TV Series)
as
Self
- Episode dated 8 November 2003 (2003) - Self
2003
20/20 (TV Series documentary)
as
Self - Charlie's Wife (segment "A New Sheen")
- A New Sheen/A Widow's Heart/Family Fix/Love and Loss (2003) - Self - Charlie's Wife (segment "A New Sheen")
2003
Hollywood's Hottest (Video documentary)
2003
Punk'd (TV Series)
as
Self
- Episode #1.1 (2003) - Self
2002
Death from Above: The Making of 'Starship Troopers' (Video documentary short)
as
Self
2002
HBO First Look (TV Series documentary short)
as
Self
- The Making of 'Empire' (2002) - Self
2002
VH1 Big in 2002 Awards (TV Special)
as
Self
2002
The Greatest (TV Series documentary)
as
Self
- 100 Sexiest Artists (2002) - Self
1999
The Rosie O'Donnell Show (TV Series)
as
Self
- Episode dated 23 May 2002 (2002) - Self
- Episode dated 25 January 2001 (2001) - Self
- Episode dated 18 November 1999 (1999) - Self
2001
Playboy Exposed: Playboy Mansion Parties Uncensored (Video documentary)
as
Self
2001
2001 ABC World Stunt Awards (TV Special)
as
Self
2001
Access Granted (TV Series)
as
Self
- Snoop Dogg: Undercover Funk (2001) - Self
2000
2000 ALMA Awards (TV Special)
as
Self - Presenter
2000
2000 MTV Movie Awards (TV Special)
as
Self - Presenter
2000
The 15th Annual IFP/West Independent Spirit Awards (TV Special)
as
Self - Presenter
1999
The Making of 'the World Is Not Enough' (Video short)
as
Self
1999
The World Is Not Enough: The Making of a Blockbuster (TV Mini Series documentary)
as
Self / Dr. Christmas Jones
- Post-Production and Marketing (1999) - Self / Dr. Christmas Jones
- Production (1999) - Self / Dr. Christmas Jones
1999
Behind the scenes with The World is Not Enough (Video documentary short)
as
Self
1999
Premiere Bond: The World Is Not Enough (TV Special short)
as
Self / Dr. Christmas Jones
1999
The Bond Cocktail (TV Movie documentary)
as
Self
1999
Comme au cinéma (TV Series documentary)
as
Self
- Episode dated 18 November 1999 (1999) - Self
1999
MTV Europe Music Awards 99 (TV Special)
as
Self - Presenter
1999
1999 MTV Video Music Awards (TV Special)
as
Self - Presenter
1999
Making of Wild Things (Video documentary short)
as
Self
1999
The Late Late Show with Craig Kilborn (TV Series)
as
Self - Guest
- Episode dated 22 July 1999 (1999) - Self - Guest
1998
Seventeen: The Faces for Fall (TV Movie documentary)
as
Self
1998
Starship Troopers: Screen Tests - Johnny and Carmen (Video short)
as
Self
1998
Time Warner Cable: Wild Things (TV Special short)
as
Self
1998
Hollywood Xpress (TV Series)
as
Self - Interviewee
- Episode #2.22 (1998) - Self - Interviewee
1998
1998 MTV Movie Awards (TV Special)
as
Self
1998
1998 Blockbuster Entertainment Awards (TV Special)
as
Self
1997
Showbiz Today (TV Series)
as
Self
- Episode dated 10 November 1997 (1997) - Self
Archive Footage
2023
Les Chroniques du Mea (TV Series)
- James Bond 007 - Demain ne meurt jamais (1997) (2023)
2013
Entertainment Tonight (TV Series)
as
Self
- Michael B. Jordan Exclusive (2021) - Self
- It's Game On Wednesday (2020) - Self
- ET's Friends Thanksgiving! (2019) - Self
- Celebrity Scandals of 2013 (2013) - Self
2023
FRO Thizzle Reviews (TV Series)
as
Self
- Undercover Brother (2023) - Self
2021
The Real Housewives of Beverly Hills (TV Series)
as
Self
- Reunion Part 2 (2022) - Self
- Shameless Not Ruthless (2022) - Self
- Ship-Faced (2022) - Self
- In Hot Water (2022) - Self
- Reunion Part 4 (2021) - Self
- Over-Poured and Over-Board (2021) - Self
- Del Mar by the Shade (2021) - Self
- Lips Unsealed (2021) - Self
- Circle of Distrust (2021) - Self
- Affairs and Accidents (2021) - Self
- The Good, the Bad and the Ugly Leather Pants (2021) - Self
- The Divided States of Erika (2021) - Self
- Overexposed (2021) - Self
- Two Truths and a Lie (2021) - Self
- Dressed to the 90210s (2021) - Self
2022
Access Hollywood (TV Series)
as
Self
- Episode #26.266 (2022) - Self
2021
The Real Housewives: Ultimate Girls Trip (TV Series)
as
Self
- Fourth Wall Down (2021) - Self
2018
Ok! TV (TV Series)
as
Self
- Episode #8.11 (2020) - Self
- Episode #7.249 (2020) - Self
- Episode #7.234 (2020) - Self
- Episode #7.217 (2020) - Self
- Episode #7.198 (2020) - Self
- Episode #7.197 (2020) - Self
- Episode #4.193 (2019) - Self
- Episode #4.87 (2019) - Self
- Episode #4.33 (2018) - Self
2015
Extra (TV Series)
as
Self
- Episode #26.201 (2020) - Self
- Episode #22.259 (2016) - Self
- Episode #22.53 (2015) - Self
- Episode dated 13 June 2015 (2015) - Self
2019
You Don't Nomi (Documentary)
as
Self / Segment 'Starship Troopers'
2014
TMZ on TV (TV Series)
as
Kelly Van Ryan
- Episode dated 4 October 2014 (2014) - Kelly Van Ryan
2013
Welcome to the Basement (TV Series)
as
Self / Lt. Carmen Ibanez
- Starship Troopers (2013) - Self / Lt. Carmen Ibanez
2012
Hallo Hessen (TV Series)
as
Self
- Episode dated 10 August 2012 (2012) - Self
2011
Charlie Sheen: Bad Boy on the Edge (TV Movie documentary)
as
Self
2010
Maintower (TV Series documentary)
as
Self
- Episode dated 26 November 2010 (2010) - Self
2010
E! True Hollywood Story (TV Series documentary)
as
Self
- Charlie Sheen (2010) - Self
2009
Rome Is Burning (TV Series)
as
Self
- Episode dated 18 May 2009 (2009) - Self
- Episode dated 5 May 2009 (2009) - Self
2008
The South Bank Show (TV Series documentary)
- James Bond (2008)
2008
The Factor (TV Series)
as
Self
- Episode dated 27 May 2008 (2008) - Self
2007
50 Most Shocking Celebrity Scandals (TV Special)
as
Self
2006
Rodney Carrington: Show Them to Me Fan Music Video (Music Video short)
as
Self
2006
Premio Donostia a Matt Dillon (TV Special short)
as
Kelly Lanier Van Ryan (uncredited)
2006
Premiere Bond: Opening Nights (Video documentary short)
as
Self
2003
Celebrity Naked Ambition (TV Movie documentary)
2002
Best Ever Bond (TV Movie documentary)
as
Dr. Christmas Jones (uncredited)
2002
Bond Girls Are Forever (TV Movie documentary)
as
Christmas Jones
2001
Orgy: Opticon (Video short)
as
Self
2000
The World Is Not Enough (Video Game)
as
Dr. Christmas Jones (uncredited)
1999
001' (Video short)
as
Dr. Christmas Jones
1999
The World Is Not Enough: The Making of a Blockbuster (TV Mini Series documentary)
as
Dr. Christmas Jones
- Pre-production (1999) - Dr. Christmas Jones
1998
Le Hollandais violent (TV Movie documentary)
as
Self
References
Denise Richards Wikipedia
(Text) CC BY-SA