The de Havilland Canada DHC-3 Otter is a single-engined, high-wing, propeller-driven, short take-off and landing (STOL) aircraft developed by de Havilland Canada. It was conceived to be capable of performing the same roles as the earlier and highly successful Beaver, but is overall a larger aircraft.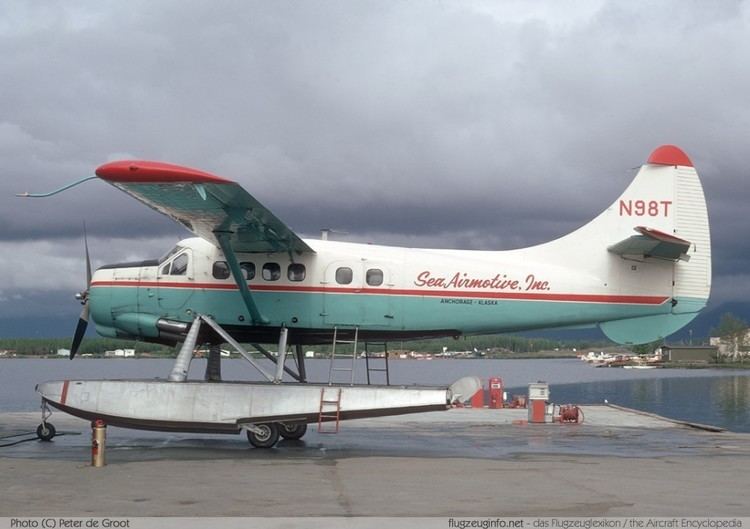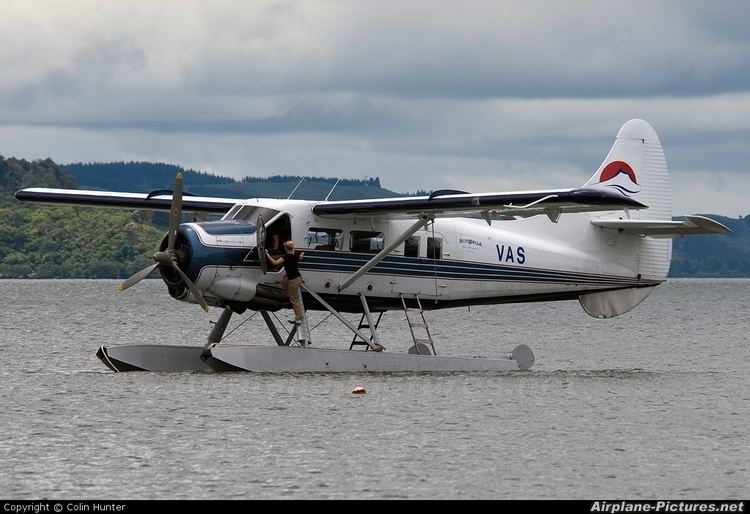 When de Havilland Canada began design work on the "King Beaver" (the Otter's original name) in January 1951, it was trying to extend the company's line of rugged STOL utility transports that had begun with the Beaver. The single-engined, high-wing, propeller-driven DHC-3 Otter was conceived to be capable of performing the same roles as the Beaver, but was considerably larger, the veritable "one-ton truck" (in company parlance, the Beaver was the "half-ton truck"). Using the same overall configuration as the earlier and highly successful DHC2 Beaver, the new design incorporates a longer fuselage, greater-span wings, a cruciform tail, and is much heavier. Seating in the main cabin is for 10 or 11, whereas the Beaver can seat six. Power is supplied by a 450-kW (600 hp) Pratt & Whitney R-1340 geared radial. The version used in the Otter was geared for lower propeller revolutions and consequently lower airspeed. The electrical system was 28 volts D.C. Like the Beaver, the Otter can be fitted with skis or floats. The Otter served as the basis for the very successful Twin Otter, which features two wing-mounted Pratt & Whitney Canada PT6 turboprops.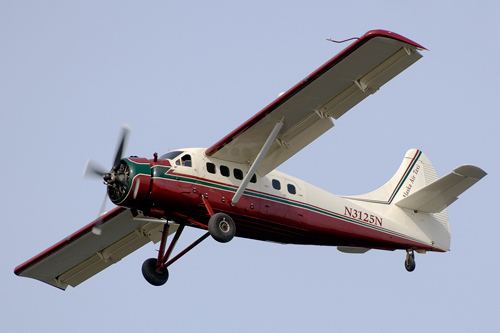 The Otter received Canadian certification in November 1952 and entered production shortly thereafter. A total of 466 were manufactured.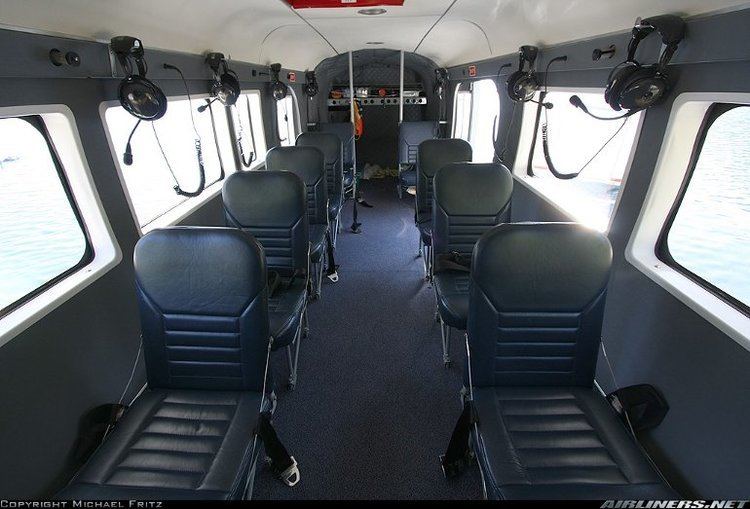 The DHC-3/CC-123/CSR-123 Otter was used until 1980 by the Royal Canadian Air Force and its successor, the Air Command of the Canadian Forces. It was used in Search and Rescue, as the "CSR" denotes Canadian Search (and) Rescue (type 123) and as a light utility transport, "CC" denoting Canadian Cargo. During the Suez Crisis, the Canadian government decided to provide assistance to the United Nations Emergency Force and the Royal Canadian Navy carrier HMCS Magnificent carried 4 Otters from Halifax to Port Said in Egypt early in 1957, with all four flying off unassisted while the ship was at anchor. This was the only occasion when RCAF fixed wing aircraft operated from a Canadian warship. It was also operated on EDO floats on water and skis for winter operations on snow. The EDO floats also had wheels for use on runways (amphibious). It was used as army support dropping supplies by parachute, and also non-parachute low-speed, low-altitude air drops, to support the Canadian Army on maneuvers. In the end it was operated by the Primary Air Reserve in Montreal, Toronto, Edmonton and Winnipeg, with approximately 10 aircraft at each base, as well as by the RSU (Regular (Forces) Support Units) at those bases. It was usually flown with a single pilot (Commissioned Officer) in the left seat and a Technical Air Crewman (NCO) in the right seat. The Kiowa helicopter replaced it in Air Reserve squadrons.
Although the Otter found ready acceptance in bush airlines, as in a similar scenario to the DHC-2 Beaver, the United States Army soon became the largest operator of the aircraft (184 delivered as the U-1A Otter). Other military users included Australia, Canada, and India, but the primary role of the aircraft as a rugged bush plane continues to this day.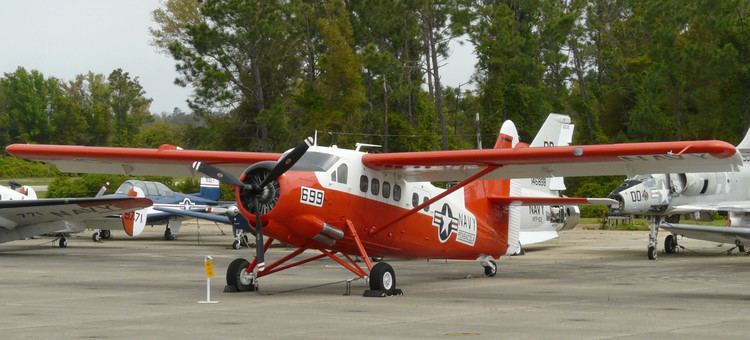 An Otter crossed the South Pole in 1957 (see Commonwealth Trans-Antarctic Expedition). The Otter is also popular in the skydiving community and can be found in many dropzones throughout the world.
Stolairus Aviation of Kelowna, BC, has developed several modifications for the DHC-3 including a STOL Kit, which modifies the wing with a contoured leading edge and drooped wingtips for increased performance. Stolairus has also developed a 400 lb "upgross" kit which increases the gross weight of the DHC-3 to 8,367 lbs on floats.
Some aircraft were converted to turbine power using a PT6A, Walter 601 (manufactured in the Czech Republic), or Garrett/Honeywell TPE331-10, by Texas Turbine Conversions. The Walter M601E-11 Turbine Engine conversion is manufactured and installed by Stolairus Aviation.
A Polish Pezetel radial engine has also been fitted. Re-engined aircraft have been offered since the 1980s by Airtech Canada as the DHC-3/1000 using current-production 1,000 hp (745 kW) PZL ASz-62 IR radials.
DHC-3 Otter
Single-engined STOL utility transport aircraft.
CSR-123 Otter
STOL utility transport aircraft for the Royal Canadian Air Force.
YU-1 Otter
Six test and evaluation aircraft for the U.S. Army.
U-1A Otter
STOL utility transport aircraft for the US Army.
UC-1 Otter
STOL utility transport aircraft for the United States Navy. Later redesignated
U-1B Otter
in 1962.
DHC-3-T Turbo-Otter
Otters fitted with either Pratt & Whitney Canada PT6A-27 or Pratt & Whitney Canada PT6A-34 turboprop engine.
Airtech Canada DHC-3/1000 Otter
Conversions powered by PZL Kalisz ASz-62IR engines.
Argentina
Argentine Air Force: Former operator
Australia
Royal Australian Air Force: Two Otters (RAAF serial A100-1 and 2) were in service with the RAAF from 1961 to 1967. The aircraft were used for passenger and freight transport duties at the Weapons Research Establishment, Woomera, South Australia.
No. 1 Air Trials Unit
Bangladesh
Bangladesh Air Force: Former operator
Burma
Burma Air Force
Cambodia
Khmer Air Force: Former operator
Canada
Royal Canadian Air Force
Chile
Chilean Air Force
Costa Rica
Air Surveillance Service
Ethiopia
Ethiopian Air Force
Ghana
Ghana Air Force
India
Indian Air Force
Indonesia
Indonesian Air Force
Khmer Republic
Khmer National Air Force
New Zealand
Royal New Zealand Air Force
Nicaragua
Nicaraguan Air Force
Nigeria
Norway
Royal Norwegian Air Force
Panama
Panamanian Public Forces
Paraguay
Paraguayan Air Force: One DHC-3 donated by Argentina.
Philippines
Tanzania
Tanzanian Air Force
United Kingdom
Royal Air Force
United States
United States Air Force
United States Army
United States Navy
Otter NU-1B is the oldest aircraft in the U.S. Navy, in service at the U.S. Naval Test Pilot School, Patuxent River, Md.
Canada
Royal Canadian Mounted Police
Lamb Air
Harbour Air
Provincial Airlines
Air Saguenay
http://www.vancouverislandair.com * Vancouver Island Air
United States
Talkeetna Air Taxi
Kenmore Air
Rediske Air
Fiji
Pacific Island Air
New Zealand
Volcanic Air (Rotorua)
On 22 June 1994, a float equipped Dehavilland, DHC-3 Otter, N13GA, registered to and operated by Wings of Alaska, of Juneau, Alaska, crashed into the Taku Inlet, 12 miles east of Juneau. The Air Taxi flight, operating under 14 CFR Part 135 by a Commercial Certificated pilot, last departed the Taku Lodge located on the Taku River, and the destination was the Juneau downtown dock. Instrument meteorological conditions prevailed at the time of the accident and a company flight plan was in effect. The airplane received substantial damage. Six passengers received fatal injuries, one passenger is missing and presumed dead, and the pilot and three passengers received serious injuries.
On 9 August 2010, a DHC-3T registered to Anchorage-based GCI crashed about 17 miles (27 km) north of Dillingham, Alaska, while en route to a private fishing lodge. Five of the nine people on board were killed, including former Alaska Senator Ted Stevens. Surviving passengers included former NASA administrator Sean O'Keefe and his teenage son, both of whom sustained injuries.
On 23 September 2011, a single-engined, turbine-powered, amphibious float-equipped de Havilland DHC-3T airplane, N361TT, sustained substantial damage during a go-around and subsequent low-altitude maneuver at Heitman Lake, about 5 miles south-southwest of Kodiak, Alaska. The airplane was being operated by Paklook Air Inc., Kodiak, as a visual flight rules (VFR) on-demand air taxi flight, when the accident occurred. Of the three people aboard, the commercial pilot sustained fatal injuries, one passenger received serious injuries, and the remaining passenger received minor injuries. Visual meteorological conditions prevailed, and company-flight following procedures were in effect. The airplane departed Old Harbor, Alaska, bound for Kodiak. A passenger on the airplane reported that during a go-around on a lake, the airplane struck a tree on the shoreline and crashed. The passenger was able to make a cellphone call, and report the accident to authorities.
On 7 July 2013, a De Havilland Otter registered to Rediske Air of Nikiski crashed at Soldotna Airport, killing all 10 aboard.
On 25 June 2015, a Promech Air DHC-3 Otter crashed into the face of a granite cliff near Ella Lake, Alaska, 20 miles (32 km) northeast of Ketchikan. The aircraft carried a pilot and eight passengers who were tourists on a sightseeing excursion from a Holland America Line coastal cruise aboard the cruise ship MS Westerdam. All nine people on board died.
On 15 September 2015, Federal Aviation Administration says a De Havilland DHC-3 Turbine Otter on floats carrying 10 people and belonging to Rainbow King Lodge crashed on takeoff at Eastwind Lake, 1 mile north of Iliamna, which is 175 miles SW of Anchorage. Three people were killed in the crash.
Data from Jane's Civil and Military Aircraft Upgrades 1994–95
General characteristics
Crew: 1
Capacity: 9 -10 passengers
Length: 41 ft 10 in (12.80 m)
Wingspan: 58 ft 0 in (17.69 m)
Height: 12 ft 7 in (3.83 m)
Wing area: 375 sq ft (34.84 m²)
Empty weight: 4,431 lb (2,010 kg)
Max. takeoff weight: 8,000 lb (3,629 kg)
Powerplant: 1 × Pratt & Whitney R-1340-S1H1-G Wasp 9-cylinder air-cooled radial engine, 600 hp (448 kW)
Performance
Maximum speed: 160 mph (139 knots, 257 km/h)
Cruise speed: 121 mph (105 knots, 195 km/h) at sea level (econ cruise)
Stall speed: 58 mph (50 knots, 93 km/h)
Range: 945 mi (822 nmi, 1,520 km)
Service ceiling: 18,800 ft (5,730 m)
Rate of climb: 850 ft/min (4.3 m/s)