Criminal status

On Death row


Siblings

Danelle Fugate




Name

Darlie Routier






Full Name

Darlie Lynn Peck




Born

January 4, 1970 (age 53) (

1970-01-04

) Altoona, Pennsylvania


Criminal penalty

Death by lethal injection


Conviction(s)

capital murder, one count


Spouse

Darin Routier (m. 1988–2011)




Children

Devon Routier, Damon Routier





Similar

Susan Smith, Israel Keyes, Nikko Jenkins
Darlie Lynn Routier (born January 4, 1970) is an American woman from Rowlett, Texas, who was convicted of murdering her five-year-old son, Damon. Both of her sons, 5-year-old Damon and 6-year-old Devon, were killed in the attack, but she was only tried for the murder of Damon.
Contents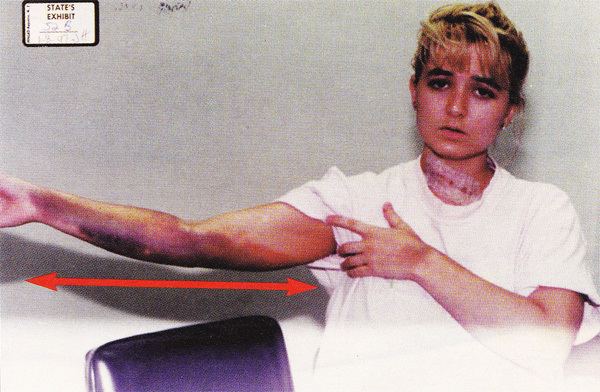 Murder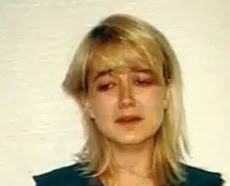 On June 6, 1996, at 2:31 am, 911 dispatchers in Rowlett received a call from 5801 Eagle Dr, the home of Darlie Routier. Routier told the operator that her home had been broken into and that an intruder had stabbed two of her sons, Damon (age 5) and Devon (age 6), and attacked her. The youngest of her three boys, Drake (age 7 months), was asleep upstairs with his father and was unharmed. Routier received several stab wounds, deep, widespread bruising on her arms and other parts of her body, and a prominent slash to her throat.
Newscasts showed Darlie Routier and other family members holding a birthday party at the children's grave to posthumously celebrate Devon's 7th birthday, just eight days after the murders. Darlie was shown smiling and laughing as she sprayed Silly String on the graves in celebration of Devon's birthday, singing "Happy Birthday". Family members point out that the newscasts did not show an earlier portion of the video which depicted a solemn ceremony honoring the children. Four days later, Darlie Routier was charged with Capital murder.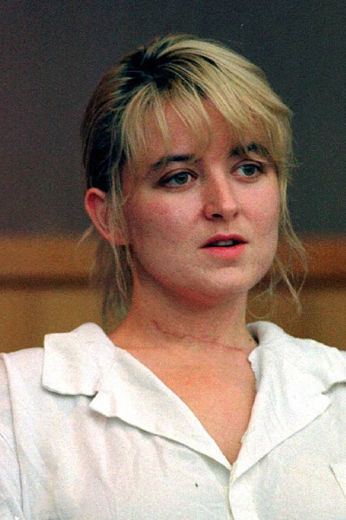 Routier later commented on the Silly String video, saying, "He wanted to be seven. I did the only thing I knew to do to honor him and give him all his wishes because he wasn't here anymore. But how do you know what you're going to do when you lose two children? How do you know how you're going to act?
Trial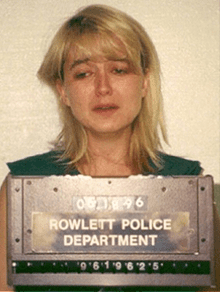 The prosecution suggested that Routier murdered her sons because of the family's financial difficulties. Prosecutors described Routier as a pampered, materialistic woman with substantial debt, plummeting credit ratings, and little money in the bank, who feared that her lavish lifestyle was about to end. Jurors also saw the Silly String video. Crime scene consultant James Cron testified that evidence suggested the crime scene had been staged.
Routier was represented at trial by prominent lawyer Douglas Mulder. Defense attorneys said that there was no reason why Routier would have killed her children. They said that the case did not have a motive, a confession or any witnesses. They asserted that it was unrealistic to accuse Routier of staging a crime scene. Routier's attorneys advised her not to appear on the witness stand, but she testified anyway. A CBS News piece said that Routier "withered under cross-examination by prosecutor Toby Shook."
San Antonio chief medical examiner Vincent DiMaio testified that the wound to Routier's neck came within two millimeters of her carotid artery and that it was not consistent with the self-inflicted wounds he had seen in the past. That differed from the assertions of Routier's treating physicians, who had told police officials that the wounds might have been self-inflicted. Tom Bevel testified that cast-off blood found on the back of Routier's nightshirt indicated that she had raised the knife over her head as she withdrew it from each boy to stab again.
Routier was convicted of murdering Damon and on February 4, 1997 was sentenced to death by lethal injection.
Divorce
In June 2011, Darin Routier filed for divorce. He said that the decision to divorce was mutual and "very difficult" and that he still believes his wife is innocent. He said that they decided on the divorce to move on from the "limbo" that they had been in since her arrest and conviction.
Innocence claims
Defense attorneys allege numerous errors made during Routier's trial and in the official transcript of it, as well as the investigation of the murders, especially at the crime scene.
An appeals court dismissed these claims, as did a court ruling on Routier's habeas corpus petition. In late 2013, exoneree David Camm said he would be working as a case coordinator for Investigating Innocence, a national nonprofit organization that provides criminal-defense investigations for inmates, and that Routier's would be his first case.
Forensic testing
In 2008 Routier was granted the right to new DNA tests. Her appeals have been remanded to the state level for improved DNA testing. On January 29, 2014, Chief Judge of the Western District Fred Biery granted a request from prosecution and defense for the Routier case for further DNA tests vital to the defense to be carried out on a bloody fingerprint found in the house, a bloody sock and Routier's nightgown.
References
Darlie Routier Wikipedia
(Text) CC BY-SA