Preceded by

Josei Toda




Spouse

Kaneko Ikeda (m. 1952)




Role

Philosopher




Name

Daisaku Ikeda




Succeeded by

Hiroshi Hojo (北条浩)








Born

2 January 1928 (age 95) Ota, Tokyo, Japan (

1928-01-02

)


Alma mater

Fuji Junior College (present-day Tokyo Fuji University)


Children

Hiromasa Ikeda, Takahiro Ikeda, Shirohisa Ikeda




Organizations founded

Soka Gakkai, Soka University, Soka University of America


Books

The human revolution, Unlocking the mysteries, Choose Life, The New Human Revolution, Buddhism Day by Day: Wis




Similar People

Nichiren, Josei Toda, Tsunesaburo Makiguchi, Hiromasa Ikeda, Arnold J Toynbee
Daisaku Ikeda 10 Real Life Quotes on Success | Inspiring | Motivational Quotes
Daisaku Ikeda (池田 大作, Ikeda Daisaku, born 2 January 1928, Japan) is a Buddhist philosopher, educator, author, and anti-nuclear activist. He has served as the third president and then honorary president of the Soka Gakkai, the largest of Japan's new religious movements. Ikeda is the founding president of the Soka Gakkai International (SGI), the world's largest Buddhist lay organization with approximately 12 million practitioners in 192 countries and regions.
Contents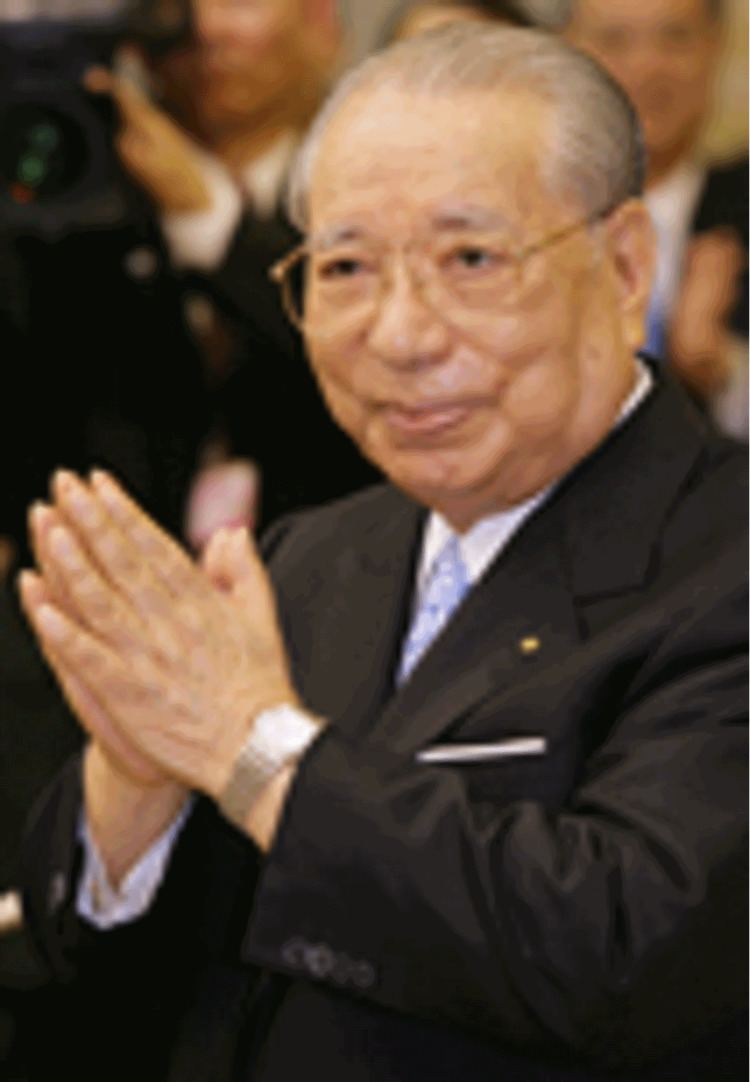 Ikeda was born in Tokyo, Japan, in 1928, to a family of seaweed farmers. He survived the devastation of World War II as a teenager, which he said left an indelible mark on his life and fueled his quest to solve the fundamental causes of human conflict. At age 19, Ikeda began practicing Nichiren Buddhism and joined a youth group of the Soka Gakkai Buddhist association, which led to his lifelong work developing the global peace movement of SGI and founding numerous institutions dedicated to fostering peace, culture and education.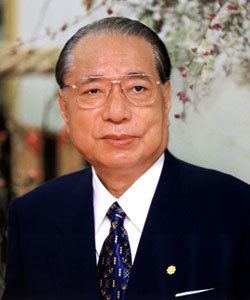 Ikeda's vision for the SGI has been described as a "borderless Buddhist humanism that emphasizes free thinking and personal development based on respect for all life." In the 1960s, Ikeda worked to reopen Japan's national relations with China and also to establish the Soka education network of humanistic schools from kindergartens through university level, while beginning to write what would become his multi-volume historical novel, The Human Revolution, about the Soka Gakkai's development during his mentor Josei Toda's tenure. In the 1970s, he established the Soka Gakkai International and initiated numerous international educational and cultural exchanges for peace. Since the 1980s, he has continually increased his anti-nuclear activism and citizen diplomacy.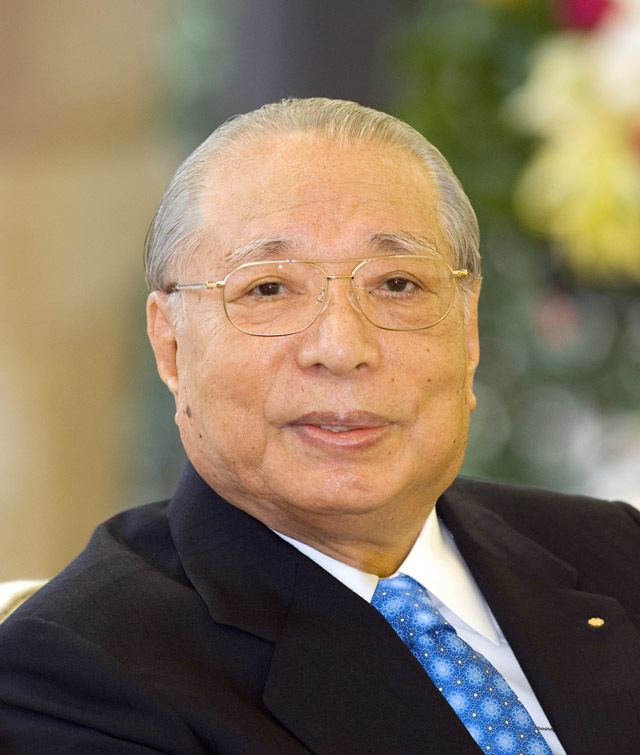 By 2015, Ikeda had published more than 50 dialogues with scholars, peace activists and leading world figures. In his role as SGI president, Ikeda has visited 55 nations and spoken on subjects including peace, environment, economics, women's rights, interfaith dialogue, nuclear disarmament, and Buddhism and science. Every year on the anniversary of the SGI's founding, January 26, Ikeda submits a peace proposal to the United Nations.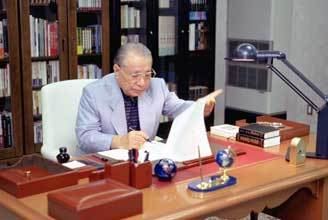 Daisaku ikeda awarded by ukzn
Early life and background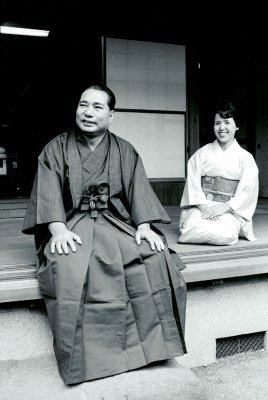 Ikeda was born in Ōta, Tokyo, Japan, on the 2nd of January, 1928. Ikeda had four older brothers, two younger brothers, and a younger sister. His parents later adopted two more children, for a total of 10 children. Since the mid-nineteenth century, the Ikeda family had successfully farmed nori, edible seaweed, in Tokyo Bay. By the turn of the twentieth century, the Ikeda family business was the largest producer of nori in Tokyo. However, after the devastation of the 1923 Great Kantō earthquake, the family's enterprise was left in ruins, and by the time Ikeda was born, his family was financially struggling.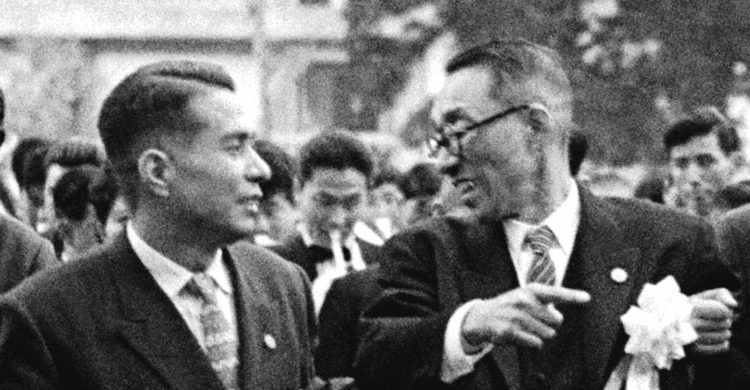 In 1937, full-blown war erupted between Japan and China, and Ikeda's eldest brother, Kiichi, was drafted into military service. Within a few years, Ikeda's three other elder brothers were drafted as well. In 1942, while all of his older brothers were overseas in the Asian theatres of World War II, Ikeda's father, Nenokichi, fell ill and was bedridden for two years. To help support his family, at the age of 14, Ikeda began working in the Niigata Steelworks munitions factory as part of Japan's wartime youth labor corps.
In May 1945, Ikeda's home was destroyed by fire during an Allied air raid, and his family was forced to move to the Omori area of Tokyo. In May 1947, after having received no word from his eldest brother, Kiichi, for several years, Ikeda was informed by the Japanese government that Kiichi had been killed in action in Burma (now Myanmar).
In August 1947, at the age of 19, Ikeda was invited by an old friend, to attend a Buddhist discussion meeting where he met Josei Toda, the second president of Japan's Soka Gakkai Buddhist organization. Ikeda said he found in Toda "an open and unaffected person, a man of unshakable conviction with a gift for explaining profound Buddhist concepts in logical, accessible terms." As a result of this encounter, Ikeda immediately began practicing Nichiren Buddhism and joined the Soka Gakkai. He became a charter member of the group's youth division and regarded Toda as his spiritual mentor, later stating that Toda influenced him through "the profound compassion that characterized each of his interactions."
Career
Shortly after the end of World War II, in January 1946, Ikeda gained employment with the Shobundo Printing Company in Tokyo. In March 1948, Ikeda graduated from Toyo Trade School and the following month entered the night school extension of Taisei Gakuin (present-day Tokyo Fuji University) where he majored in political science. During this time, he worked as an editor of the children's magazine Shonen Nihon (Boy's Life Japan), which was published by one of Josei Toda's companies. Over the next several years, between 1948 and 1953, Ikeda worked for various Toda-owned enterprises, including the Nihon Shogakkan publishing company, the Tokyo Construction Trust credit association, and the Okura Shoji trading company.
Youth leadership
In 1953, at the age of 25, Ikeda was appointed as one of the Soka Gakkai's youth leaders. The following year, he was appointed as director of the Soka Gakkai's public relations bureau, and later became its chief of staff.
In April 1957, a group of young Soka Gakkai members in Osaka were arrested for allegedly distributing money, cigarettes and candies to support the political campaign of a local electoral candidate (who was also a Soka Gakkai member). Ikeda was later arrested and detained in jail for two weeks, charged with allegedly overseeing these activities. Ikeda's arrest came at a time when Soka Gakkai Buddhist candidates were achieving success at both national and local levels. With the growing influence of this liberal grassroots movement, factions of the conservative political establishment initiated a series of media attacks on the Soka Gakkai, culminating in Ikeda's arrest. After a lengthy court case that lasted until 1962, Ikeda was cleared of all charges. The Soka Gakkai characterized this as a triumph over corrupt tyranny, which galvanized its movement.
Soka Gakkai presidency
In May 1960, two years after Toda's death, Ikeda, then 32 years old, succeeded him as president of the Soka Gakkai. Soon after, Ikeda began to travel overseas to build connections between Soka Gakkai members living abroad and expand the movement globally. The expansion of the Soka Gakkai movement internationally was, in Ikeda's words, "Toda's will for the future." With his assumption of the Soka Gakkai presidency, Ikeda "continued the task begun by [Soka Gakkai founder] Tsunesaburo Makiguchi of fusing the ideas and principles of educational pragmatism with the elements of Buddhist doctrine."
While the Soka Gakkai saw its most dramatic growth after World War II under Toda's leadership, Ikeda led the international growth of the Soka Gakkai and turned it into what is considered the largest, most diverse international lay Buddhist association in the world. He reformed many of the organization's practices, including the aggressive conversion style (known as shakubuku) for which the group had become known in Japan, and improved the organization's public image, though it was sometimes still viewed with suspicion in Japan. By the 1970s, Ikeda's leadership had expanded the Soka Gakkai into an international lay Buddhist movement increasingly active in peace, cultural, and educational activities."
Soka Gakkai International founding
On January 26, 1975, a world peace conference was held in Guam, where Soka Gakkai representatives from 51 countries created an umbrella organization for the growing network of members around the world. This became the Soka Gakkai International (SGI). Ikeda took a leading role in the global organization's development and became the founding president of the SGI. In his address to the assembly, Ikeda encouraged the representatives to dedicate themselves to altruistic action, stating "Please devote yourselves to planting seeds of peace throughout the world."
The SGI was created in part as a new international peace movement, and its founding meeting was held in Guam in a symbolic gesture referencing Guam's history as the site of some of World War II's bloodiest battles, and proximity to Tinian Island, launching place of the atomic bombs dropped on Hiroshima and Nagasaki, Japan.
Resignation from Soka Gakkai presidency
In 1979, Ikeda resigned as president of the Soka Gakkai (in Japan), accepting responsibility for the organization's purported deviation from Nichiren Shōshū doctrines and accompanying conflict with its priesthood. Nichiren Shōshū was the Buddhist denomination with which the Soka Gakkai had been associated since its founding, but the relationship between the two organizations was often strained. Hiroshi Hojo succeeded Ikeda as Soka Gakkai president, and Ikeda remained president of the Soka Gakkai International. Ikeda was also made honorary president of the Soka Gakkai in Japan. From 1964 to 1990, Ikeda held the title of Sokoto (lay leader) among Nichiren Shōshū adherents.
Ikeda and the Soka Gakkai were excommunicated by Nichiren Shoshu on 28 November 1991 and on 11 August 1992. Following the group's excommunication, Soka Gakkai members began to describe their group as Buddhism's first Protestant movement.
Legacy
Under Ikeda's leadership, the SGI has developed as a broad-based grassroots peace movement around the world. Ikeda is credited with having fostered among SGI members an ethos of social responsibility and a strong spirit of global citizenship. Ikeda's thoughts and work on a "Buddhist-based humanism" are situated within a broader tradition of East-West dialogue in search of humanistic ideals. In his biography of historian Arnold J. Toynbee, William McNeill describes the aim of the Toynbee-Ikeda dialogues as a "convergence of East and West," and the pragmatic significance of which would be realized by the "flourishing in the Western world" of the Soka Gakkai organization.
Peace, Culture and Education
Ikeda has founded many global institutions for the development of peace, culture and education, including Soka University in Tokyo, Japan, and Soka University of America in Aliso Viejo, California; Soka kindergarten, primary and secondary schools in Japan, Korea, Hong Kong, Malaysia, Brazil and Singapore; the Victor Hugo House of Literature, in France; the International Committee of Artists for Peace in the United States; the Min-On Concert Association in Japan; the Tokyo Fuji Art Museum in Japan; the Institute of Oriental Philosophy in Japan with offices in France, Hong Hong, India, Russia and the United Kingdom; the Toda Institute for Global Peace and Policy Research in Japan and the United States; and the Ikeda Center for Peace, Learning, and Dialogue in the United States.
Since 1990, Ikeda has partnered with Rabbi Abraham Cooper and the Simon Wiesenthal Center, a Jewish human rights organization, to combat anti-Semitism in Japan. In a 2001 interview, Rabbi Cooper stated he was "getting nowhere after reaching out to the Japanese media about anti-Semitism in Japan. The only partners we found to help us bring our concerns to the Japanese public were people from Soka University under the leadership of Daisaku Ikeda. If you ask me who our best friend in Japan is, who 'gets it,' it is Ikeda. He was actually our first visitor to the Museum of Tolerance." Their friendship led to the joint development of a Japanese-language Holocaust exhibition The Courage to Remember, which was seen by more than two million people in Japan between 1994 and 2007. In 2015, a new version of the exhibit opened in Tokyo focusing on the bravery of Anne Frank and Chiune Sugihara.
Ikeda was an original proponent of the Earth Charter Initiative, co-founded by Mikhail Gorbachev, and Ikeda has included details of the Charter in many of his annual peace proposals since 1997. The SGI has supported the Earth Charter with production of global exhibitions including Seeds of Change in 2002 that traveled to 27 nations and Seeds of Hope in 2010, correlating with the Earth Charter-related documentary film, A Quiet Revolution, which the SGI has donated to schools and educational programs around the world.
Citizen diplomacy
Ikeda's work has been described by academics as citizen diplomacy for his contributions to diplomatic as well as intercultural ties between Japan and other countries, and more broadly among all peoples of the world. Ikeda's dialogues with scholars, politicians, and cultural figures have increased awareness and support of humanitarian and peace activities, have facilitated deeper international relationships, and generated support for SGI-sponsored work on global issues including the environment and nuclear disarmament.
Academic researchers have suggested the body of literature chronicling Ikeda's diplomatic efforts and his more than 7,000 international dialogues provides readers with a personal education and model of citizen diplomacy and, from a scholarly view, represents "a new current in interculturalism and educational philosophy."
In 1970, Ikeda met several times with Austrian-Japanese politician and philosopher Richard von Coudenhove-Kalergi, an early pioneer of the European Union. Their discussions included East-West relations and the future of peace work. Between 1971 and 1974, Ikeda conducted multiple dialogues with Arnold J. Toynbee in London and Tokyo. The major topics of their meetings were published as the book Choose Life. In 1974, Ikeda conducted a dialogue with French novelist and Minister of Cultural Affairs Andre Malraux.
In September 1974, Ikeda visited the Soviet Union and met with Premier Aleksei Kosygin. During their dialogue, Kosygin agreed with Ikeda, saying "We must abandon the very idea of war. It is meaningless. If we stop preparing for war and prepare instead for peace, we can produce food instead of armaments." He then asked Ikeda, "What is your basic ideology?" Ikeda replied, "I believe in peace, culture and education – the underlying basis of which is humanism." Kosygin said, "I have a high regard for those values. We need to realize them here in the Soviet Union as well."
In January 1975, Ikeda met with Henry Kissinger, the United States Secretary of State, to "urge the de-escalation of nuclear tensions between the United States and the Soviet Union." The same month Ikeda met with Secretary-General of the United Nations Kurt Waldheim. Ikeda presented Waldheim with a petition containing the signatures of 10,000,000 people calling for total nuclear abolition. The petition was organized by youth groups of the Soka Gakkai International and was inspired by Ikeda's longtime anti-nuclear efforts.
Ikeda's meetings with Nelson Mandela in the 1990s led to a series of SGI-sponsored anti-apartheid lectures, a traveling exhibit, and multiple student exchange programs at the university level.
Sino-Japanese relations
Ikeda made several visits to China and met with Chinese Premier Zhou Enlai in 1974, though Sino-Japanese tensions remained over the brutalities of war waged by the Japanese militarists. The visits led to the establishment of cultural exchanges of art, dance and music between China and Japan and opened academic exchanges between Chinese educational institutions and Soka University. Chinese media describe Ikeda as an early proponent of normalizing diplomatic relations between China and Japan in the 1970s, citing his 1968 proposal that drew condemnation by some and the interest of others including Zhou Enlai. It was said that Zhou Enlai entrusted Ikeda with ensuring that "Sino-Japanese friendship would continue for generations to come."
Since 1975, cultural exchanges have continued between the Min-On Concert Association, founded by Ikeda, and institutions including the Chinese People's Association for Friendship with Foreign Countries. After Ikeda's 1984 visit to China and meetings with public figures including Chinese Communist Party Leader Hu Yaobang and Deng Yingchao, academic observers estimated that Ikeda's 1968 proposal moved Japanese public sentiment to support closer diplomatic ties with China and his cultivation of educational and cultural ties helped strengthen state relations.
International awards
Notable awards received by Ikeda include:
Australia: Gold Medal for Peace with Justice from the Sydney Peace Foundation (2009)
China: International Literary Award for Understanding and Friendship from the China Literature Foundation and Chinese Writers' Association (2003)
India: Tagore Peace Award (1997)
India: Jamnalal Bajaj Award for Outstanding Contribution in Promotion of Gandhian Values Outside India by Individuals other than Indian Citizens (2005)
India: Indology Award for Outstanding Contribution in the Field of Indic Research and Oriental Wisdom (2011)
Macedonia: World Prize for Humanism (Macedonian: НА СВЕТСКАТА НАГРАДА ЗА ХУМАНИЗАМ) from the Ohrid Academy of Humanism (2007)
Philippines: Rizal International Peace Award (1998)
Philippines: Golden Heart Award from the Knights of Rizal (2012)
Philippines: Gusi Peace Prize
Russia: Order of Friendship of the Russian Federation (2008)
Singapore: Wee Kim Wee Gold Award (2017)
United Nations: United Nations Peace Award (1983)
United States: Rosa Parks Humanitarian Award (1993)
United States: International Tolerance Award from the Simon Wiesenthal Center (1993)
United States: Education as Transformation Award from the Education as Transformation Project, Wellesley College (2001)
International honors
In 1999, the Martin Luther King Jr. Chapel at Morehouse College in Atlanta honored Ikeda with the creation of the Gandhi King Ikeda Institute for Ethics and Reconciliation. In 2001, a traveling exhibition was created titled Gandhi, King, Ikeda: A Legacy of Building Peace that showcases the peace activism of Mahatma Gandhi, Martin Luther King Jr, and Daisaku Ikeda. Also in 2001, Lawrence Carter, an ordained Baptist minister and a dean at Morehouse College in Atlanta, initiated the annual Gandhi, King, Ikeda Community Builders Prize as a way of extolling individuals whose actions for peace transcend cultural, national and philosophical boundaries. The 2015 Gandhi King Ikeda award was bestowed upon Islamic scholar Fethullah Gülen.
In 2000, the city of Londrina, Brazil honored Ikeda by naming a 300-acre nature reserve in his name. The Dr. Daisaku Ikeda Ecological Park is open to the public and its land, waterways, fauna and wildlife are protected by Brazil's Federal Conservation Law.
In 2014, the City of Chicago named a section of Wabash Avenue in downtown Chicago "Daisaku Ikeda Way," with the Chicago City Council measure passing unanimously, 49 to 0.
In both 2015 and 2016, the director of the Peace Research Institute Oslo announced that Daisaku Ikeda had been nominated for the Nobel Peace Prize, as confirmed by a Nobel Peace Laureate.
The United States House of Representatives and individual states including Georgia, Missouri, and Illinois have passed resolutions honoring the service and dedication of Daisaku Ikeda as one "who has dedicated his entire life to building peace and promoting human rights through education and cultural exchange with deep conviction in the shared humanity of our entire global family." The state of Missouri praised Ikeda and his value of "education and culture as the prerequisites for the creation of true peace in which the dignity and fundamental rights of all people are respected."
The Club of Rome has named Ikeda an honorary member, and Ikeda has received more than 760 honorary citizenships from cities and municipalities around the world.
At the International Day for Poets of Peace in February 2016, an initiative launched by the Mohammed bin Rashid World Peace Award, Daisaku Ikeda from Japan along with Kholoud Al Mulla from the UAE, K. Satchidanandan from India and Farouq Gouda from Egypt were named International Poets of Peace. In presenting the honors, Shaikh Nahyan bin Mubarak Al Nahyan described the initiative as reinforcing "the idea that poetry, and literature in general, are a universal language that plays an important role in spreading the message of peace in the world," echoing the sentiments of Dr Hamad Al Shaikh Al Shaibani, chair of the World Peace Award's board of trustees, who cited the role of poets in "promoting a culture of hope and solidarity."
Academic honors
In November 2010, the University of Massachusetts Boston bestowed an honorary doctorate upon Ikeda, marking the 300th academic honor he had received since receipt of his first honorary doctorate in 1975 from Moscow State University. In his message of appreciation to the University of Massachusetts Boston, Ikeda said "The academic honors I have accepted have all been on behalf of the members of SGI around the world. This is recognition of their multifaceted contributions. As a private citizen, I will redouble my efforts to promote peace, cultural exchange and education."
Personal life
Ikeda lives in Tokyo with his wife, Kaneko Ikeda (née Kaneko Shiraki, born 1932), whom he married on 3 May 1952. The couple have had three sons, Hiromasa (born 1953; vice president of Soka Gakkai), Shirohisa (1955–1984), and Takahiro (born 1958).
Public image
American Civil Rights pioneer Rosa Parks chose as her favorite photograph an image from her first meeting with Ikeda in 1993. She explained:
I can't think of a more important moment in my life ... [Ikeda] said this meeting, between the two of us, was very special for him. It was for me, too. In his concern for human rights, Dr. Ikeda is ahead of many people in this century. He is a calm spirit, a humble man, a man of great spiritual enlightenment. We met for about an hour and talked about my life and challenges concerning the youth in our countries ... Our meeting can serve as a model for anyone. So the photograph of our first meeting is very important because it is history in the making.
Ikeda's work through 2016 has earned him several Nobel Peace Prize nominations, and he is considered by many scholars to be "the natural successor to Mahatma Gandhi and Martin Luther King, Jr. as a global spiritual leader." The Chairman of India's Council of Gandhian Studies, Professor N. Radhakrishnan, has hailed Ikeda as "one of the most profound thinkers of our time."
Yet, in 1995, Michelle Magee wrote a critical article in the San Francisco Chronicle in which she stated that the Soka Gakkai in Japan had been accused of "heavy-handed fund raising and proselytizing, as well as intimidating its foes and trying to grab political power." The article quoted Takashi Shokei, a professor at Meisei University, who called Ikeda "a power-hungry individual who intends to take control of the government and make Soka Gakkai the national religion."
In 1996, Los Angeles Times writer Teresa Watanabe described Ikeda as a "puzzle of conflicting perceptions," with her interview subjects expressing vastly differing opinions of him, ranging from "a democrat," "a man of deep learning" and "an inspired teacher," to "a despot," "a threat to democracy" and "Japan's most powerful man." Watanabe reported that "Japanese tabloid coverage has affected his public image and blurred the lines between suspicion and fact, imagination and reality ..." concluding that "Nevertheless, there is no question that Ikeda spreads goodwill – and transforms stereotypes."
In 2003, Dr. Lawrence Carter, Dean of the Martin Luther King Jr. Chapel at Morehouse College, praised Ikeda as a Japanese social reformer, stating: Controversy is an inevitable partner of greatness. No one who challenges the established order is free of it. Gandhi had his detractors, as did Dr. King, and Dr. Ikeda is no exception. Controversy camouflages the intense resistance of entrenched authority to conceding their special status and privilege. Insults are the weapons of the morally weak; slander is the tool of the spiritually bereft. Controversy is testament to the noble work of these three individuals (Gandhi, King and Ikeda) in their respective societies."
Books
Ikeda is a prolific writer, peace activist and interpreter of Nichiren Buddhism. His interests in photography, art, philosophy, poetry and music are reflected in his published works. In his essay collections and dialogues with political, cultural, and educational figures he discusses, among other topics: the transformative value of religion, the universal sanctity of life, social responsibility, and sustainable progress and development.
The 1976 publication of Choose Life: A Dialogue (in Japanese, Nijusseiki e no taiga) is the published record of dialogues and correspondences that began in 1971 between Ikeda and British historian Arnold J. Toynbee about the "convergence of East and West" on contemporary as well as perennial topics ranging from the human condition to the role of religion and the future of human civilization. Toynbee's 12-volume A Study of History had been translated into Japanese, which along with his lecture tours and periodical articles about social, moral and religious issues gained him popularity in Japan. To an expat's letter critical of Toynbee's association with Ikeda and Soka Gakkai, Toynbee wrote back: "I agree with Soka Gakkai on religion as the most important thing in human life, and on opposition to militarism and war." To another letter critical of Ikeda, Toynbee responded: "Mr. Ikeda's personality is strong and dynamic and such characters are often controversial. My own feeling for Mr. Ikeda is one of great respect and sympathy." As of 2012, the book had been translated and published in twenty-six languages.
Ikeda's children's stories are "widely read and acclaimed," according to The Hindu, which reported that an anime series of 14 of the stories was to be shown on the National Geographic Channel. In the Philippines, DVD sets of 17 of the animated stories were donated by Anak TV to a large school, as part of a nationwide literacy effort.
In 2003, Japan's largest English-language newspaper, The Japan Times, began carrying periodic essays by Ikeda on global issues including peacebuilding, nuclear disarmament, and compassion. As of 2015, The Japan Times had published 26 essays by Ikeda, 15 of which were also published in a bilingual Japanese-English book titled "Embracing the Future."
The Human Revolution
Ikeda's most well-known publication is the novel The Human Revolution (Ningen Kakumei), which was serialized in the Soka Gakkai's daily newspaper, the Seikyo Shimbun. The book's original English-edition foreword was written by British philosopher and historian Arnold J. Toynbee. The Human Revolution has been translated into English, Chinese, French, German, Spanish, Portuguese, Korean and Dutch and has sold over seven millions copies worldwide. In the preface to The Human Revolution, the author describes the book as a "novelized biography of my mentor, Josei Toda." The author's official website describes the book as an "historical novel [that] portrays the development of the Soka Gakkai in Japan, from its rebirth in the post-World War II era to the last years of its second president, Josei Toda." In the preface to the 2004 edition, the author stated the narrative was edited to bring it in line with recent developments in the history of Nichiren Buddhism, and that he hoped "such revisions will help readers to better appreciate the original message of the book."
References
Daisaku Ikeda Wikipedia
(Text) CC BY-SA