Preceded by

Maktoum III




Religion

Islam




Name

Mohammed Rashid








Preceded by

Maktoum bin Rashid Al Maktoum




Born

15 July 1949 ( Age 70 ) Dubai, Trucial States (now United Arab Emirates) (

1949-07-15

)


Role

Vice President of the United Arab Emirates




Children

Hamdan bin Mohammed Al Maktoum


Spouse

Haya bint Hussein (m. 2004), Hind bint Maktoum bin Juma Al Maktoum (m. 1979), Zoe Grigorakos




Siblings

Hamdan bin Rashid Al Maktoum




Parents

Rashid bin Saeed Al Maktoum, Latifa bint Hamdan bin Zayed




Grandparents

Saeed bin Maktoum bin Hasher Al Maktoum





Similar

Rashid bin Saeed Al Maktoum, Saeed bin Maktoum bin Hasher Al Maktoum, Hamdan bin Rashid Al Maktoum
HH Sheikh Mohammed bin Rashid Al Maktoum visits New Emirates First Class Private Suite
PM Modi meets Vice-President & Prime Minister of UAE, HH Mohammed bin Rashid Al Maktoum in Dubai
Sheikh Mohammed bin Rashid Al Maktoum (Arabic: محمد بن راشد آل مكتوم; Muḥammad bin Rāshid al Maktūm; born 15 July 1949), is the Vice President and Prime Minister of the United Arab Emirates (UAE), and ruler of the Emirate of Dubai. Since his accession in 2006, after the death of his brother Sheikh Maktoum, he has undertaken reforms in the UAE's government, starting with the UAE Federal Government Strategy in April 2007. In 2010 he launched the UAE vision 2021 with the aim of making the UAE one of the best countries in the world by 2021.
Contents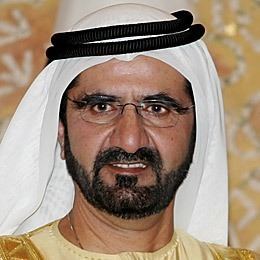 He is responsible for the growth of Dubai into a global city, as well as the launch of a number of major enterprises including Emirates Airline, DP World, and the Jumeirah Group. Many of these are held by Dubai Holding, a company with multi-diversified businesses and investments. Sheikh Mohammed has overseen the development of numerous projects in Dubai including the creation of a technology park and a free economic zone, Dubai Internet City, Dubai Media City, the Dubai International Finance Centre, the Palm Islands and the iconic Burj Al Arab hotel. He also drove the construction of Burj Khalifa, the tallest building in the world.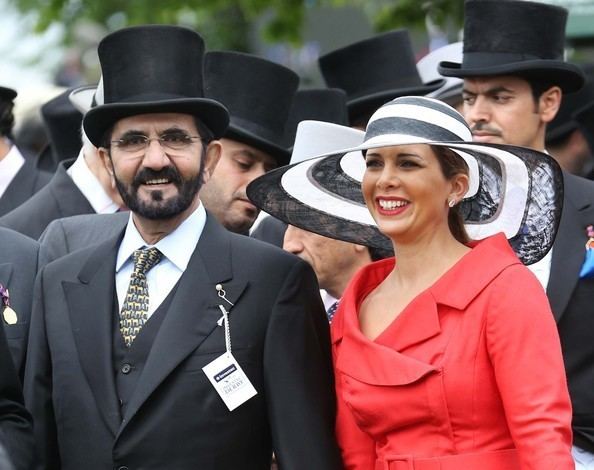 An equestrian, he is the founder of the Maktoum family-owned Godolphin racing stable and the owner of Darley, the thoroughbred breeding operation with operations in six countries. In 2012, he rode the horse Madji Du Pont 160 km to take the FEI World Endurance Championship.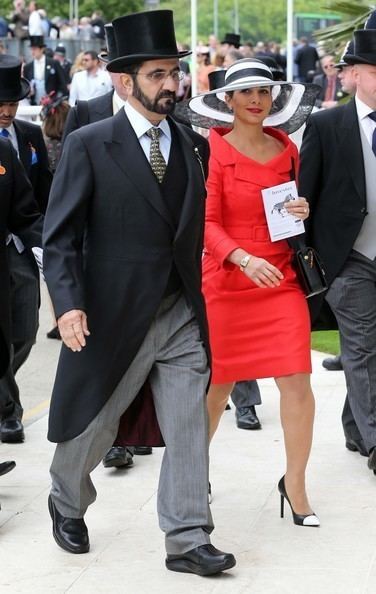 He is a recognised poet in his native Arabic.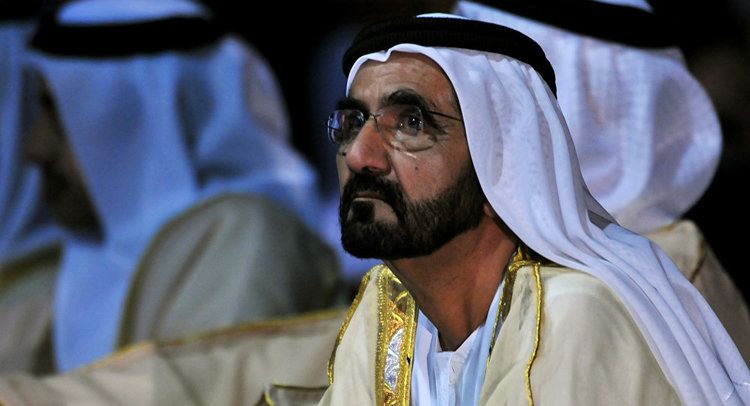 Early life and education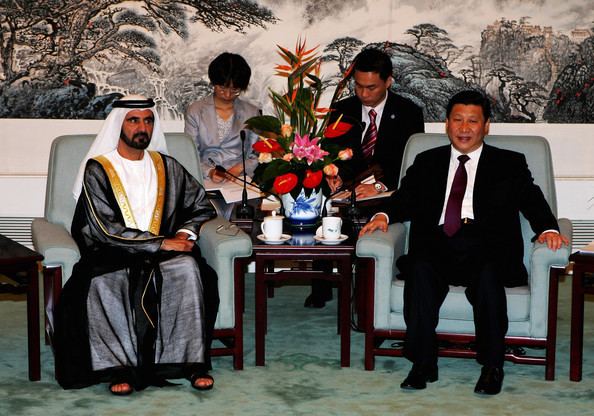 Sheikh Mohammed is the third of Sheikh Rashid bin Saeed Al Maktoum's four sons, members of Dubai's ruling Al Maktoum family and descendants of the House of Al-Falasi, of which Sheikh Mohammed is the tribal leader. His mother was Sheikha Latifa bint Hamdan al-Nahyan, daughter of Hamdan bin Zayed bin Khalifa Al Nahyan, ruler of Abu Dhabi. From the age of four, he was privately tutored in Arabic and Islamic Studies. In 1955, he began his formal education at Al Ahmedia School. At the age of 10, he moved to Al Shaab School, and two years later went to Dubai Secondary School. In 1966, with his cousin Mohammed bin Khalifa Al Maktoum, he attended the Bell Educational Trust's English Language School in the United Kingdom. He subsequently studied at the Mons Officer Cadet School in Aldershot, (which later became part of Sandhurst), passing out with the sword of honour as the top Commonwealth student. He also travelled to Italy to train as a pilot.
As a young man, in January 1968, he was present when Sheikh Rashid and Sheikh Zayed first met in the desert between Dubai and Abu Dhabi at Argoub El Sedira to agree to the formation of a union of emirates following British notification of intent to withdraw from the Trucial States. When the new nation of the United Arab Emirates was founded on 2 December 1971, he became its first Minister of Defence.
Minister for Defence
On his return from military training to Dubai, Sheikh Mohammed's father appointed him head of the Dubai Police Force and the Dubai Defence Force, which was later to become part of the Union Defence Force.
A period of uncertainty and instability followed the Union of the United Arab Emirates, including skirmishes between tribes over property straddling new borders. On 24 January 1972, the exiled former ruler of the Emirate of Sharjah, Saqr bin Sultan Al Qasimi led an insurrectionist coup against the ruler, Khalid bin Mohammed Al Qasimi. Following a spirited firefight between the Union Defence Force and Saqr's forces - mostly Egyptian mercenaries who had entered the UAE through Ras Al Khaimah - Sheikh Mohammed accepted Saqr's surrender. Sheikh Khalid had been killed in the action, leading to the accession of his brother Sultan bin Muhammad Al-Qasimi as ruler of Sharjah.
In 1973, he was involved in protracted negotiations with the hijackers of JAL 404, led by Japanese Red Army member Osamu Maruouka, which landed in Dubai after being hijacked as it departed Schiphol. Although unsuccessful in obtaining the release of the hostages (they were finally freed, and the 747 blown up, in Libya), he was more successful in a later negotiation with the three hijackers of KLM 861, who released the balance of their hostages and handed over the plane in return for safe passage.
Business career
Sheikh Mohammed has been responsible for the creation and growth of a number of businesses and economic assets of Dubai, with a number held by two companies under his ownership, Dubai World and Dubai Holding.
Dubai World was launched on 2 July 2006, as a holding company consolidating a number of assets including logistics company DP World, property developer Nakheel Properties, and investment company Istithmar World. With more than 50,000 employees in over 100 cities around the globe, the group has real estate, logistics and other business investments in the United States, the United Kingdom, and South Africa.
Dubai Holding develops and manages hospitality, business parks, real estate, and telecommunications through four operating units: Jumeirah Group, TECOM Investments, Dubai Properties Group and Emirates International Telecommunications. The company's investment group operating units include Dubai Group and Dubai International Capital.
He also holds a controlling interest in property developer, asset and event management, and investment company Meraas Holding which is currently developing a number of retail, lifestyle and themed developments in Dubai, including Legoland and a Bollywood movie theme park.
Sheikh Mohammed was responsible for the launch of Emirates Airline, as well as heading the development of both Dubai International Airport and Dubai World Central - Al Maktoum International Airport, the 'world's first purpose-built aerotropolis'. He was also behind the establishment of government-owned low cost carrier FlyDubai.
Launch of Emirates Airline
Through the 1970s, as well as his role as head of Dubai Defence Force and UAE Minister of Defence, Sheikh Mohammed oversaw Dubai's energy resources and was in charge of Dubai Civil Aviation. It was in this latter role, in March 1985, that he tasked the then head of DNATA, Maurice Flanagan, with launching a new airline to be called Emirates after a dispute with Gulf Air over Dubai's 'Open Skies' policy. The launch budget of the airline was $10 million (the amount Flanagan said he needed to launch an airline) and its inaugural flight took place on 25 October 1985. Sheikh Mohammed made his (younger) uncle, Ahmed bin Saeed chairman of the new company. A further $75 million in facilities and materials was provided, but Emirates has always maintained it has received no further subsidies throughout the company's meteoric growth to become one of the world's leading airlines.
In 1989, Sheikh Mohammed inaugurated the first Dubai Airshow: in 2013 the exhibition had grown to over 1,000 exhibiting companies, and was the venue for Emirates' placement of the largest aeroplane order in history, with $99 billion combined orders with Airbus for its A380 and Boeing for its 777X.
Dubai Ports World
In 1991, Sheikh Mohammed merged the Jebel Ali Port and Free Zone and Port Rashid to form the Dubai Ports Authority. In 1999, he founded Dubai Ports International to explore overseas acquisitions and management contracts which, in 2005, was folded into the Dubai Ports Authority to form DP World. In 2006, the company acquired P&O for $7 billion. The acquisition led to the 'DP World Controversy' after a number of US politicians and lobbyists raised concerns regarding the safety of six ports acquired by DP World as part of the Peninsular and Oriental Steam Navigation Company (P&O) Acquisition. DP World subsequently divested the ports in question.
A profitable global enterprise, DP World today is one of the largest marine terminal operators in the world. The company operates more than 77 terminals across six continents, with container handling generating some 80% of its revenue.
The Burj Al Arab and Jumeirah
The Burj Al Arab was inaugurated in December 1999. The hotel, constructed from a design by WS Atkins in response to a brief from Sheikh Mohammed to create a truly iconic building, styles itself as 'the world's most luxurious hotel'–. It was constructed on an island offshore from the Jumeirah Beach Hotel, the first property managed by Jumeirah, the hotel management company launched by Sheikh Mohammed in 1997 and headed by ex-Trust House Forte executive Gerald Lawless. In fact, work began on both hotels at the same time, but the island to house the Burj Al Arab required three years to build before construction began above ground. Jumeirah's international expansion, driven after it became part of Dubai Holding in 2004, encompasses 22 hotels in ten countries.
Dubai Internet City and TECOM
On 29 October 1999, Sheikh Mohammed announced Dubai Internet City, a technology hub and free trade zone. Offering companies long leases, full ownership, and fast access to government services, DIC grew from its first tenants in October 2000, to a current zone employing some 15,000 people. In November 2000, it was joined by Dubai Media City, a content and media production-free zone which is co-located with DIC. The launch of DIC came with assurances from Sheikh Mohammed regarding media freedoms. In 2007, he issued a decree banning the imprisonment of journalists following an incident in which local journalists were accused of libel and sentenced to jail terms.
A number of other media and technology-related free zones have since been established by holding company TECOM in Dubai, including: the International Media Production Zone, Dubai Silicon Oasis, Dubai Studio City, Dubai Healthcare City, Dubai Industrial City and Dubai Knowledge Village.
Palm Islands
Developed by Nakheel Properties, part of Dubai World, the development of the three planned Palm Islands was halted by the global financial crisis of 2009. The first of the islands, the Palm Jumeirah, has been completed and developed, while the second, the Palm Jebel Ali, has completed land reclamation but not been further developed. The third and largest Palm, the Palm Deira, has been scaled back and re-launched as the Deira Islands.
Burj Khalifa
On 4 January 2010, Sheikh Mohammed opened Burj Khalifa, the world's tallest building, with a display of some 10,000 fireworks. It forms the centre of the $20 billion downtown Dubai development of mixed use towers, buildings, and retail outlets. The development is also home to the world's largest shopping mall by total area in the world, The Dubai Mall. Originally conceived as a development around an 80-story tower, the project team was sent away to return with "the greatest neighbourhood known to man". He has said of the tower that it is "a national accomplishment, a historic milestone and a key economic turning point. It is a symbol of pride, not only to the Emirati people but to all Arabs."
Political reform
On 3 January 1995, Sheikh Mohammed's elder brother Maktoum bin Rashid Al Maktoum signed two decrees that appointed him Crown Prince of Dubai. Sheikh Mohammed, at the time of being appointed crown prince, also served as Minister of Defence. A position held since 9 December 1971.
After roughly a decade of de facto rule, he became the Ruler of Dubai on 4 January 2006 upon the death of Maktoum bin Rashid Al Maktoum. The following day, the Federal National Council selected him as the new Vice President of the UAE. On 11 February, the Council approved President Khalifa bin Zayed Al Nahyan's nomination of Sheikh Mohammed for Prime Minister.
In April 2007 Sheikh Mohammed announced a strategic review of the Federation's governance at both the Federal and local government levels. The UAE Federal Government Strategy, a process of strategic reform intended to address a lack of co-ordination and strategic planning in government, as well as policy making issues and deficiencies in the legislative and regulatory framework, would work on improvements in social development, economic development, public sector development, justice and safety, infrastructure, and rural development.
This was followed by the announcement in February 2010 of Vision 2021, a long term strategy and national agenda.
Mohammed Bin Rashid School of Government
The Mohammed bin Rashid School of Government (Previously the Dubai School of Government) is an academic and research institution in the area of public policy and administration focused on the United Arab Emirates and the Arab world. Established in 2005, the School aims to promote and support excellence in governance through enhancing the region's capacity for effective public policy.
Toward this goal, the school maintains ties, and collaborates with, regional and global institutions in its research and training programs, and organizes policy forums and international conferences to facilitate the exchange of ideas and promote critical debate on public policy in the Arab world.
The School supports research and teaching programs including: applied research and master's degree in public policy and management; executive education for senior officials and executives; and knowledge forums for scholars and policy makers.
Moves against corruption
Signalling a zero tolerance policy towards corruption in government, in 2001, Sheikh Mohammed ordered the arrest of Obaid Saqr bin-Busit, the head of Dubai Customs and the chairman of the World Customs Association. Busit and two aides, as well as three other employees, had been the subject of a two-year investigation for corruption. The high-profile arrests caused widespread shock and were followed by a slew of arrests of public officials later that month; in all, fourteen officials, including six senior officers, were arrested and charged with offences related to corruption. Unusually, the officials were publicly 'named and shamed'. More recently, the downturn exposed issues related to corruption at government-owned Dubai real estate company Deyaar. The investigation team was granted "unprecedented powers of scrutiny" by Sheikh Mohammed. The CEO of the company was found guilty of earning Dhs20 million by misusing his powers and sentenced to a 10-year jail term.
Mohammed has been recorded to make surprise visits to ministerial departments and publicly humiliating offices in which staff had not been available.
Mohammed Bin Rashid Global initiatives (MBRGI)
Mohammed Bin Rashid Al Maktoum developed a vision to promote humanitarian, developmental and community work, building on sustainable, positive changes through development projects and programs, aimed at improving life. In order to reflect this vision, the Mohammed Bin Rashid Al Maktoum Global Initiatives (MBRGI) was launched, as a humanitarian and community development foundation, primarily with the aim of making hope happen and build the future.
Under the Mohammed Bin Rashid Al Maktoum Global Initiatives, 33 foundations and initiatives implement more than 1,400 development programs, contributing to the support of more than 130 million people in 116 countries over the past years, in collaboration with more than 280 strategic partners, including governmental institutions, private sector companies, as well as regional and international organizations.
The Mohammed Bin Rashid Al Maktoum Global Initiatives seeks to achieve integration in order to meet the people and communities' needs, whether they are basic - such as water, food and medicine -, knowledge-related - such as education and culture -, community-based – such as tolerance and community cohesion –, or future-related – such as supporting young people and entrepreneurs' dreams, embracing innovators and creators and shaping the future, in order to build a better tomorrow. MBRGI consists of various humanitarian, development and community institutions, initiatives and programs, which were launched and sponsored by Sheikh Mohammed Bin Rashid Al Maktoum over twenty years to serve humanity in various fields. Hence, MBRGI seeks to achieve integration and coordination so as to optimize its role, multiply its impact, and unify its objectives and visions in line with the challenges facing the entire world.
The Mohammed Bin Rashid Al Maktoum Global Initiatives takes a step towards a new phase of global, humanitarian work, driven by huge organizations in which efforts are integrated, energies are united and resources are mobilized in order to achieve desired objectives and goals.
In 2016, the Mohammed Bin Rashid Al Maktoum Global Initiatives' total expenditure amounted to AED 1.5 billion. In this respect, 42 million people in 62 countries around the world benefited from all of the MBRGI initiatives, programs and projects, covering the following five main sectors: Humanitarian Aid and Relief, Healthcare and Disease Control, Spreading Education and Knowledge, Innovation and Entrepreneurship, and Empowering Communities, with a total expenditure of AED 252 million, AED 224 million, AED 590 million, AED 377 million and AED 79 million, respectively.
Following are the names of the institutions, falling under the framework of the Mohammed Bin Rashid Al Maktoum Global Initiatives, in accordance with MBRGI main sectors, as set forth in the Year in Review 2016 Report:
Humanitarian aid and relief
The International Humanitarian City (IHC)
The Mohammed Bin Rashid Al Maktoum Humanitarian and Charity Est.
UAE Water Aid
UAE Food Bank
Healthcare and disease control
Al Jalila Foundation
Noor Dubai
Spreading education and knowledge
Dubai Cares
The Mohammed Bin Rashid Al Maktoum Knowledge Foundation
The Knowledge Summit
The Mohammed Bin Rashid Al Maktoum Knowledge Award
The Mohammed Bin Rashid Arabic Language Award
The Mohammed Bin Rashid Library
The Arab Reading Challenge
Innovation and entrepreneurship
The Mohammed Bin Rashid Establishment for SME Development (Dubai SME)
The Mohammed Bin Rashid Award for Young Business Leaders
The Mohammed Bin Rashid Al Maktoum Business Award
The Young Entrepreneurs Competition
Dubai Future Foundation
The Mohammed bin Rashid Al Maktoum Global Water Award
Empowering communities
Hope Makers
The Arab Journalism Award
The Arab Social Media Influencers Summit
The Arab Social Media Influencers Awards
The Arab Media Forum
The Mohammed Bin Rashid Center for Leadership Development (MBRCLD)
The Mohammed Bin Rashid School of Government (MBRSG)
The Sheikh Mohammed Bin Rashid Al Maktoum Patrons of the Arts Award
The Mohammed Bin Rashid School for Communication (MBRSC)
The Mohammed Bin Rashid Al Maktoum Creative Sports Award
Dubai International Sports Conference
The Mohammed Bin Rashid Global Centre for Endowment Consultancy (MBRGCEC)
Sheikh Mohammed Centre for Cultural Understanding (SMCCU)
Aid to Palestine
Sheikh Mohammed has made a number of charitable donations to Palestinian causes in its struggle against Israeli occupation. This includes a grant of 600 houses to Gaza following the Israeli incursions of 2009, when he cancelled New Year celebrations and the official opening of the Dubai Shopping Festival to mark solidarity with the Palestinians, as well as donations for refugees displaced by Israeli actions. Reflecting widespread public reaction to the events, and part of a groundswell of donations from prominent Emirati citizens, he also dedicated his victory and prize money from winning a major endurance race in Bahrain on 10 January 2009 to the Palestinian people.
He has frequently alluded to the need to pursue a two state solution and negotiate a settlement to the Palestinian issue before any normalisation of relations with Israel.
Aid to Afghanistan
Having called for US restraint in Afghanistan both in public and in meetings with US officials, Sheikh Mohammed moved to donate $2mn for temporary housing for those displaced by the US bombing campaign of 2001/2002. The move sparked a wave of donations from wealthy and notable Emiratis as news of widespread dislocation and need by Afghan civilians as a result of the strikes spread and led to the establishment of a village in Kandahar to house displaced families. The following year, some 15,000 refugees were repatriated from the Afghan/Pakistan border where they had been housed in the temporary accommodation.
Aiding mosque construction in the Netherlands
In 2000, Sheikh Mohammed donated €4 million for the construction of the Essalaam Mosque in Rotterdam, the Netherlands.
In June 2017, two new initiatives were added to the Mohammed Bin Rashid Al Maktoum Global Initiatives, within the "Empowering Communities" sector, namely the "International Institute for Tolerance" and the "Sheikh Mohammed Bin Rashid Award for Tolerance". In this respect, Sheikh Mohammed Bin Rashid Al Maktoum issued Law No. (9) of 2017 on the Establishment of the International Institute for Tolerance and Decree No. (23) of 2017 on the Formation of a Board of Trustees and Decree No. (28) of 2017 on the Appointment of a Managing Director for the International Institute for Tolerance. In this respect, Law No. (9) of 2017 includes the launch of the "Sheikh Mohammed Bin Rashid Award for Tolerance", administered in accordance with the provisions and statute of said Law. Hence, the establishment of the International Institute for Tolerance aims at instilling a spirit of tolerance across the community, building a cohesive society, strengthening the UAE's standing and position as a model of tolerance, as well as renouncing extremism and all forms of discrimination among people on the basis of religion, sex, race, color or language, in addition to honoring all entities and institutions contributing to the promotion of tolerance and open, interfaith dialogue.
Sporting interests
Sheikh Mohammed is a major figure in international thoroughbred horse racing and breeding. He owns Darley Stud, the biggest horse breeding operation in the world with farms in the United States, Ireland, England, and Australia. In 1985 he bought the Irish Thoroughbred Park Appeal for an undisclosed sum at the end of her second season. She went on to produce at least nine winners from twelve foals and is the ancestor of many successful horses.
Sheikh Mohammed had raced horses as a child (he would share his breakfast with his horse on the way to school) but he attended his first formal race at Newmarket in 1967, with his brother Hamdan, watching Royal Palace win the 2,000 guineas. Becoming an owner in his own right, ten years later he won his first race with Hatta at Brighton. And five years after that, he and Hamdan had three studs and 100 horses under training.
In late 1981, he purchased Gainsborough Stud at Woolton Hill, near Newbury, Berkshire, United Kingdom. He owns Ballysheehan Stud in County Tipperary, Ireland; as well as Gainsborough Farm Inc. in Versailles, Kentucky, United States. His racing operations include the ownership of Darley Stables and he is the leading partner in his family's Godolphin Stables. Sheikh Mohammed hosts the Dubai World Cup at Meydan Racecourse.
By 1992 Sheikh Mohammed had started 'wintering' his horses in Dubai, frequently against the advice of trainers and pundits in the UK. The results were a string of high-profile wins, and by 1994 he founded Godolphin. In 1995, his hands-on approach to racing resulted in a major split with leading trainer Henry Cecil after a disagreement over racing a horse Mohammed insisted was injured. Cecil took the argument public and Mohammed removed all his horses from Cecil's stable.
Godolphin's first win, Balanchine taking the Oaks at Epsom Downs, England, in 1994, was to mark the beginning of a winning streak with horses such as: Lammtarra, Daylami, Fantastic Light, Street Cry, Sulamani, Dubawi, and Ramonti among them. Dubai Millenium, said to be Sheikh Mohammed's favourite, won nine of his ten starts before succumbing to injury followed by grass sickness in 2001.
In 1996, the Dubai World Cup was inaugurated as the world's richest horserace, drawing the legendary American dirt track horse Cigar to race in Dubai. Today, held at the Meydan Racecourse, the race meeting carries a prize of $27 million.
In the UK, his horses have won Group One races including several of the British Classic Races. His horses have also won the Irish Derby Stakes, the Prix de l'Arc de Triomphe and, the 2006 Preakness Stakes with Bernardini in the US. In 2008, he bought the Woodlands Stud empire for more than $460 million.
At the age of 63, Sheikh Mohammed won the 2012 World Endurance Championship over a 160 km course. Both his thoroughbreds and endurance horses have failed drug tests - although his trainers (including Mahmood Al Zarooni) have accepted the blame. His endurance racing stable has also been involved in other scandals, including both fatal injuries, and ringers.
In 2015 world equestrianism's governing body Fédération Équestre Internationale (FEI) took the dramatic step of suspending the United Arab Emirates from the sport following scandals over horse welfare, doping, the use of ringers, and phantom races. Ingmar de Vos, FEI president, said that "indeterminate suspension" was "the only option left" after UAE riders – many from stables owned by the ruling families of Dubai and Abu Dhabi, the Maktoums and the Nayhans – failed to reduce catastrophic horse injuries or adhere to FEI rules during their current winter season. The FEI has previously been criticised for its passive stance over doping, horse fatalities, and the use of ringers in the UAE. But it appears to have grown some teeth following the end of the eight-year FEI presidency of Sheikh Mohammed's wife Princess Haya last December and the global outcry over Splitters Creek Bundy, the horse photographed with two broken forelegs while a motorcade drove past.
In the 15th Asian Games in 2006, his son Rashid took the individual gold in endurance riding. His sons Rashid, Ahmed, Majid, and, Hamdan took the team gold in endurance riding, his niece Latifa took a bronze in show jumping, and his daughter Maitha led the UAE team in taekwondo. In 2013 when the UAE National football team won the Gulf Cup, Sheikh Mohammed gave the team 50 million dirhams ($13.7 million). His wife awarded the team a further 25 million dirhams ($6.8 million), while the pair's grandsons contributed 12 million dirhams ($3.3 million).
Cultural humanitarianism
Sheikh Mohammed is a poet in classical Arabic as well as the Bedouin (colloquial) Nabati style. He started writing poetry as a young man, using pseudonyms such as 'Saleet' so his poetry would not be associated with the son of the then Ruler of Dubai. He received encouragement from the poet Fatat Al Arab, when she composed a reply to one of his earliest poems.
In 1998, he set up the Sheikh Mohammed bin Rashid Centre for Cultural Understanding (SMCCU), a not-for-profit organisation that aims to raise awareness and demystify the local culture, customs, and religion of the United Arab Emirates. Operating under the motto "Open Doors. Open Minds", SMCCU aims to improve cross-cultural understanding and communication between UAE locals and guests visiting or residing in the UAE. An initiative by Sheikh Mohammed in 2015 saw Dubai's Metro stations turned into art galleries in the period leading up to Art Dubai 2015.
Patrons of the Arts Awards
Sheikh Mohammed established the Mohammed bin Rashid Al Maktoum Patrons of the Arts Awards in March 2009 to honour individuals and organisations who have contributed towards arts development in Dubai. The award allows artists and projects to benefit from the private sector's support under four categories: Distinguished Patrons of the Arts (AED 15 million), Patrons of the Arts (AED 2–5 million), Supporters of the Arts (AED 500,000), and Friends of the Arts (AED 50,000–50,0000). The award aims to grant financial or in kind support to the visual and performing arts, literature, and film sectors, which contribute to enriching the artistic and cultural scene in Dubai.
Knowledge Award
The Mohammed Bin Rashid Al Maktoum Foundation's $1 million Mohammed bin Rashid Al Maktoum Knowledge Award was inaugurated on 7 December 2014, the first award being made jointly to the computer scientist and inventor of the World Wide Web, Sir Tim Berners-Lee and entrepreneur and co-founder of Wikipedia, Jimmy Wales "in recognition of their efforts and contributions in the field of spreading knowledge throughout the world." The award, which was shared equally, was presented by Shaikh Ahmed bin Mohammed, chairman of the Mohammed Bin Rashid Foundation, in the presence of Shaikh Mohammed bin Rashid Al Maktoum, vice-president and prime minister of the United Arab Emirates and Ruler of Dubai.
Yacht
Sheikh Mohammed bin Rashid Al Maktoum owns the yacht Dubai, built by the German company Blohm + Voss and designed by English designer Andrew Winch who owns Winch Design. The yacht is 162m long and is the world's third largest yacht (2014) and can host up to 115 people including crew. Another personal yacht of the Sheikh, is the 40 metre Alloya. Built by Sanlorenzo in 2013.
Controversies
In 2006, a UNICEF-sponsored program with the UAE government resulted in the repatriation of hundreds of children formerly enslaved as camel jockeys, and provided them with social services and compensation upon return to their home countries of Pakistan, Sudan, Mauritania, and Bangladesh. The UAE government set aside US$2.7 million in initial funding in 2005 with an additional US$9 million for the second phase, and to enforce compliance, adopted a law officially banning the practice with penalties of jail time and a $US27,200 fine. UNICEF endorsed the UAE's efforts and expressed the hopes that "the UAE's programme will serve as a model to other countries in the region, as a means of ending all forms of exploitation of children."
In September 2006, Sheikh Mohammed was accused of encouraging the abduction and enslavement of thousands of boys for use as jockeys in camel races. A class-action suit was filed against him in the US state of Florida. In 2006, American lawyers representing the UAE raised a motion to dismiss the lawsuit on the grounds that none of the involved parties resided in the U.S., arguing that the UN program best served the interests of the children. In July 2007, judge Cecilia Altonaga accepted the motion and dismissed the suit.
On 9 March 2007, the London-based Metro newspaper wrongly published a picture of Sheikh Mohammed, attributing it to the terror suspect Khalid Shaikh Mohammed. It apologised for the error.
In July 2013, following international pressure and extensive media coverage, Sheikh Mohammed pardoned Marte Dalelv, who, after she reported being raped, was convicted of extramarital sex and alcohol consumption.
In October 2013, scandal returned to Sheikh Mohammed in the venue of horseracing, with reports of potentially toxic and dangerous steroids, anesthetics, and anti-inflammatory drugs being shipped into UAE, mislabeled as "horse tack". The Telegraph commented that a "PR campaign is already under way, with Sheikh Mohammed again cast as a victim of employee malpractice."
Marriage and family
Sheikh Mohammed has had at least six wives in his life. His most famous wife is his first cousin Hind bint Maktoum bin Juma Al Maktoum, a member of Dubai's ruling family by birth, whom he married in 1979. She is the First Lady of Dubai, and the mother of twelve of Sheikh Mohammed's children including his heir-presumptive, Hamdan bin Mohammed Al Maktoum (born 1982), the Crown Prince of Dubai. In September 2015, Mohammad's eldest son Sheikh Rashid bin Mohammed died of a heart attack.
His second most known wife is Haya bint Al Hussein, daughter of King Hussein of Jordan and half-sister of King Abdullah II of Jordan. The couple married on 10 April 2004, and have two children, a daughter, Al-Jalila, born 2 December 2007, and a son, Zayed, born 7 January 2012. Sheikh Mohammed announced the arrival of his son Zayed on Twitter. The first woman to represent her native Jordan in international equestrian sport and a participant in the 2000 Summer Olympics in show jumping, she served two terms as President of the International Federation for Equestrian Sports.
His family wealth is estimated to be "in excess of" US$4 billion.
Children
Sheikh Mohammed has twenty-three children, from different wives; nine sons and fourteen daughters, four daughters married into royal families in the Middle East:
Manal bint Mohammed bin Rashid Al Maktoum (born 1977), married to Mansour bin Zayed Al Nahyan of Abu Dhabi and second cousin once removed.
Hessa bint Mohammed bin Rashid Al Maktoum (born 1980), married to Saeed bin Dalmouk Al Maktoum of Dubai, and first cousin once removed.
Latifa bint Mohammed bin Rashid Al Maktoum (born 1989), married to Mohammed bin Hamad bin Mohammed Al Sharqi, Crown Prince of Fujairah and her second cousin.
Shaikha bint Mohammed bin Rashed Al Maktoum (born 1992), married to Nasser bin Hamad Al Khalifa of Bahrain.
Shaika Latifa bint Mohammed bin Rashid Al Maktoum (the first), married to Sheikh Faisal Saud bin Khalid H Al Qassimi from royal family of Ras al-Khaimah.
References
Mohammed bin Rashid Al Maktoum Wikipedia
(Text) CC BY-SA