Covid-19
6.6

/

10

1

Votes

Alchetron

Rate This




The Math Club Music




Shea Fontana




English






YouTube




Sam Register






Shea Fontana Lisa Yee Aria Moffly




Characters published from DC Comics




Shea Fontana Nina G. Bargiel




Jennifer Coyle Cecilia Aranovich




Grey Griffin Anais Fairweather Teala Dunn Tara Strong Mae Whitman




Action fiction, Adventure Film, Superhero fiction, Comedy-drama




DC Super Hero Girls: Super He, Gotham Girls, Super Friends, The Marvel Super Heroes, Elena of Avalor





YouTube

Facebook

Instagram
DC Super Hero Girls or DC Superhero Girls (in various countries) is an American super hero action figure franchise created by DC Comics (a subsidiary of Time Warner) and Mattel that launched in the third quarter of 2015.
At Super Hero High School, well-known DC heroes, both male and female, attend challenging classes and deal with all the awkwardness of growing up with the added stress of having unique superpowers.
DC Super Hero Girls has various characters inspired by DC Universe. The characters listed below are listed on franchise's website:
Batgirl

(voiced by Mae Whitman) – A techno wizard, she was accepted to Super Hero High solely based on her intelligence. She more than makes up for not having powers with her martial arts expertise, her well-honed detective skills, and her computer genius.
Bumblebee

(voiced by Teala Dunn) – A social butterfly, she uses her abilities to spy on super-villains to ensure that her team is always prepared for any scheme. Her powers include shrinkability, sonic blasts, and enhanced strength. This tech genius is outgoing and energetic.
Harley Quinn

(voiced by Tara Strong) – The resident class clown, she dedicates herself to spectacular pranks and endless puns. This unpredictable jokester and quick-witted acrobat makes it her job to create fun.
Katana

(voiced by Stephanie Sheh) – An artist with an edge, she loves to blend her love of art and fashion to create a killer look. Fearless Katana is a skilled martial artist and swordswoman. She considers her blade a part of her and often speaks to it.
Poison Ivy

(voiced by Tara Strong) – A garden variety misfit, she gained her powers from an experiment gone awry. This shy science genius cannot only control plants but accelerate their growth. Idealistic, Poison Ivy is an ally of plant-kind.
Supergirl

(voiced by Anais Fairweather) – A kind person, she is always ready to save the day and to help others. Her powers include heat vision and super-strength. People describe her as a clumsy and optimistic person.
Wonder Woman

(voiced by Grey Griffin) – A natural born leader, she comes from paradise island of Themyscira, a place full of warrior women. Wondy, as she is called, uses her modified Themysciran steel shield, bulletproof bracelets, and lasso of truth to make the world a better and safer place. She is known to be courageous and competitive.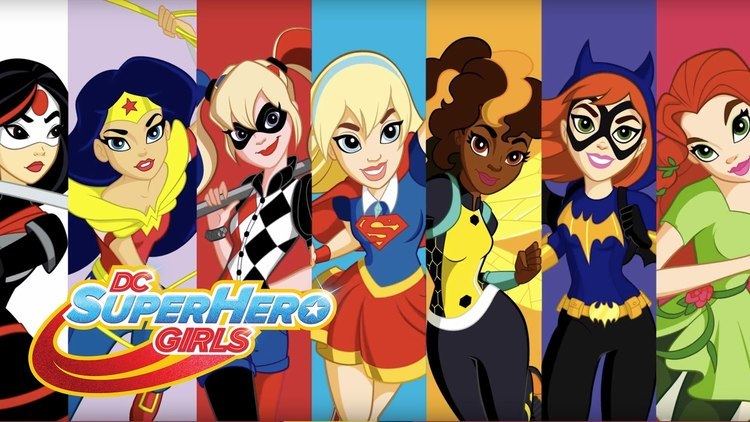 Beast Boy

(voiced by Greg Cipes) – Beast Boy is a loyal friend and a shape-sifter that can transform into any animal he wants. He is silly, goofy and the life of any party but can be serious when he has to.
Catwoman

(voiced by Cristina Pucelli) – An orphan from Gotham City, she is a feisty feline who learned that she can only count on herself.
Cheetah

(voiced by Ashley Eckstein) – Ruling Super Hero High with an iron paw, her charisma draws others to her but she isn't afraid to cheat to get what she desires.
Hal Jordan

(voiced by Josh Keaton) – He is charming, smart, and charismatic save-ball superstar.
Hawkgirl

(voiced by Nika Futterman) – She, as hall monitor, ensures that students always follow the rules. She plans her day to the minute.
Star Sapphire

(voiced by Jessica DiCicco) – She is the misunderstood, always attractive (if she says so herself) resident diva.
Starfire (voiced by Hynden Walch) - a friendly warrior princess from the planet Tamaran, but is a down-to-earth girl. Her most used abilities include flight, superhuman strength, and bright green-colored energy bolts called "starbolts" that she fires from her hands. With her exotic alien beauty, she is truly a supermodel.
Cyborg (voiced by Khary Payton) - The half human, half robot. He has extensive knowledge in technology and can use his sonic cannon to blast enemies. His robot armor gives him super strength, heat resistance, enhanced durability and semi-invulnerability. He usually teams up with his good friend Starfire.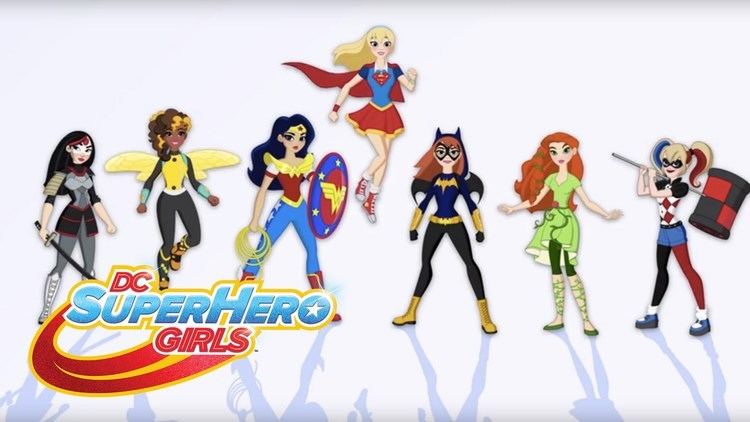 Trigon (Voiced by Kevin Michael Richardson)- A supremely powerful demon from another world who possesses great powers. He is the father of superhero Raven. At one point, he fought and was beaten by Starfire and Cyborg's teamwork.
Granny Goodness (voiced by April Stewart)
Female Furies- A team of villainous teenagers from Apokolips. Their membership consists of Big Barda, Lashina, Stompa, Mad Harriet, Artemiz, and Speed Queen.
Eclipso (voiced by Mona Marshall)
Dark Opal (voiced by Sean Schemmel)
Giganta (voiced by Grey Griffin)
Lena Luthor (voiced by Romi Dames)
The franchise was announced in April 2015. The range is to include books from Random House, Lego tie-ins and action figures from Mattel.
The website was launched in early July 2015. Characters featured at launch were Wonder Woman, Batgirl, Supergirl, Harley Quinn, Poison Ivy, Katana, and Bumblebee. Other characters including Hal Jordan, Barry Allen, Star Sapphire, Beast Boy, Cheetah, Hawkgirl and Catwoman also appear. Amanda Waller is featured as the principal of the series' setting Super Hero High. Many other DC Comics Heroes and Villains appear in the background as cameos.
Grey Griffin as Wonder Woman, Giganta, Korugarian
Anais Fairweather as Supergirl
Mae Whitman as Barbara Gordon / Batgirl, Speed Queen
Tara Strong as Harley Quinn, Poison Ivy, Raven
Teala Dunn as Bumblebee, Artemiz
Stephanie Sheh as Katana
Ashley Eckstein as Cheetah
Jessica DiCicco as Star Sapphire
Hynden Walch as Starfire
Nika Futterman as Hawkgirl
Danica McKellar as Frost
Lauren Tom as The Double Dare Twins
Yvette Nicole Brown as Principal Amanda Waller
Greg Cipes as Beast Boy
Josh Keaton as Hal Jordan, Barry Allen/Flash, Steve Trevor
Maurice LaMarche as Red Tornado
Masasa Moyo as Lightning
Cristina Pucelli as Catwoman, Miss Martian
Phil LaMarr as Lucius Fox, Killer Moth
John DiMaggio as Wildcat, Vice-Principal Gorilla Grodd, Darkseid
Tom Kenny as Crazy Quilt, Commissioner James Gordon, Parasite
Helen Slater as Martha Kent
Tania Gunadi as Lady Shiva
Fred Tatasciore as Killer Croc, Perry the Parademon, Solomon Grundy, Swamp Thing
April Stewart as Granny Goodness, Stompa
Misty Lee as Big Barda, Mad Harriet
Alexis G. Zall as Lois Lane
Khary Payton as Cyborg, Firefly
Anna Vocino as Oracle
Kevin Michael Richardson as Trigon
Romi Dames as Lena Luthor
Cree Summer as Thunder
The DC Super Hero Girls has a series of animated shorts on YouTube and their site centered on the young heroes and villains attending Super Hero High. The first episode premiered on October 1, 2015. The second season premiered on April 21, 2016.
There are two types of books that are being released, young reader novels from Random House and graphic novels from DC Comics
DC Super Hero Girls - Past Times at Super Hero High (7th of October 2016)
DC Super Hero Girls Wikipedia