Birth name

Michael John Lockwood




Role

Professional wrestler




Billed from

Mobile




Debut

1989




Trained by

Michael Modest, Tazz


Name

Crash Holly










Born

August 25, 1971Anaheim, California, US (

1971-08-25

)


Ring name(s)

CrashCrash HollyErin O'GradyThe Green GhostJohnny PearsonMad Mikey




Billed weight

212 lb (96 kg)"Allegedly well over 400 lb (181kg)" (1999)




Died

November 6, 2003, Navarre, Florida, United States


Similar People

Hardcore Holly, Molly Holly, Steve Blackman, Spike Dudley



Billed height

5 ft 11 in (1.80 m)



The headbangers attack crash holly at fun time usa smackdown march 16 2000
Michael John Lockwood (August 25, 1971 – November 6, 2003) was an American professional wrestler. He was best known for his appearances with the World Wrestling Federation/World Wrestling Entertainment from 1999 to 2003 under the ring names Crash Holly or simply Crash.
Contents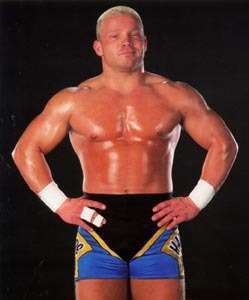 Lockwood debuted in 1989 and spent a decade wrestling on the independent circuit before joining the World Wrestling Federation in 1999 as Crash Holly. He formed a tag team with his kayfabe cousin Hardcore Holly, with whom he won the WWF World Tag Team Championship. The Holly Cousins was expanded into a stable with the addition of Molly Holly in 2000. During his WWF/WWE career, Lockwood held the WWF/WWE Hardcore Championship on 22 occasions, with many of his reigns coming during a period when the title was defended "24/7". After being released from WWE in June 2003, Lockwood joined NWA Total Nonstop Action as Mad Mikey, where he remained until his death later that year.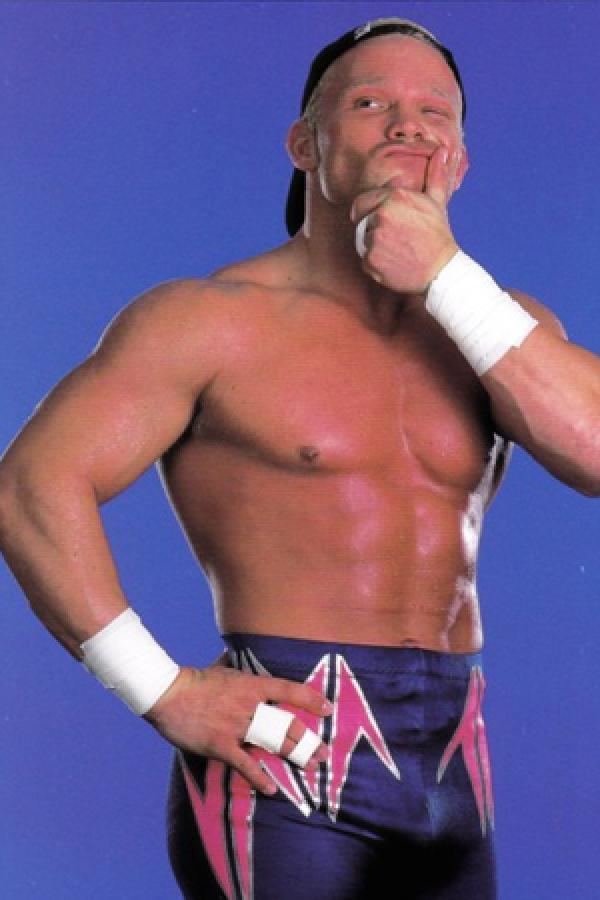 In addition to his 22 reigns as WWF/WWE Hardcore Champion and single reign as WWF World Tag Team Champion, Lockwood was a one-time WWF European Champion, and one-time WWF Light Heavyweight Champion.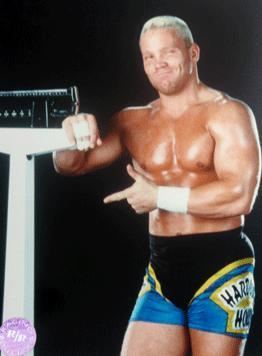 Early career (1989-1999)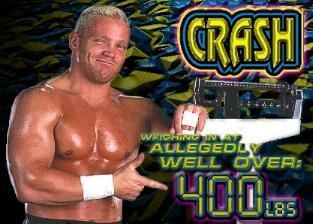 Lockwood debuted in 1989, as Johnny Pearson in Bay Area Wrestling, where he wrestled until 1994. He dislocated his shoulder about five times, and took 18 months off to recover. He then wrestled on the independent circuit as "Irish" Erin O'Grady. In 1996, he joined All Pro Wrestling (APW), where he became known as "The Leprechaun" Erin O'Grady and had several matches with Vic Grimes.
After viewing a tape of a match between O'Grady and Michael Modest, Extreme Championship Wrestling (ECW) wrestler Taz referred Lockwood to ECW owner, Paul Heyman. Erin O'Grady lost four untelevised matches in November 1997, including a dark match at November to Remember.
O'Grady wrestled Grimes in a try-out match for the World Wrestling Federation (WWF) on January 20, 1998, and both were signed to contracts. They were sent to Power Pro Wrestling, the WWF's developmental promotion, to train. Here, they won the PPW Tag Team Championship together and O'Grady won the Power Pro Wrestling Young Guns Championship.
WWF Talent Coordinator Bruce Prichard sent Lockwood to Mexico, to prepare him for the style of the WWF's lucha libre show, WWF Super Astros. He wrestled in Monterrey for three months, under a mask, as The Green Ghost (a play on the word "gringo").
World Wrestling Federation/Entertainment (1999-2003)
Lockwood debuted as Crash Holly, the storyline cousin of Bob "Hardcore" Holly, on the August 16, 1999 episode of Raw is War They became known as The Holly Cousins. Their relationship was a strained one, and Hardcore frequently threatened Crash. When they took the gimmick of claiming to be "super heavyweights", over 400 lb each, Crash would carry a scale to ringside to "weigh in" before matches.
Crash made his pay-per-view debut at SummerSlam in August, where The Holly Cousins wrestled in a Tag Team Turmoil match, won by the Acolytes Protection Agency.
On October 17, at No Mercy, The Holly Cousins defeated The New Age Outlaws by disqualification. The next night on Raw is War, they defeated The Rock 'n' Sock Connection for the Tag Team Championship. They held the title until the November 4 SmackDown!, when they lost it to Mankind and his new partner, Al Snow.
In early 2000, Crash Holly joined the hardcore division. On the February 24 episode of SmackDown!, he defeated Test to begin his first of 22 Hardcore Championship reigns. He decreed that he must defend the championship twenty four hours a day, seven days a week, which later became known as the "24/7 Rule". This meant that the title was permanently contested, not just in sanctioned matches, and could change hands anywhere, anytime anyone pinned the champion, so long as a WWF referee counted the fall. Holly was frequently attacked by other wrestlers in unlikely locations, including an airport, a funhouse, a circus, and his hotel room. Though he was often pinned, he usually immediately regained the title. His most common tactic was to sneak a pin, often after the champion had been beaten down by someone else, and quickly run backstage, away from possible challengers. This turned him into a crowd favorite and earned him the nickname "The Houdini of Hardcore". He frequently defended the championship against non-wrestlers, including referees and road agents, like Gerald Brisco and Pat Patterson. He had a long feud with The Mean Street Posse (Pete Gas, Rodney and Joey Abs) over the title. He even lost, and quickly regained, the title against one of the Godfather's hos. At Rebellion, Crash defeated William Regal to win the WWF European Championship. He re-lost the title to Regal two days later.
In late 2000, another of Crash's storyline cousins, Molly Holly, was introduced. In 2001, The Holly Cousins feuded with The Dudley Boyz. In the course of this feud, Molly began a romantic relationship with Spike Dudley, leading to internal disputes within each family, as well as a Romeo and Juliet-style angle between the six of them.
On the March 18, 2001 episode of Heat, Crash defeated Dean Malenko to win the Light Heavyweight Championship. He defended it on two episodes of Heat, against Funaki and Grandmaster Sexay, before dropping it to the debuting Jerry Lynn on the April 29 episode. In May 2001, Holly and Hardcore briefly reunited as a lower card team.
When the WWF was renamed World Wrestling Entertainment and divided into two Raw and SmackDown brands, Holly was assigned to the Raw roster, where he had little success. He jumped ship to SmackDown! on the September 2, 2002 episode of Raw during a match with Jeff Hardy. Earlier, Raw General Manager Eric Bischoff was informed that a Raw wrestler would leave to reunite with a relative on SmackDown!, and ordered a beatdown on Hardy, who he wrongly suspected of planning to join his brother, Matt Hardy.
In his first SmackDown! match, on September 5, he defeated The Hurricane. He then feuded with Cruiserweight Champion Jamie Noble. On the October 3 SmackDown!, Noble defeated Holly to retain the title.
On the December 19 SmackDown!, Holly teamed with Bill DeMott to defeat Noble and Nunzio. After the match, DeMott turned on Holly and attacked him. This led to a match on the next SmackDown!, which DeMott won.
After being sidelined for four months, Holly returned on the April 24, 2003 episode of SmackDown!. He soon joined Matt Hardy and Shannon Moore in the Mattitude Followers (abbreviated "MF'er") stable. As Crash was Moore's alleged apprentice, Hardy also referred to him as a "Moore-on". His last several matches with the company were tag matches with Moore, as well as house show matches against newcomer Orlando Jordan.
On June 30, 2003, Lockwood was released from WWE.
NWA Total Nonstop Action and independent circuit (2003)
Lockwood signed a contract with NWA Total Non-Stop Action (later known as Total Nonstop Action Wrestling) in July 2003 and debuted as Mad Mikey on July 23, accepting an open challenge from Elix Skipper and losing the match. Mad Mikey was angry at many things, on which he elaborated in promos. He wrestled on nine NWA-TNA weekly PPVs, lastly on October 1.
He briefly wrestled for Pro Wrestling Iron in Hayward, California. In late 2003, Mad Mikey and Rory Fox defeated Quiten Lee and The Human Time Bomb for the Heartland Wrestling Association in what turned out to be Lockwood's final match.
Personal life
Lockwood was born in Anaheim, California, and raised in Pacifica, California, where he graduated from Terra Nova High School. He became interested in professional wrestling in the eighth grade, inspired by Brady Boone. While training as a wrestler and working on the independent circuit, he worked a second job at Safeway.
Lockwood met his wife, N'keigh Wheeler, when she escorted Mark Henry to the ring at Unforgiven 1999, in Charlotte, North Carolina. They married on New Year's Eve, 1999. In 2002, he opened "Crash Holly's School of Professional Wrestling" in Salisbury, North Carolina, where N'keigh grew up.
Death
Lockwood died on November 6, 2003, at his friend and fellow wrestler Stevie Richards' house in Florida. He was found partially clothed with a pool of vomit around his face. Empty bottles of the prescription drug Carisoprodol and a partially consumed bottle of alcohol were found nearby. He had recently received divorce papers from his wife. His death, caused by choking on his own vomit, was officially ruled a suicide. He was buried in China Grove in Rowan County, North Carolina.
In August 2005, Nora Greenwald, who performed alongside Lockwood as Molly Holly, released an autobiographical DVD titled "Nora Greenwald: Shootin' the Shi Crap", and a portion of the profits from the sale of the DVD went to Lockwood's daughter's education fund. In March 2005, the New Breed Wrestling Association held the "Mike Lockwood Memorial Tournament", which was won by Michael Modest. At ECW One Night Stand in 2005, Lockwood was one of the deceased former ECW wrestlers honored in a video package.
In wrestling
Finishing moves
As Mad Mikey
CST – Crash Stole This (Lifting double underhook DDT) – parodied from Stevie Richards
As Crash Holly
Crash Course (Over the shoulder back to belly piledriver)
Crash Landing / Bottom Feeder (Belly to back inverted mat slam)
Corner springboard bulldog
Flowing DDT
As Erin O'Grady
Hop Splash (Dives off the top rope before landing on his feet and performing a standing splash)
Irishcanrana (Hurricanrana) – Independent circuit; used as a signature move in WWF/E
Signature moves
Dropkick
Preschool (Bottom rope arm twist ropewalk chop) – TNA; parodied from The Undertaker
Roll-up
Running one-handed bulldog
Tornado DDT
Nicknames
"Elroy"
"The Houdini of Hardcore"
"Irish"
"The Leprechaun"
"The Super-Heavyweight"
Entrance music
"Slow Death" by Zack Tempest
"System Clash" by Jim Johnston (While along with Matt Hardy)
Championships and accomplishments
All Pro Wrestling
APW Junior Heavyweight Championship (1 time)
International Wrestling Association
IWA Hardcore Championship (1 time)
Mid-Eastern Wrestling Federation
MEWF Cruiserweight Championship (1 time)
Power Pro Wrestling
PPW Tag Team Championship (1 time) – with Vic Grimes
PPW Young Guns Championship (1 time)
Pro Wrestling Illustrated
PWI ranked him #36 in the PWI 500 in 2000
Supreme Pro Wrestling
SPW Tag Team Championship (1 time) – with Hook Bomberry
World Wrestling Federation / World Wrestling Entertainment
WWF/E Hardcore Championship (22 times)
WWF European Championship (1 time)
WWF Light Heavyweight Championship (1 time)
WWF Tag Team Championship (1 time) – with Hardcore Holly
References
Crash Holly Wikipedia
(Text) CC BY-SA