Classmates is a 2006 Malayalam coming-of-age romantic thriller film directed by Lal Jose and written by James Albert. The film has an ensemble cast consisting of Prithviraj, Jayasurya, Narain, Indrajith, Kavya Madhavan, Jagathy Sreekumar, Balachandra Menon and Radhika. The music is composed by Alex Paul with lyrics by Vayalar Sarath Chandra Varma. The cinematography was by Rajeev Ravi and the editing by Ranjan Abraham. Audiography was done by M. R. Rajakrishnan.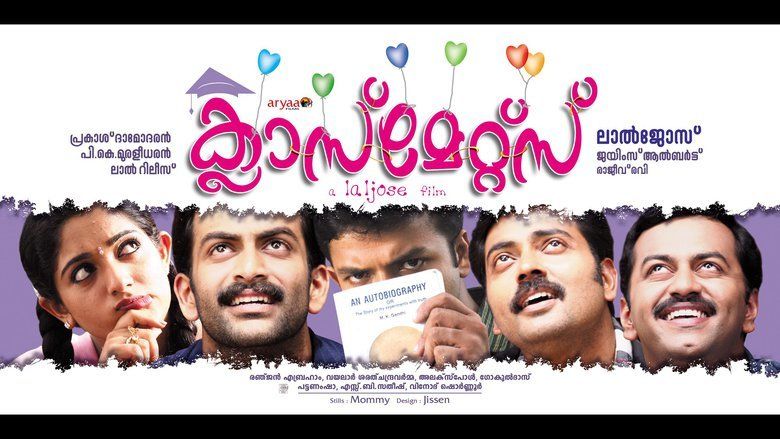 The story revolves around the college graduate class of 1991. In 2006, working in different corners of the world, the friends get together for a class reunion to revive the joy and laughter of their student days. On the night of the reunion, one of the classmates is almost murdered and goes into a coma.
Upon release, the film became the highest-grossing Malayalam film, at that time. It is frequently referenced in Keralite popular culture. The film went on to win the Kerala State Film Awards for Best Popular Film (Prakash Damodaran and P. K. Muralidharan) and Best Story (James Albert). It was later remade into Tamil as Ninaithale Inikkum, and in Telugu & Marathi as Classmates and Classmates respectively.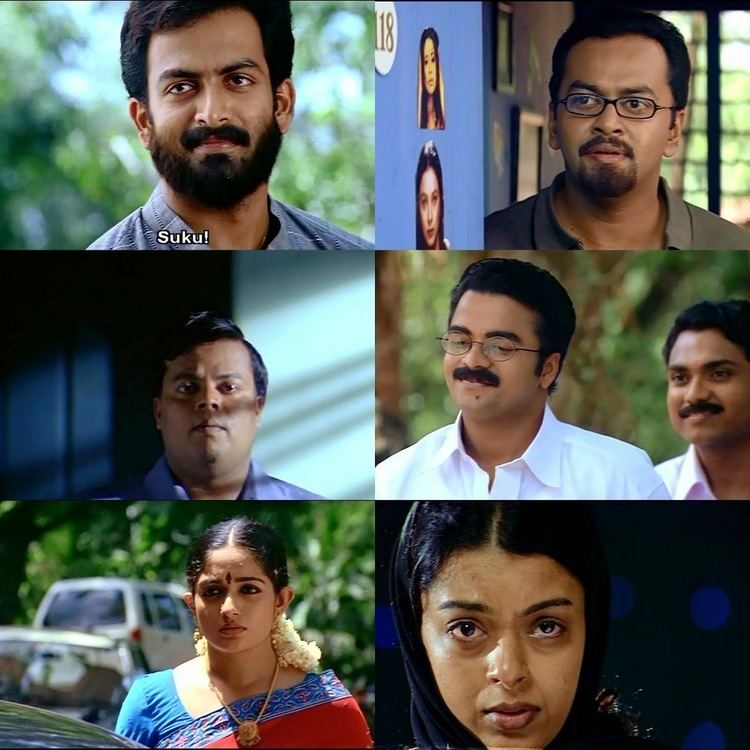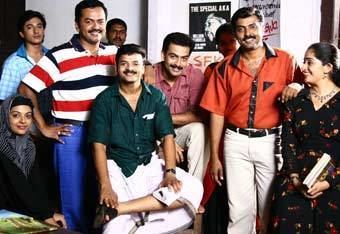 The film centres on a group of classmates who attendeded the same Chemistry class in their final year of college. Among them, Murali (Narain) is a singer and P. Sukumaran (Prithviraj) is a firebrand leader of the left-winged students union. Sukumaran's rival, Satheesan (Jayasurya), leads the opposite faction of student politics and is aided by his sidekick, Valu Vasu (Vijeesh). Pius (Indrajith), a rich and spoiled brat of parents settled in the Gulf, is the campus Romeo and Sukumaran's best friend. Thara Kurup (Kavya Madhavan) is the daughter of the Member of the state Legislative Assembly (MLA) from Muvattupuzha; she is a danseuse who regularly wins awards for the college with her performances.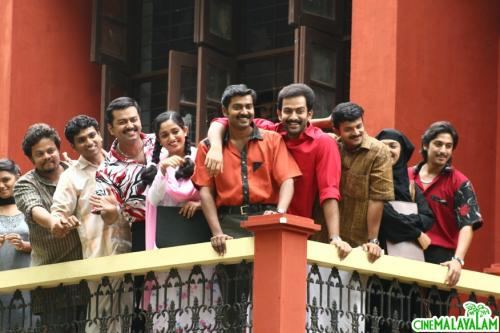 It was Murali's dream to have a ten-year reunion, but he mysteriously dies before the reunion can be organised. His parents, Professor Iyer (Balachandra Menon) and Lakshmi Teacher (Shobha Mohan), both teachers at the college, decide to fulfil their departed son's dream and bring his classmates together for a reunion. Sukumaran is now a diamond dealer based in Mumbai and is a divorcee. Satheesan is now an MLA, following his dreams to become a political leader, while Vasu continues to be his sidekick. Pius is now settled in the Middle East, while Thara, still unmarried, runs a dancing school.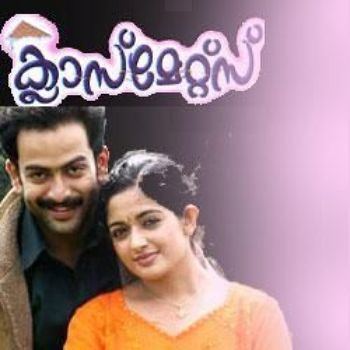 The coming together of these classmates is the occasion for them to relive the past and to discover how Murali died. When all are together, Razia (Radhika) arrives. Sukumaran attempts suicide but it is later discovered that it was not a suicide attempt but a murder attempt. The suspense is revealed one by one.
Prithviraj Sukumaran as Sukumaran
Indrajith Sukumaran as Pius George
Kavya Madhavan as Thara Kurup (Voice dubbed by Sreeja Ravi)
Narain as Murali
Jayasurya as Satheesan Kanjikuzhi
Anil Murali as Investigating Officer
Radhika as Raziya (Voice dubbed by Bhagyalakshmi)
Vijeesh as Vasu Sadashivan/Vaalu Vasu
Jagathy Sreekumar as Esthappanachan
Balachandra Menon Professor Iyer (College Lecturer/Murali's father)
Shobha Mohan as Lakshmi (College Lecturer/Murali's Mother)(Voice dubbed by Anandavally)
Suraj Venjaramood as Ousepp (as Suraaj)
V.K.Sriraman as Raziya's father
Sukumari as Sukumaran's mother
Anoop Chandran as 'Pazhanthuni' Koshi
Suja Menon
Renjusha Menon
Shajahan Rdx
Radhika: Best Supporting Actress in Amrita Films Awards 2006
James Albert: Best Scriptwriter in Asianet film awards
James Albert: Kerala State Film Award for Best Story
Kerala State Film Award for Popular Appeal and Aesthetic Value.
Vineeth Sreenivasan: Best Male Playback singer.
The film was a box office success. It broke many box office records and spawned a whole new genre of college-based films in the Malayalam film industry. The film completed 150 days run in Thiruvananthapuram and 100 days in Kottayam and Ernakulam as well. The film went on to gross ₹18 crore (US$2.8 million) and became the highest-grossing Malayalam film of 2006.
The performance of actress Radhika (Raziya) was highly appreciated. Classmates has been remade in Tamil as Ninaithale Inikkum, with Prithviraj playing the lead again. Narain is replaced by Shakthi Vasu and Kavya is replaced by Priyamani. and Telugu Classmates with sumanth playing the lead, sadha in place of kavya in 2007.
The songs were written by Vayalar Sarath Chandra Varma and composed by Alex Paul.
An alcohol addicts association called Glassmates was initiated in many districts in Kerala, its name intending to be a pun on the name of the movie.
The film spawned a whole new genre of college campus-based films, which have dominated box-office earnings in recent years. Examples include Puthiya Mukham, Chocolate, LollyPop, etc. All of the films mentioned also star Prithviraj in the lead role.