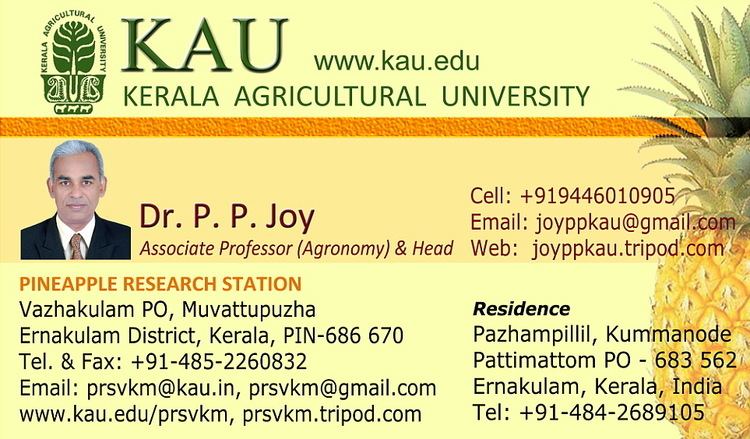 Muvattupuzha was part of the Vadakkumkoor Kingdom until it was captured by the Travancore Kingdom. Old documents show that parts of the lands of Muvattupuzha belonged to Edappally Swaroopam, but were later transferred to Manas' (Brahmin Families).
According to her Book My Town, My People by Ammini Shivaram, the first malayali-woman journalist and former editor at The Free Press Journal and The Indian Express, her grandfather Varkey was the first one to colonize the forest covered parts of Muvattupuzha. Her Father, Mathai (Mathai Sir) is regarded as the architect of New Muvattupuzha.
After Indian Independence, from 1949 to 1956, Muvattupuzha was a part of the Kottayam district in Travancore-Cochin state. In 1956, when Kerala state was formed, Muvattupuzha remained as a part of Kottayam district until 1958. Muvattupuzha, as a village union, came under the control of a council of three members nominated by the Government. V. P. Govindan Nair was the first president of the village union. By 1953, Muvattupuzha was declared a Panchayat. Kunnappillil Varkey Vaidyan was the first president of the elected Panchayat Committee. Muvattupuzha was raised to the status of a Municipality in the year 1958. N. Parameshwaran Nair became the first Municipal Chairman.
N. P. Varghese was the first elected M.L.A. from Muvattupuzha Assembly Constituency. He defeated Manjunatha Prabhu of Communist party. Later, K. M. George, founder of Kerala Congress represented Muvattupuzha. The first M.P. of Muvattupuzha (Lok Sabha constituency) was George Thomas Kottukapally.
St. Thomas, the Apostle of Jesus Christ who introduced Christianity to India, is believed to have visited this region. The Marth Mariam Syro-Malabar Catholic Church of Arakuzha has a recorded history of over 1000 years, making it one of the oldest Syrian churches in Kerala.
As of 2001 India census, Muvattupuzha had a population of 29,230. Males constitute 49% of the population and females 51%. Muvattupuzha has an average literacy rate of 84%, higher than the national average of 59.5%: male literacy is 85%, and female literacy is 82%. In Muvattupuzha, 11% of the population is under 6 years otf age.
The town and nearby regions and especially the western parts are mainly plains and is culturally similar to Ernakulam whereas the eastern parts are mainly highlands and differ from the western parts as most of the region are agricultural areas. Essentially, the regions of Thodupuzha, Muvattupuzha and Kothamangalam were called sub-high range or Keezhmalanad of erstwhile Vadakkumkoor Kingdom.
The nearby panchayaths are mostly into agriculture, small- and medium-scale industries. Pineapple and rubber plantations are the common agrarian efforts. Match box industries, plywood factories, saw mills, paper, plastic and wood carton making are the main industries in this area. KINFRA's Small Industries Park at Nellad is 9 km from Muvattupuzha on SH41.
K. M. George, politician and former Minister
Johnny Nellore, politician and former M.L.A of Muvattupuzha from 1991 to 2006
Francis George, Kerala Congress leader and former M.P. of Idukki
Jeethu Joseph, Indian film director and screenwriter
Bhagath Manuel, Indian film actor.
Vishak Nair, Indian film actor
Muvattupuzha is a part of Central Kerala. It lies between Angamaly and Kottayam on the Main Central Road which runs along the length of the old Travancore, from Thiruvananthapuram to Angamaly. The first and second longest state highways of Kerala, Main Central Road (Angamaly - Thiruvananthapuram / SH-01 / 240 km) and Main Eastern Highway (Muvattupuzha–Punalur / SH-08 / 154 km), meet here. The Kochi–Madurai NH 49 passes through Muvattupuzha. A four lane road connecting the city to district center Kakkanad is proposed.
A bypass to Thodupuzha Road and MC Road is planned from Kadathi on NH49 via the proposed new bridge at Murikkallu. Later the road will join MC Road towards Kottayam at Marady. A Muvattupuzha–Kakkanad–Palarivattom four-lane highway project is at discussion levels. Proposed route is via Vazhappilly, Pattimattom, Kizhakkambalam, Infopark to Reach Vyttila Central Bus Terminal in 30 minutes over 31 km.