United States




18,624 (2011)




17.2% (Feb 2015)




66.48 sq mi




June 24, 1820




Juan Jose Rodriguez Perez (PPD)



Ciales is a municipality of Puerto Rico, located on the Central Mountain Range, northwest of Orocovis; south of Florida and Manati; east of Utuado and Jayuya; and west of Morovis. Ciales is spread over eight wards and Ciales Pueblo (The downtown area and the administrative center of the city). It is part of the San Juan-Caguas-Guaynabo Metropolitan Statistical Area.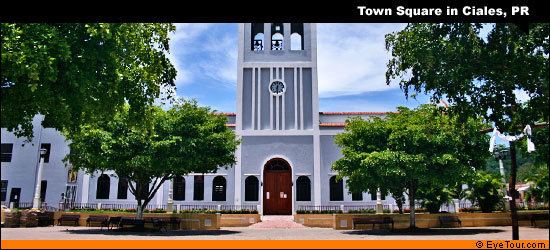 Ciales was founded on June 24, 1820 by Isidro Rodriguez.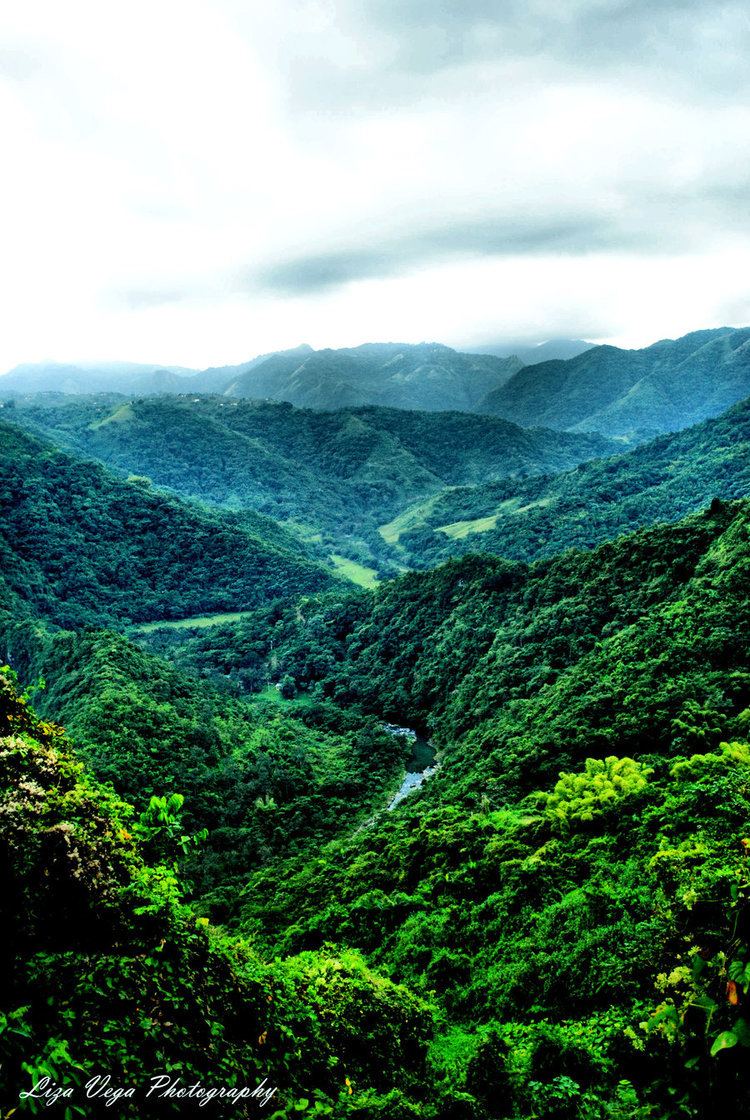 Toro Negro Forest Reserve
Rivers are: Rio Cialitos, Rio Grande de Manati, Rio Toro Negro, and Rio Yunes.
Zip Code 00638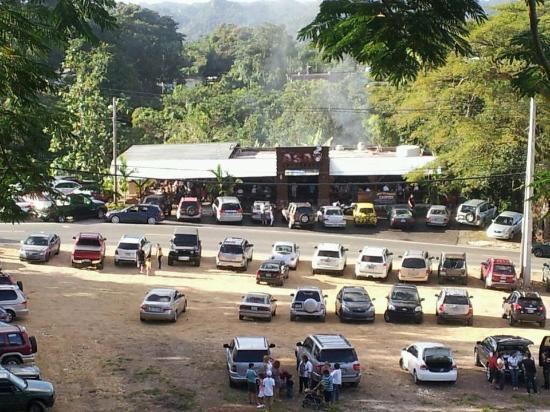 Hacienda Negron
Las Archillas Cavern
Las Golondrinas Cavern
Parada Choferil
Toro Negro Forest Reserve
Yuyu cueva
El choro de Dona Juana
Ciales is the home town of Juan "Pachin" Vicens - Puerto Ricos undisputed national basketball star, named Best Player in the World at the 1959 World Basketball Championship, Santiago de Chile (a.k.a., Juan "Pachin" Vicens, "Astro del Balon", "El Jeep"; younger brother of Puerto Ricos National Poet, Nimia Vicens, who also hailed from Ciales). Their middle brother, Enrique "Coco" Vicens, a former Puerto Rico Senator, was a track and field athlete in his own right.
Agriculture; coffee & cattle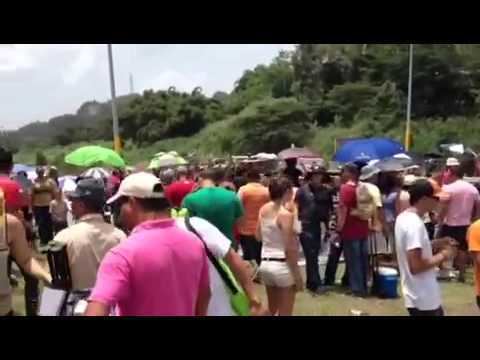 Cantata Corretjer - March 19
Agua Dulce Festival - August
Fronton Festival - July
San Elias Festival - July
Matron Festivities - October
Ciales, Puerto Rico Wikipedia
(,)http://eyetour.com/blog/wp-content/uploads/2009/01/banner-ciales.jpg(,)http://upload.wikimedia.org/wikipedia/commons/8/84/Taino_Village.JPG(,)http://upload.wikimedia.org/wikipedia/en/3/34/Utuado1896GoldenEra.jpg
(,)http://fc08.deviantart.net/fs71/i/2010/011/d/9/View_from_Ciales_Puerto_Rico_by_lixa111.jpg(,)http://fc02.deviantart.net/fs70/i/2010/011/6/6/View_from_Ciales_Puerto_Rico_2_by_lixa111.jpg(,)https://c1.staticflickr.com/7/6229/6271312254_bd239c6c32_b.jpg(,)http://farm3.staticflickr.com/2326/2152108327_65d2f2b34f_b.jpg(,)http://farm4.staticflickr.com/3719/12258423353_7672947ca8_b.jpg(,)http://fc07.deviantart.net/fs70/i/2010/346/3/c/hdr_ciales_puerto_rico_by_lixa111-d34r7s0.jpg(,)http://farm7.static.flickr.com/6099/6270785133_a44fd80c5d_s.jpg(,)https://c2.staticflickr.com/6/5502/10298116373_7d29b6121b.jpg
(,)http://media-cdn.tripadvisor.com/media/photo-s/02/62/13/c9/what-we-ate.jpg(,)http://media-cdn.tripadvisor.com/media/photo-s/03/c3/02/d1/paell-fussion-tiene-pollo.jpg(,)http://s3.amazonaws.com/foodspotting-ec2/reviews/3195901/thumb_600.jpg%3F1361737169(,)http://media-cdn.tripadvisor.com/media/photo-s/02/e0/74/f3/pasteles-bbq-pork-and.jpg(,)http://media-cdn.tripadvisor.com/media/photo-s/03/40/0c/69/tres-leche-de-coco.jpg(,)https://irs2.4sqi.net/img/general/600x600/18707065_qCRkUmGAiYgBOSwtxiC82LwtgS79Rx1ybIhA5TX5kfo.jpg(,)http://s3.amazonaws.com/foodspotting-ec2/reviews/2140613/thumb_600.jpg%3F1343608747(,)http://media-cdn.tripadvisor.com/media/photo-s/04/81/64/d0/ricoooo.jpg(,)http://media-cdn.tripadvisor.com/media/photo-s/04/16/15/98/asao-smokehouse.jpg(,)http://media-cdn.tripadvisor.com/media/photo-s/03/73/e8/75/restaurant-el-taino.jpg(,)http://s3.amazonaws.com/foodspotting-ec2/reviews/2748942/thumb_600.jpg%3F1353273505(,)http://s3.amazonaws.com/foodspotting-ec2/reviews/4820793/thumb_600.jpg%3F1404079916
(,)http://i.ytimg.com/vi/atx3Cyk3uhk/hqdefault.jpg(,)http://i.ytimg.com/vi/udtIB7dSpZw/hqdefault.jpg(,)http://i.ytimg.com/vi/-02ShEiEBaA/hqdefault.jpg(,)http://www.sea-online.info/EmailCampaign/Corretjer-ad2.jpg
(,)http://boricuaonline.com/001_direcc_ciales.gif(,)http://www2.luventicus.org/mapas/puertorico/ciales.gif(,)http://www.luventicus.org/mapas/puertorico/ciales.png(,)http://www.puertoricotravelmaps.com/wp-content/uploads/2013/04/DSC_0008_stitch%2520(1280x678)-1367110050.jpg(,)http://www.uvm.edu/~jdavis6/final_tourmap/Bust3.gif
(,)http://media-cdn.tripadvisor.com/media/photo-s/02/62/13/c8/the-place.jpg(,)http://media-cdn.tripadvisor.com/media/photo-s/02/1d/5a/b1/master-room.jpg(,)http://www.whitneyanderick.com/wp-content/uploads/2010/06/DPP_0178.jpg(,)http://www.whitneyanderick.com/wp-content/uploads/2010/06/IMG_2737.jpg(,)http://media-cdn.tripadvisor.com/media/photo-s/03/40/0c/c2/costillas-sobao-con-tostones.jpg