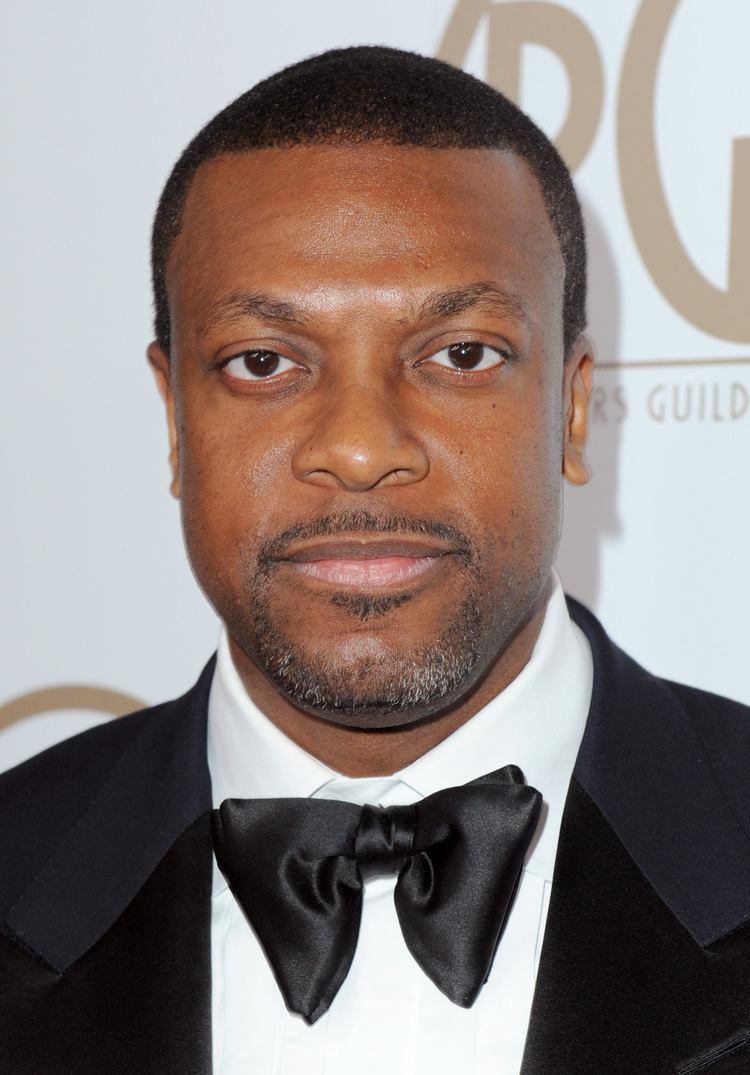 Tucker was born on August 31, 1971, in Atlanta, Georgia, the youngest son of Mary Louise (née Bryant) and Norris Tucker. One of six children, Tucker learned early in life that humor has the power to draw attention to himself both at school and at home. His father was an independent businessman who owned a janitorial service. Tucker grew up in Decatur, Georgia; and, after graduating from Columbia High School in Decatur, he moved to Los Angeles, California, to pursue a career in comedy and acting. Tucker grew up in a Pentecostal Christian household, as his mother and father were members of the Church of God in Christ during his childhood.
In 1992, Tucker was a frequent performer on Def Comedy Jam. He made his cinematic debut in House Party 3, and gained greater film recognition alongside rapper Ice Cube in the 1995 film Friday. In 1997, he co-starred with Charlie Sheen in Money Talks, and alongside Bruce Willis in The Fifth Element.
Along with Jackie Chan, Tucker later starred in the 1998 martial arts action comedy Rush Hour and its sequels, Rush Hour 2 and Rush Hour 3, in which he played Detective James Carter, an LAPD detective. After the commercial success of the first Rush Hour film, Tucker held out for a $20 million salary for Rush Hour 2 and was paid $25 million salary for Rush Hour 3. The latter was part of a $40 million two-movie contract with New Line Cinema that also included an unnamed future film. He was also to receive 20% of the gross against his salary from the Rush Hour 3.
Tucker did not reprise his role as Smokey in Next Friday (2000) or in Friday After Next (2002) because he had become a born-again Christian after filming Money Talks (1997). He starred in Michael Jackson's video "You Rock My World" and made a cameo appearance in Tupac Shakur's "California Love". On February 13, 1999, Tucker participated in the NBA All-Star Weekend's Celebrity Game. Other celebrities participating included rapper Master P, NBA Hall of Famers Clyde Drexler and Dominique Wilkins, wide receiver Terrell Owens, and four Harlem Globetrotters.
Tucker was announced in 2007 to star in the New Line drama film Mr. S: My Life with Frank Sinatra, directed by Brett Ratner and based on George Jacobs' autobiography of working as Frank Sinatra's valet during the Rat Pack era of 1953–1968.
In 2011, Tucker made a comeback to stand-up comedy. The next year, Tucker returned to film in the Academy Award winning drama Silver Linings Playbook, co-starring Bradley Cooper, Jennifer Lawrence and Robert De Niro. Tucker's performance in the film was well received by critics and audiences alike. The film itself received numerous nominations and awards; Tucker was among the winners of the Broadcast Film Critics Association Award for Best Cast in 2012. He also hosted the 2013 BET Awards.
Tucker has a son named Destin, who lives with his mother in Los Angeles. He divides his time among Bel Air, Las Vegas and Atlanta.
Tucker is good friends with fellow Rush Hour co-star Jackie Chan, and was also close friends with the singer Michael Jackson, introducing and dancing with him at his 30th Anniversary Special, and appearing in Jackson's video "You Rock My World" from his 2001 album Invincible and attending Jackson's memorial service. Tucker's career was also influenced by Jackson, as he is seen dancing and singing to Jackson's song "Don't Stop 'Til You Get Enough" in a scene in Rush Hour 2 and imitating Jackson's dancing style in Friday. A friend of Bill Clinton, Tucker has traveled with the former President overseas, and endorsed Barack Obama in the 2008 primaries.
Tucker participated in a PBS documentary on the genetic makeup of African Americans. He found he has African, European, and Native American ancestry. Through DNA tests (as aired on the 2006 PBS documentary African American Lives), Tucker's patrilineal ancestry was traced back to the Ambundu ethnic group of Angola and one line of his mother's to the Bamileke of Cameroon. He also traced his family tree back to the 1830s. Tucker was shown visiting Angola, the birthplace of some of his ancestors, with the program's host, Henry Louis Gates.
In 2014, Tucker settled a $2.5 million debt. A representative blamed "poor accounting and business management".