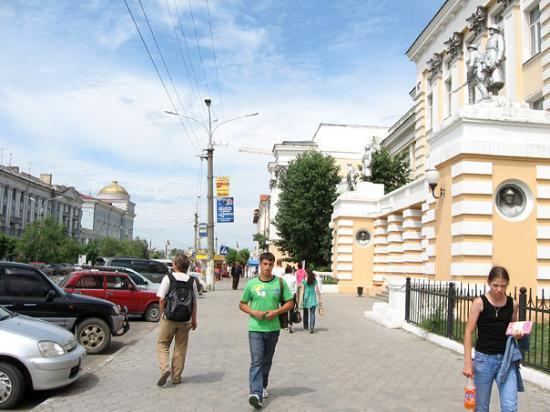 For several centuries before the Russians arrived, local Mongolic and Turkic tribes inhabited the Chita region, along with various Chinese traders.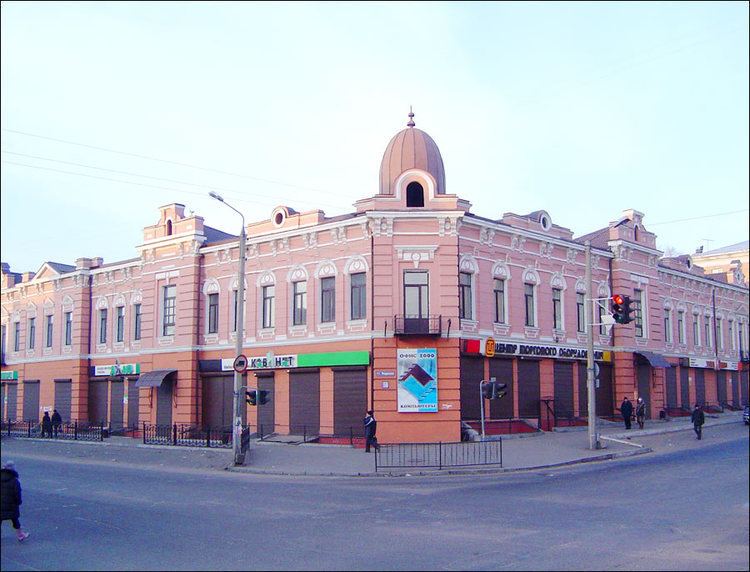 Pyotr Beketov's Cossacks founded Chita in 1653.
After 1825, several of the Decembrists suffered exile to Chita; thus, Chita is on occasion called the "City of Exiles". Many of the Decembrists were intellectuals and members of the middle class, and consequently their arrival had a positive effect.
According to George Kennan, "Among the exiles in Chita were some of the brightest, most cultivated, most sympathetic men and women that we had met in Eastern Siberia."
Chita was granted town status on July 11, 1851.
When Richard Maack visited the city in 1855, he saw a wooden town, with one, also wooden, church. He estimated Chita's population at under 1,000, but predicted that the city would soon experience fast growth, due to the upcoming annexation of the Amur valley by Russia.
By 1885, Chita's population had reached 5,728, and by 1897 it increased to 11,500.
At the end of the 19th century, many Muslims settled in Chita, attracted by its trading potential. These Muslims were mainly of Tatar origin. They settled down near the Jewish quarter and built a mosque. Many Tatars living in Chita descend from these immigrants.
Chita was occupied by the Japanese between 1918 and 1920. From 1920 to 1922, Chita served as the capital of the Far Eastern Republic. From the 1930s to the dissolution of the Soviet Union, Chita was a closed city. During this period, foreigners were prohibited from traveling to Chita, as were many Russians.
In 1945, Puyi, the last Emperor of China, and some of his associates were held prisoner in the city, in a former sanatorium for officers.
Chita is the administrative center of Zabaykalsky Krai, and, within the framework of administrative divisions, it also serves as the administrative center of Chitinsky District, to which it is also subordinated. As a municipal division, the city of Chita together with one rural locality in Chitinsky District is incorporated as Chita Urban Okrug.
The city is subdivided into four administrative districts: Chernovsky (named after the Chernovskiye coal mines and colloquially known as "Chernovskiye"), Ingodinsky (named after the Ingoda River), Tsentralny, and Zheleznodorozhny.
Chernovsky Administrative District used to be a mining settlement, which was incorporated into Chita in 1941. Chernovskiye mines themselves are a geological nature monument of international status.
The Trans-Siberian Highway passes through Chita. Two sections of the highway connect in Chita: the M55 Baikal Highway, which goes from Chita to Irkutsk, and the M58 Amur Highway, which goes from Chita to Khabarovsk.
Chita is served by Kadala Airport, situated 15km to the west.
Chita is home to several facilities of higher education:
Transbaikal State University (formerly Chita State University)
Chita State Academy of Medicine
Chita Northwest air base is located nearby, as well as the 101st (Hub) Communications Brigade and the 53rd Material Support Regiment.
FC Chita is Chita's association football club.
An indoor arena for speed skating is planned.
Chita experiences a borderline subarctic climate/humid continental climate (Köppen Dwc/Dwb) with very cold, very dry winters and warm, wet summers.
Chita is twinned with:
Boise, Idaho, United States
Ulan-Ude, Russia; from 2011
Manzhouli, China; from 1999
Abilene, Texas, United States; from 1996
Choibalsan, Mongolia; from 1995
Chita, Japan; from 1994
Hailar District, China; from 1992
Aleksandra Samusenko (1922-1945), Soviet Tank Captain, Sole female tankman in 1st Guards Tank Army
Yevgeni Alkhimov (born 1977), Russian professional footballer
Oleg Lundstrem (1916–2005), Soviet and Russian jazz composer
Igor Mirnov (born 1984), Russian professional ice hockey player
Ivan Nagibin (born 1986), Russian professional football player
Lev Okhotin (1911–1948), member of the Supreme Council of the Russian Fascist Party
Aleksandr Perfilyev (1895–1973), Russian journalist, poet and writer
Anastasia Pivovarova (born 1990), Russian professional tennis player
Boris Polevoy (1918–2002), Russian historian
Volodymyr Shkidchenko (born 1948), Ukrainian military, General of Army of Ukraine
Sergei Smirnov (born 1950), Russian security services official
Anatoly Sobchak (1937–2000), Russian politician
Vitaly Solomin (1941–2002), Soviet and Russian actor, director and screenwriter
Yury Solomin (born 1935), Soviet and Russian actor and director
Alina Stadnik (born 1991), Ukrainian female wrestler
Alexander Stranichkin (born 1955), Abkhazian politician
Lyudmila Titova (born 1946), Russian speed skater
Dmytro Tymchuk (born 1972), Ukrainian military expert and blogger
Yemelyan Yaroslavsky (1878–1943), Russian revolutionary, Soviet politician, communist party organizer