Country

India




Area

10 km2


District

Ganjam




Language spoken

Oriya




State

Odisha






Map of Chhatrapur
Chatrapur (also spelt as Chhatrapur) is a town and a notified area committee in Ganjam District in the state of Odisha, India. It is the headquarters town of Ganjam District. There are two railway stations in Chatrapur; they are Chatrapur Station and Chatrapur Court Station.
Contents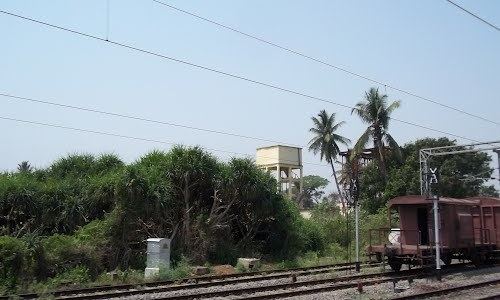 History
Chatrapur is the district headquarters of Ganjam. It has got its name from the word "Ganj-i-am", which means the Granary of the World. The Ganjam area was a part of ancient Kalinga which was occupied by Ashok in 261 BC. Though in 1757 it was French Commander Bussy, who marched into Ganjam and realized areas of tribute from federal chiefs, it was the English who ultimately defeated the French in the Decan and annexed Ganjam in 1759. The office of the Collector, Ganjam was established in 1794. With the beginning of the 20th century, struggle for amalgamation of Oriya tracts was keenly organised in Ganjam, and in 1896 Oriya was recognized as the official language. The headquarter of the district of Ganjam was abandoned in 1855 owing to an outbreak of a very dreadful epidemic fever by which 80% population of the Ganjam town was reduced. The headquarters temporarily shifted to Gopalpur, then to Berhampur and finally in and around 1902 to Chatrapur.
Geography
Chatrapur is located at 19.35°N 84.98°E / 19.35; 84.98. It has an average elevation of 17 m (56 ft).
Etymology
The city's official name is Chatrapur (' Odia : ଛତ୍ରପୁର), literally meaning "Home of Lord Kali". "Chatrapur" is the anglicised form of the city's name, commonly used in and after the British era. The anglicised form is still used unofficially by people.
Demographics
As of 2001 India census, Chhatarpur had a population of 20,288 (fourth biggest city in the district of Ganjam after Brahmapur, Hinjilicut and Asika). Males constitute 51% of the population and females 49%. Chhatarpur has an average literacy rate of 79%, higher than the national average of 59.5%; with male literacy of 85% and female literacy of 73%. 10% of the population is under 6 years of age.
Industries
Indian Rare Earths Ltd (OSCOM) which is a public sector undertaking under the Dept. of Atomic Energy is situated near Chatrapur which beneficiates different minerals from the beach sands of the Bay of Bengal. Different products such as zircon, ilmenite, sillimanite, Rutile are extracted. It also houses a thorium extraction plant. There is a huge chain of cashewnut factories situated in or near Chatrapur. A Joint Venture between Saraf Agencies of Kolkata and The Russian Federation has been signed to start a Titanium slag and pig iron manufacturing plant. However, Chatrapur, despite being on NH-5, the Chennai-Howrah Main railway line and with ample land and water has not been able to attract any large scale Industry which could potentially change the geo-economic scenario of the region.
Transport
Chatrapur is the commercial capital of state and gateway to south Odisha, and has a well-developed transportation network. All express trains of Indian railway has a halt here. Well connected with the Howrah madras highway so all luxury busses also passing through.
Road
Chatrapur city is connected with National Highways NH-5 (Chennai – Kolkata), NH-59 (Gopalpur – Ahmedabad) and NH-217 (Gopalpur – Raipur) and other cities and towns of Odisha. The three-wheeler auto taxis are the most important mode of transportation in this city. Taxis also ply on the city's roads. The Ganjam Urban Transport Services Limited (GUTSL) with joint partnership with Odisha State Road Transport Corporation (OSRTC) have come up with an agreement, valid for one year, to run a city-bus service for Berhampur to Chatrapur and urban centres on its periphery (Gopalpur, and Hinjli) on February 27, 2014.
Rail
Chhatrapur railway station is situated on the East coast railway line which is a major route connecting the two metros Kolkata and Chennai of India. It is directly connected to New Delhi, Ahmadabad, Bangalore, Bhubaneswar, Berhampur, Chennai, Cuttack, Mumbai, Nagpur, Pune, Puri, Vishakhapatnam, Hyderabad, Kolkata, Raipur, Sambalpur and many more cities of India. Bhubaneswar – Chatrapur connectivity (DMU) is popular connectivity to reach capital city Bhubaneswar. In this route approx. 74 train running including fast train PRASANTHI EXP (18463).
Sea
The city is served by two ports, Gopalpur Port one of the Oldest Port and upcoming satellite port at the Bahuda Mouth (Muhan) by Paradip Port Trust (PPT).
Festivals
Chatrapur celebrates most festivals including Thakurani Yatra, Dola Purnima, Durga Puja, Ganesh Puja, Sarswati puja and Mahakali puja. Thakurani Yatra is a popular festival celebrated in the city once in every two years.
Nearby tourist attractions
TAMPARA LAKE :
Just About 2 km from City Centre (lower Bus stand]via Collage Square on NH-5). It is a beautiful fresh water natural lake also one of the major tourist attraction of the town just franked on the leftside NH-05. Usually people of these surrounding camping here for boating and excursion purpose. An Ideal place for jungle trek([2 km] up to sea beach of Bay of Bengal) after crossing it by motor boat or manual boat about 1 km. The lake sprawling over about 8 km Long And 1 to 2 km Width. Every Morning and evening hours rushed by the Local peoples even tourists from around state. Orissa Tourism is building a Panthanivas on the banks of Lake.
POTTAGADA :An wreckaged Old Francis fort also places of interest to be seen, On Just About 8 km Distant from Chatrapur towards Ganjam Town. It is Nearby the JAYASREE CHEMICAL Complex and Just On the Bank of River Rushikulya Mouth.
Olive ridley turtle hatching Centre: Just another 4 km from the Catchment area of Jayshree chemicals[Old name] Now Aditya birla Chemicals at Ganjam near Pottagada, A murram road runs up to the Olive ridley turtle Hatching centre Just on right Bank of river rushikulya. The centre is just near by Fishermen 'Gangamata temple', From there you can proceed another 2 km Walk or crossover by a motorboat to Backwater for reach up to shore of Bay of Bengal. The nearby villagers of KANTIAGADA, PALIBANDHA and PURUNABANDHA were the real activist, who were given protection to those turtles were come for mass nesting from far away. The turtle Watching time has divided in three phase, On 1st phase they were having on sex in deep sea, and floated on sea from at a distance about 5 to 8 km from the shore [can visible only on Mid October to end of Nov]. On 2nd phase the female turtles were coming to shore for mass nesting on Jan 1st week to 3rd week of January. And on 3RD[final phase] After about 45 days of Mass nesting the baby turtles were rushing towards the Bay [this one Occurs on mid March. But such circle may varies accordingly the global changes of Weather and meteorological imbalance.
Bi-Annual Thakurani Yatra – The Festival of the Goddess : This welcomes the goddess Budhi Thakurani to her temporary abode for the biannual Thakurani Jatra (festival) late at night. The hereditary head of the festival, who is also regarded as the head of the weaver (Dera) community of the city, Desibehera, dressed in his traditional attire, visits the Budhi Maa Thakurani temple to invite the goddess to her parental abode at his home on Saturday afternoon. His wife also accompanies him, and they make offerings at the Kalika temple. Rituals to welcome the deity for the festival started at the temporary temple built at Desibehera street from evening with the Changudi Puja. After these rituals, flowers are carried from Desibehera's house to the Budhi Thakurani temple. Fallen flowers are carried as representative of the deity to Desibehera Street in a large decorated procession at night. The Thakurani Yatra is celebrated in different parts of Ganjam district. One such major biennial Thakurani Yatra is Lanjipalli Thakurani Yatra.
Gopalpur Beach : This is 16 km from the city and the Gopalpur is a retreat for sun, sea and sand lovers. At one time it was a busy seaport and it still displays the crumbling walls and pillars of the jetty. There are various town buses that run from Old Bus stand to Gopalpur. It is quite convenient to drive to Gopalpur on ones personal vehicle. Gopalpur once used to be a bustling place with tourists. There are many good hotels like Oberoi Palm Beach resort. It is a lesser known fact that, Oberoi Palm Beach resort was the first property to be acquired under the Oberoi Group brand. Gopalpur has an old light house, and a small fisherman's cove. The Gopalpur Beach Festival is also held here.
See also: Gopalpur-on-sea travel guide from Wikivoyage
Taratarini Temple – The Shakti Pitha
This is one of the oldest pilgrimage place of mother goddess and amongst the four major ancient Adi Shakti centers in India. The mythological texts recognize four major Shakti Pithas (centers), like Bimala, Taratarini, Kamakshya and Dakhina Kalika, which originated from the limbs of the Corpse of Mata Sati in the
Satya Yuga
, rooted in the hoary past, mentioned in the Puranas, the Tantras and as the main seat of Tantric cult for thousands of years and center of Shakti worship since time immemorial, this hill Shrine is believed to be the Sthana Peetha (Breast Shrine of Mata Sati) and an important prehistoric religious center which bears an uninterrupted history of about 6000 years.
BELESWAR BEACH*:
Beleswar beach near Kantiagada, Just About another 4 km drive from Humma bus stand on NH-5 Bypass[About 15 km Distance from District Hq Chatrapur]. It's a unique beach with Black sand[rare earth plus golden sand]. Nearby the Beach An Ancient Shiva temple[BALESHWAR MAHADEV] also place to coverage. The cashew pine forest with a series of jungle birds also another attraction.
JHADESWAR MAHADEV*
Jhadeswar mahadev at Borigaon Hill top also another places in the must see series, while covering the tourist places of interest, Just another 7 km drive from NH-5[LEFT Turn while from chatrapur to Humma] the route on SH[State highway] towards Purusottampur.
Ballipadar *: It is famous for black bucks and Barking Deers. Particularly these Black Bucks were found Just after Aska to Balipadar route on State highway nearby village BHETANAI.
Sri Sri Sri Sidhivinayak Pitha : This temple is centrally located in the city near Giri Road, which will be one of the largest Ganesh Temple in Odisha. The temple work is completed.
City Market Area : Has a host of different bazaars (markets) chiefly among them being Bada bazar, Sana bazar, Hanuman bazar, Urban Bank Road etc.
Mahurikalua : It is a forested hilly area where Goddess of Shakti Maa Thakurani is worshiped. It is about 30 km from Brahmapur. During the time of Sankranti festival people in large numbers gather to worship.
Kalua Jatra : The Kalua jatra festival begun in Gosani Nuagaon area of the city. This festival would continue for 15 days till next full moon day which is celebrated as Kumar Purnima in the Odisha state.
Dhabaleshwar beach : Dhabaleswar is a quiet and secluded beach close to Gopalpur beach, with facilities for surfing, sailing, and sun-bathing. The famous pilgrim center, Dhabaleswar, with its sand-bleached Shiva temple and the Dhabaleswar island are the nearby attractions.
The Chhatrapur Port Area
Siddha Bhairavi: The place is named after the presiding deity goddess Maa Bhairabee at the remote village of Mantridi. Carved in crude fashion, the icon (one-legged goddess with four hands) was discovered and enshrined in a newly adorned temple in 1937. According to legend, fisherman and sailors used to worship the deity for blessings before commencement of their journey. Maa Bhairabee nowadays has become an important Shakti Pitha venerable for the fisherman community that live in nearby villages. Tourists from almost all parts of southern Odisha as well as northern Andhra Pradesh visit this holy shrine everyday. The holy days on which most of the devotees assemble before the deity to offer their prayers are on Sankranti days of the Hindu calendar and on all Tuesdays.
Taptapani : Taptapani (Hot-Water), as the name suggests, is famous for its hot springs. Nestled at about 1,800 feet (550 m) above sea level, this spot is 56 kilometres away from the city's railway station. The sprawling Panthanivas is the only shelter for tourists at Taptapani. The cottages overlook a pristine valley, and the dining hall is strategically placed between two crests of mountain fold. A few minutes walk from here will take you to Kandimata Mandir, where the locals bathe in the spring before offering their daily prayers. There is also a deer park maintained by the forest department.
Maa Bala Kumari : The temple of Balakumari can be reached by climbing 1,240 steps and is dedicated to the Goddess Durga. This temple is on Hill top temple. Getting there from Either CHHIKITI GADA or from Dhanaghara in Chikiti Block.
Chilika Lake : Chilika is India's biggest inland lake, spread over 1,100 square kilometers stretching across the length of the three districts of Puri, Khurdha and Ganjam and finally joins the Bay of Bengal through a narrow mouth, forming an enormous lagoon of brackish water. Dotted with many emerald green islands with colourful names such as Honeymoon Island and Breakfast Island, Chilika is home to a rich variety of aquatic fauna. It is also a sanctuary and winter resort for migratory birds, some coming from as far as Siberia.
Biranchi Narayan Sun Temple : Buguda is a small town in Ghumusar Subdivision of Ganjam district. It is famous for the temple of Biranchinarayan. The temple was built by King Srikara Bhanja, who ascended the throne of Ghumusar in 1790 CE. The image of the God Biranchinarayan which is installed in the sanctum of the temple was recovered from the ruins of Malatigarh. The temple is built in the form of a chariot driven by seven horses and is conspicuous for its remarkable wood carvings and wall paintings. At the other end of the main road facing the temple of Biranchinarayan is a temple dedicated to Lord Jagannath. The temple is built in such a manner that the devotees can see the Arati of both the temples at the same time from any of these two places.
Kulada : Kulada is famous for the Goddess Bagh Devi. It is also said to be the birthplace of the great Oriya poet Kabi Samrat Upendra Bhanja. It is situated in the northwest of Ganjam District, with a ruined fort, the river Mahanadi flowing in the east, and dense forest lies on the west side of the ruined fort. The original temple is at the top of the hill known as Upar Bagh Devi, with 210 steps.
Panchama *: Panchama is a small village famous for the temple of Panchama Ganesh, or Siddhi Vinayaka, as it is locally known. Tradition says that the Gajapati King Purushottama Deva (15th century) on the way to his conquest of Kanchi recovered the image in the hallow of two trees of Vara and Aswastha and paid his homage to the image after its consecration. Since then the place has become an important centre of Ganapataya worship, preserving the great tradition of Panchadevata worship of Odisha.
Narayani *: Narayani is 80 km from Brahmapur, and located on the top of the Bhalleri hills. The temple of Goddess Narayani (Durga) is surrounded by captivating natural scenery of dense sal and mango grooves. It is one of the most famous Shakti peetha and Tantra peerha of the district, situated at the border of Ganjam and Khurda district. The extension of the Bhalleri is known as Narayani khola. It is believed the top of the shrine is the seat of Devi Banadurga. As per mythology, the deity in the shrine is an aavatar of Maishamardini Maa Durga. Earlier she was worshipped by the local tribes in a natural shape inside the cave. Later, the local civic bodies arranged the puja and shaped the deity as a ten armed figure. An ex-ruler of Khallikote garh built the present shrine. The construction of the temple used a unique method of cementing the stone pieces. The green jungle surrounding the temple, with its calm and quiet environment attracts a large number people. During the winter the rush of picnickers to the spot is multiplied. The enchanting view of Chilika Lake from the top of Bhalleri hills leaves a long lasting impression in the mind of a viewer that is beyond any description. Ashokasthami is the most important festival and is celebrated for three days. Following that, every year based on Hindu calendar, Mesha Sankranti and Raja Sankranti are also important festival dates. A huge number of devotees visit the temple and worship the deity during these days every year.
Potagarh : This is a historical fort built by Britishers in the 18th century. It is situated close to river Rusikulya and is surrounded by a moat. The remnants of majestic fort houses and a buried tunnel specks, the melody of glorious past of Ganjam city, which was cursed by a dreadful epidemic plague in the year 1815 CE. The place attracts students, scholars and history lovers. Due to its geographical location close to the confluence of Rushikulya river and Bay of Bengal, it is a favored picnic spot among the picnickers.
Aryapalli : The beach at Aryapalli is about 30 km from Berhampur and 8 km from Chhatarpur and Brahmapur. With in another 10 kilometer of Coastal trek from Aryapalli Sea beach via [sana-Aryapalli/ Bada Aryapalli, Kattur Beach Up to Narayanpur Back water point you can enjoy the beauties of Bay of Bengal, There after another 3 km towards south will touch to you Gopalpur On Sea, The 2nd Tallest light tower[in Odisha coastal belt] will visible from so far.
Mahendragiri : The hill Mahendragiri, 5,000 feet (1,500 m) high, is in the Parlakhemundi sub-division of the district of Gajapati. It is also claimed as the 2nd Highest peak of Odisha after Deomali Hill on pottangi Block in Koraput District. This Mahendragiri hill also associated with mythological stories from the Ramayana and the Mahabharata, and has interesting archaeological remains. Sivaratri is the main festival. Best season to visit there is from September to February[ six month] of a Bi-year. A trek to Mahendragiri can be organise from TUMBA GADA Base [Just camping as Base near parasuram kund] water irrigation catchment by Gram Vikas [An NGO]. The trek route leads via Burrataal village, Burakhat Pass [Motorable] distance about 12 km. Then The real trek route start up to Mahendragiri Hill top [8 km steep climb, Moderate to Hard needs 4hr, No water throughout the trekking route. Trekkers should carry at least 3litre of drinking water plus dry foods. On the Hill top "Mahendra rishi Ashram" is there, you can share a meal accordingly advance order. places to cover on hill top, Arjuna Gufa, Bheem Temple, Kunti temple, Daru-brahma etc. Must try to cover at there, Sunset and Sunrise scene.
Sonepur : Sonepur beach is on the Odisha–Andhra Pradesh border along the river Bahuda; on the other side is the beach Pati Sonepur.
Galleri and Baibelli : These villages belong to Ghumusar region of the Ganjam District. These villages are thought of to be the origination place for Danda Jatra. Danda Jatra are ritualistic performances held during the month of Chaitra for a period of 2 to 3 weeks. This is considered to be the one of the traditional form of worship. The performers showcase their performances in different villages. The performances are dedicated to Lord Shiva and Goddess Kali, which are symbolically represented by a Danda (a Pole), decorated with multi-coloured clothes. The participants showcase various items from their repertoire chiefly among them being Pani Danda, Agni Danda, Dhuli Danda etc. The closing ceremony is known as Meru Yatra, which is observed on the day of Maha Vishuba Sankranti.
Bankeswari : Bankeswari is a beautiful and scenic spot located on the Kerandimala hill ranges on the Eastern Ghats. It's located about 10 km. from the junction near Digapahandi on the Berhampur – Digapahandi highway. This is mountainous area and has a dense forest cover. The view from the hills is exotic and refreshing and has many pristine streams.
UJJWALLESHWAR Temple : The shrine of Ujjaleswar, 19 km from Digapahandi and 45 km from Brahmapur, near Ghodahada Dam, was developed from a cave temple, on a hillock which is approachable by steps. A huge stone shadowing the deity forms the back side of the temple, which has been also chiseled to steps for facilitating a circumambulating around the shrine. Before reaching the unctuous site, one would come across the pleasing surroundings of Ghodahada Dam, which has submerged a fort named Vijayanagar and its temple. The reservoir shelters a herd of elephants, crocodiles, and pythons, and provides subsoil water for a horticulture farm of tuberose.
TAPTAPANI [Hot sulphur spring]: The One and Only Hill station of Ganjam District in Lakhari wildlife sanctuary. Near By the Sulphur spring a Deer park also there. This place is a paradise for the tourists from September to February of every Bi-year.
WATERFALL & DAMS :
Ganjam district also having a series of Dams and waterfalls like Ghodahada Dam [near khamarigaon village in Digapahandi Block, Bhalu Ghai dam [near Mukundapur village in Chikiti Block], Baghalati Dam [near turubudi village in partapur Block], Bahuda dam up on river Bahuda near B. Nuagaon IN CHIKITI Block. Dakshinpur Ghai Near Berhampur town [drinking water reservoir] for City. Waterfalls Near Budhakhol in Buguda Block, Parasuram Kund Waterfall near Tumba gada, Jarada thanna in Chikiti block are places of interest for water activities like fishing, angling, boating, camping, swimming etc. Sana Nolia Nuagam
This village is one of the seashore villages which is only 4–5 km from Chatrapur. There is a famous Lord Shiva temple namely Rameswar Temple and widly sea beach olive tortile place lovely forest just near the seashore. Famous Rusikulia mouth (muhan) near by Nolia nuagam. So many many famous place there like Lord Shiva temple.
Education
Chatrapur hosts a Govt. Science College, Chatrapur, Onslow Institution and some other private ones. It hosts many English medium schools which include
Onslow Institution is one of the oldest schools of Odisha. It is established in the year 1855 by the British Govt. It is situated in between the Collector Bunglow and S.P. Office in Chatrapur, the Dist. Headquarters of Ganjam Dist. The School is having classes from VI to X. It is a non resident school. NCC, Red Cross, Scout facilities are also there in this school. The school is having a big library. The strength of the teachers and students is 30 and 1400 respectively.
Atomic Energy Central School (AECS) CBSE pattern at OSCOM/ IRE (Odisha sand complex)/ (Indian Rare Earth) at Matikhalo, also known as Kaliaballi[dark sand]. It locates just a 6 km distance from the main city centre Chatrapur.
Carmel Convent School, ICSE pattern (classes from Nursery to std-10th, Chatrapur.
Public school( CBSE pattern) Classes from Nursery to Std 10th. Located near Chatrapur stadium in front of District collector's Official residence.
Women's College, in front of District Collector's Official Residence.
PNUA (Pandit Nilakantha Utkal Academy) at Chandi Mandir Square,
Chatrapur Govt Science College
Sri Maa Sri Aurobindo Institution of Integral Education(Purnanga Sikshya Kendra)block colony
Saraswati Sishu Bidya Mandir (Ram Nagar)
Prativa Resident College (Tadapalli Street )
St. Xavier School (Ram Nagar)
NTTF [ JNTC, Gopalpur Centre] @ Mandiapalli Hanuman temple. One of the premier technical centre managed by TATA GROUP.
Govt polytechnic cum ITI At Bireshwar temple, Hill top near New police line, Chhatrapur.
Kalam Institute of Technology [KIT] near Govindpur about just 10 km distance from Chhatrapur Main Bus stand.
OAVS Model School, Opposite to Chamakhandi police station, Chhatrapur [Under construction] Will be open from 2018-2019 academic year,
which will impart Basic level of education for 6th standard to 12th sc students under CBSE Curriculum.
St Joseph ITI, Near Chhatrapur jail.
Politics
In 2014 MLA from Chatrapur Assembly Constituency is Dr. Priyansu of BJD, who won the seat in State elections of 2014. Previous MLAs from this seat include Adikanta sethi of CPI who won this seat in 2009, Narayan Reddy of CPI who won this seat in 2004 Rama Chandra Panda of BJP who won this seat in 2000, Daitari Behera of INC in 1995, Parsuram Panda of CPI in 1990, Ashok Kumar Choudhury of INC in 1985, and Biswanath Sahu of CPI in 1980 and in 1977.
in 2014
In this year five political party was standing in election of MLA in Chhatrapur (Odisha Vidhan Sabha constitution).
BJD-PRIYANSU PRADHAN. (Won MLA in Chatrapur)
BJP-DHERANI DHARA BEHERA
CONG- BONAMALI SETHY
CPI-KRUSNA CHANDRA NAYAK
AAP-mis SETHY
MP are standing in Chatrapur
CONG-CHANDRASAKHER SAHU
BJD-SIDHANT MAHAPATRA (Won MP seat in Chatrapur)
BJP-RAMA PANDA
CPI M-ALI PATNAYAK
APP- JANASWER MISHRA
SWADHENA- SYAMBABU SUBUDHI
Chatrapur is part of Berhampur (Lok Sabha constituency).
References
Chhatrapur Wikipedia
(Text) CC BY-SA