Country

India




District

Thrissur District


State

Kerala







University

Pharmacy College of St. James Medical Academy




Languages spoken

Malayalam, English

Map of Chalakudy
Chalakudy is a municipal town situated on the banks of Chalakudy River in Thrissur District of the Kerala State in India. It is the headquarters of Chalakudy Taluk. It is the base camp for travellers to Athirappilly and Vazhachal Falls. Chalakudy lies on National Highway 47 and located about 47 km (23 mi) north of the city of Kochi, and 30 km (19 mi) south of Thrissur.
Contents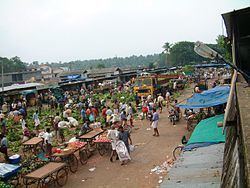 Karthyayani aqua fishfarm ornamental fish farm in kottat chalakudy
Ezhattumugham tourist spot chalakudy river shallow water rapids latest video in kerala south india
History
The name "Chalakudy" is derived from two words "Yagashala" (temporary settlement for conducting sacrifices) and "kody" (flag). Once Chalakudy was famous all over India as a place for conducting sacrifices. Many "rishis" (including Saptarshis) used to come over here as it was considered as a sacred land. In order to identify these settlements, they hoisted flags next to it. Thus those entire area got its name "yagashalakody". This however evolved into "Shalakody" and finally into today's Chalakudy.Chalakudy was the headquarters of Kodassry nadu.Maharaja, Kingdom of Cochin formed Kodassery(Chalakudy) taluk in the 1762 by adding Kuzhur nadu, Ayyanezhi nadu, Koratty nadu, Malayattur proverty (now in Aluva and Kothamangalam taluks)& Vellarappilly proverty(Kanjur-Chowara)(now in Aluva taluk) to Kodassery nadu. Majority area of this taluk were amalgamated into Mukundapuram taluk in AD 1860 and Vellarapilly proverty was given to Kanayannur taluk.According to Brahminical traditions Chalakudy was part of Adur(Annamanada) grama and Potta in Chalakudy Municipality was part of Irinjalakuda grama. It was also an old seminary at Sanpaulur(Ambazhakkad) at the bank of chalakudy river.
Chalakudy is a place of historical importance as its nearby places like Thazhekkad proverty of Mukundapuram nadu was the base of operations for Mysore invader Tipu Sultan during his attack on the Travancore lines. He kept the nearby places of Chalakudy as a Southern Army Base for attacking Travancore and southern provinces of Cochin. In 2013 new Chalakudy taluk was formed by UDF Government led by Shri Oommen Chandy.
Demographics
As of the 2011 census, Chalakudy had a population of 114,901 with a density of 4,554 per km2. The male population of which is 55,276 while female population is 59,625. The children (0-6 age) population of Chalakudy UA is around 8.86% of total Chalakudy UA population which is lower than National Urban average of 10.93%. Total children in Chalakudy Urban region were 10,176 of which 5,225 were male and 4,951 female. The literacy rate of Chalakudy Agglomeration is 96.42% which is higher than National Urban average of 85%. Literacy rate for male and female for Chalakudy stood at 97.53% and 95.41% respectively. Total literates in Chalakudy UA were 100,977 of which males were 48,815 and remaining 52,162 were females. The sex ratio of female to male in Chalakudy UA was found higher with figure of 1079 females against national urban average of 926 females per 1000 males. For children (0-6 age), girls were 948 per 1000 boys in Chalakudy Urban region against national average of 902 girls per 1000 boys.
Government
Chalakudy Municipality came into existence in the year 1970. The municipality covering an area of 25.23 km2 is divided into 36 electoral wards. Chalakkudy is a Grade-II municipality. Chalakudy assembly constituency was a segment of Mukundapuram (Lok Sabha constituency). Later it became a segment of Chalakudi (Lok Sabha constituency).
In the last local body elections, the Left Democratic Front (LDF) won the Chalakudy Municipality. Currently, Usha Parameshwaran(Communist Party of India) is the Municipal Chairman of Chalakudy.
In the year 2013, Chalakudy was declared as a Taluk by K.M Mani.
Visitors attraction
Chalakudy is a prime destination of tourists, especially those who love nature. The best season to visit Chalakudy is December to March and also in monsoon season. Chalakudy is blessed with scenic beauty and refreshing weather, has all the amenities of a suburb and is well connected by National Highway and Railways. It is being developed as a high demand residential area and the cost of land is shooting up. New IT park, Kinfra park @ Koratty, easiness to reach Kochi and Thrissur etc. make Chalakudy a real estate attraction. The Kannampuzha Devi temple is situated some 3 km away from the Chalakkudy Railway station.
Chalakudy River: It has one of the highest fish diversities in Kerala. the river is known for its diversity, as it contains 85 species of fresh water fishes out of the 152 species known from Kerala. Among these, 35 are endemic species of the Western Ghats and nine are considered to be endangered.
Divine Retreat Centre, Potta
Athirappilly Water Falls: A waterfalls which attract thousands of tourists every year which is located in dense forest.
Vazhachal Falls
Sholayar Dam
Parambikulam Wildlife Sanctuary
Kodassery
Dream World water theme park
Silver Storm water theme park
Nanatty Bhagavathy Vishnumaya Temple
Kannanpuzha Temple
Sreedharamangalam Sreekrishna Temple
St. Mary's Forane Church, Chalakudy: A church which has a history of more than 1400 years to tell. Its church bell on the bell tower was said to be imported from France almost 200 years ago as per the special request from the King of Kochi, who ruled that time.
Kanakamala: A small hill nearby where there is a Roman Catholic Chapel. Devotees conduct Annual-procession to the hilltop in memory of Good Friday and pay offerings.
Moonjeli Church, West Chalakudy
Pisharikkal Bhagavathtei Temple - It is one of the 108 durgalayas
Mulavallikav Devi Temple - Koratty - It is one of the 108 durgalayas
Ezhattumugam water falls...
Thumboormuzhi Dam....
Malakkappara
Sree Subrahmanya Temple, Koodapuzha (Festival-kaavadiyaattom-in the month of January, every year is a colorful celebration)
Road
Located along the National Highway 47, between Kochi and Coimbatore. Another major road is State Highway 21 which connects Chalakudy to Vazhachal and ends at the border of Tamil Nadu. Chalakudy has a KSRTC and private bus station in the town only. The KSRTC station provides inter-district and inter-state buses in and around Kerala and outside the state. The private station runs local bus services into the suburbs of Chalakudy. Newly built North Bus Stand, Chalakudy is now opened for public. Now there is a railway under way which is under construction connecting Chalakudy And Mala which goes past Southern College of Engineering & Technology.
Railways
The main rail transport system in Chalakudy is operated by the Southern Railway Zone of Indian Railways, and comes under Trivandrum Railway Division. There are two railway stations in Chalakudy, Divine Nagar railway station (in Muringoor) and Chalakudy railway station. Chalakudy and Divine Nagar Railway Station lie in the busy route of Shoranur-Cochin Harbour section. Six pairs of passenger trains and 36 express trains stop at Chalakudy railway station. This station is getting a revenue of 11 crore per year. It is an 'A' class station under Trivandrum division and this station is the second largest station in Thrissur District after Thrissur railway station. It is also the first station declared as Adarsh station in Thrissur district.
Airport
The nearest airport is Cochin International Airport in Nedumbassery which is 22 km from Chalakudy. All the major domestic and international flights are available here. Direct flights are available to New Delhi, Mumbai, Chennai, Bangalore, Kolkata, Hyderabad, Pune, Goa, Mangalore, Calicut, Thiruvananthapuram, Dubai, Sharjah, Abu Dhabi, Doha, Bahrain, Kuwait, Muscat, Malé, Colombo, Kuala Lumpur, Singapore, Salala, Jeddah and Riyadh.
Business
Madura Coats, Apollo Tyres, Codemazk, Paulson Distillery, Choice Foods, Amoeba Associates, Carborundum Limited, Eddie Current and the Sthree Shakti Paper Mills are the major industrial establishments. The Government Press has a division functioning in Chalakudy. The Peringalkuthu Hydro-electric project is about 42 km east of Chalakudy. In the business map, Chalakudy has a notorious place being one of the largest selling outlets of Beverages Corporation.
Chalakudy has one of the oldest movie theatres in Kerala. Surabhi Theatre situated in South Chalakudy is still a major landmark in the town. Chalakudy is home to n-number of Banking and non-Banking Financial Institutions (many got merged/.acquired to/by other banks). Even Federal Bank's one of the first five branches was in Chalakudy.
Chalakudy has two theme parks (Silverstorm and Dreamworld- both on the way to Athirappilly falls) which started a decade back, is now one of the prime attractions in the town.
Schools
Government Vocational Higher Secondary School(GVHSS CHALAKUDY)
This institution is one of the old institutions which started functioning in 1894. It is generally called Govt. Boys School. Sri. Panampilly Govinda Menon, Padmabhushan Sri Raghavan Thirumulpd and Sri Kalabhavan Mani are some famous old students of this school.
Carmel Higher Secondary School Chalakudy  
Sacred Heart Higher Secondary Girls School
St Antony's C.G.H.S, Kottat
Colleges
Lakshmi College of science technology & management
St.Joseph's College -Mala(0480-2893226)
Nirmala College, Chalakudy
Sacred Heart College Chalakudy
Industrial Training Institute
St.James Medical Academy
Southern College of Engineering & Technology
Nirmala Engineering College, Meloor, Chalakkudy
Villages in Chalakkudy taluk
The following villages lie within Chalakkudy taluk:
Notable people
Rev Fr Antony Thachuparambil - Servant of God of Roman Catholic Church
Jose Pellissery - Actor
Kalabhavan Mani - Actor, Singer, Song writer, Stage Artist
Lijo Jose Pellissery - Director
Lohithadas - Screenwriter and Director
Porinju Veliyath - Owner of Equity Intelligence, Noted Investor, Organic Farmer & Stock Trader
P. K. Ittoop - former M.L.A.
References
Chalakudy Wikipedia
(Text) CC BY-SA