Nationality

British


Role

Actress




Name

Catherine Schell




Citizenship

British




Ethnicity

Hungarian






Full Name

Katherina Freiin Schell von Bauschlott


Born

17 July 1944 (age 71) (

1944-07-17

) Budapest, Hungary


Other names

Catherine von SchellKatherina von SchellKatherine von Schell




Alma mater

Otto Falckenberg School of the Performing Arts


Occupation

Television and film actress




Spouse

Bill Hays (m. 1982–2006), William Marlowe (m. 1968–1977)


Books

John, Book 2, Chapters 11-21, John: Believe and Live, John




Parents

Katharina Maria Etelka Georgina Elisabeth Teleki de Szek, Paul Schell von Bauschlott


Siblings

Paul von Schell, Peter Freiherr Schell von Bauschlott




Movies and TV shows

Space: 1999, The Return of the Pink Panther, On Her Majesty's Secret Se, Moon Zero Two, The Adventurer


Similar People

Barbara Bain, Zienia Merton, Barry Morse, Martin Landau, Sylvia Anderson
Catherine Schell (born Katherina Freiin Schell von Bauschlott, 17 July 1944) is a Hungarian-born actress best known for her work in British television, in particular her portrayal of Maya in the science fiction series Space: 1999.
Contents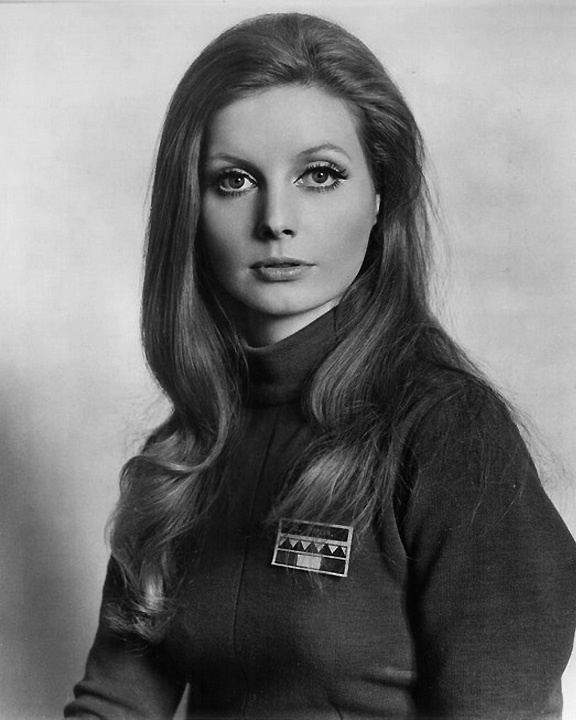 Schell came to prominence in various British film and television productions of the 1960s and 1970s. Although she acted under the name "Catherine von Schell" and "Katherina von Schell" ("Schell" is the family name; "von Bauschlott" indicates the region of Germany where the Schell family originated) early in her career, she is better known by the name "Catherine Schell". She is not related to the Austrian-Swiss actor siblings Maximilian and Maria Schell.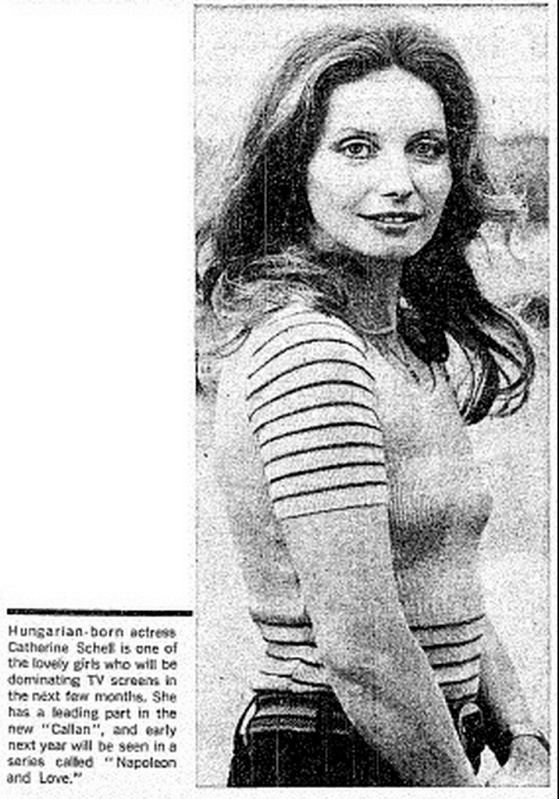 Space 1999 cast martin landau barbara bain nick tate catherine schell
Early life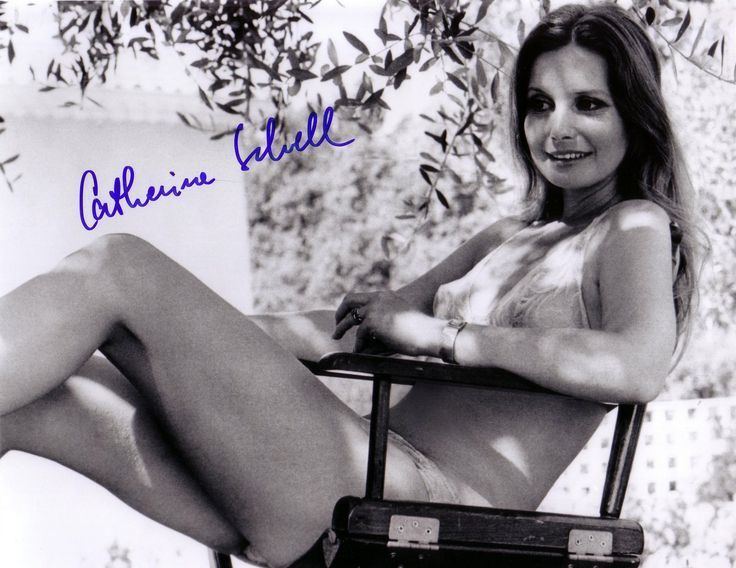 Schell's father, Baron Paul Schell von Bauschlott, was a Hungarian diplomat; her mother was Countess Katharina Maria Etelka Georgina Elisabeth Teleki de Szék. At the start of the Second World War, her parents' estates were confiscated by the Nazis.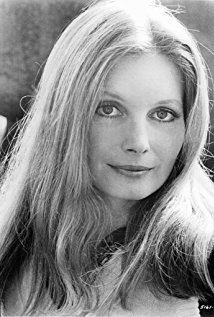 Fleeing Hungary in advance of the Russians and communism, the family lived in poverty until 1948, finding asylum in Austria: first in Vienna, then in Salzburg. In 1950, the family emigrated to the United States, where Schell's father acquired American citizenship.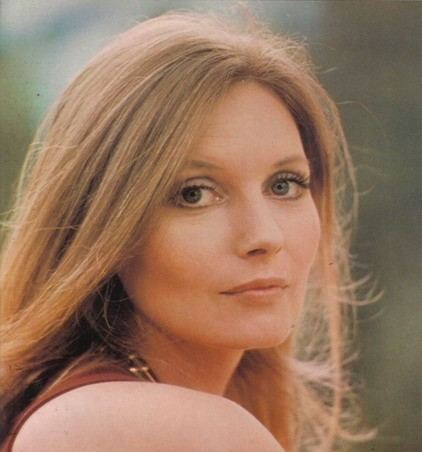 Schell entered a convent school in the New York City borough of Staten Island. In 1957, her father joined Radio Free Europe and the family moved to Munich, Germany, where Schell developed an interest in acting and attended the Otto Falckenberg School of the Performing Arts.
Film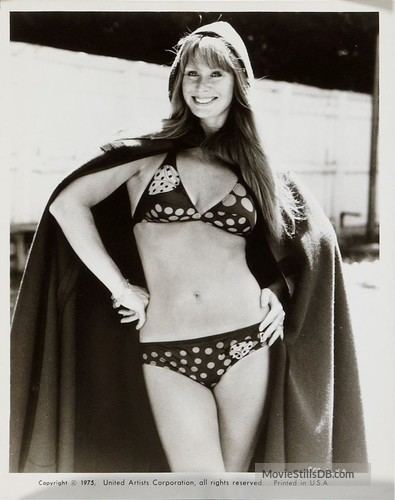 Under the name Katherina von Schell, she made her film debut in 1964 as the title character in the little-known German-language film Lana: Queen of the Amazons (German: Lana – Königin der Amazonen). In 1969, she appeared as Bond girl Nancy in the George Lazenby James Bond film On Her Majesty's Secret Service (credited as Catherina von Schell), and as Clementine Taplin in the science-fiction thriller Moon Zero Two. In 1972, she appeared for the first time under the name Catherine Schell in Madame Sin, an American television film starring Bette Davis.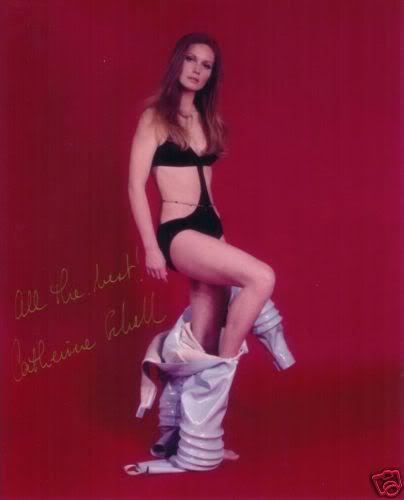 In 1975, she appeared opposite Peter Sellers in the comedy The Return of the Pink Panther as Lady Claudine Lytton. It is frequently claimed that her tendency to break into uncontrollable laughter at Sellers' antics as Inspector Clouseau spoiled many takes. The final print of the film repeatedly shows Schell attempting to stifle laughter at Sellers' behaviour, both at the Lytton residence and during the nightclub bar scene. Although these scenes are frequently offered as classic examples of corpsing, Schell has maintained in interviews that she considered it in character for Lady Lytton to be amused by Clouseau, whom she does not see as a serious threat (made clear during her banter with her on-screen husband at the film's climax in the character's hotel room).
Television
Schell's first TV credit was Till Eulenspiegel (1967), a West German comedy in which she played Nele and was billed as Katherina von Schell.
Schell spent much of her career in British television, appearing in more than 47 series spanning a period of nearly 30 years. She played regular roles in series such as The Adventurer, Looking For Clancy, One by One, Mog and Wish Me Luck, in addition to many guest appearances, including The Persuaders!, The Troubleshooters, Arthur of the Britons, Return of the Saint, The Sweeney, The Onedin Line, The Gentle Touch, Lovejoy, Bergerac, The Bill, Howards' Way and "The Search for the Nile".
Schell appeared in the science-fiction series Space: 1999 as a robotic servant ("Guardian of Piri", 1975), and returned to the series in its second season as the regular character Maya, a shape-shifting "metamorph" from the planet Psychon. Schell appeared in another British science-fiction series, as Countess Scarlioni in the Doctor Who serial City of Death (1979).
Family
Schell's brother, Paul Rudolf (born 1940), now known as Paul von Schell, has acted in a number of German-language productions. A younger brother, Peter (1941–68), died young. Through a German great-grandfather, Schell is related to Louis XIV of France (1638–1715), Philip II, Duke of Orléans (1674–1723), Regent of France and Francis I, Holy Roman Emperor (1708–65).
Marriages
While filming Amsterdam Affair in 1968, Schell met and married her first husband, British actor William Marlowe (1930–2003), and moved to London. The marriage ended in divorce in 1977. Schell married director Bill Hays (1938–2006) in 1982. In 1984, they worked together for the first time as husband and wife on a TV production of Ivan Turgenev's play A Month in the Country.
Retirement
Schell's career continued into the mid-1990s, after which she retired from acting and opened Chambre d'Hôtes Valentin, a small guesthouse in Bonneval, Haute-Loire, France, which would become a popular destination for fans of Space: 1999. She reportedly sold the inn after the death of her second husband in 2006.
Schell made her first convention appearance MainMission:2000, a celebration of the 25th anniversary of Space: 1999 held in New York City. To date, she has appeared at only one other convention, mainly due to her second husband's declining health.
Schell contributed a foreword to the Space: 1999 novel Born for Adversity, written by David McIntee and published by Powys Media in 2010.
Selected filmography
Lana – Königin der Amazonen (1964) - Queen Lana
Traitor's Gate (1964) - Hope Joyner
Hell Is Empty (1967) - Catherine Grant
Assignment K (1968) - Maggi (uncredited)
Amsterdam Affair (1968) - Sophie Ray
Moon Zero Two (1969) - Clemantine
On Her Majesty's Secret Service (1969) - Nancy, a Hungarian Girl
Madame Sin (1972) - Barbara
The Black Windmill (1974) - Lady Melissa Julyan
Callan (1974) - Jenny
The Return of the Pink Panther (1975) - Lady Claudine Litton
Gulliver's Travels (1977) - Mary
Exposure (1978) - Caroline
The Prisoner of Zenda (1979) - Antoinette
The Island of Adventure (1982) - Alison Mannering
On the Third Day (1983) - Clarissa Hammond
On the Black Hill (1988) - Lotte Zons
The March (1990) - Noelle Epps
Piccolo grande amore (1993) - Countess Von Dix
References
Catherine Schell Wikipedia
(Text) CC BY-SA