Preceded by

Frances Cleveland




Name

Caroline Harrison




Succeeded by

Mary Harrison McKee


Parents

John Witherspoon Scott




Religion

Presbyterian




Signature








Born

October 1, 1832Oxford, Ohio, U.S. (

1832-10-01

)


Role

Former First Lady of the United States


Died

October 25, 1892, Washington, D.C., United States




Spouse

Benjamin Harrison (m. 1853)


Children

Mary Harrison McKee, Russell Benjamin Harrison




Similar People

Benjamin Harrison, Mary Harrison McKee, John Scott Harrison, Russell Benjamin Harrison, Mary Dimmick Harrison



Alma mater

Oxford Female Institute

First lady biography caroline harrison
Caroline Lavinia Scott Harrison (October 1, 1832 – October 25, 1892), was a teacher of music, the wife of Benjamin Harrison and mother of two surviving children; after his election as President of the United States, she was First Lady of the United States from 1889 until her death.
Contents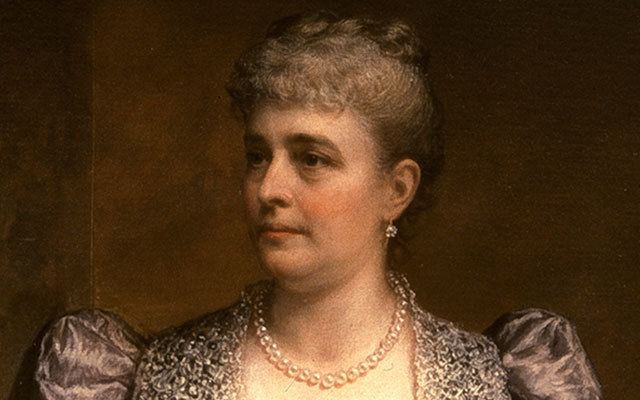 She secured funding for an extensive renovation of the White House and oversaw the work. Interested in history and preservation, in 1890 she helped found the National Society of the Daughters of the American Revolution (DAR) and served as its first President General.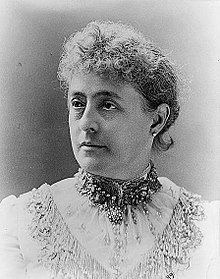 First ladies preview caroline harrison
Early life and education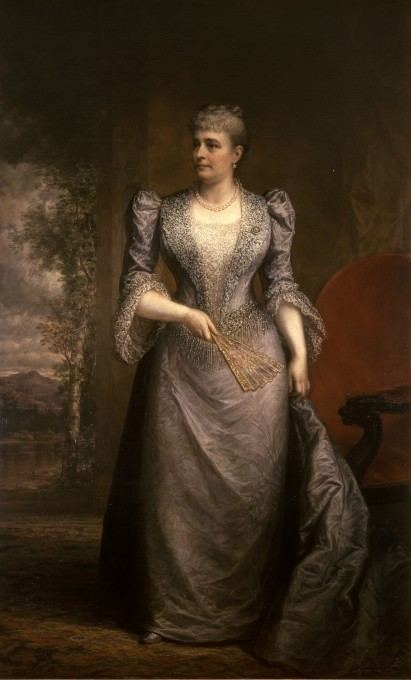 Caroline Lavinia Scott was born in Oxford, Ohio, the second daughter of John Witherspoon Scott, a Presbyterian minister and professor of science and mathematics at Miami University, and his wife Mary Potts Neal. Caroline had two sisters and two brothers. Although the family was not well off, her father ensured that his daughters as well as his sons were well educated. Wherever they lived, he filled the house with books, art, and music. Religion was important in his and the family's life.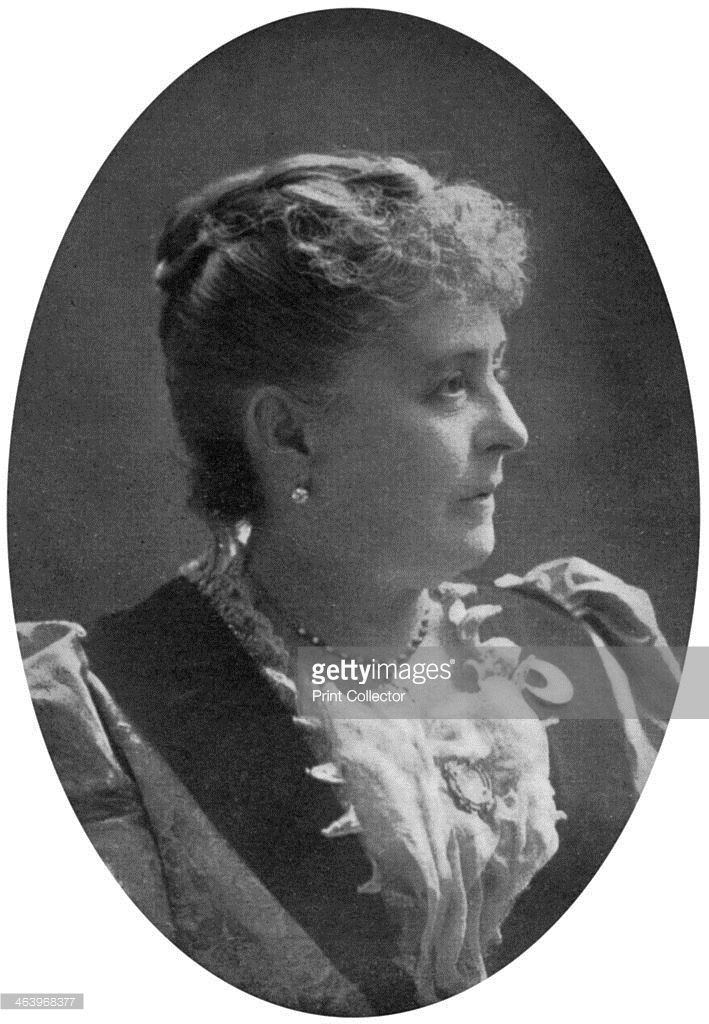 Dr. Scott had been at Miami for more than two decades when, in 1845, he and several other professors were fired after a dispute with the university president, George Junkin, over slavery; Junkin supported it and Scott and the others opposed it.
Her father next accepted a job teaching chemistry and physics at Farmer's College and moved the family to College Hill, near Cincinnati. There in 1848 Caroline met Benjamin Harrison, one of her father's freshman students. The two began a courtship but did not marry until 1853.
In 1849, the Scotts returned to Oxford, as Dr. Scott was selected as the first president of the Oxford Female Institute. It was held in the former Temperance Tavern, which he had purchased in 1841. Her mother Mary Neal Scott joined the school as its matron and the Head of Home Economics. Caroline enrolled as a student, studying English literature, theater, art, and painting. In her senior year in 1852, she joined the faculty as an Assistant in Piano Music.
Courtship
Benjamin Harrison, or "Ben" as he was known, had studied under Dr. Scott at Farmer's College for nearly two years. In 1850, he transferred to Miami University, both because of its strong academic program and to be near Caroline. The two fell in love.
Caroline often took Ben dancing against the wishes of his father, a strict Presbyterian who frowned on such activities. In 1852, during the second semester of Ben's senior year, the couple became engaged. They decided to postpone their wedding while Benjamin studied law in the law office of Storer & Gwynne in Cincinnati, and she finished school. She graduated in 1852 with a degree in music. That year she moved to Carrollton, Kentucky to teach music. Suffering from pneumonia, she returned to Ohio soon afterward.
Marriage and family
Benjamin and Caroline were married on October 20, 1853 at her house, with her father officiating. She was 21 years old. The newlyweds honeymooned at North Bend, Ohio. They lived at the Harrison family home for some time while they saved money. They settled in Indianapolis, Indiana, after Benjamin completed his law studies a year later and set up his first practice.
The first few years of marriage were a struggle. The couple rarely spent time together, as Benjamin worked to establish his law practice and was active in fraternal organizations to build up his business network. When Caroline became pregnant, she returned to Oxford to stay with her parents. Many young women went home for childbirth, to have their mother's experience. In 1854, her first child Russell was born.
She soon returned with him to Indianapolis. Not long after, a fire destroyed the Harrison house and all their belongings. The family managed to recover financially after Benjamin took a job handling cases for a local law firm whose founder had decided to run for office.
In 1858, Caroline gave birth to a daughter, Mary Scott.
Civil War
At the onset of the Civil War, both Caroline and Benjamin sought to help in the war effort. Caroline joined local groups such as the Ladies Patriotic Association and the Ladies Sanitary Committee, which helped care for wounded soldiers directly and raised money for their care and supplies. At the same time, she joined the church choir and raised their two children.
In 1862, Benjamin recruited a regiment of over 1,000 men from Indiana. Initially offered the command, he declined because of lack of experience and was commissioned as a second lieutenant. During the day, he trained his men, and at night he studied military strategy. After two years, he was commissioned as a colonel and led the men in numerous engagements in the east. In 1865, he was promoted to the rank of brigadier general.
After the war, he spent the next decade practicing law and getting involved in politics.
Wife of a politician
Benjamin ran for governor of Indiana in 1876 and lost. Five years later, in 1881, the Republican-dominated legislature elected him to the United States Senate (few states had popular elections for this office). He and the family moved to Washington, D.C.. Caroline had suffered from poor health since her bout with pneumonia years earlier, and did not participate much in social events in the capital. She supported charities and headed the Garfield Hospital Aid Society.
In 1888, the Republican Party nominated Harrison as its presidential candidate. That fall he defeated the incumbent Grover Cleveland.
First Lady of the United States
During the Harrison administration, their daughter Mary Harrison McKee, her two children; Caroline's father, and other relatives lived at the White House. The First Lady tried to have the overcrowded mansion enlarged, but was unsuccessful. She did secure $35,000 in appropriations from Congress to renovate the White House; and she oversaw an extensive project making up-to-date improvements.
She had the mansion purged of problem rodent and insect populations, laid new floors, installed new plumbing, painted and wallpapered, and added more bathrooms. In 1891 she had electricity installed but was too frightened to handle the switches. She left the lights on all night and a building engineer turned them off each morning.
In 1889 Caroline Harrison raised the first Christmas tree in the White House, as the custom was becoming more popular. She introduced the use of orchids as the official floral decoration at state receptions. A talented artist, she conducted china-painting classes in the White House for other women; it was a popular craft of the time.
With other ladies of progressive views, she helped raise funds for the Johns Hopkins University Medical School on the condition that it admit women.
The centennial of President Washington's inauguration in 1889 heightened the nation's interest in its heroic past, and in 1890 she lent her prestige as First Lady to the founding the National Society of the Daughters of the American Revolution (NSDAR) and served as its first President General. She took a special interest in the history of the White House.
She had a dog named Dash, who was a mixed breed collie. It was reported that he was always wanting to play with his owner, but Harrison couldn't because he feared his colleagues would think of him as less of a man.
Illness and death
The First Lady was noted for her elegant White House receptions and dinners. In late 1891, she began to battle tuberculosis, which at the time had no known treatment other than rest and good nutrition.
She tried to fulfill her social obligations but, after her condition worsened, she traveled to spend the summer of 1892 in the Adirondack Mountains. The air was considered healthful for TB patients. After her condition became terminal, she returned to the White House, where she died on October 25, 1892. Caroline Harrison was only 60 years old at the time of her death. Preliminary services were held in the East Room, and her body was returned to Indianapolis for the final funeral at her church.
After the period of official mourning ended, the Harrisons' daughter Mary McKee took up the duties of hostess for her father during the last months of his term.
In 1896, Benjamin Harrison married his late wife's niece and former secretary, the widow Mary Scott Dimmick.
Children
The Harrisons had a son and a daughter:
Russell Benjamin Harrison (1854–1936) – engineer, soldier, lawyer, state legislator. Born in Oxford, Ohio, he graduated with a degree in mechanical engineering from Lafayette College in Easton, Pennsylvania, in 1877. After brief employment with an Indianapolis gas company, he was appointed assistant assayer at the U.S. Mint in New Orleans and later assayer at Helena, Montana. In 1884, he married May Saunders, daughter of Senator Alvin Saunders of Nebraska. A man of varied interests, he raised livestock and published the Helena Daily Journal. He served as private secretary to his father during Harrison's term as president. Subsequently, he was president of a streetcar company in Terre Haute, Indiana. After serving as an officer in the Spanish–American War, Russell Harrison was appointed inspector general for the Santiago Territory and provost martial for Puerto Rico. Later he became a lawyer and served as Mexico's legal representative in the U.S. for many years. He was elected to and served in both houses of the Indiana state legislature.
Mary "Mamie" Scott Harrison-McKee (1858–1930). Born in Indianapolis, in 1884 she married J. Robert McKee, later a founder and vice president of General Electric Company. They had two children. She was assistant hostess at the White House during the Harrison administration, and became her father's unofficial First Lady after her mother's death.
Legacy
Caroline Scott Harrison was member n. 7 of the Daughters of the American Revolution. Born in Ohio. Wife of Benjamin Harrison, twenty-first President of the United States. Descendant of John Scott and Saul Rea. Daughter of John Witherspoon Scott and Mary Neal, his wife. Granddaughter of George McElery Scott and Anna Rea, his wife. Great-granddaughter of John Scott and Agnes McElery, his wife. Great-great-granddaughter of John Scott and Jane Mitchell, his wife. John Scott was commissary general of the Pennsylvania Line. Also descendant of Saul Rea, who held civil office during the Revolution and was a member of Congress.
References
Caroline Harrison Wikipedia
(Text) CC BY-SA