2012 brickyard 400 pace car ride with brett bodine
Brett Bodine (born January 11, 1959) is a former NASCAR Winston Cup Series driver and is the current driver of the pace car in Cup Series events. Brett is the younger brother of 1986 Daytona 500 winner Geoff Bodine and the older brother of 2006 NASCAR Craftsman Truck Series champion Todd Bodine. He was born in Chemung, New York.
Contents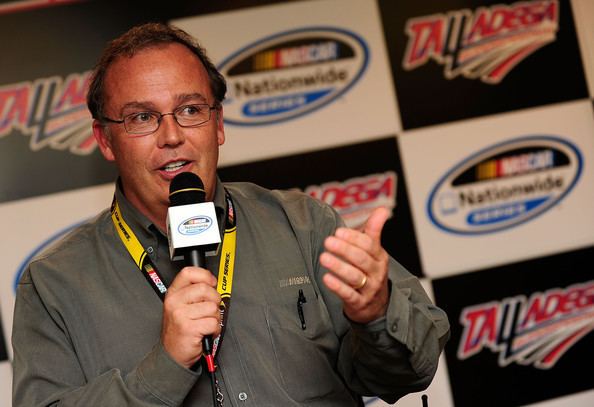 'Where Are They Now': Brett Bodine | NASCAR RACE HUB
Early life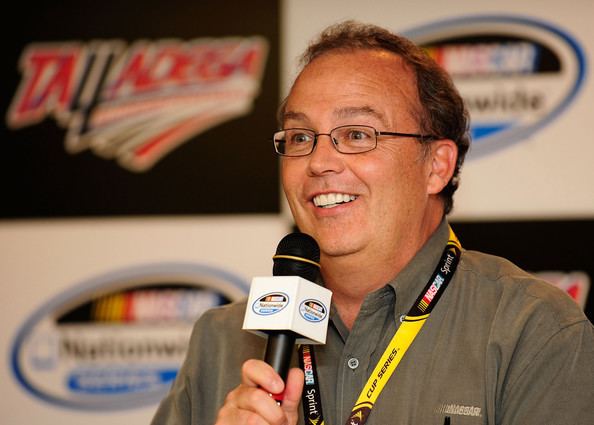 Bodine attended Alfred State College and received an associate's degree in mechanical engineering before he became a professional race CAR driver. Growing up watching his brother Geoff race in the modifieds, Brett decided to embark on a racing career on his own. He began in hobby stock races at the track owned by his parents in 1977 before moving up to the modifieds in 1979. That year he finished 33rd in the season long points race. In the 1980 season he moved up to 24th overall. The 1983 season was Brett's most successful in the modifieds as he recorded 56 starts, 6 wins, 20 top fives, and 30 top tens en route to 7th in the overall standings. He also won his first NASCAR Modified National Championship event, the Stafford 200. 1984 was the last full season of modified driving duties for Bodine. He started 39 events, winning 3 with 19 top fives and 29 top tens while finishing 12th in the overall standings. He also won another National Championship event, this time at Oxford Maine.
The 1985 season saw Bodine move up to the NASCAR Busch Grand National series driving the No. 5 Levi Garrett Pontiac. In just thirteen starts that season he managed 3 Poles, 3 wins, 7 top fives, and 10 top tens. He also made a handful of modified starts and won the most prestigious event; the Race of Champions at Pocono. 1986 saw Bodine run his first full season in the Busch series and he fell just 20 points short of winning the championship. Driving the No. 00 Thomas Brothers Old Country Ham Oldsmobile he tallied 2 wins, 16 top fives, and 24 top tens to go along with 8 pole positions. Bodine also made 4 modified starts in 1986, winning two, both of which were NASCAR Modified National Championship events held at Martinsville. Bodine made his Winston Cup Debut in 1986, driving the No. 2 Exxon Chevy in the Coca-Cola 600. Bodine started 32nd and finished 18th in the Rick Hendrick owned entry.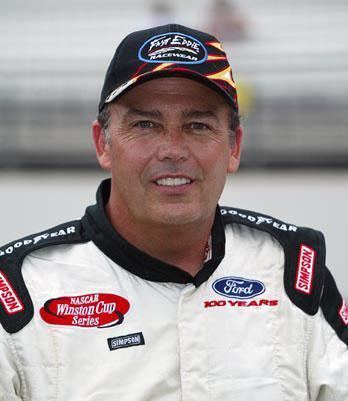 Bodine again drove the full Busch series schedule in 1987 and was voted the series Most Popular Driver. He accumulated 5 poles, 8 top fives, and 17 top tens, and finished 3rd in the championship. Bodine also replaced Terry Labonte on the pace lap in two Winston Cup events. Despite starting from the rear he managed to finish 8th and 9th respectively, although Terry Labonte is technically credited with the finishes. Bodine then ran 14 late season Cup races for Hoss Ellington in the No. 1 Bulls-Eye Barbecue Sauce Chevy. He had 5 top 10 qualifying efforts but his best finish was an 11th at Daytona, one of 5 top twenty finishes.
Moving up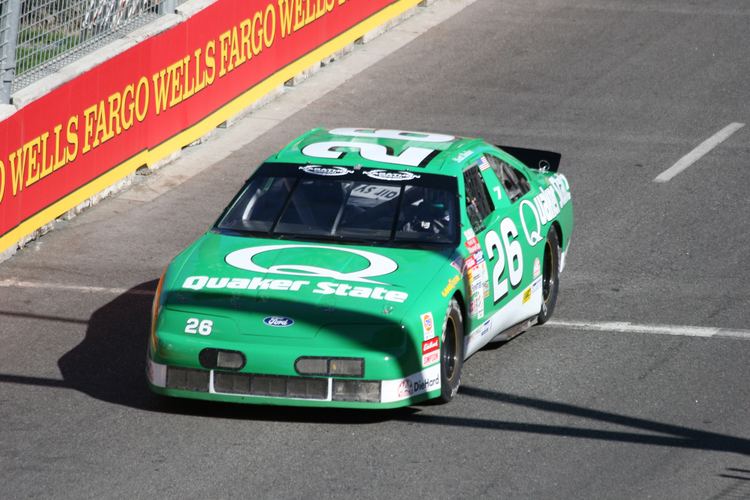 In 1988, Bodine moved to the Cup series full-time for Bud Moore Engineering. In the opening race at the Daytona 500, Brett Bodine was involved in Richard Petty's infamous tumble. Coming off turn 4, Bodine could not see Richard Petty landing in front of him after flips, and Bodine drove straight into Petty spinning Petty in circles.
He drove the No. 15 Crisco Thunderbird posting 5 top-10 finishes and finishing the season 20th in points. Bodine returned in 1989 and recorded 6 more top tens in the No. 15 Motorcraft Ford before finishing 19th in points. In two years Bodine recorded 3 top 5s, 11 top 10s, and 17 top ten qualifying efforts. Bodine and Bud Moore parted ways following the season, partly because Ford wanted a more high profile driver.
Bodine's breakout season came in 1990. Driving the No. 26 Quaker State Buick Regal for champion drag racer Kenny Bernstein, Bodine won his first race at North Wilkesboro Speedway, which came under some controversy. During a long 17-lap caution flag, scoring was mixed up, and some felt that Darrell Waltrip was robbed of the win because of the error. It was found that Waltrip was up front but by the time it was clear that Waltrip won, Bodine had already been declared the winner officially. When Waltrip protested Bill France said "You leave this kid alone DW...it is his first win and you will win more races." The win stood, and before the season was over, Bodine had won his first pole position at the fall event at Charlotte Motor Speedway and was 12th in the championship standings. Bodine wasn't able to equal his 1990 effort, and parted ways with Bernstein after the 1994 season. In his 5 seasons driving the No. 26 Quaker State CAR Bodine posted 5 poles, 1 win, 13 top fives, and 43 top tens while finishing no worse than 20th in the final standings. For 1995 he signed with Junior Johnson piloting the Lowe's Ford Thunderbird. He posted two top ten finishes and finished twentieth in points.
Owner/Driver and its subsequent struggles
After the season, Johnson sold the team to Bodine and his wife Diane. Bodine also bought former boss Kenny Bernstein's old team and merged them together to form Brett Bodine Racing. Bodine raced with Lowe's sponsorship for one more year, scoring a top ten finish and placing 24th in the standings. He then signed Catalyst Communications for 1997 and beyond, but troubles erupted when Catalyst stopped paying its sponsorship fees, leading to a lawsuit. The season had started well 2 top tens and 6 top twenties in the first 9 races, but the lack of funding took its toll. Bodine failed to qualify for a late season race and the team slipped all the way down to 29th in the final standings.
For 1998 Bodine found reliable sponsorship from Paychex and his Ford Taurus showed a marked improvement from the past seasons. He qualified for every race for the first time since 1995 and placed 25th in the final standing. Paychex returned in 1999 but Bodine was unable to carry the momentum of the previous year and slipped to 35th in the standings after missing 2 races. The eventual struggles of being an owner/driver had slowly crept up on Bodine, and he found himself struggling with the responsibilities of fielding a competitive team.
He signed up Ralphs Supermarkets to sponsor his CAR for 2000, and sold half the team to businessman Richard Hilton. The latter deal fell through, but while he was still able to keep Ralphs as a sponsor, the failed buy-out put the team behind in its preparation. Bodine continued to struggle through 2000 though, as he failed to qualify five times that year, and again wound up 35th in points. Ralphs returned as the sponsor and Bodine turned it around slightly in 2001, posting two top ten finishes (the first time he finished that high since 1997), and qualifying for all the races while placing 30th in points. Brett Bodine Racing also expanded to a two-CAR team for the first time in its history, fielding the No. 09 Ford for older brother Geoff, who himself was struggling to maintain his Winston Cup career, in two races. Ralphs however, decided not to return as the sponsor of the team.
With no major sponsors Bodine received sponsorship from minor sponsors such as Wells Fargo, Timberland Pro, and Dura Lube. Three races into the season Hooters was signed to a deal, although at this point Bodine's team was already well behind in development. Several key members of the team, including the crew chief, had left due to worries about being able to run the full season. As part of the deal, Bodine fielded a CAR from Hooters original driver Kirk Shelmerdine, for a couple of races. But after the team failed to make a race, Shelmerdine and his team splintered. Bodine missed four races during the season and finished 36th in the points. Hooters returned in 2003, but with far less funding than the already small amount they had provided the previous season. Bodine became involved in a difficult time during a divorce from his wife and team co-owner Diane. The dispute lead Bodine to file a restraining order against his wife, whom he alleges hit and threatened to ruin him financially. The domestic violence protective order also required Diane Bodine to stay away from NASCAR tracks where her husband was scheduled to race. At the same time Hooters withdrew sponsorship for the Bodine racing team. Bodine had planned to run a partial schedule, running six events until June, when Hooters pulled the plug on its sponsorship program. In the next race at Michigan, Bodine was seriously injured in a practice accident. The impact was violent, and Bodine suffered a broken collar bone and damaged teeth. He recovered from his injuries and tried again with a one race ride with the struggling Morgan-McClure Motorsports, but the CAR failed to make the field. With no major sponsorship for his team and most of his employees laid off, Bodine attempted to run at Indy in a fan sponsored "Brick Car" where, for $500, fans would get their name on the car. The program was a success, but Bodine failed to qualify for the race by .001 seconds. Rumours of a sponsor for 2004 and beyond surfaced, but nothing panned out and the team was sold. After all the recent events and struggles, he decided to retire from driving. For his 18-year Winston Cup career Bodine started 480 races with 5 poles, 1 win, 16 top fives, and 61 top tens while winning over 13 million dollars in prize money.
To the NASCAR Office
Bodine currently works for NASCAR at its research and development center as the Director of Competition, R&D. He works on cost-cutting measures for the sport, the Car of Tomorrow program (now known as simply the "new car"), and he drives the pace car during all Monster Energy Cup Series events, except for those events with a promotional or celebrity pace car driver. Even then, during races with a celebrity pace car driver, Bodine rides shotgun and guides the driver through all NASCAR pace car protocols.
NASCAR
(key) (Bold – Pole position awarded by qualifying time. Italics – Pole position earned by points standings or practice time. * – Most laps led.)
Winston Cup Series
Daytona 500
ARCA Permatex SuperCar Series
(key) (Bold – Pole position awarded by qualifying time. Italics – Pole position earned by points standings or practice time. * – Most laps led.)
References
Brett Bodine Wikipedia
(Text) CC BY-SA