Occupation

Actor, director

Years active

1989–present

Spouse

Mary Gleeson (m. 1982)







Children

Domhnall Gleeson, Brian Gleeson, Fergus Gleeson, Rory Gleeson

Parents

Frank Gleeson, Pat Gleeson

Movies

Calvary, The Guard, In Bruges, Braveheart, Edge of Tomorrow




Similar People
Brendan gleeson biography miragul
Brendan Gleeson (born 29 March 1955) is an Irish actor. He is the recipient of three IFTA Awards, two BIFA Awards, one Emmy Award and has been nominated twice for a BAFTA Award and three times for a Golden Globe Award.
Contents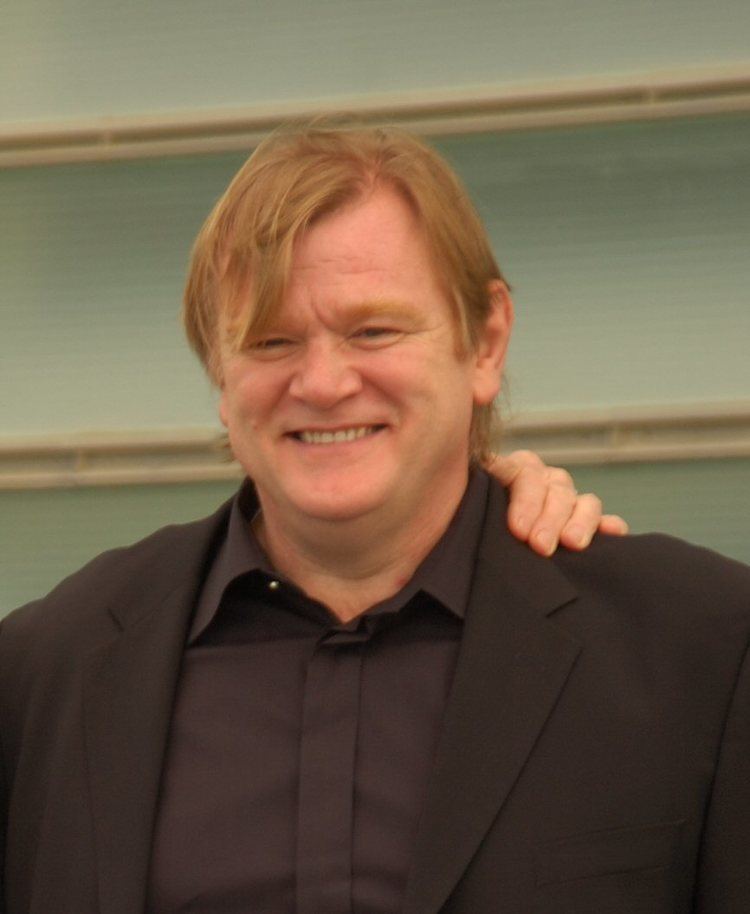 His best-known performances include supporting roles in films such as Braveheart (1995), Lake Placid (1999), Mission: Impossible 2 (2000), Gangs of New York (2002), 28 Days Later (2002), Troy (2004), as Alastor Moody in the Harry Potter films (2005–11), Albert Nobbs (2011), Edge of Tomorrow (2014), and Assassin's Creed (2016), and leading roles in films such as In Bruges (2009), The Guard (2011), Calvary (2014) and Live by Night (2016). He won an Emmy Award in 2009 for his portrayal of Winston Churchill in the television film Into the Storm.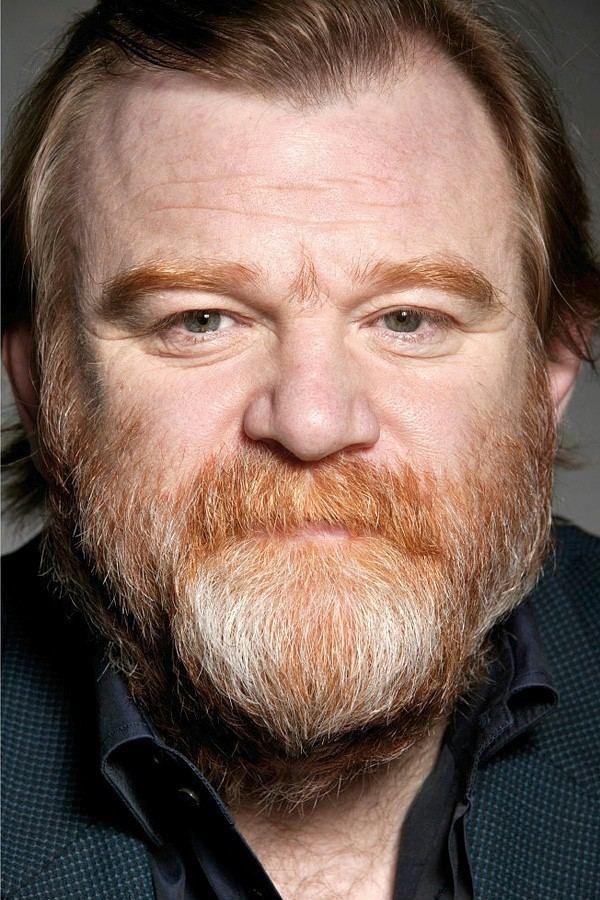 He is also the father of actors Domhnall Gleeson and Brian Gleeson.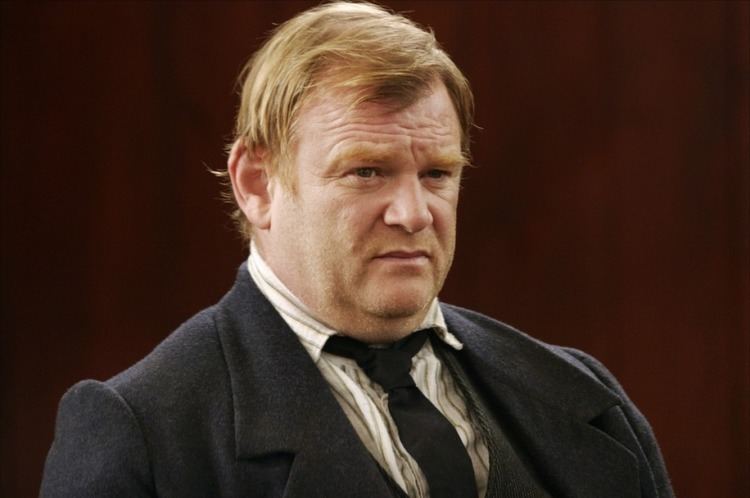 Brendan gleeson winner best actor film ifta 2014
Early life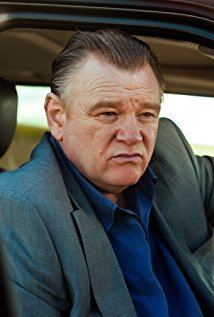 Gleeson was born in Dublin, the son of Pat and Frank Gleeson. Gleeson has described himself as having been an avid reader as a child. He received his second level education at St Joseph's CBS in Fairview, Dublin where he was a member of the school drama group. After training as an actor, he worked for several years as a secondary school teacher of Irish and English at the now defunct Catholic Belcamp College in North County Dublin, which closed in 2004. He was working simultaneously as an actor while teaching, doing semi-professional and professional productions in Dublin and surrounding areas. He left the teaching profession to commit full-time to acting in 1991.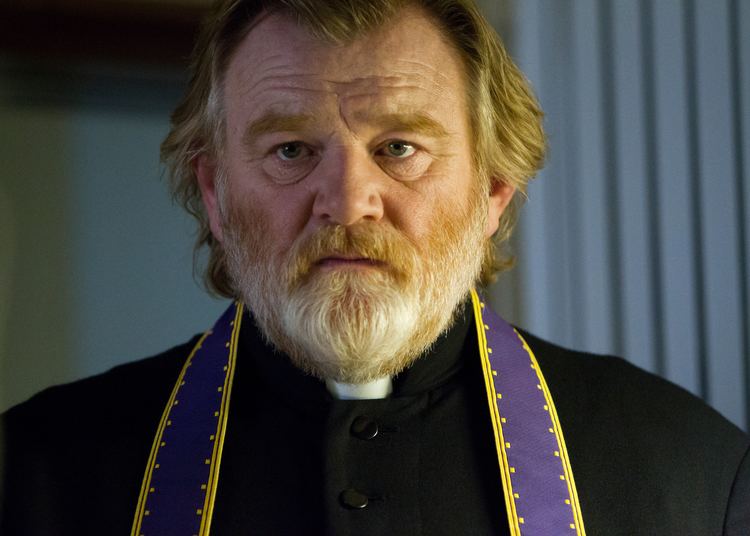 In an NPR interview to promote Calvary, he revealed that he was abused by a Christian Brother, saying, "I remember a particular Christian Brother dropped the hand on me at one point. It wasn't very traumatic and it wasn't at all sustained, it was just one of these things where something odd happened."
Career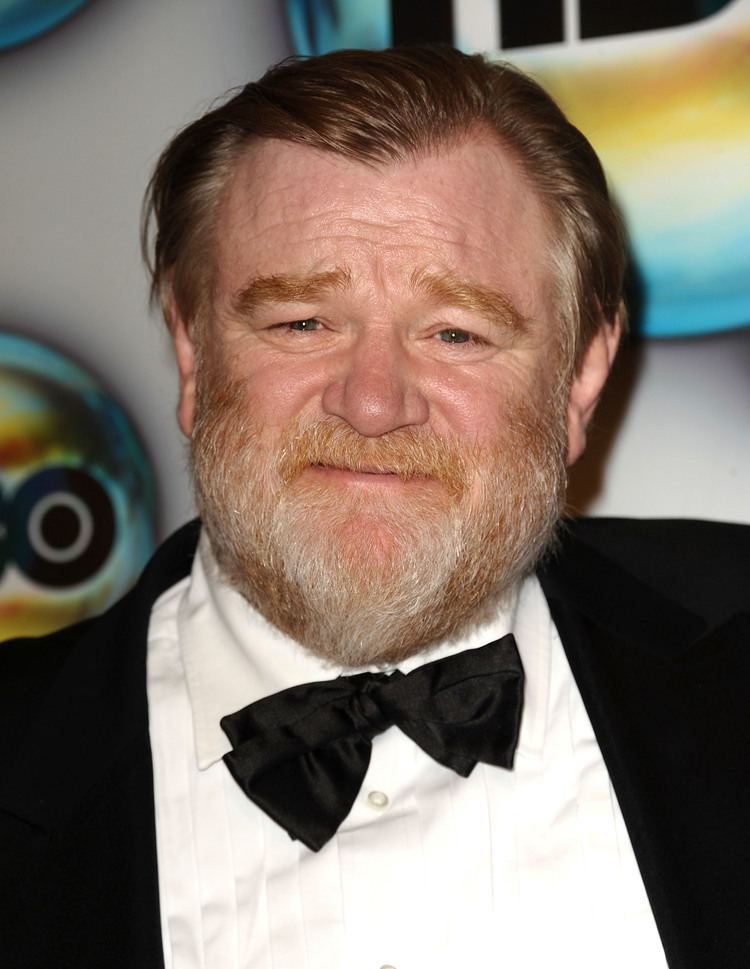 As a member of the Dublin-based Passion Machine, Gleeson appeared in several of the theatre company's early and highly successful plays such as Wasters (1985), Brownbread (1987) and Home (1988). He has also written three plays for Passion Machine: The Birdtable (1987) and Breaking Up (1988), both of which he directed, and Babies and Bathwater (1994) in which he acted. Among his other Dublin theatre work are Patrick Süskind's one-man play The Double Bass and John B. Keane's The Year of the Hiker.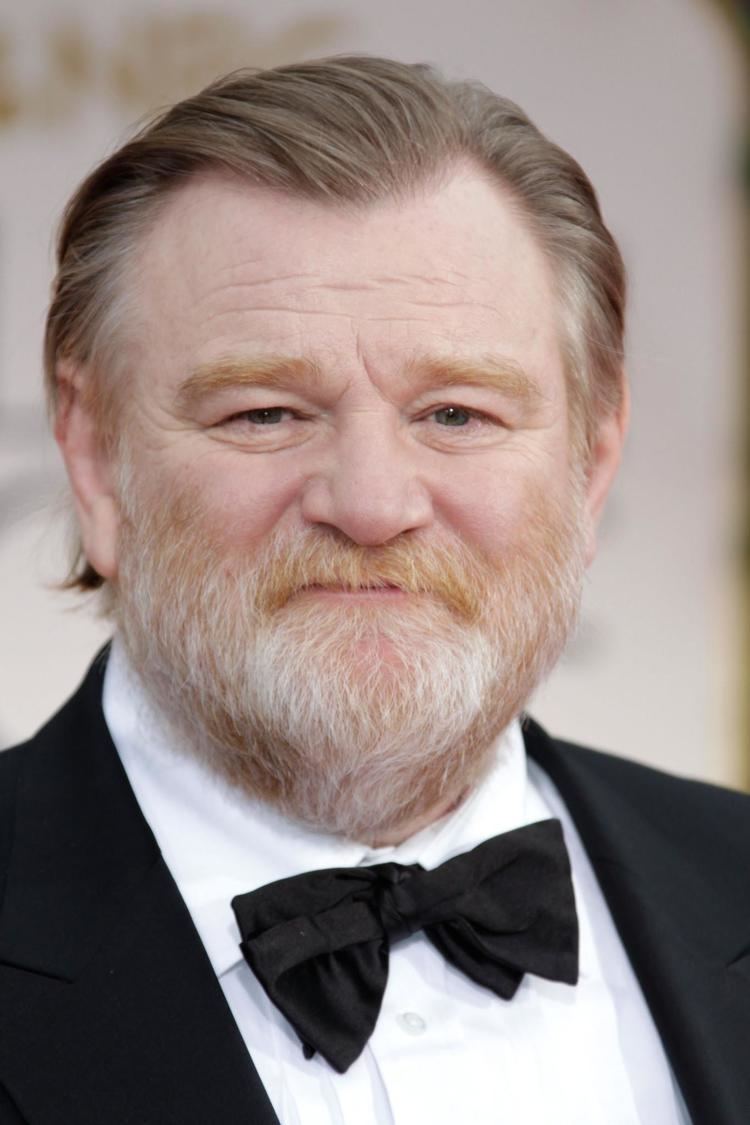 Gleeson started his film career at the age of 34. He first came to prominence in Ireland for his role as Michael Collins in The Treaty, a television film broadcast on RTÉ One, and for which he won a Jacob's Award in 1992. He has acted in such films as Braveheart, I Went Down, Michael Collins, Gangs of New York, Cold Mountain, 28 Days Later, Troy, Kingdom of Heaven, Lake Placid, A.I. Artificial Intelligence, Mission: Impossible 2, and The Village. He won critical acclaim for his performance as Irish gangster Martin Cahill in John Boorman's 1998 film The General.
In 2003, Gleeson was the voice of Hugh the Miller in an episode of the Channel 4 animated series Wilde Stories.
While Gleeson portrayed Irish statesman Michael Collins in The Treaty, he later portrayed Collins' close collaborator Liam Tobin in the film Michael Collins with Liam Neeson taking the role of Collins. Gleeson later went on to portray Winston Churchill in Into the Storm. Gleeson won an Emmy Award for his performance. Gleeson played Hogwarts professor Mad-Eye Moody in the fourth, fifth and seventh Harry Potter films. His son Domhnall played Bill Weasley in the seventh film.
Gleeson provided the voice of Abbot Cellach in The Secret of Kells, an animated film co-directed by Tomm Moore and Nora Twomey of Cartoon Saloon which premiered in February 2009 at the Jameson Dublin International Film Festival.
Gleeson starred in the short film Six Shooter in 2006, which won an Academy Award for Best Live Action Short Film. This film was written and directed by Martin McDonagh who also wrote and directed In Bruges in 2008. The film, and Gleeson's performance, enjoyed huge critical acclaim, earning Gleeson several award nominations, including his first Golden Globe nomination. In the movie, Gleeson plays a mentor-like figure for Colin Farrell's hitman. In his review of In Bruges, Roger Ebert described the elder Gleeson as having a "noble shambles of a face and the heft of a boxer gone to seed."
Gleeson will be making his directorial debut in a film adaptation of Flann O'Brien's novel At Swim-Two-Birds. The Irish production company Parallel Pictures will produce the film with a budget of $11 million. Colin Farrell, Gabriel Byrne, and Cillian Murphy have been attached to star in the film, which was originally set for release in 2010. In October 2009, however, Gleeson expressed concern that the Irish Film Board's budget might be reduced given the state of the Irish economy and that At Swim-Two-Birds might fall through. Gleeson confirmed in July 2011, that he has secured funding for the project. He described the writing of the script as tortuous, saying that it has taken fourteen drafts so far.
In July 2012, he started filming The Grand Seduction, with Taylor Kitsch, a remake of Jean-François Pouliot's French-Canadian La Grande Séduction (2003) directed by Don McKellar; the film was released in 2013. In 2016, he appeared in the video game adaptation Assassin's Creed and Ben Affleck's crime drama Live by Night.
Musical talent
Gleeson is a fiddle and mandolin player, with an interest in Irish folklore. He played the fiddle during his role in Cold Mountain, Michael Collins and also The Grand Seduction, and also features on Altan's 2009 live album.
Personal life
He has been married to Mary (née Weldon) since 1982. He has four sons; Domhnall, Brían, Fergus, and Rúairí. Domhnall and Brían are also actors. Gleeson speaks fluent Irish and is an advocate of the promotion of the Irish language. Gleeson is a fan of Football League Championship team Aston Villa, as is his son Domhnall.
Filmography
Actor
2024
Joker: Folie à Deux (post-production)
2023
A Greyhound of a Girl
as
Paddy (voice)
2022
The Banshees of Inisherin
as
Colm Doherty
2022
State of the Union (TV Series short)
as
Scott
- The Last Box (2022) - Scott
- Kopi Luwak (2022) - Scott
- Facetime TV (2022) - Scott
- The Road Most Travelled (2022) - Scott
- Intimacy Kit (2022) - Scott
- Led Zeppelin's Accountant (2022) - Scott
- Prison Thoughts (2022) - Scott
- Big Mustard (2022) - Scott
- Why Quake? (2022) - Scott
- The Laws of Grammar (2022) - Scott
2021
The Tragedy of Macbeth
as
Duncan
2021
Riverdance: The Animated Adventure
as
The Huntsman (voice)
2021
Frank of Ireland (TV Series)
as
Liam
- Memento Mary (2021) - Liam
2020
The Comey Rule (TV Mini Series)
as
Donald Trump
- Night Two (2020) - Donald Trump
- Night One (2020) - Donald Trump
2017
Mr. Mercedes (TV Series)
as
Bill Hodges
- Burning Man (2019) - Bill Hodges
- Crunch Time (2019) - Bill Hodges
- Mommy Deadest (2019) - Bill Hodges
- The End of the Beginning (2019) - Bill Hodges
- Bad to Worse (2019) - Bill Hodges
- Great Balls of Fire (2019) - Bill Hodges
- Trial and Terror (2019) - Bill Hodges
- Lost Love (2019) - Bill Hodges
- Madness (2019) - Bill Hodges
- No Good Deed (2019) - Bill Hodges
- Fade to Blue (2018) - Bill Hodges
- Walk Like a Man (2018) - Bill Hodges
- Nobody Puts Brady in a Crestmore (2018) - Bill Hodges
- Fell on Black Days (2018) - Bill Hodges
- Proximity (2018) - Bill Hodges
- Ándale (2018) - Bill Hodges
- Motherboard (2018) - Bill Hodges
- You Can Go Home Now (2018) - Bill Hodges
- Let's Go Roaming (2018) - Bill Hodges
- Missed You (2018) - Bill Hodges
- Jibber-Jibber Chicken Dinner (2017) - Bill Hodges
- Ice Cream, You Scream, We All Scream (2017) - Bill Hodges
- From the Ashes (2017) - Bill Hodges
- Willow Lake (2017) - Bill Hodges
- People in the Rain (2017) - Bill Hodges
- The Suicide Hour (2017) - Bill Hodges
- Gods Who Fall (2017) - Bill Hodges
- Cloudy, with a Chance of Mayhem (2017) - Bill Hodges
- On Your Mark (2017) - Bill Hodges
- Pilot (2017) - Bill Hodges
2019
Ghost in the Graveyard
as
Student / Extra
2018
The Ballad of Buster Scruggs
as
Irishman (segment "The Mortal Remains")
2018
Psychic (Short)
as
Jeremiah
2018
Captain Morten and the Spider Queen
as
Captain Vicks (voice)
2017
Paddington 2
as
Knuckles McGinty
2017
Hampstead
as
Donald Horner
2016
Assassin's Creed
as
Joseph Lynch
2016
Live by Night
as
Thomas Coughlin
2016
Trespass Against Us
as
Colby Cutler
2016
Alone in Berlin
as
Otto Quangel
2015
In the Heart of the Sea
as
Tom Nickerson
2015
Suffragette
as
Inspector Arthur Steed
2014
The Money (TV Movie)
as
James Castman
2014
Song of the Sea
as
Conor / Mac Lir (voice)
2014
The Hogwarts Express (Video short)
as
Alastor 'Mad-Eye' Moody
2014
Stonehearst Asylum
as
The Alienist
2014
Edge of Tomorrow
as
General Brigham
2013
1916 Seachtar Dearmadta (TV Mini Series)
as
Glór
- Edward Daly (2013) - Glór
- Willie Pearse (2013) - Glór
- Michael O'Hanrahan (2013) - Glór
- Seán Heuston (2013) - Glór
- John MacBride (2013) - Glór
- Con Colbert (2013) - Glór
- Michael Mallin (2013) - Glór
2013
The Grand Seduction
as
Murray French
2012
Immaturity for Charity (TV Movie)
as
Various
2012
The Company You Keep
as
Henry Osborne
2012
So You Want to Be a Pirate! (Video short)
as
The Pirate with Gout (voice)
2012
The Pirates! Band of Misfits
as
The Pirate with Gout (voice)
2012
The Raven
as
Capt. Charles Hamilton
2012
Safe House
as
David Barlow
2011
Albert Nobbs
as
Dr. Holloran
2010
Harry Potter and the Deathly Hallows: Part 1
as
Alastor 'Mad-Eye' Moody
2010
1916 Seachtar na Cásca (TV Series)
as
Narrator
- PH Pearse (2010) - Narrator
- Eamonn Ceannt (2010) - Narrator
- Thomas McDonagh (2010) - Narrator
- Joseph Plunkett (2010) - Narrator
- James Connolly (2010) - Narrator
2010
Noreen (Short)
as
Con Keogh
2010
Green Zone
as
Martin Brown
2009
Perrier's Bounty
as
Darren Perrier
2009
Into the Storm (TV Movie)
as
Winston Churchill
2009
The Secret of Kells
as
Abbot Cellach (voice)
2007
Beowulf: The Game (Video Game)
as
Wiglaf (voice)
2007
Harry Potter and the Order of the Phoenix
as
Alastor 'Mad-Eye' Moody
2007
Black Irish
as
Desmond McKay
2006
The Tiger's Tail
as
Liam O'Leary / The Double
2005
Harry Potter and the Goblet of Fire
as
Alastor 'MadEye' Moody
2005
Breakfast on Pluto
as
John Joe Kenny
2005
Kingdom of Heaven
as
Reynald de Chatillon
2005
Jakers! The Adventures of Piggley Winks (TV Series short)
as
Ferny Toro
- Wish Upon a Story: Part 2 (2005) - Ferny Toro (voice)
- Wish Upon a Story: Part 1 (2005) - Ferny Toro (voice)
2004
Six Shooter (Short)
as
Donnelly
2004
The Village
as
August Nicholson
2004
In My Country
as
Col. de Jager
2003
Wilde Stories: The Devoted Friend (TV Movie)
as
Hugh
2003
Cold Mountain
as
Stobrod Thewes
2002
Dark Blue
as
Jack Van Meter
2002
Gangs of New York
as
Walter 'Monk' McGinn
2001
Cáca Milis (Short)
as
Paul
2001
A.I. Artificial Intelligence
as
Lord Johnson-Johnson
2001
The Tailor of Panama
as
Mickie Abraxas
2000
Wild About Harry
as
Harry McKee
2000
Harrison's Flowers
as
Marc Stevenson
2000
Mission: Impossible II
as
McCloy
2000
Saltwater
as
Simple Simon
1999
My Life So Far
as
Jim Menzies
1999
Lake Placid
as
Sheriff Hank Keough
1998
Making the Cut (TV Movie)
as
Flanagan
1998
Sweety Barrett
as
Sweety Barrett
1998
This Is My Father
as
Garda Jim
1998
The General
as
Martin Cahill
1997
Before I Sleep (Short)
as
John Harte
1997
I Went Down
as
Bunny Kelly
1997
The Butcher Boy
as
Father Bubbles
1996
Angela Mooney
as
Barney Mooney
1996
Messaggi quasi segreti
as
Frank Ferguson
1996
Michael Collins
as
Liam Tobin
1995
Kidnapped (TV Movie)
as
Red Fox
1995
The Life of Reilly (Short)
as
Patient
1994
The Lifeboat (TV Series)
as
Leslie Parry
- UN1407 (1994) - Leslie Parry
- Three Men in a Boat (1994) - Leslie Parry
- Homecomings (1994) - Leslie Parry
- The Pirates of Penrhys (1994) - Leslie Parry
- Breaking Point (1994) - Leslie Parry
- Shadows of Doubt (1994) - Leslie Parry
- The Birdman (1994) - Leslie Parry
- The Big Match (1994) - Leslie Parry
- Troubled Waters (1994) - Leslie Parry
1993
Screenplay (TV Series)
as
Thomas Macken
- Love Lies Bleeding/L'Inconnue de Belfast (1993) - Thomas Macken
1993
Screen Two (TV Series)
as
Lester
- The Snapper (1993) - Lester
1992
M.A.N.: Matrix Adjusted Normal (Short)
as
Dr. Abraham
1992
The Bargain Shop
as
Jim Kennedy
1992
Into the West
as
Inspector Bolger
1992
Conneely's Choice (Short)
as
Josie Conneely
1992
Far and Away
as
Social Club Policeman
1991
Saint Oscar (TV Movie)
1991
The Treaty (TV Movie)
as
Michael Collins
1991
4 Play (TV Series)
as
Farmer
- In the Border Country (1991) - Farmer
1990
Hard Shoulder (TV Movie)
as
Lorry Driver
1989
Dear Sarah (TV Movie)
as
Brendan Dowd
Director
Producer
2018
Psychic (Short) (producer)
Soundtrack
2022
The Banshees of Inisherin (arranger: "Limestone Rock", "ArEireann", "Aghadoe") / (performer: "The Banshees of Inisherin", "Limestone Rock", "I'm a Man You Don't Meet Everyday", "ArEireann", "Aghadoe") / (writer: "The Banshees of Inisherin")
2018
The Ballad of Buster Scruggs (performer: "The Unfortunate Lad")
2003
Cold Mountain (performer: "Bonaparte's Retreat", "Ruby with the Eyes That Sparkle", "Sittin' on Top of the World" (1966))
2000
Wild About Harry (performer: "Welcome Home")
Thanks
2016
Inside Suffragette (Video short) (special thanks)
Self
2023
Entertainment Tonight (TV Series)
as
Self
- Episode #42.157 (2023) - Self
2023
The Oscars (TV Special)
as
Self - Nominee
2017
The Late Late Show with James Corden (TV Series)
as
Self - Guest
- Colin Farrell/Brendan Gleeson/Chris Martin (2023) - Self - Guest
- Gordon Ramsey/Brendan Gleeson/Maggie Rogers (2017) - Self - Guest
2023
GMA3: What You Need to Know (TV Series)
as
Self
- Alex Perez/Milly Almodovar/James Longman (2023) - Self
2023
The 29th Annual Screen Actors Guild Awards (TV Special)
as
Self - Nominee & Presenter
2023
EE BAFTA Film Awards (TV Special)
as
Self - Nominee
2023
CBS News Sunday Morning (TV Series)
as
Self - Guest
- Episode #45.19 (2023) - Self - Guest
2022
The Irish Civil War (Documentary)
as
Self - Narrator (voice)
2022
IMDb on the Scene - Interviews (TV Series)
as
Self - Guest
- The Banshees of Inisherin (2022) - Self - Guest
2022
The Graham Norton Show (TV Series)
as
Self - Guest
- Brendan Gleeson/Colin Farrell/Kate Hudson/Edward Enninful/Elizabeth Banks/Rebecca Lucy Taylor as Self Esteem (2022) - Self - Guest
2014
Late Night with Seth Meyers (TV Series)
as
Self - Guest
- Brendan Gleeson & Colin Farrell/Kaitlyn Dever/Elena Bonomo (2022) - Self - Guest
- Taylor Schilling/Brendan Gleeson/Jason Kander/Joey Castillo (2018) - Self - Guest
- Hank Azaria/Mary Lynn Rajskub/Brendan Gleeson (2014) - Self - Guest
2022
The Late Show with Stephen Colbert (TV Series)
as
Self - Guest
- Colin Farrell & Brendan Gleeson/Paul Mercurio (2022) - Self - Guest
2022
Saturday Night Live (TV Series)
as
Self - Host
- Brendan Gleeson/Willow (2022) - Self - Host
2021
Hollywood Insider (TV Series)
as
Self
- Examining the Greatest Directorial Debuts in Film History - From Steven Spielberg to Jordan Peele (2022) - Self
- An Ode to the Undead: A History of Zombie Movies from George Romero to Zack Snyder (2021) - Self
2021
Burren Heart of Stone (TV Series documentary)
as
Narrator
- Song of our Ancestors (2021) - Narrator
- Symphony of Life (2021) - Narrator
2021
2021 Golden Globe Awards (TV Special)
as
Self - Nominee
2014
Today (TV Series)
as
Self - Guest
- Episode dated 20 August 2019 (2019) - Self - Guest
- Episode dated 29 July 2014 (2014) - Self - Guest
2017
Ok! TV (TV Series)
as
Self
- Episode #2.244 (2017) - Self
- Episode #2.239 (2017) - Self
2017
Weekend (TV Series)
as
Self - Guest
- Episode #4.20 (2017) - Self - Guest
2017
The Men of 'Live by Night' (Video documentary short)
as
Self
2016
Bow Street Meets (TV Series)
as
Self
- Bow Street Meets - Brendan Gleeson (2016) - Self
2016
Atlantic (Documentary)
as
Narrator (voice)
2016
Suffragette: Looking Back, Looking Forward (Video short)
as
Self / Inspector Arthur Steed
2016
Días de cine (TV Series)
as
Self - Interviewee
- Episode dated 18 February 2016 (2016) - Self - Interviewee
2014
11th Annual Irish Film & Television Awards (TV Special)
as
Self - Winner
2012
The Raven Guts: Bringing Death to Live (Video documentary short)
as
Self
2012
The 69th Annual Golden Globe Awards (TV Special)
as
Self - Nominee
2011
The Making of 'The Cup' (TV Special documentary short)
as
Self - Actor
2011
The Making of 'The Guard' (Video short)
as
Self
2010
The One Show (TV Series)
as
Self - Guest
- Episode #6.140 (2011) - Self - Guest
- Episode dated 16 March 2010 (2010) - Self - Guest
2011
Made in Hollywood (TV Series)
as
Self
- Episode #6.32 (2011) - Self
2011
Creating the World of Harry Potter, Part 6: Magical Effects (Video documentary)
as
Self / Mad-Eye Moody
2011
This Morning (TV Series)
as
Self - Guest
- Episode dated 27 May 2011 (2011) - Self - Guest
2011
8th Annual Irish Film and Television Awards (TV Special)
as
Self - Presenter
2010
Inside 'the Green Zone' (Video documentary short)
as
Self
2009
Xposé (TV Series)
as
Self
- Episode #4.125 (2010) - Self
- Episode #4.111 (2010) - Self
- Episode #4.96 (2010) - Self
- Episode #3.117 (2009) - Self
2010
The 7th Annual Irish Film and Television Awards (TV Special)
as
Self - Winner & Presenter
2010
The 67th Annual Golden Globe Awards (TV Special)
as
Self - Nominee
2009
2009 Golden Globe Awards Red Carpet Special (TV Special)
as
Self
2009
Creating the World of Harry Potter, Part 2: Characters (Video documentary)
as
Self / Mad-Eye Moody
2009
The 61st Primetime Emmy Awards (TV Special)
as
Self - Winner
2009
Braveheart: A Look Back (Video documentary)
as
Self
2009
Tavis Smiley (TV Series)
as
Self - Guest
- Episode dated 15 May 2009 (2009) - Self - Guest
2009
The 6th Annual Irish Film and Television Awards (TV Special)
as
Self
2009
Golden Globe Awards (TV Special)
as
Self - Nominee
2008
Beowulf: Mapping the Journey (Video documentary short)
as
Self (uncredited)
2008
Buzz: at&T Original Documentaries (TV Series documentary)
as
Self
- Sundance Film Festival 2008 (2008) - Self
2008
Shootout (TV Series)
as
Self
- Sundance Film Festival: Part I (2008) - Self
2007
Interviews with the Cast of 'Braveheart' (Video short)
as
Self
2007
The Hidden Secrets of Harry Potter (TV Movie documentary)
as
Self
2006
San Sebastián 2006: Crónica de Carlos Boyero (TV Movie documentary)
as
Self
2006
Colors of the Crusade (Video documentary short)
as
Self
2006
The Path to Redemption (Video documentary)
as
Self
2006
Flann O'Brien: The Lives of Brian (TV Movie documentary)
as
Narrator
2005
'Kingdom of Heaven': Interactive Production Grid (Video documentary)
as
Self
2005
HBO First Look (TV Series documentary short)
as
Self
- 'Harry Potter and the Goblet of Fire': Dark Matters, New Masters (2005) - Self
2005
Kingdom of Hope: The Making of 'Kingdom of Heaven' (TV Movie documentary)
as
Self
2005
Deconstructing 'the Village' (Video documentary short)
as
Self
2004
2nd Irish Film and Television Awards (TV Special)
as
Self - Presenter
2003
The Words and Music of 'Cold Mountain' (TV Movie)
as
Self
2003
A Journey to 'Cold Mountain' (TV Movie documentary)
as
Self
2002
Pure Rage: The Making of '28 Days Later' (TV Short documentary)
as
Self
1998
Signé croisette (TV Series)
as
Self
- Episode dated 24 May 1998 (1998) - Self
- Episode dated 19 May 1998 (1998) - Self
Archive Footage
2023
The Graham Norton Show (TV Series)
as
Self - Guest
- Compilation Show 1 (2023) - Self - Guest
2023
Entertainment Tonight (TV Series)
as
Self
- Episode #42.138 (2023) - Self
2022
Movie Night Extravaganza (TV Series)
as
Self
- 28 Days Later (2022) - Self
2019
Finding Bruges: An Interview with Michael Carlin (Documentary short)
as
Self
2019
Finding the Rhythm: An Interview with Jon Gregory (Documentary short)
as
Self
2019
Shoot First, Sightsee Later: An Interview With Director of Photography Eigil Bryld (Documentary short)
as
Self
2019
The Alcove Guy: An Interview with Eric Godon (Documentary short)
as
Self
2010
Reeling in the Years (TV Series documentary)
as
Self
- 2006 (2010) - Self (uncredited)
2010
An Cúpla Corr (TV Movie documentary)
as
Barney Mooney
2006
Reflections on the Fourth Film (Video documentary short)
as
Prof. Alastor 'Mad­Eye' Moo (uncredited)
2006
The Maze: The Third Task (Video documentary short)
as
Professor Alastor 'Mad­Eye' Moody (uncredited)
1991
In Flags or Flitters: Pictures of Dublin (TV Movie documentary)
as
Self
References
Brendan Gleeson Wikipedia
(Text) CC BY-SA