Tom Cruise plays Ron Kovic, in a performance that earned him his first Academy Award nomination. Oliver Stone (himself a Vietnam veteran) co-wrote the screenplay with Kovic, and also produced and directed the film. Stone wanted to film the movie in Vietnam, but because relations between the United States and Vietnam had not yet been normalized, it was instead filmed in the Philippines. The film is considered part of Stone's "trilogy" of films about the Vietnam War—following Platoon (1986) and preceding Heaven & Earth (1993).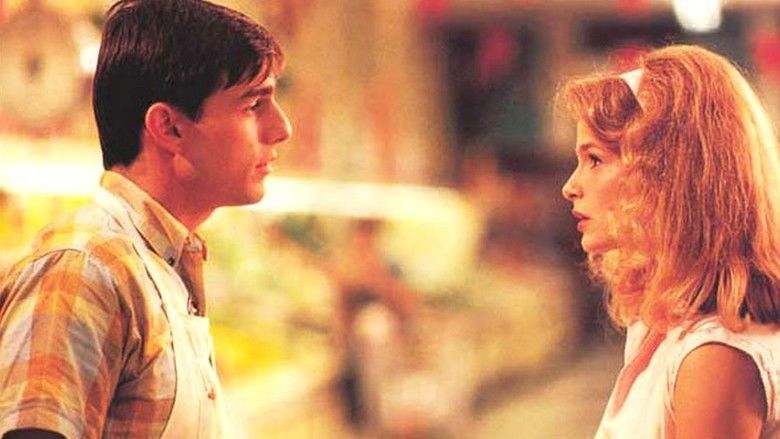 In the summer of 1956 in Massapequa, Long Island, New York, 10-year-old Ron Kovic plays soldier in the woods and attends a Fourth of July parade. After watching President John F. Kennedy's inaugural address, it inspires him to enlist in the Marines. Later, Kovic attends an impassioned lecture about the Marine Corps. He decides to enlist and misses his prom because he is unable to secure a date with his love interest, Donna. He confronts her at the prom and has a dance with her on his last night before leaving.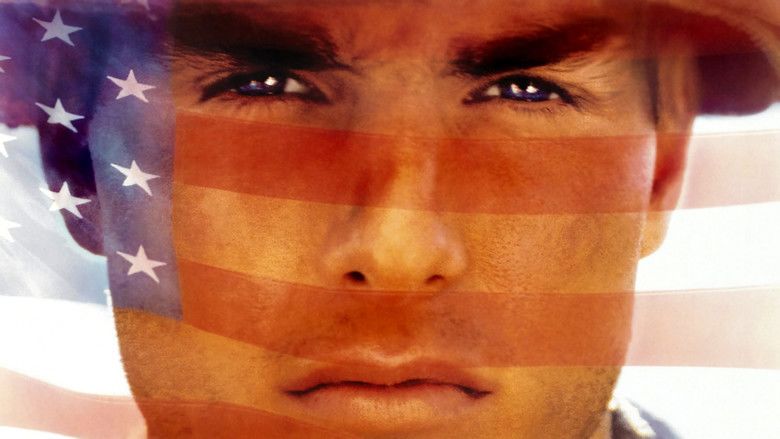 Now a Marine sergeant and on patrol during his second Vietnam tour in October 1967, Kovic's unit kills a number of Vietnamese civilians in a village, believing them to be enemy combatants. During the retreat, Kovic accidentally kills one of the new arrivals to his platoon, a younger private first class named Wilson. During a firefight in January 1968, Kovic is critically wounded, but a fellow Marine rescues him. Paralyzed from the mid-chest down, he spends several months recovering at the Bronx Veterans Administration hospital, where the hospital conditions are poor, with rats roaming the floors; the doctors and nurses ignore patients and abuse drugs, and the equipment is too old to be useful. Kovic desperately tries to walk again with the use of crutches and braces, despite repeated warnings from his doctors.
In 1969, Kovic returns home, permanently in a wheelchair, with his leg intact. Though he tries to maintain his dignity as a United States Marine, Kovic gradually becomes disillusioned and resorts to alcohol. In Kovic's absence, his younger brother Tommy (Josh Evans) has already become staunchly anti-war, remarking to Kovic what the war had done to him. During an Independence Day parade, Kovic shows signs of post-traumatic stress when firecrackers explode. When he is asked to give a speech, a baby in the crowd starts crying. After being unable to finish the speech and wheeled off stage, he reunites with his old high school friend Timmy Burns, who is also a wounded veteran, and the two spend Kovic's birthday sharing war stories. Later, Kovic goes to visit Donna at her college in Syracuse, New York, where the two reminisce and she asks him to attend a vigil for the victims of the Kent State shootings. He and Donna are separated when she and her fellow students are taken away by the police at her college for demonstrating against the Vietnam War. Ron goes to a bar and almost gets into a fight with a fellow Marine. After Ron has a heated argument with his mother, his father decides to send him to Mexico.
He arrives in "The Village of the Sun", which seems to be a haven for paralyzed Vietnam veterans. He has his first sexual experience with a prostitute, whom he believes he loves, until he sees her with another customer. He hooks up with another wheelchair-bound veteran, Charlie, and the two travel to what they believe will be a friendlier village. After annoying their taxicab driver, they end up stranded on the side of the road and arguing with each other. They are picked up by a man with a truck and driven back to the "Village of the Sun." Going back to Long Island, Kovic travels to Georgia to visit Wilson's parents and family. He tells them the true story about their son's death and confesses his guilt.
Kovic joins Vietnam Veterans Against the War (VVAW) and travels to the 1972 Republican National Convention in Miami. He tells a reporter about his negative experiences in Vietnam and the VA hospital conditions, that the Vietnam War is wrong, and that the Vietnamese people are a proud people fighting against the US for their independence, all of which fuels rage from the surrounding Nixon supporters. His interview is cut short when guards eject him and his fellow vets from the hall and attempt to turn them over to the police. They manage to break free from the police, regroup, and charge the hall again, though not successfully this time. Kovic speaks at the 1976 Democratic National Convention, shortly after the publication of his autobiography, Born on the Fourth of July.
Oliver Stone, also a Vietnam veteran, read Ron Kovic's best-selling autobiography Born on the Fourth of July and was stunned to learn what Kovic had suffered after the war. Wanting to make it into a film, he bought the rights to the autobiography, and then had to find a distributor. Stone offered the project to Universal Pictures and they accepted. He then had to find a producer for the film, and eventually became producer himself, along with A. Kitman Ho. Tom Cruise was cast as Ron Kovic while Stone directed. Stone met with Ron Kovic and they discussed their experiences in Vietnam. Kovic wrote the screenplay with Stone, and appears in the film himself during the opening parade sequence as a soldier who flinches at the sound of exploding firecrackers—a reflex Cruise's Kovic will adopt himself later in the film.
Stone wanted to film the movie in Vietnam, but since the relationship between Vietnam and the United States had not been resolved, Stone decided instead to film it in the Philippines (where Stone had previously filmed Platoon). Other scenes which do not include combat were filmed in the U.S., particularly Dallas, Texas. The film was cinematographer Robert Richardson's first experience shooting in the anamorphic format. Of the stars he worked with in this film, Stone worked again with both Tom Berenger and Willem Dafoe, who originally starred in Platoon. Another star, Frank Whaley, would join Stone for the 1991 films The Doors and JFK.
Music used in the film includes "A Hard Rain's A Gonna Fall" by Edie Brickell & New Bohemians, "Born on the Bayou" by the Broken Homes, "Brown Eyed Girl" by Van Morrison, "American Pie" by Don McLean, "My Girl" by The Temptations, "Soldier Boy" by The Shirelles, "Venus" by Frankie Avalon, and "Moon River" by Henry Mancini.
The soundtrack, Born On The Fourth Of July — Motion Picture Soundtrack Album, includes music by John Williams, for which in 1990 he was nominated for a Academy Award for Best Original Score, a Golden Globe Award for Best Music, Original Score, and a BMI Film Music Award (the latter of which he won).
The film was released on December 20, 1989, grossing $766,942 during its opening week, in limited release. Over the course of its second week, the film grossed $1,464,345. At its third week of release, now in wide release, it grossed $5,343,453, ranking #1 at the box office. The film remained in the number one position up until its sixth week of release. The film stayed in the #11 position of the top ten grossing films of 1990 until its last week of release. The film grossed $70,001,698 domestically and $161,001,698 worldwide, significantly surpassing its $14 million budget.
Reviews of the film were extremely positive. On Rotten Tomatoes, the film holds a score of 90% of positive reviews by critics, based on 37 reviews. Roger Ebert gave the film four out of four stars. Metacritic reported that the film had an average score of 75 out of 100. The New York Times says: "It is a film of enormous visceral power with, in the central role, a performance by Tom Cruise that defines everything that is best about the movie." Peter Travers of Rolling Stone says: "Stone has found Cruise the ideal actor to anchor the movie with simplicity and strength. Together they do more than show what happened to Kovic. Their fervent, consistently gripping film shows why it still urgently matters." Many critics also praised Tom Cruise's performance and Oliver Stone's direction of the film. Stone would later be awarded with an Oscar and a Golden Globe for directing while Tom Cruise received the Golden Globe Award for Best Actor.
Notable critics who gave the film negative reviews include Jonathan Rosenbaum, who said: "[T]he movie's conventional showbiz finale, brimming with false uplift, implies that the traumas of other mutilated and disillusioned Vietnam veterans can easily be overcome if they write books and turn themselves into celebrities." Hal Hinson of the Washington Post called the film "hysterical and overbearing and alienating." Sheila Benson of the Los Angeles Times wrote: "[T]he director has lost the specificity that made Platoon so electrifying. In its place he uses bombast, overkill, bullying."
Awards and nominations
American Film Institute Lists
AFI's 100 Years...100 Movies – Nominated
AFI's 100 Years...100 Heroes and Villains:
Ron Kovic – Nominated Hero
AFI's 100 Years...100 Cheers – Nominated
AFI's 100 Years...100 Movies (10th Anniversary Edition) – Nominated
The film was released on VHS and Laserdisc in 1990 and on DVD in 1998. The DVD contains commentary by director Oliver Stone. The special edition DVD was released on October 19th, 2004. The DVD contains commentary with Director Oliver Stone and the original NBC documentary of the making of Born on the Fourth of July. In 2007, the film was released on the HD DVD format. On September 1, 2011 Universal Australia released the film on Blu-ray Disc. It was released in the US on July 3, 2012.