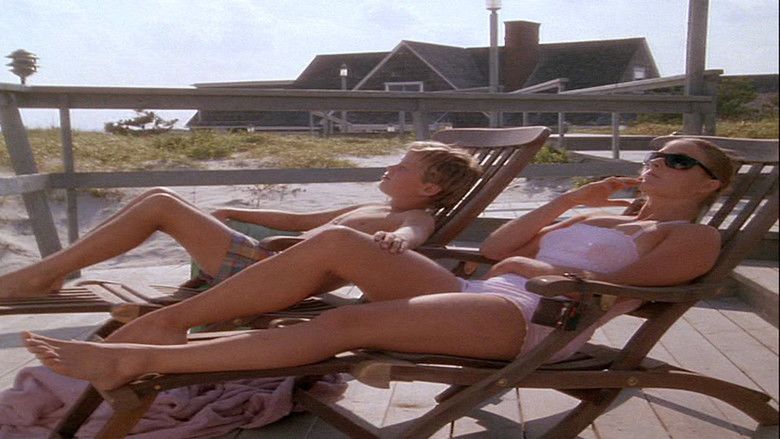 In the 1980s, Billy Wyatt (Harmon) is a thirty-something washed up baseball player who now works as a high school groundskeeper, spending his days tending to the field and drinking. One afternoon he receives a phone call informing him that Katie Chandler, an old acquaintance, has died.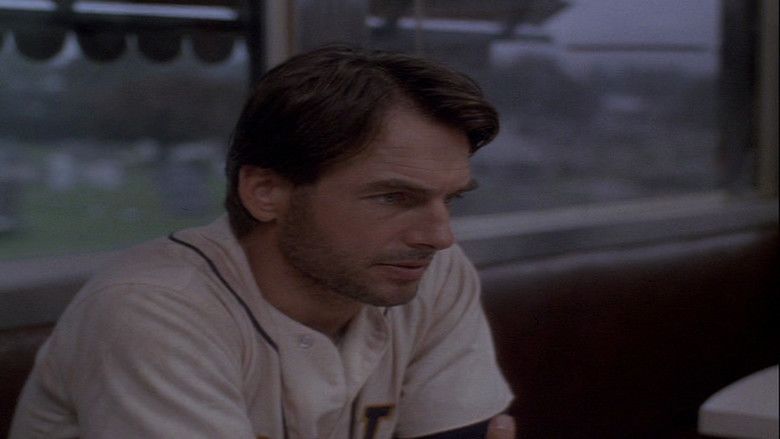 The bulk of the film consists of extended flashbacks to the 1960s explaining Billy and Katie's relationship. Katie was a slightly older neighborhood girl who befriended Billy's mother, Ginny (Brown), and who became his babysitter. Katie acts as a mentor to the young Billy, and, as he grows up, gives him advice on women and dating. As Billy ages he begins to develop feelings for Katie, though the rebellious and worldly wise Katie is interested in older men. Nevertheless, the two share a flirtatious relationship, and Katie comes to regard Billy as her closest friend and confidante. One summer in his late teens, Billy's father dies in a car accident, and Katie, Billy, and Ginny go on vacation to recover from the tragedy. While sharing a beach house, Katie encourages Ginny to have a one-night stand. An enraged Billy attacks the man whom she brings home, thinking that having sex with another man so soon is disrespectful to his father's memory. He and Katie argue, but later that night make up and sleep together. The next day, Katie tells Billy that she's leaving the country with a man she's been seeing, intending to live a life of adventure. In voice over narration, Billy recalls that this is the last time he ever saw Katie.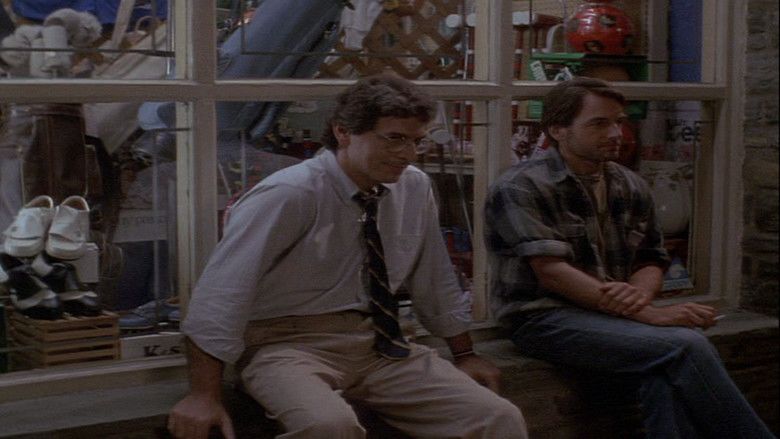 In the present, Billy visits Katie's family. Her father tells Billy that Katie went through a series of failed and abusive relationships getting married and divorced 4 times and that she had seemed chronically unhappy for some time. Despite apparently rebounding from her most recent breakup, she unexpectedly committed suicide. Katie's father tells Billy that her suicide note requested that Billy be responsible for disposing of her ashes, and entrusts them to Billy.
Billy reunites with his childhood friend Alan Appleby (Ramis), and the two engage in a night of reminiscing and carousing with Katie's ashes while trying to decide what will be the most respectful way to dispose of them. Eventually, Billy recalls a memory of Katie telling him a story about watching an Atlantic City show in which a horse ran down a pier and jumped into the water, admiring the image of freedom it offered her. The next morning, Billy locates the same pier and scatters Katie's ashes there. Seeing a new sense of possibility in his own life, Billy reunites with a former girlfriend and joins a minor league baseball team; the film ends with Billy, his girlfriend, and Appleby celebrating after a game.
Jodie Foster as Katie Chandler
Mark Harmon as Billy Wyatt
Harold Ramis as adult Alan Appleby
Blair Brown as Ginny Wyatt
Jonathan Silverman as Teenage Alan Appleby
William McNamara as Teenage Billy Wyatt
Richard Jenkins as Hank Chandler
John Shea as Sam Wyatt
Christine Jones as Grace Chandler
Ted Ross as Bud Scott
Helen Hunt as Hope Wyatt
The film plot is set in the Philadelphia area and the New Jersey shore. The filming occurred in many locations:
The house that Billy grows up in is located in Chestnut Hill, Pennsylvania, where exterior scenes were shot;
The interiors of Billy's childhood home were filmed in a house located in Springfield, Pennsylvania;
The scenes in Bob's Diner were filmed at Ridge Avenue in Roxborough;
Alan Appleby's sporting goods store was located on Germantown Avenue in Chestnut Hill, Pennsylvania;
Carlton Academy is actually Chestnut Hill Academy;
The opening scene and closing scene were shot at Fiscalini Field in San Bernardino, CA. The team he was shown playing for in the movie was the name of the actual team that played there at the time, The San Bernardino Spirit.
Camp Tecumseh, boys summer sports camp T-shirt is seen in the movie.
The film received negative reviews around the time of its release. In her review for the New York Times, Janet Maslin wrote, "The era is simply established as a dreamily idyllic past, thanks to sand dunes at twilight, waves that crash in the distance, shiny red convertibles without seat belts and a musical score that may make you want to weep, for all the wrong reasons". In his one-star review for the Chicago Sun-Times, Roger Ebert wrote, "I detested Stealing Home so much, from beginning to end, that I left the screening wondering if any movie could possibly be that bad". The movie currently holds a 22% Critics rating and a 78% Audience rating on Rotten Tomatoes.
When asked about the film in 2006, Mark Harmon said, "That was about a bunch of actors loving a script, going there and burning it on both ends for five weeks just to get it done. That was a fun one to make. I hear a lot about that role. People really found that movie on video."
Ever since the release of Summer of '42, Warner Bros. has attempted to buy back the rights to the film, which they sold to author Herman Raucher in lieu of paying him for the script, under the belief that the film would not be financially successful. Stealing Home was greenlit shortly after Raucher denied their latest attempt to purchase the rights, leading to Summer star Jennifer O'Neill's assertion that Stealing Home was "stolen" from Summer. Regardless, she said that she enjoyed the movie and called it a "lovely film." Rita Kempley, in her review for the Washington Post, also saw similarities with Summer, describing the film as a "pale comedy-drama by mediocrities Steven Kampmann and Will Aldis. Admittedly a pastiche of their memories, the movie bespeaks the dust of '60s yearbooks and greeting card sentiment. Of course, that stuff can be touching (Summer of '42) or quirky (Gregory's Girl), but here only allergy sufferers will leave with soggy Kleenex."