Years active

1987–present







Also known as

B.D.K., Dark Gable, King Asiatic Nobody's Equal, Blackanova, Count Macula

Born

September 10, 1968 (age 55) Bedford-Stuyvesant, Brooklyn,

New York City

, New York, United States (

1968-09-10

)

Genres

East Coast hip hop, hardcore hip hop

Occupation(s)

Rapper, actor, record producer, model

Labels

Cold Chillin'/Reprise/Warner Bros. Records (1986-1993)

MCA

Records (1994)

Blackheart

/

Mercury

/PolyGram Records (1998)

Role

Rapper · officialbigdaddykane.com

Movies

The Meteor Man, Posse, Dead Heist, Exposed

Albums




Profiles



Big daddy kane how you get a record deal
Antonio Hardy (born September 10, 1968), better known by his stage name Big Daddy Kane, is a Grammy Award-winning American rapper and actor who started his career in 1986 as a member of the rap collective the Juice Crew. He is widely considered to be one of the most influential and skilled MCs in hip hop. The name Big Daddy Kane came from a variation on Caine, David Carradine's character from TV show Kung Fu and a character called "Big Daddy" Vincent Price played in the film Beach Party.
Contents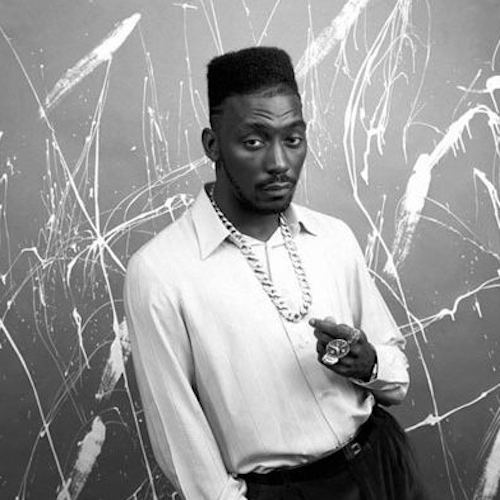 Rolling Stone magazine ranked his song "Ain't No Half-Steppin'" #25 on its list of The 50 Greatest Hip-Hop Songs of All Time, calling him "a master wordsmith of rap's late-golden age and a huge influence on a generation of MCs."
Kool g rap dj polo big daddy kane biz markie erase racism
1980s
In 1984, Kane became friends with Biz Markie, and he would co-write some of Biz's best-known lyrics. Both eventually became important members of the Queens-based Juice Crew, a collective headed by renowned producer Marley Marl. Kane signed with Tyrone Williams's (Marl's manager) and Len Fichtelberg's Cold Chillin' Records label in 1987 and debuted the same year with the 12" single "Raw," which was an underground hit. Kane is known for his ability to syncopate over faster hip hop beats, and despite his asthmatic condition he is acknowledged as one of the pioneering masters of fast rhyming. His sense of style is renowned and set a number of late-1980s and early-1990s hip hop trends (high-top fades, velour suits, and four-finger rings). The backronym King Asiatic Nobody's Equal is often applied to his moniker.
He released his debut album on Cold Chillin' Records in the early summer of 1988 called Long Live the Kane, which featured the hit "Ain't No Half Steppin'". The following year Kane released his second album and biggest hit to date It's a Big Daddy Thing, which included 1970s sample throwbacks like "Smooth Operator" and the Teddy Riley-produced track "I Get the Job Done," which hit the R&B top 40 during the closing of the 1980s. He also had a memorable verse on the Marley Marl-produced track "The Symphony (song)" released in late 1988, which included Juice Crew members Craig G, Masta Ace, and Kool G Rap.
1990s
Big Daddy Kane appeared on Patti LaBelle's 1991 effort, "Burnin'". He provided the rap chorus to the single "Feels Like Another One". He also appeared on the video release "Live in New York."
He contributed the song "Nuff Respect" to the soundtrack of the film Juice, which starred Omar Epps and Tupac Shakur, further demonstrating his fast lyrical delivery.
In 1991, Kane won the Grammy Award for Best Rap Performance by a Duo or Group for his performance on the Quincy Jones collaborative track "Back on the Block" off Back on the Block.
Widely regarded as one of the greatest rappers during the "golden age" of hip hop (1986–1997), Kane's experimentation with R&B beats and his alignment to the Five Percent Nation drew criticism. Later albums, such as Looks Like a Job For…, were acclaimed, but he was never able to return to the commercial and artistic success of It's a Big Daddy Thing. However, he still tours extensively.
As an actor, he debuted in Mario Van Peebles' 1993 western, Posse, and appeared in Robert Townsend's 1993 film The Meteor Man. Big Daddy Kane also posed for Playgirl and Madonna's Sex book during the 1990s. In 1996, he collaborated with 2Pac on his song "Where Ever U R".
During the early 1990s, Jay-Z toured with Kane, and Kane helped him early on in his career - Ice-T says, "I actually met Jay-Z with Kane. Kane brought Jay-Z over to my house." Kane himself says that Jay-Z wasn't technically his hypeman in the true sense of the term—"he wasn't a hypeman, he basically made cameo appearances on stage. When I would leave the stage to go change outfits, I would bring out Jay-Z and Positive K and let them freestyle until I came back to the stage." Jay-Z was also featured on Big Daddy Kane's track 'Show & Prove' from Daddy's Home (1994), as well as in the video.
In 1995, Kane recorded with MC Hammer and Tupac Shakur on the rap song "Too Late Playa" (along with Danny Boy). He was also mentioned to signing with Death Row East in 1996. In 1997, Kane team up with Frankie Cutlass on his third single title "The Cypher Part 3" and some of Marley Marl Juice Crew veterans. In 1998, he released his final solo album "Veteran'z Day". It received mixed reviews and did not sell well. However, Kane did not give up rapping and made many appearances in the 2000s.
2000s
In 2000, Big Daddy Kane appeared on Tony Touch's "The Piece Maker" mixtape alongside Kool G Rap and KRS-One. A rejuvenated Big Daddy Kane occasionally collaborated with a variety of hip-hop artists, including A Tribe Called Quest, Jurassic 5, Little Brother, and DJ Babu of the Beat Junkies. He released two singles, the Alchemist-produced "The Man, The Icon", and the DJ Premier-produced "Any Type of Way" (on which he discusses urban collapse in post-9/11 New York City ("Giuliani got New York lookin' like it's Amistad")) and the erosion of the middle class.
Big Daddy Kane appeared on the trip hop group Morcheeba's 2003 single "What's Your Name". In 2004, "Warm It Up, Kane" appeared on popular video game Grand Theft Auto: San Andreas, playing on classic hip hop radio station Playback FM, the name Kane was even used to refer to the name of the leader of a rival gang in the game.
In 2005, Big Daddy Kane was honored during the VH1 Hip-Hop Honors. After a medley of hits performed by T.I., Black Thought, and Common, he came out to perform "Warm It Up, Kane" with his old dancers, Scoob and Scrap. Kane and Kool G Rap can both be seen briefly in Dave Chappelle's Block Party documentary.
In 2006, he appeared as a guest MC on the track "Get Wild Off This", produced by The Stanton Warriors for their Stanton Sessions Vol. 2 breaks mix. He also appeared alongside the Wu-Tang Clan, Rakim, and his longtime friends Busta Rhymes and Q-Tip in a segment of the 2006 Summer Jam concert (June 7, 2006), as part of an initiative by Busta Rhymes to honor the legacy of New York City hip hop.
In 2007, a new track, "BK Mentality", was released on the mixtape compilation Official Joints. Kane also appeared on Joell Ortiz's The Brick: Bodega Chronicles mixtape.
Big Daddy Kane made a cameo in the 2008 video for "Game's Pain", a track by Compton rapper The Game. The video also featured appearances by Raekwon, Three 6 Mafia and Ice Cube. The Game also referenced Jay-Z's former occupation as Kane's hypeman: "Ask a Jay-Z fan about Big Daddy Kane: Don't know him, Game gon' show 'em". He also appeared on the remix of "Don't Touch Me" by Busta Rhymes. Also in 2009 Kane played the role of Clay in the film Just Another Day. The film is the tale of two rappers, one poor and young, one older and successful. The movie follows them through just another day of their lives.
Big Daddy Kane appears on one track on MA Doom: Son of Yvonne - the collaboration between MF DOOM and former Juice Crew member Masta Ace. As of 2013, Big Daddy Kane was recruited by New York City power group Lifted Crew and R&B singer Showtyme to form a band called "Las Supper". The project is said to have a classic Hip-Hop & R&B vibe to it. The album, entitled "Back to the Future" was released on March 26, 2013.
On November 24, 2014 Big Daddy Kane discussed his upbringing, childhood influences, relationships, sexual experiences and Madonna's Sex Book in a heart-to-heart interview on the Dr. Zoe Today show. In 2016, he was featured on Tito Jackson's single "Get It Baby" in addition to appearing in the documentary Hip-Hop Evolution.
Legacy
Big Daddy Kane is regarded as one of the most influential and skilled golden age rappers. MTV put him at No. 7 in their Greatest MCs Of All Time list, he is placed at No.4 in Kool Moe Dee's book There's A God On The Mic: The True 50 Greatest MCs, About.com ranked him #3 on its list of the "Top 50 MCs of Our Time," and RZA listed him as one of his Top 5 best MCs. In 2012, The Source ranked him #8 on their list of the Top 50 Lyricists of All Time. Allmusic says, "his best material ranks among the finest hip-hop of its era, and his sex-drenched persona was enormously influential on countless future would-be players", and describes him as, "an enormously talented battle MC", "one of rap's major talents", refers to his, "near-peerless technique" " and "first-rate technique and rhyming skills" and says he "had the sheer verbal facility and razor-clean dexterity to ambush any MC and exhilarate anyone who witnessed or heard him perform". Kool Moe Dee describes him as "one of the most imitated emcees ever in the game" and "one of the true greatest emcees ever", and Ice-T says:
"To me, Big Daddy Kane is still today one of the best rappers. I would put Big Daddy Kane against any rapper in a battle. Jay-Z, Nas, Eminem, any of them. I could take his 'Raw' "swagger" from 88 and put it up against any record [from today]. Kane is one of the most incredible lyricists… and he will devour you on the mic. I don't want to try to out-rap Big Daddy Kane. Big Daddy Kane can rap circles around cats."
His first two albums are also considered Hip Hop classics and Rolling Stone says, "he has received consistent critical kudos". In the book, Rap-Up: The Ultimate Guide To Hip-Hop And R&B, Cameron and Devin Lazerine say Big Daddy Kane is "widely seen as one of the best lyricists of his time and even today regularly gets name-checked by younger dudes", and music journalist Peter Shapiro says Kane is "perhaps the most complete MC ever". Eminem references Big Daddy Kane in the lyrics to his song 'Yellow Brick Road' from his Encore album, saying, "we (Eminem and Proof) was on the same shit, that Big Daddy Kane shit, where compound syllables sound combined" and he quotes the same lines in his book, The Way I Am – this illustrates how Big Daddy Kane had an influence on both Eminem's and Proof's rhyme technique.
Discography
Studio albums
Long Live the Kane (1988)
It's a Big Daddy Thing (1989)
Taste of Chocolate (1990)
Prince of Darkness (1991)
Looks Like a Job For... (1993)
Daddy's Home (1994)
Veteranz' Day (1998)
Filmography
Actor
-
ElemenTory (announced)
as
Chris Cunningham
2023
CHAAW: Chapter 3 (completed)
as
Renaissance Man
2023
CHAAW: Chapter 2 (completed)
as
Renaissance Man
2015
Just Leo (TV Series) (completed)
as
Thomas Douglas
2023
CHAAW: Chapter 1
as
Renaissance Man
2022
Stomach People (Short)
as
Zac Hanson
2022
Busta Rhymes & Big Daddy Kane & Conway the Machine: Slap (Music Video)
as
Big Daddy Kane
2022
The Equalizer (TV Series)
as
Buffalo Joe
- One Percenters (2022) - Buffalo Joe
2021
Arrested Development: Vibe (Music Video)
as
Big Daddy Kane
2021
Partners in Rhyme (TV Series)
as
Stone Cold Tone
- Smooth Operator (2021) - Stone Cold Tone
2021
Bad Dad Rehab: The Next Session (TV Movie)
as
Owen
2021
Rema: Soundgasm (Music Video)
as
Daddy
2021
Boyz from the Streets
as
Narrator
2018
Law & Order: Special Victims Unit (TV Series)
as
Ray Wallis aka Four Stroke
- Guardian (2018) - Ray Wallis aka Four Stroke
2016
Exposed
as
Jonathan 'Black' Jones
2015
Real Blood: The True Beginning
as
News Reporter
2014
My Name Is Nobody
as
Phil Sr.
2014
Riff Raff Realm (TV Series)
as
Bobby Tsunami
- Episode #1.12 (2014) - Bobby Tsunami
- Episode #1.4 (2014) - Bobby Tsunami
2011
Pale Blue Light
as
Brick Nice
2003
Legends of Hip Hop: The Fifth Element (Music Video)
2000
Patti LaBelle: Live in New York (Video)
1991
Heavy D & The Boyz Feat. Big Daddy Kane, Grand Puba, Kool G. Rap, Q-Tip, Pete Rock & CL Smooth: Don't Curse (Music Video)
as
Big Daddy Kane
1991
Marley Marl: The Symphony, Part II (Music Video)
as
Big Daddy Kane
1991
Patti LaBelle Feat. Big Daddy Kane: Feels Like Another One (Music Video)
as
Big Daddy Kane
1990
Oran 'Juice' Jones: Shaniqua (Music Video)
as
Big Daddy Kane
1990
Public Enemy feat. Ice Cube and Big Daddy Kane: Burn Hollywood Burn (Music Video)
as
Big Daddy Kane
1990
Quincy Jones: Listen Up (Music Video)
as
Big Daddy Kane
1990
Kool G Rap & DJ Polo: Erase Racism (Music Video)
as
Big Daddy Kane
1989
Marley Marl: The Symphony (Music Video)
as
Big Daddy Kane
1989
Big Daddy Kane: I Get the Job Done (Music Video)
as
Big Daddy Kane
1989
Big Daddy Kane: Smooth Operator (Music Video)
as
Big Daddy Kane
1989
Bobby Brown: On Our Own (Music Video)
as
Big Daddy Kane (uncredited)
1988
Biz Markie: Vapors (Music Video)
as
Big Daddy Kane
1988
Rick James: Loosey's Rap (Music Video)
as
Big Daddy Kane (singing voice)
1988
Slick Rick: Teenage Love (Music Video)
as
Big Daddy Kane
1988
Big Daddy Kane: Ain't No Half-Steppin' (Music Video)
as
Big Daddy Kane
Composer
2022
Busta Rhymes & Big Daddy Kane & Conway the Machine: Slap (Music Video)
2017
Fergie Feat. Nicki Minaj: You Already Know (Music Video)
1992
Positive K: Nightshift (Music Video)
1991
Heavy D & The Boyz Feat. Big Daddy Kane, Grand Puba, Kool G. Rap, Q-Tip, Pete Rock & CL Smooth: Don't Curse (Music Video)
1990
Kool G Rap & DJ Polo: Erase Racism (Music Video)
1990
Quincy Jones: Back on the Block (Music Video)
1989
Big Daddy Kane: Smooth Operator (Music Video)
1988
Biz Markie: Vapors (Music Video)
1988
Big Daddy Kane: Ain't No Half-Steppin' (Music Video)
Writer
1990
Public Enemy feat. Ice Cube and Big Daddy Kane: Burn Hollywood Burn (Music Video)
1989
Marley Marl: The Symphony (Music Video) (as Antonio Hardy)
1989
Big Daddy Kane: I Get the Job Done (Music Video)
1989
Big Daddy Kane: Lean on Me (Music Video)
Soundtrack
-
Dopesick (TV Mini Series) (performer - 1 episode, 2021) (writer - 1 episode, 2021)
- Pseudo-Addiction (2021) - (performer: "I Get the Job Done") / (writer: "I Get the Job Done")
2021
The Space Between (performer: "I Wanna Get Inside Your Mind") / (writer: "I Wanna Get Inside Your Mind" - as Antonio Hardy)
2015
The Tonight Show Starring Jimmy Fallon (TV Series) (writer - 2 episodes)
- Megyn Kelly/Dave Franco/Fergie (2017) - (writer: "You Already Know")
- Hugh Grant/Charles Barkley/Kyle Kinane (2015) - (writer: "Just Rhymin' with Biz" - uncredited)
2017
Ripped (performer: "Ripped" (Radio Edit))
2017
The Quad (TV Series) (writer - 1 episode)
- Pilot (2017) - (writer: "Vapors")
2014
Sex Tape (writer: "Where The Hood At" - as Antonio Hardy)
-
One Hit Wonderland (TV Series documentary) (performer - 1 episode, 2014) (writer - 1 episode, 2014)
- Just a Friend by Biz Markie (2014) - (performer: "Smooth Operator") / (writer: "Biz is Goin Off")
2013
Battle of the Year (writer: "Boom" - as Antonio Hardy)
2012
The We and the I (performer: "Smooth Operator")
2012
Something from Nothing: The Art of Rap (Documentary) (performer: "Raw", "No Damn Good")
2006
So You Think You Can Dance (TV Series) (performer - 2 episodes)
- Top 8 Results (2007) - (performer: "Set It Off")
- Top 18 (2006) - (performer: "Wrath of Kane")
2007
Kickin' It Old Skool (performer: "Set It Off") / (writer: "Set It Off")
2006
School for Scoundrels (writer: "Where the Hood at" - as Antonio Hardy)
-
Everybody Hates Chris (TV Series) (performer - 3 episodes, 2005 - 2006) (writer - 2 episodes, 2005 - 2006)
- Everybody Hates the Lottery (2006) - (performer: "Warm It Up, Kane") / (writer: "Warm It Up, Kane")
- Everybody Hates Fat Mike (2005) - (performer: "I Get the Job Done")
- Everybody Hates Sausage (2005) - (writer: "Vapors")
- Everybody Hates Basketball (2005) - (performer: "I Get The Job Done")
2005
True Crime: New York City (Video Game) (performer: "Ain't No Half Steppin'") / (writer: "Ain't No Half Steppin'", "The Symphony" - as Antonio Hardy)
2005
Sunday Driver (Documentary) ("Day at the Races") / (writer: "Day at the Races")
2005
Tony Hawk's American Wasteland (Video Game) (performer: "Burn Hollywood Burn") / (writer: "Burn Hollywood Burn" - as Antonio Hardy)
2005
Dave Chappelle's Block Party (Documentary) (performer: "Boom") / (producer: "Boom" - as Antonio Hardy) / (writer: "Boom" - as Antonio Hardy)
2005
Black in the 80s (TV Mini Series documentary) (performer - 2 episodes)
- Color TV (2005) - (performer: "Raw")
- Color in Film (2005) - (performer: "I Get the Job Done")
2004
Blade: Trinity (performer: "Hard Wax") / (writer: "Hard Wax" - as Antonio Hardy)
2004
Grand Theft Auto: San Andreas (Video Game) ("Warm It Up, Kane", uncredited) / (writer: "Warm It Up, Kane", "The Vapors" - uncredited)
2003
Tony Hawk's Underground (Video Game) ("A Day At The Races") / (lyrics: "A Day At The Races") / (performer: "A Day At The Races") / (writer: "A Day At The Races")
2003
Hollywood Homicide (writer: "A Day at the Races")
2002
25th Hour (performer: "Warm It Up Kane") / (writer: "Warm It Up Kane" - as Antonio Hardy)
1999
Music of the Heart (performer: "Symphony Vol. 1") / (writer: "Symphony Vol. 1" - as Antonio Hardy)
1993
Beavis and Butt-Head (TV Series) (performer - 1 episode)
- Blood Drive (1993) - (performer: "All of Me Wants All of You,")
1992
Black to the Promised Land (Documentary) ("Back on the Block")
1992
Mo' Money (performer: "A Job Ain't Nuthin' But Work") / (writer: "A Job Ain't Nuthin' But Work")
1992
Juice (performer: "Nuff' Respect") / (writer: "Nuff' Respect")
1991
Strictly Business (performer: "Groove with It") / (writer: "Groove with It" - as Antonio Hardy)
1990
Public Enemy feat. Ice Cube and Big Daddy Kane: Burn Hollywood Burn (Music Video) (performer: "Burn Hollywood Burn") / (writer: "Burn Hollywood Burn")
-
Soul Train (TV Series) (performer - 1 episode, 1990) (writer - 1 episode, 1990)
- Maze Featuring Frankie Beverly/Big Daddy Kane/Body (1990) - (performer: "I Get the Job Done", "Smooth Operator") / (writer: "I Get the Job Done", "Smooth Operator")
1990
Saturday Night Live (TV Series) (performer - 1 episode)
- Quincy Jones & Co. (1990) - (performer: "Back on the Block", "Wee B. Dooinit" (uncredited))
1989
Lean on Me (performer: "Rap Summary (Lean on Me)") / (writer: "Rap Summary (Lean on Me)")
1988
Colors (performer: "Raw") / (writer: "Raw", "Go Girl" - as Antonio Hardy)
Director
2016
Movie Madness (co-director)
Music Department
2016
The Game Is to Be Sold Not Told (Video short) (composer: additional music)
1989
Big Daddy Kane: Smooth Operator (Music Video) (song producer)
Thanks
2012
The Life and Times of Gangsta Brown Part 2 (Documentary) (special thanks)
2003
Beef (Documentary) (special thanks)
Self
-
Government Records (TV Series) (pre-production)
as
Self
- Pilot - Self
2023
A Grammy Salute to 50 Years of Hip Hop (TV Special)
as
Self
2023
The Beat with Ari Melber (TV Series)
as
Self
- 07-19-2023 (2023) - Self
2023
BET Awards 2023 (TV Special)
as
Self - Performer
2011
Unsung (TV Series documentary)
as
Self
- Unsung Presents: Women Take The Mic (2022) - Self
- Monie Love (2022) - Self
- Roxanne Shante (2020) - Self
- Big Daddy Kane (2011) - Self
2021
BET Hip-Hop Awards (TV Special)
as
Self
2021
Its Time for Hip Hop in NY (TV Special)
2021
Touré Show (Podcast Series)
as
Self - Guest
- Big Daddy Kane-I'm The Smooth Operator (2021) - Self - Guest
2021
Bitchin': The Sound and Fury of Rick James (Documentary)
as
Self
2020
Your Voice Your Vote presented by Behind the Rhyme (TV Special)
2020
50th Anniversary NGE (Gods & Hip Hop) (Video)
as
Self
2020
Wild 'N Out (TV Series)
as
Self - Team Captain
- Doja Cat & Big Daddy Kane (2020) - Self - Team Captain
2019
Undeniable - The Tray Chaney Story (TV Series documentary)
as
Self
2016
Hip-Hop Evolution (TV Series documentary)
as
Self
- Life After Death (2019) - Self
- The New Guard (2016) - Self
- The Underground to the Mainstream (2016) - Self
- The Foundation (2016) - Self
2018
Hip Hop 40 Live (TV Mini Series)
as
Self
- Big Daddy Kane (2018) - Self
2018
NPR Music Tiny Desk Concert (TV Series)
as
Self - Performer
- Big Daddy Kane: Tiny Desk Concert (2018) - Self - Performer
2018
Word Is Bond (Documentary)
as
Self
2018
26th Annual Trumpet Awards (TV Special)
as
Self - Performer
2017
Architects of Hip Hop (TV Series)
as
Self
2016
Check the Rhyme (Documentary)
as
Self
2016
1st Annual Black Music Honors (TV Special)
as
Self - Honoree
2016
Unsung Hollywood (TV Series documentary)
as
Self
- Rudy Ray Moore (2016) - Self
2016
The Wendy Williams Show (TV Series)
as
Self
- All New/Big Daddy Kane/Caitlyn Becker (2016) - Self
2015
Bikini Body Conscious Living (TV Series)
as
Self - Guest
2013
Riff Raff Realm (TV Series)
as
Self
- Episode #1.5 (2014) - Self
- Episode #1.2 (2013) - Self
2013
2013 Soul Train Awards (TV Special)
as
Self
2013
RapFix Live (TV Series)
as
Self
- Foxy Brown, Big Daddy Kane (2013) - Self
2012
You're Nobody 'til Somebody Kills You
as
Self
2012
1 Mic Cypher (TV Movie)
as
Self (rumored)
2012
Something from Nothing: The Art of Rap (Documentary)
as
Self
2011
2011 Soul Train Awards (TV Special)
as
Self
2010
Your Mom's House (TV Series)
as
Self
2010
Caught in the Act: Art in Brooklyn (TV Series)
- Big Daddy Kane (2010)
2010
The Mo'Nique Show (TV Series)
as
Self
- Episode dated 22 June 2010 (2010) - Self
2009
Madonna: Celebration - The Video Collection (Video)
as
Self (segment "Erotica")
2009
An Evening of Stars: Tribute to Patti LaBelle (TV Special)
as
Self
2008
The Greatest (TV Series documentary)
as
Self
- 100 Greatest Hip Hop Songs (2008) - Self
2008
The Game Feat. Keyshia Cole: Game's Pain (Music Video)
as
Self
2006
The Ellen DeGeneres Show (TV Series)
as
Self
- Episode #4.79 (2006) - Self
2006
3rd Annual VH1 Hip-Hop Honors (TV Special)
as
Self
2006
My Shot With (TV Series)
as
Self
- The Brooklyn Hip Hop Festival (2006) - Self
2006
Ohio Players (Video documentary short)
as
Self
2006
September in Brooklyn: The Making of 'Block Party' (Video documentary short)
as
Self
2006
VH1 Goes Inside (TV Series documentary)
as
Self
- Yo! MTV Raps (2006) - Self
2005
2nd Annual VH1 Hip-Hop Honors (TV Special)
as
Self - Honoree
2005
Dave Chappelle's Block Party (Documentary)
as
Self
2003
Beef (Documentary)
as
Self - Hip Hop Artist
2001
7th Annual BET Walk of Fame (TV Special)
as
Self - Performer
1997
Make Up Your Mind (Short)
as
Self
1994
Big Daddy Kane: In The P.J.'S (Video short)
as
Self
1994
Big Daddy Kane: Show & Prove (Music Video short)
as
Self
1989
Showtime at the Apollo (TV Series)
as
Self
- Episode #7.12 (1993) - Self
- Episode #4.16 (1991) - Self
- Episode #3.6 (1989) - Self
1993
First Person with Maria Shriver (TV Series)
as
Self
- The Gay 90's: Sex, Power, and Influence (1993) - Self
1992
Def Comedy Jam (TV Series)
as
Self - Audience Member
- Episode #1.8 (1992) - Self - Audience Member (uncredited)
1992
Positive K: Nightshift (Music Video)
as
Self
1992
Sex (Video documentary)
as
Self
1992
Madonna: Erotica (Music Video)
as
Self
1992
The 6th Annual Soul Train Music Awards (TV Special)
as
Self - Presenter
1991
H.E.A.L.: Heal Yourself (Music Video short)
as
Self
1991
Human Education Against Lies (Video documentary short)
as
Self
1990
Soul Train (TV Series)
as
Self / Self - Guest
- Big Daddy Kane/Atlantic Star (1991) - Self
- Bernadette Cooper/Big Daddy Kane (1991) - Self - Guest
- Quincy Jones Tribute (1990) - Self - Guest
- Maze Featuring Frankie Beverly/Big Daddy Kane/Body (1990) - Self
1991
In Living Color (TV Series)
as
Self - Musical Guest
- Late Night with Mike Tyson (1991) - Self - Musical Guest
1991
Ebony/Jet Showcase (TV Series)
as
Self
- Episode dated 29 March 1991 (1991) - Self
1991
The 5th Annual Soul Train Music Awards (TV Special)
as
Self - Presenter
1991
The Party Machine with Nia Peeples (TV Series)
as
Self
- Episode dated 23 February 1991 (1991) - Self
1990
The Arsenio Hall Show (TV Series)
as
Self
- Episode #3.90 (1991) - Self
- Episode dated 29 January 1990 (1990) - Self
1990
Rapmania: The Roots of Rap (TV Movie documentary)
as
Self
1990
Grammy Legends (TV Special)
as
Self
1990
Various Artists: Listen Up (Music Video short)
as
Self
1990
Listen Up: The Lives of Quincy Jones (Documentary)
as
Self
1990
The 4th Annual Soul Train Music Awards (TV Special)
as
Self - Performer
1990
Saturday Night Live (TV Series)
as
Self - Musical Guest
- Quincy Jones & Co. (1990) - Self - Musical Guest
1990
Quincy Jones: Back on the Block (Music Video)
as
Self
1988
Yo! MTV Raps (TV Series)
as
Self
- Episode dated 26 January 1990 (1990) - Self
- Episode dated 20 January 1990 (1990) - Self
- Episode dated 27 January 1989 (1989) - Self
- Episode dated 12 October 1988 (1988) - Self
1989
Pump It Up (TV Series)
as
Self
1989
Big Daddy Kane: Lean on Me (Music Video)
as
Self
1989
De La Soul: De La Speaks (Video documentary short)
as
Self
1989
Overcoming Self-Destruction (Video documentary)
as
Self
1989
Stop the Violence Movement: Self Destruction (Music Video)
as
Self
1988
Paul Simon: Me and Julio Down by the Schoolyard (Music Video)
as
Self
1988
Ice-T: I'm Your Pusher (Music Video)
as
Self
Archive Footage
2023
The New York Times Presents (TV Series documentary)
as
Self - Rapper
- The Legacy of J Dilla (2023) - Self - Rapper
2022
Legacy: The True Story of the LA Lakers (TV Mini Series documentary)
as
Self - Rapper
- Episode #1.5 (2022) - Self - Rapper
2021
You're Watching Video Music Box (Documentary)
as
Self
2021
Biggie: I Got a Story to Tell (Documentary)
as
Self - Hip-Hop Artist
2018
Quincy (Documentary)
as
Self (uncredited)
2010
A Hip Hop Hustle: The Making of 'Just Another Day' (Video documentary short)
as
Clay
2004
And You Don't Stop: 30 Years of Hip-Hop (TV Mini Series documentary)
as
Self
2000
Rage Against the Machine: Renegades of Funk (Music Video)
as
Self
1995
Showtime at the Apollo (TV Series)
as
Self
- Best of Apollo Cutting Edge (1998) - Self
- Episode #8.23 (1995) - Self
1991
Tour of a Black Planet (Music Video documentary)
as
Self
1990
Run-DMC: Faces (Music Video)
as
Self
References
Big Daddy Kane Wikipedia
(Text) CC BY-SA