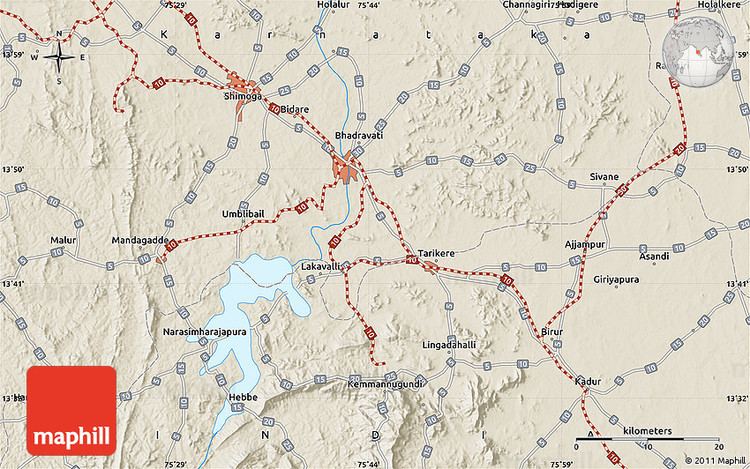 Bhadravati derives its name from the Bhadra River which flows through the city. It was earlier known as Benkipura (or Venkipura), and earlier Benki Pattana. Iron ore from the hill station of Kemmannugundi and water from the Bhadra River helped the establishment of an iron mill in 1918 and a paper mill in 1936. Hoysalas ruled the city. The Goddess "Halldhammadevi & Antargattamadevi" guard the city from past time. The sacred temples are still present in the city.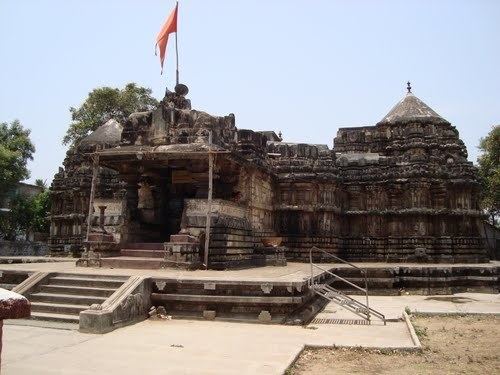 Based on the 2011 Indian census, Bhadravati has a population of 151,102, of which male and female are 75,009 and 76,093 respectively. Bhadravati has an average literacy rate of 86.36%, higher than the national average of 59.5%; with 91.39% of the males and 81.46% of the females literate. 10% of the population is under 6 years of age.Kannada is the main language spoken in this city.
Bhadravati lies in the central part of the Karnataka State, in the south-east corner of the Shimoga district. The latitude and longitude coordinates of Bhadravati town are 13.840°N 75.702°E / 13.840; 75.702 (Bhadravati).
Bhadravati is at an altitude of 597 metres (1,959 ft) above sea level.
The Bhadra River flows through the city, then flows into the Bhadra Wildlife Sanctuary south of the city.
The Bhadravati Taluk has a total area of 675.08 square kilometres (260.65 sq mi), a population of 338,611, and a population density of 501.56 inhabitants per square kilometre (1,299.0/sq mi). The taluk borders five other taluks, the Shimoga Taluk to the west, the Honnali Taluk to the north, the Channagiri Taluk to the east, the Tarikere Taluk to the south-east, and the Narasimharajapura Taluk to the south-west.
The average temperature in the summer is between 25 °C (77 °F) and 37 °C (99 °F). The average winter temperature is between 20 °C (68 °F) and 30 °C (86 °F). The annual precipitation in the city is around 950 millimetres (37 in).
°≤
There are 5 hobli headquarters in Bhadravathi
Kudligere
Holehonnuru
Anaveri
Hiruyur
Singanamane
Two national highways pass through the city: NH-206 and NH-13; the two highways converge for a short length starting in Bhadravati and ending in Shimoga. Two state highways pass through the city as well. Buses that go from Bangalore to Shimoga stop at Bhadravati and take around six hours to complete the journey.
The Shimoga–Bangalore train, the Birur–Shimoga train, and the Mysore–Shimoga train all go through Bhadravati.It is well connected by rail to the bengaluru city.
The airport is under construction. The nearest airport is in Hubli, around 170 kilometres (110 mi) from Bhadravati. Another airport is under construction in Shimoga near Sogane.
Bhadravati has two major factories that take up a large part of the city: the Visvesvaraya Iron and Steel Plant factory, started by Sir M. Visvesvarayya, and the Mysore Paper Mills factory.
Bhadravathi is also a major education centre of the Shimoga district. Notable schools in Bhadravathi include: Sri Sathya Sai Academy of Integrated Education, Poornaprajna Education Centre, St. Charles, SAV High School, St. Joseph's school, Little Flower English School, Paper Town High School. The town is also home to Discussion Class (DC) which conducts unique informal classes to facilitate discussion and knowledge sharing among high-school and college students., and also one of the diploma college is govt. VISL S J Polytechnic Bhadravathi.
The Lakshmi Narasimha temple: This temple was built by the Veera Narasimha, The Grand Son of Vishnuvardhana belonging to Hoysala Dynasty in the 13th Century A.D. The temple has idols of Lord Srikrishna, Lord Purushottama, Lord Ganesha, Goddess Sharadamba along with lord Narasimha. Temple is built on a star shaped platform.
Halladammadevi Temple is situated in heart of the city. This is the largest and modern temple in Malnad region.
Jain Temple is also popular present near NST road.
Largest Shiva Idol is Established near Lower Huttha recently.
Sri Ranagatha Temple called Gudhe Ranganatha Honneguda near Bharadravati towards BR project
Shree Chandika Durga Temple, Lower Huttha, is a popular temple located on the banks of river Bhadra. [Gondhi, Sunnadahalli, Kudli Mutt near Bhadravati A sharada peetha by Shankara Charya & Shankar-Sharada math are other sacred place built along the banks of River Bhadra.]
Shree Rameshwara and subrmaneswara temple, Old town, is located on the banks of river bhadra, which was temple was built in the year 1910.
A Shiva Temple which has been there for more than 80 years opp. Reliance Bunk is noted to have been there installed which is famous for the Shivratri that is performed here.
Sri Sathya Sai Baba Mandir, & Sri Shiva Sai Krupa Dhama at Newtown are the popular places to visit and take part in the Pooja's and Bhajans that take place on every Thursdays & Fridays....
Bhadra Wildlife Sanctuary was started in 1951 as the Jagara Valley Wildlife Sanctuary covering an area of 77.45 square miles (200.6 km2). In 1972, adjacent land was added to the sanctuary, bringing the total area to 492.46 square kilometres (190.14 sq mi). The reserve was renamed in 1974 to its current name.
* Bhadra River Project Dam is a dam south of the city.
For 20 years now there has been a plan to develop Shimoga and Bhadravati as twin cities and to establish a Shimoga-Bhadravati Mahanagara Palike for this purpose. Shimoga is the headquarters of the district but the major industries such as VISL, MPM and AIR are situated in Bhadravati. Bhadravati is just 20 km from Shimoga and a new four lane road constructed between them has reduced the time of commute to only 15 minutes. Both cities are well connected to the rest of India. Around 200 buses ply daily between Shimoga and Bhadravati to cater to the workers resident in Shimoga and working in Bhadravati. Town service buses are present in both the cities, coloured green in Shimoga and blue in Bhadravati. The Shimoga airport and a Bhadravati FM station are expected to come up in the future. Many IT and biotechnology parks have been established in the Bhadravati-Shimoga Industrial area (Machennali).
A radio station belonging to All India Radio is located in Bhadravati. It broadcasts radio programs via medium wave signals at 675 kHz (wavelength distance: 444.4 metres (1,458 ft)). and FM signals at 103.5 MHz. This is the only Radio station in Malnad region which covers radio for Shimogga, Davangere and Chickmanglur districts.
Vishveshwarayya Iron & Steel Plant Ground is located in Bhadravati. The stadium was built in 1960 and can hold 25,000 spectators. The ground has played host to Ranji trophy cricket matches on two occasions for home team Karnataka.
M.S Sudhamani, Ex President of CMC Bhadravathi
Doddanna, actor who worked at Visvesvaraya Iron and Steel Limited
Gundappa Viswanath, cricketer of the Indian cricket team in the 1970s
S. Narayan, actor and director
Sudhirkumar, Weightlifter and won bronze medal in commonwealth games 2002, 2006 and 2010
Shoqth Ali, Body Bulider, "MR Karnataka"
Asha Bhat, model and beauty pageant winner
Gregory Aracle, Freedom Fighter, Communist, 1978
Paulin Lucia, Freedom Fighter, Senior Congress Leader
Muneer Basha, Kho Kho Athlete, Represented India, as a Vice Captain of Kho-Kho Team India - in 12th South Asian Game, Held at Guwahati and Shillong-2016.