Beta (Hindi: बेटा, translation: Son) is a 1992 Indian Hindi drama film, directed by Indra Kumar, and written by Naushir Khatau and Kamlesh Pandey. It featured Madhuri Dixit, Anil Kapoor and Aruna Irani in pivotal roles.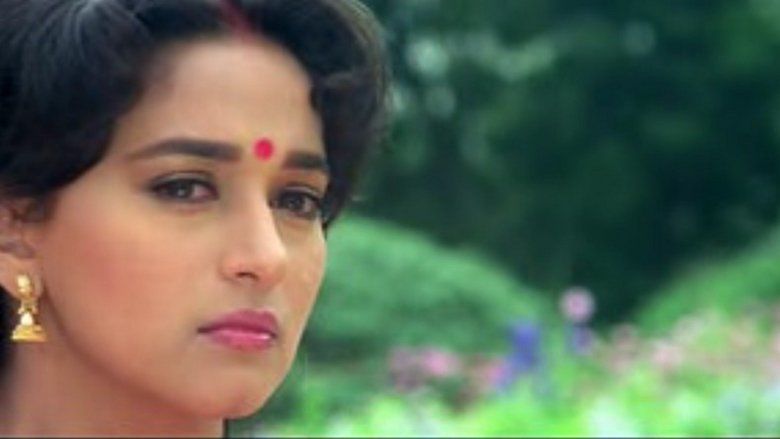 The movie is an official remake of 1987 Tamil movie Enga Chinna Rasa whose story was inspired by the Kannada novel Mallammana Pavada by B. Puttaswamayya which incidentally had been adapted into a 1969 Kannada movie Mallammana Pavaada with screenplay by Telugu director P. Pullaiah based on his 1955 Telugu movie with similar story titled Ardhangi which was based on Maddipatla Suri's Telugu translation of Bengali novel Swayamsidda written by Manilal Banerjee. Swayamsiddha went on to be made into a 1975 Bengali movie of same name. Ardhangi was remade in Tamil as Pennin Perumai and in Hindi twice as Bahurani in 1963 and as Jyoti in 1981. Enga Chinna Rasa also went on to be remade in Kannada as Annayya, in Telugu as Abbaigaru and in Oriya as Santan (1998).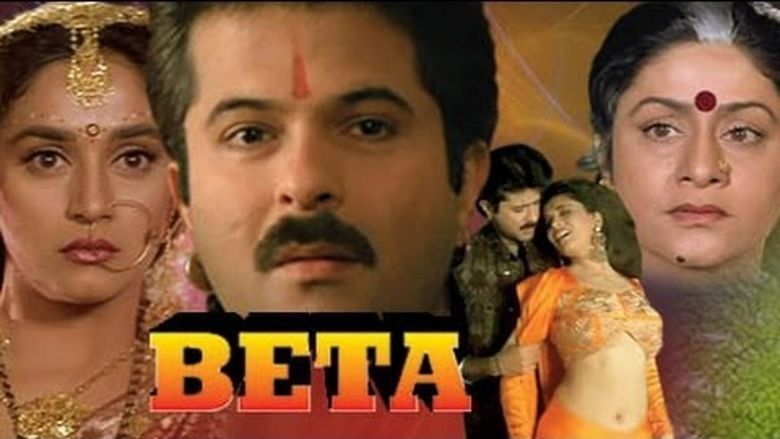 Beta was the highest-grossing Bollywood film of 1992. It won five Filmfare Awards. Kapoor and Dixit won the Best Actor and Best Actress awards, respectively. Anuradha Paudwal won the Best Female Playback Singer Award for the item number "Dhak Dhak Karne Laga," while Saroj Khan won the Filmfare Award for Best Choreography and Irani won the Best Supporting Actress award.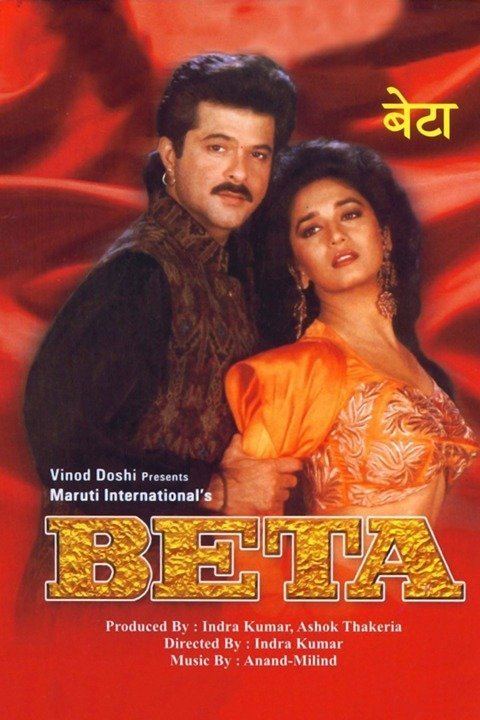 The film became popular due to several reasons. Initially, actress Sridevi was offered the role of Saraswati. She refused because she had collaborated with Kapoor numerous times before. The item number "Dhak Dhak Karne Laga" remains one of the most popular Hindi songs of the 20th-century. Anil Kapoor and Madhuri Dixit became one of the most popular on-screen couples of Bollywood.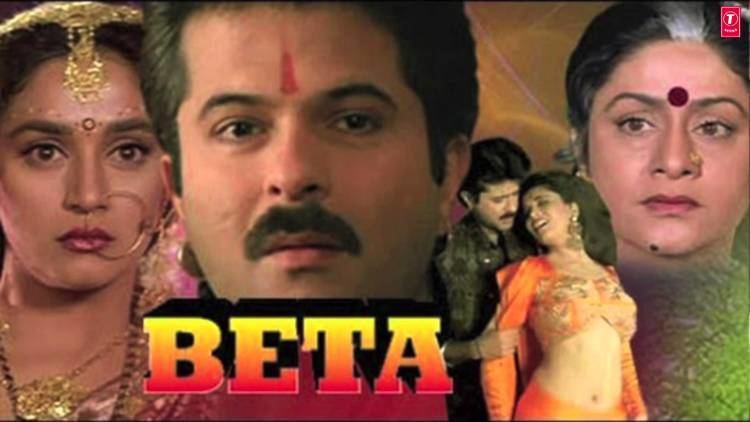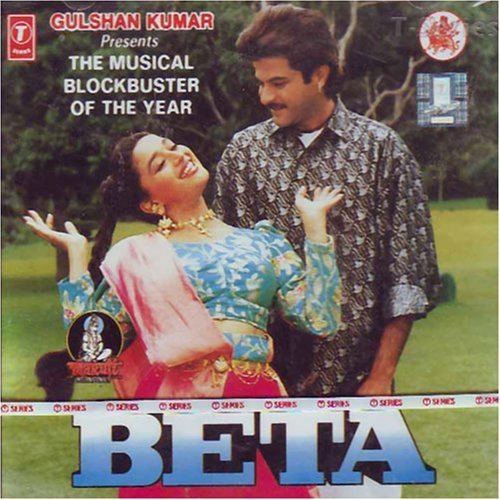 Beta is the story of Raju (Anil Kapoor), the only child of a widowed multi-millionaire father who can provide his son with anything he wants except Raju's only desire — a mother's love. Raju's father believes he can please his son by marrying Laxmi (Aruna Irani), thinking that she will care for Raju as her natural son. Raju becomes devoted to his stepmother, does whatever she asks of him; she convinces Raju that Raju should remain naïve and uneducated otherwise he would work for others rather than be self-employed. As Raju grows older his stepmother increasingly isolates his father from the family, is considered mentally incompetent, and locked in a room of the family home.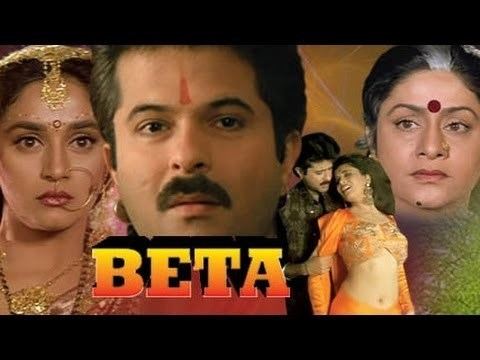 Raju meets Saraswati (Madhuri Dixit) and following her abduction and assaulted at a fair, he rescues her. They fall in love and, despite the villagers believing she is no longer chaste, he marries her. Saraswati discovers that her stepmother-in-law's love for Raju is a rouse to discredit the sanity of Raju's father and unable to interfere with the plan. Laxmi has the family fortune diverted to Raju's half-brother, the natural result of the marriage between his father and stepmother. He inherits the greed for the family fortune. A battle of wills between the stepmother and the stepdaughter-in-law ensues.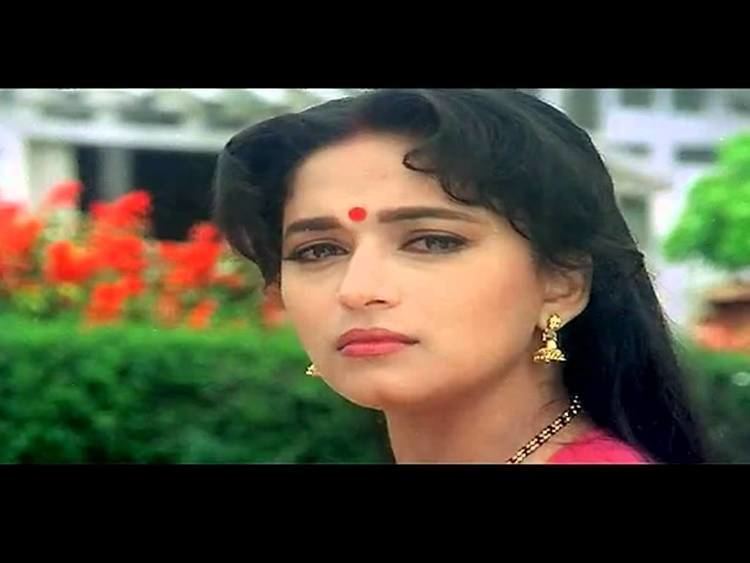 Laxmi sees that her influence over the family is challenged by Saraswati who insists that Raju's father leave behind his prison and return to the family circle as there is nothing wrong with him. And she makes Raju aware of the intentions of his step-mother. Laxmi starts to abuse and embarrass Saraswati with all the family members present. Saraswati is ready to leave but then, to protect her husband and her house from Laxmi's intentions, she decides to apologise to her mother-in-law. Saraswati then cleverly starts exposing Laxmi's every effort and intention in a dignified manner so that her husband will not be offended. The medical school degree of Raju's step-brother was bought rather than earned through studies and Laxmi is set up to slip on the pavement so that the over-protectiveness that she has instilled in Raju will force her remain in bed as he will serve her without pause; Laxmi never has a moment to herself and her scheming.
Saraswati becoming pregnant prompts Laxmi to attempt to kill Raju's wife and unborn child with poison, saffron and milk. Saraswati discovers this and returns to her direct approach by telling Raju. He continues to refuse to believe the treachery although she takes an oath upon her unborn child's life. Raju defends his step-mother and offers to prove that Saraswati is wrong. Raju drinks the milk and then coughs up blood. He comes to the realisation of what Saraswati said was all along his step-mother's intentions. In his usual innocent manner, he asks her why, that all she had to do as his mother was simply ask for the wealth—he would have happily agreed to give her it all. He tells Laxmi that his wish to die in peace would be accomplished if she, to at least once with a clean heart, call him 'her son'. His words so deeply touch Laxmi that she realises her cruelty has been directed at the only son who all along had ever loved her. Raju's step brother physically confronts his mother as he wants to continue with the plan but the dying Raju saves her.
The film concludes with Raju recovering, agreeing to give up to his mother his worldly possessions, and leaving home with his wife and father. At the last moment, Laxmi begs him not to leave, claiming to have learned the error of her ways. She tears-up the legal papers and tells him that all she wants is nothing more than 'her son'.
Anil Kapoor as Raju
Madhuri Dixit as Saraswati
Aruna Irani as Laxmi
Laxmikant Berde as Pandu
Anupam Kher as Totaram
Priya Arun as Champa
Kunika as Kunika
Adi Irani as Ramesh
Bharati Achrekar as Mainavati
All songs sung by Anuradha Paudwal with male Co-singers The soundtrack of Beta was the second best selling album of the year. Anand-Milind were nominated in the Filmfare, Best Music Directors category, but lost out to Nadeem-Shravan for Deewana. Anuradha Paudwal won her third consecutive Filmfare award for Best Female playback singer. Music directors Dilip Sen–Sameer Sen, Amar-Utpal and Naresh Sharma's compositions are included in the album but not in the film, nor are they credited in the film titles. Audio is available on T-Series.
Won
Best Actor – Anil Kapoor
Best Actress – Madhuri Dixit
Best Supporting Actress – Aruna Irani
Best Female Singer – Anuradha Paudwal – "Dhak Dhak Karne Laga"
Best Choreographer – Saroj Khan – "Dhak Dhak Karne Laga"
Nominated
Best Film – Indra Kumar, Ashok Thakeria
Best Director – Indra Kumar
Best Performance in a Comic Role – Laxmikant Berde
Best Music Director – Anand-Milind
The story line has been inspiration for various movies and has had various remakes in Indian film industry.